Thanksgiving: Woman vs. Tom Turkey – It's an epic battle staged every November, and in this case usually the smaller, more delicious fighter wins. Fear not, Weight Watchers is offering you a weapon to fight back against Tom Turkey. All month long you can save 30% on the Weight Watchers Monthly Pass, with no long-term commitment:
---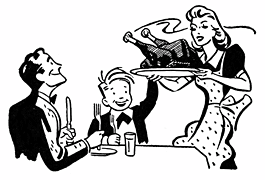 So, you made it through the summer, and you showed off your slimmer body over Labor Day weekend at the shore right? Things are coasting along, and you've found some discipline in your diet and exercise.
Uh, oh. Did you just eat a handful of the kids Halloween candy? One slip-up isn't the end of the world, right? True, but on the horizon is a mean, 500 pound gorilla to anyone on a diet; Tom Turkey!
Although none of the good folks in the community at Weight Watchers Online are going to actually come to your house and leap in front of you (a la Clint Eastwood taking a bullet in "In the Line of Fire" to protect the President) but they are giving you an incentive to get back on track.
All November long, (this coupon should be renewed again through the rest of the year and into next) they are offering a coupon for 30% off Weight Watchers Online Monthly Pass. (That's the option that lets you pay month to month without making any long-term commitments.) Anyway, if you are ready to take the plunge for at least a three-month commitment, check out other coupons for Weight Watchers Online that might get you an even bigger discount!