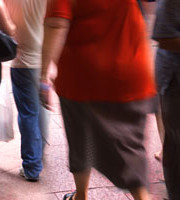 Obesity is no joke – Looking for motivation to get started on that diet? Thanks to healtheo360 for putting together this graphic which communicates just how deadly obesity really is. You can only imagine the economic cost of obesity based on these startling statistics.
People who are obese are:
25% more likely to be suffer from depression
200% more likely to get multiple sclerosis
200% more likely to have ADHD as a child
33% more likely to develop asthma
104% more likely to have heart failure
and, also consider that:
30% of people suffering from dementia are obese
Over 50% of people with diabetes are obese
Approximately 10% of cancer is caused by obesity
Over 35% of Americans are obese!
---
If you need further incentive to start a diet or lose weight, check out our coupons for Medifast and Weight Watchers Online