Nutrisystem Costco deal: Did you know that Costco has discounted gift cards for Nutrisystem? If you are thinking of signing up for Nutrisystem, know this: as a Costco member you can buy $100 Nutrisystem gift cards for $75 or less!
This is a quick way to save at least $25, and a no-brainer if you are planning on joining Nutrisystem. Plus, stack a promo code on top, and it's the cheapest way to join their program. Here's our review of how the Nutrisystem Costco deal works:
---
You Can Buy Discount Nutrisystem Gift Cards at Costco.com
Members of Costco just need to login at costco.com, then check today's discount price for gift cards: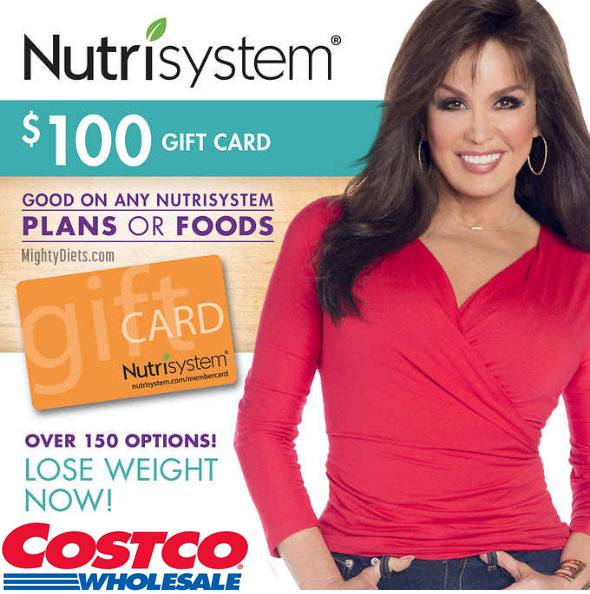 Nutrisystem $100 gift cards usually cost $79, but can be as cheap as $59 during seasonal promotions. Here's how to use them:
---
How to Use Nutrisystem Gift Cards from Costco
Using costco gift cards for nutrisystem? Here's how:
Buy $100 Nutrisystem gift cards at costco.com
eGift cards are delivered via email within one hour
Use gift card on top of 40% off promotion
Stack a $30 off code for cheapest price ever on Nutrisystem!
You can buy more than one gift card, but know that your first order likely will be around $320, so you will probably only be able to use a maximum of 3 gift cards on your first order.
If you have $$ left over on a gift card, just re-enter the number on your second order to apply the balance of the gift card.
Example: So, if your First order total was $290, and you used three $100 gift cards, re-enter the third gift card again on your second order to have the remaining $10 balance applied.
At costco.com you can read the glowing customer reviews for these discount gift cards, even though reviews for the program are mostly good but mixed. Anyway, every review on costco.com seems very happy to save an unexpected $20+!
*To read how using one or more of these discount Nutrisystem gift cards is like a promo code (towards a la carte food) for existing customers, read this article!
---
Where to Enter Code at Nutrisystem.com
Although the Nutrisystem deals at Costco are pretty straightforward, it's a little hard to find where to enter the actual gift card code at nutrisystem.com. The place to enter the code is on the 3rd checkout screen like this: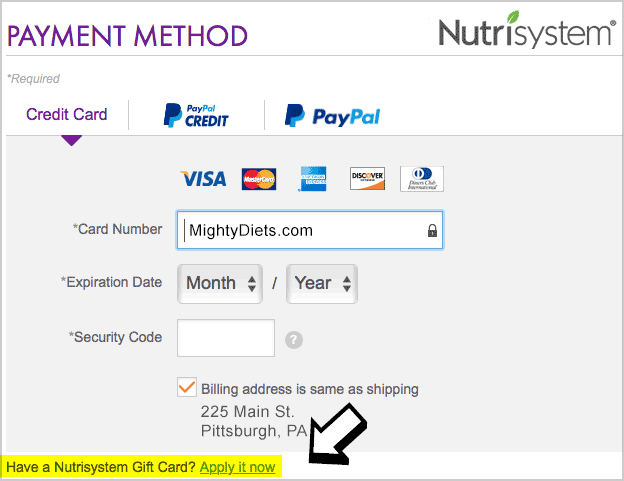 Just click that link and it will open a field to type in the gift card number and PIN like this: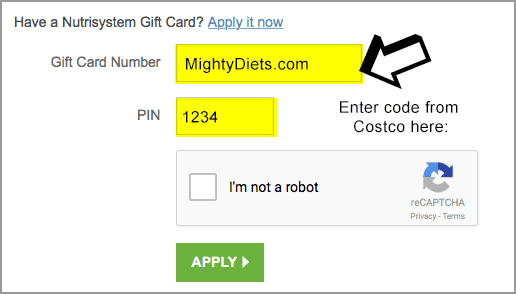 Once you click "apply," the gift card should be entered towards your order total.
---
Costco: When Do the Nutrisystem Gift Cards Go On Sale?
You can get $100 gift cards for Nutrisystem for $79 each every day, but a couple of times a year they go on sale for $59 each! These Nutrisystem deals at Costco are usually around January 1st for all those people with New Year's resolutions, but you can expect these $59 gif cards to be available at least twice a year.
When you click, "Sign in for price," you'll get today's best deal: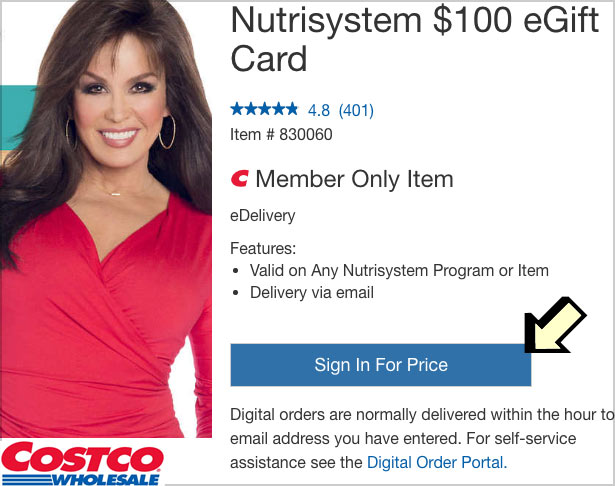 ---
Tip: Stack a Promo Code at Nutrisystem.com
Saving $20+ on each gift card is great, but here's how to get the cheapest price possible on Nutrisystem. Click their 40% off promotion, and then use a promo code for an extra $20-30 off at signup!
Promo code SAVE20 usually works for a $20 discount, but sometimes we have even better codes here.
Costco discount + Nutrisystem discount + promo code = a triple discount!
---
How Much Does Nutrisystem Cost at Costco?
Costco does not sell actual Nutrisystem products in-store, and they do not directly sell memberships. However, they do sell discounted gift cards that can be used towards your purchase at Nutrisystem.com. During seasonal sales like New Year's, these $100 gift cards are priced as low as $59!
*Related: How Much Does TurboTax Cost at Costco?
---
The Cheapest Way to Join Nutrisystem?
You might have seen an ad on TV for their Drop 18 Now or Nutrisystem D program, but that doesn't give you the best price. Instead, use all 3 discounts mentioned above, and it ends up being the absolute cheapest price on Nutrisystem. Remember, it all starts with an eGift card deal from Costco, and then click below to lock-in the best monthly rate:

Featured new customer promotion or, view all coupons
Related:
Related Posts