How does Medifast work? Medifast has been a top name in meal-delivery diets for over 30 years. Although the diet is still true to its roots as a nutritious low calorie, low-carb weight loss plan, it's gone though some changes recently.
Here's an overview of the diet and their new plan options, "Go!" and "Achieve." (*We have 3 new Medifast coupons!)
What Is Medifast? A Brief History
Back in 1980 when most of us were busy playing the newly released "Pac-Man" video game, Dr. William Vitale was busy creating a specially formulated meal plan to help his obese patients lose significant weight. His mission was to create a healthy diet that provided both initial weight loss and long term, sustainable results.
Dr. Vitale developed a meal plan that he called, "Medifast," that was nutrient-dense but very low in calories.
After achieving exciting results with his patients, Dr. Vitale soon made the "Medifast diet" available to the public. In the years since, Medifast has never gained the fame that Pac-Man did, but it has helped tens of thousands of people meet their weight loss goals, and has been recommended by thousands of doctors.
So, how does the Medifast diet work?
---
How Medifast Works:
While on Medifast you'll eat 6 small meals a day (every 2-3 hours) consisting of a combination of their prepared low-calorie "Medifast meals" and snacks plus 1-2 "Lean & Green" meals that you prepare yourself.
1.) Medifast Meals: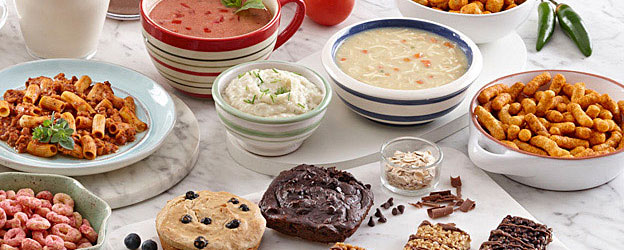 Each Medifast meal is high in lean protein and fiber which makes you feel full longer, and helps to eliminate unhealthy cravings. These meals are fortified with 24 essential vitamins and minerals, allowing for significant weight loss without sacrificing on nutrition. The low-glycemic carbs in Medifast food help to regulate your blood sugar levels, making it a popular diet with diabetics.
The meals are also low in carbs and total a mere 1000 calories per day; that's only half the FDA's recommended allowance. As you can imagine, this usually results in fast weight loss, as your body learns to burn fat instead of carbs for energy.
2.) Lean and Green Meals: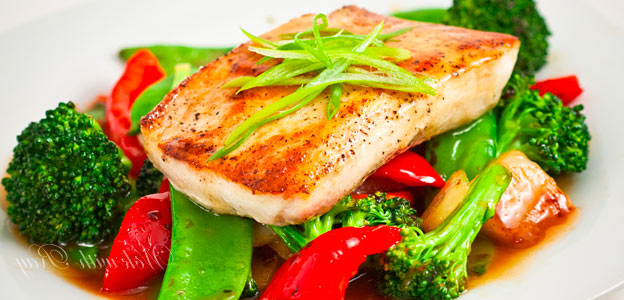 Every day you'll have 1-2 "lean and green" meals, depending on which plan you choose. The "GO" plan includes only one lean & green meal per day, while the "FLEX" plans include two.
The "lean" is a serving of any protein from their list of lean options including fish, poultry, and beef
The "green" is three servings per day of vegetables from their list of green options which include non-starchy vegetables like spinach, broccoli, cauliflower, and tomatoes
You can choose to make your own Lean & Green meals, or choose their Flex Complete plan which includes frozen ones. There are also a number of lean & green recipes available if you need ideas.
Here's more about plan options:
---
Medifast Plan Options: Go or Achieve? (Formerly, "Flex")
Men and women both have the option of two plans, Go!, and Achieve. Here's the difference: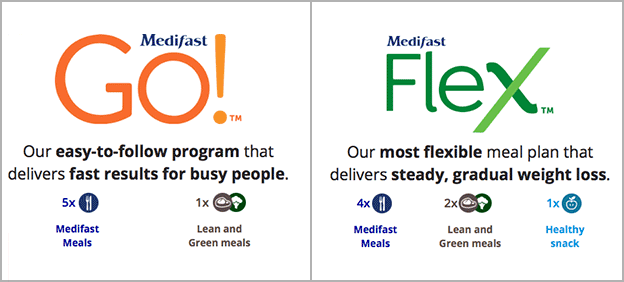 1:) The "GO" Plan:
Formerly called the, "5 & 1 Plan," the GO plan offers faster results, and is most popular with busy people who want to lose weight quickly. A day of GO includes:
5 Medifast meals
1 "Lean & Green" meal
*You can learn more about the GO plan here.
2:) The "Achieve" Plan: (Select or Complete)
Formerly called, "Medifast Achieve," the ACHIEVE plan is their most flexible plan that offers steady, gradual weight loss. Each day on ACHIEVE includes:
4 Medifast meals
2 "lean & green" meals
1 healthy snack
There are two levels of the ACHIEVE plan: "Select," and "Complete." You'll pay more for the "Complete" kit, as it has more food variety, lean & green meals, and includes Essential1 Heart Health® and Digestive Health® supplements ($50 value)
The Medifast plan can also adapt to those with special nutrition needs, including diabetes, vegetarian, and gluten free diets.
*You can learn more about the ACHIEVE plan here
---
Which Plan Is Best for You?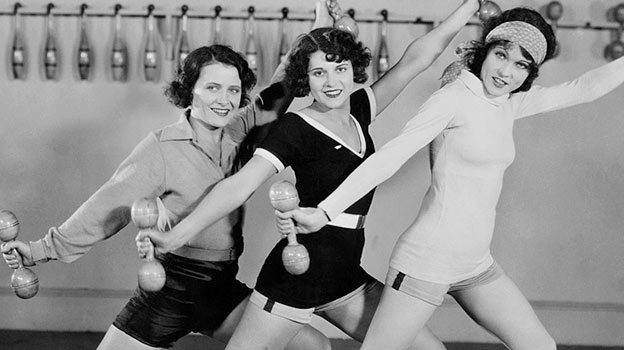 To answer that question, consider both your weight loss goals, and your own unique personality. Are you willing to sacrifice food variety for faster results?
Faster weight loss: If you are most concerned with losing weight quickly, then consider the GO plan
Flexibility: If the idea of eating more "real" grocery store food is appealing, then consider the ACHIEVE plan
Both of these plans include their monthly auto-delivery service called, "Medifast Advantage®." With Advantage you get a lower, promotional price at signup, plus future discounts, rewards and free shipping.
You'll remain on either the GO or ACHIEVE plan until you meet your weight-loss goal, after which you'll transition to a maintenance phase called, "Thrive by Medifast™."
Still Interested?
If you're still considering the Medifast program, we recommend you read what we learned from reviews, include the pro's and con's of the program. We also wrote an article that explains the cost of the diet, which can be lowered significantly if you use a coupon:
*Get 30% Off the GO or ACHIEVE Plan! Or, view all coupons here
Not Interested In Medifast?
If you don't like the idea of eating a lot of bars, shakes, and "just add water" meals, there are other popular meal delivery diet options like Nutrisystem (reviews, cost, coupons) South Beach Diet (reviews, cost, coupons) and BistroMD (reviews, cost, coupons)
If you don't like the idea of paying for prepared meals, you can also consider the #1 rated Weight Watchers (reviews, cost, coupons) with optional meetings.
Did we miss anything? If you have any helpful info about how Medifast Works, let us know with a comment below: