*Update: Turbo 13 is now called, "FreshStart®!"
How does Nutrisystem's Turbo13 program work? You may have seen one of the tv commercials promoting nutrisystem.com/turbo13 and wondered how it all works. Here's the skinny on the new, initial fast weight loss phase that they call "Turbo 13."
If you think of the Nutrisystem program as a car, then Turbo 13 is the ignition and turbo boost. The first month of the program Turbo 13 prepares your body for weight loss by priming your body's engine and flushing it out.
Turbo13 works to achieve three main goals:
Control your blood sugar levels to curb cravings
Speed up your metabolism to increase energy
Training your body to burn fat instead of carbs
It achieves these goals by acclimating your body to 6 smaller prepared meals a day, plus 8+ cups of water each day. These pre-portioned meals are low in carbs and high in protein and fiber to help tune up your body and feel fuller for longer.
The Turbo 13 phase also adds special bars, shakes, and TurboBoosters to specifically regulate your blood sugar and boost your metabolism.
But how does Turbo 13 work? Let's take a look under the hood.
---
Nutrisystem's Turbo 13 Explained:
Turbo 13 is the kick-start for all Nutrisystem plans and it all starts with the Turbo Takeoff week. This first week of the program includes 7 days of meals, TurboShakes, NutriCurb Bars, and TurboBoosters.
Your initial shipment also includes 3 additional weeks of food designed to help you lose weight quickly. In fact, the goal is for women to lose 13 pounds in the first month (hence the name Turbo 13) and men can lose 18 pounds!
You can learn more and lock-in a low monthly rate with their new customer promotion below:

*View today's featured promotion, or checkout all coupons
---
What's In Your First Order & How It Works
The Turbo 13 program is designed for fast initial weight loss. When you signup, you'll get:
7 "TurboShakes" (or "Nutri-Pro Shakes" for men) to help shrink your belly
7 NutriCurb Bars to curb your hunger
7 TurboBoosters to boost your metabolism
Free shipping + 40% off

(new customers only!)
Nutrisystem designed their plans to minimize your involvement in counting calories or points and restricting diet while using science and psychology to keep you going.
Nutrisystem is based on your glycemic index. When you take in carbohydrates, your body turns those carbs into sugar and your body either uses that sugar as energy or stores it for later as fat. High carbohydrate foods are also high in calories, a feature you want to avoid when dieting. (remember, reducing calories in is the goal)
To lose weight quickly, just reducing your calories and your "bad" carb intake isn't enough. You have to increase your metabolism as well, and that's where the "Turbo Takeoff" week comes in.
---
Turbo 13's Turbo Week: aka "Turbo Takeoff"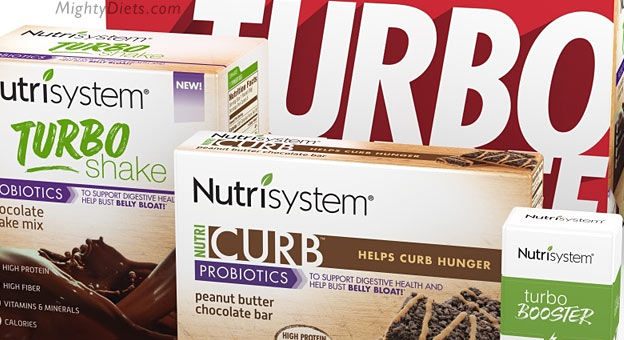 When you first begin to diet, your body will rebel. It's not used to getting fewer calories. But if you persevere, your body will adapt.
To both help you persevere and to increase your metabolism during the first week, Nutrisystem includes three things in your kit. TurboBoosters, bars, and shakes. This is on top of the usual meals in a typical Nutrisystem plan.
TurboBoosters: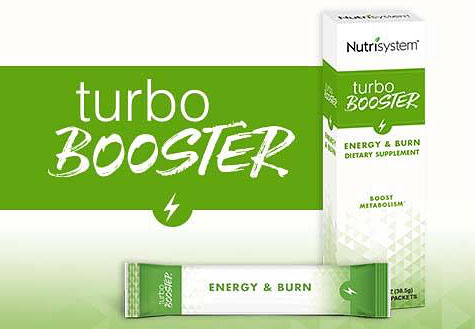 TurboBooster is like your morning coffee but better. Yes, it has caffeine and caffeine increases your metabolism, but it also includes other nutrients and supplements to help you stay focused throughout your day.
TurboBooster includes green tea extract, a powerful antioxidant, and another metabolism booster. You'll also receive the thermonutrient black pepper in your TurboBooster which improves nutrient absorption which uses 10% of the calories you put in your body.
*Related: Common Nutrisystem Side Effects?
Turbo Shakes and Bars: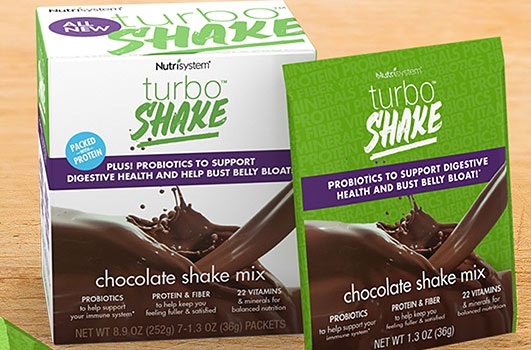 Your stomach is one of the reasons your body rebels when you diet. When you put less food in your stomach, you feel hungry.
The solution? More fiber.
There's a reason you can eat a lot of veggies and not gain weight. They are mostly full of fiber and low in calories.
The "TurboShakes" and "NutriCurb Bars" included in your first week of Turbo 13 will do several things. First, they combat hunger by filling your stomach with fiber. Second, they act as dessert to help you stay away from your go-to bowl of ice-cream. And third, they give you a massive dose of protein with added probiotics.
Protein
That's right, protein! There is a reason why keto diets are so popular. Increased protein changes the weight-regulating hormones in your body such as GLP-1, peptide YY, cholecystokinin, and ghrelin. The first three in the list help increases, helping you feel satiated when eating, and the last decreases, reducing your hunger factor.
Protein also burns more calories when metabolized. This combined with every other aspect of your Turbo Week, good and balanced carbs, more fiber, energy boosting supplements, and portion control will be the jumpstart you need to lose the most weight and keep going with Nutrisystem.
---
Turbo 13 and Your Metabolism: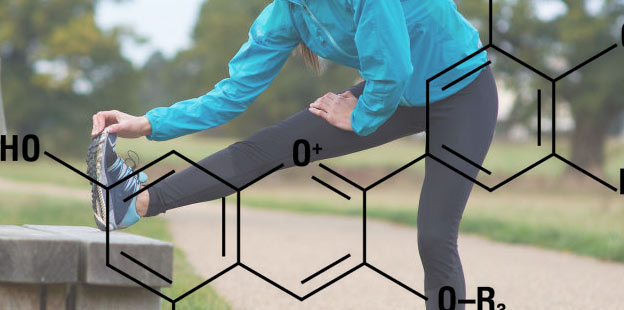 To understand how the TurboWeek works, you have to understand how metabolism works. Metabolism is the chemical process where your body derives the energy to live and function. It's also how your body absorbs nutrients and eliminates bad things.
But for the sake of this article, we'll focus on the energy aspect. Your metabolic rate is the rate at which you combine food and oxygen and turn it into energy. Several things determine this rate.
Your age: As you age, muscle decreases and fat increases. These factors decrease metabolism.
Your sex: Men usually have more muscle and less fat than women on average. This equates to higher metabolism.
Body Composition and Size: More muscle equals higher metabolism. But so does less fat.
Physical Activity: You have to exercise at a high intensity to change your metabolism through physical activity. But just being active does have a small impact.
The Food You Eat: Eating too many sugars and the wrong carbs and not enough protein will lower your metabolism.
Chemicals: What chemicals you put in your body can either lower or increase your metabolism.
TurboWeek uses the last two on the list to help increase your metabolism and increase your weight loss.
---
Turbo 13 Reviews
As mentioned, Turbo 13 is the first month of your weight loss journey on Nutrisystem, and not everyone likes the lifestyle adjustment that it requires.
By reading through hundreds of customer reviews, I came away with the following summary:
"This diet is best for busy people who like a structured diet and are willing to sacrifice the freedom and taste of home-cooking and restaurant food for successful weight loss results and a healthier lifestyle."
Put down that doughnut! The initial Turbo 13 phase of this diet is all about addressing bad eating habits by telling you what to eat and when, and that doesn't work with some people.
That's OK, though! That's why their's vanilla and chocolate and elections. (You mean not everyone loves our current President?!)
For a comprehensive review of the Nutrisystem diet, check out our full review here!
---
Is Turbo 13 and Nutrisystem Right For Me?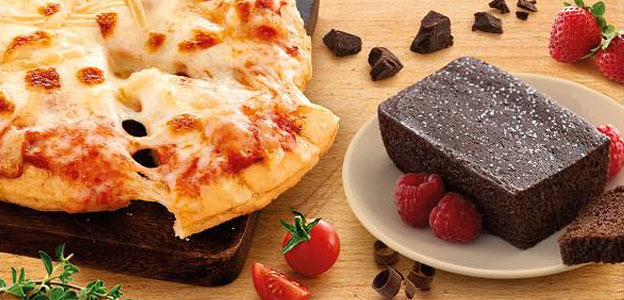 If you've been putting off dieting because of the work involved in getting started, then Turbo 13 and Nutrisystem is probably perfect for you. The system ramps you up to weight loss quickly and easily and tells you what to eat when.
If you're looking to learn more about Nutrisystem, check out our full review here. You can also take advantage of their best current promotion for new customers, and lock-in a 40% discount with this offer:

*Learn more & view today's featured promotion. Or, checkout all coupons
*Some coupons for Nutrisystem don't lock-in the low promotional rate, and your monthly cost increases after the third month, but this one doesn't!
Nutrisystem isn't for everyone, however. For example, Nutrisystem has special plans for diabetics and vegetarians, but if you must eat a gluten-free diet you'll have to consider other options like South Beach or Weight Watchers.
Related coupon: $20 off TurboTax!