What is the Jenny Craig diet, and does it work? Founded in Australia in 1983, Jenny Craig soon became a household name in weight loss. The program is currently ranked as the #2 commercial diet, trailing only Weight Watchers in the rankings from U.S. News.
Jenny Craig (coupons) offers a comprehensive approach to healthy weight management involving food, mind, and body. That all sounds promising, but does it actually work?
Let's look at both Jenny Craig users and weight loss studies to see if Jenny Craig delivers on the weight loss results that they promise.
---
How Does Jenny Craig Work?
Before we look at whether the program works, let's look at how it works. Jenny Craig is a popular meal-delivery weight loss program based on science. The program is much more than just food, combining the following components for effective for weight management:
Portion control / meal replacement: The foundation of the Jenny Craig program is the nutritious, pre-portioned, packaged food that's delivered to your door
Reduced energy-density foods: The Jenny Craig program emphasizes eating reduced "energy density." This is also a key component in the popular "Volumetrics" diet, which has shown that consuming foods with lower calorie density helps to make you feel fuller and eat less.
Behavior modification: Most people are overweight because of bad eating habits. The Jenny Craig Program teaches you healthy eating habits that should last a lifetime. They also teach healthy self-care and stress management skills that encourages a healthier mind and body
Motivational counseling: Most other meal-delivery diets don't include personal support from a trained counselor, which Jenny Craig believes is crucial to keeping you motivated and on track to meet your goals. This one-on-one attention is also the reason why Jenny costs more than other commercial diets
Consistent physical activity: Weight management is more than just what you eat, but also including regular movement and exercise in your weekly routine
Each one of these components has been individually proven to be effective for weight management. By combining them into one program, Jenny Craig has created a holistic approach involving food, mind, and body that encourages effective weight loss and a healthier lifestyle.
How Do the "Personal Consultants" Work?
When you join Jenny Craig, you'll make an appointment to speak with a trained counselor via phone or video chat. They will assess your lifestyle and weight loss goals and develop a personalized program and menu for you. They will also touch base with you once a week while you're on the program; either through the Jenny Craig Anywhere program via phone or chat, or in person at one of the 500+ Jenny Craig weight loss center locations.
These sessions function to keep you on track to meet your weight loss goals, but also help with motivation, accountability, and to set your menu choices.
You Start With "Rapid Results"

The program now starts with their new "Rapid Results" program, (similar to Nutrisystem's FreshStart®) which helps you lose up to 16 pounds in your first 4 weeks. This innovative fast weight loss phase was inspired by recent Nobel Prize-winning science that revealed the important relationship between our body clock and metabolism. (more)
How Food Works:

Most of the monthly cost of the program is in the price of food, which is required and averages about $20 per day. These prepared meals are delivered to your door every two weeks, and you are strlled once per month.
For the first phase of the diet you'll eat 3 pre-packaged Jenny Craig meals and one snack in addition to 5 servings of fruits and vegetables + 2 non-fat dairy products each day. You'll be asked to provide these fresh fruits and veggies will from the grocery store, so plan on that as an additional expense when estimating the cost of the program.
As soon as you reach half of your weight loss goal, you'll transition to eating more "real" food and slightly increasing your daily calories. You'll do this by cooking two meals for yourself each week using Jenny Craig's recipes and guidelines for preparation and portioning. The idea is to ween you off of their prepared meals so that you can continue with your weight loss journey by incorporating their tools, personal support, and more "home-cooked" food each day.
How Long Does the Program Last?
The diet lasts as long as you need it to, and there's no long-term commitment after the initial two months. Some people may find that after a few months they'd like to go it alone, while others enjoy the structured meals, personal support, and motivation, and stay on the program for a couple of years.
When you feel that you have the tools to ability to drop the prepared meals and weekly counseling, you are free to quit the program and use the healthy eating and lifestyle choices that you learned during the program to maintain a healthy weight.
Exercise:
When you join Jenny Craig, your personal consultant will work with you to develop a personalized activity plan based on your fitness level and lifestyle. The goal here is to incorporate 30 minutes of moderate activity and movement into your daily routine, 5-days a week.
How Much Weight Will You Lose?
With the current Rapid Results plan JennyCraig claims that you can, "lose up to 16 pounds in the first 4 weeks," and add that, "Members following our program, on average, lose 1-2lbs per week," including, "an average of 11.6 pounds in the first 4 weeks" according to their own study.
The goal is to achieve a healthier lifestyle that results in a sustainable 1-2 pound weight loss, although reviews include a wide-range of results from customers who have lost from 0-50+ pounds.
Your First Order – What to Expect:
Here's a great overview of what to expect from the program, including your first delivery of food:
If you live near a Jenny Craig weight loss center, you can pick up your food there and choose to meet with your consultant in-person. If not, you'll follow the "Anywhere" program in which food is delivered to your door and you talk via phone with your personal consultant. (above)
Cost of the Program:
You can estimate that the program costs about $20 per day, but we wrote all about the cost of Jenny Craig here. Also, here's their best current special for new customers:
*Best deal for joining Jenny Craig
---
Reviews: So, Does Jenny Craig Really Work?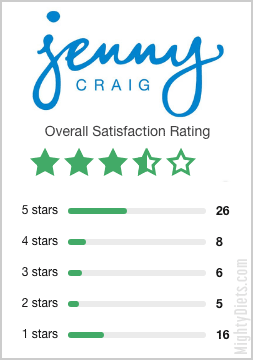 It's one thing to put several components together (like Voltron!) into a weight loss program, but does the diet actually deliver on weight loss results?
As mentioned, for most people the diet does work, resulting in an average weight loss of about 12 pounds in the first month, but that doesn't mean it will work for you.
Here are the strengths and weaknesses of the program based on expert ratings, success rates, and hundreds of customer reviews:
---
Reviews & Ratings: GOOD

As we mentioned, Jenny Craig recently ranked as the #2 commercial diet in America, and a rated as a "Best Diet" for 8 years straight.
Let's see why the diet works for most people, and look at the common themes found in positive user reviews:
Fast Weight Loss: The Jenny Craig program has you hit the ground running with their "Rapid Results" program that immediately puts you on a structured plan that helps to curb cravings and prepare your body and mind for sustained weight loss. This first month helps you to lose up to 16 pounds or more, and its high success rate is a big reason why Jenny Craig is ranked an impressive #3 by U.S. News for short-term weight loss
Easy to Follow: JennyCraig works for a lot of users because it's a structured plan that tells you what to eat and when, and helps you to make simple adjustments to your daily routine for a healthier lifestyle. There's no need to count calories, carbs, points, or measure portion sizes. It's ranked highly at #7 for "Easiest Diets to Follow" by U.S. News
Personal Attention: The top commercial diets seem to realize that personalization, motivation, and accountability are all an important part of what makes a diet work. While DIY diets can be cheap, research says they aren't as effective. That's why Jenny emphasizes the role of a dedicated personal consultant in the program to help support you in a number of ways. It's also why WW reports that people who attend meetings are twice as likely to achieve their weight loss goals.
Popular with Diabetics: A lot of the good reviews online are from customers who have Type 2 Diabetes, and Jenny Craig offers a custom plan for diabetics. This plan includes foods with fewer carbs, less sugar, and self-management strategies for diabetics. Smaller, more frequent meals with a lower calorie density also help to regulate blood sugar levels for diabetes control
You can find lots of positive customer reviews and testimonials on JennyCraig.com, but sometimes it's better to read the (sometimes painfully honest) negative reviews.
---
Reviews & Ratings: BAD

It's important to be skeptical of all diets and weight loss programs. There is no one presidential candidate or brand of shoes that works for everyone, and the same could be said for diets. The important thing is that a weight loss program should work for your lifestyle and unique personality, and you shouldn't feel like a square peg trying to squeeze into a round hole.
Let's look at which areas this diet doesn't rate favorably, and learn why people complain that Jenny Craig did not work for them.
The Price: The #1 complaint about Jenny Craig in both user reviews and expert ratings is the high price. By their own estimates you'll spend about $20 per day on food while on the program which means that at $600+ per month, the cost of this diet could be a deal-breaker for many people. Does the role of the personal consultant justify a price tag nearly twice the cost of Nutrisystem? You'll want to decide whether the personal attention is important to you and worth the hefty price tag.
The food: There are literally no meal-delivery diets with gourmet food that will knock the socks off of a New York Times food critic. Such is the case with Jenny Craig and their food that might be described as mediocre or "adequate" by those with a fickle palette. While most restaurant food is off-liits, you can supplement their meals with fresh fruits and vegetables from the grocery store.
Lost weight may return: As mentioned, the actual Jenny Craig program has no set duration, and some people may quit after 3 months, feeling that they are ready to go it alone. Bad habits are hard to break, which may be why customers complain in negative reviews that their weight has come back after leaving the program. There is also a significant emotional component to eating which may not get corrected in only a few months. While ranking well for "short term weight loss," Jenny Craig gets a mediocre 3-stars for "long-term weight loss" with U.S. News.
If you're looking to scour through some bad reviews, try ConsumerAffairs.com. It's where a lot of angry customers go to write bad reviews. Now, let's look at what the experts say.
---
Expert Ratings:
U.S News asked a group of health and diet experts to rate Jenny Craig in several important areas. The result was that they scored well, once again taking the title of "highest rated meal delivery diet," and the #2 commercial diet behind Weight Watchers. Here's how they scored: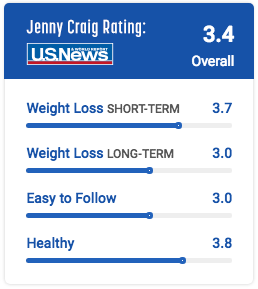 Based on the same criteria, we gave them a slightly higher score, but note that Jenny Craig's high price may be a concern.
---
Is Jenny Craig Effective? Clinical Studies & Success Rates: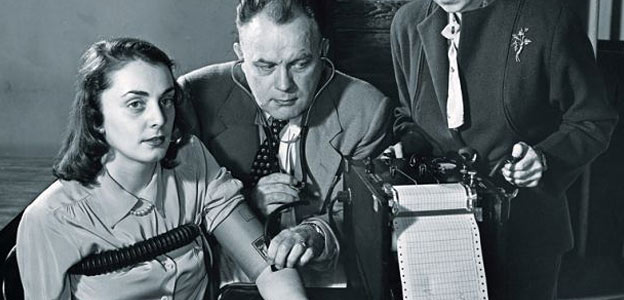 To answer that question, the review from Consumer Reports may be most useful (below), as journals and independent studies can be a slog to read through. They also can be vague, filled with numbers and citations, and rarely commit to concluding that any diet will really "work," as there are a lot of variables to consider.
Consumer Reports conducted a clinical trial in 2011 ranking the 6 top commercial diets including Jenny Craig, Weight Watcher, Atkins, Slim Fast, Ornish, and the Zone diet. They ranked Jenny Craig #1 overall, factoring in food and nutrition, plus short and long-term weight loss results.
Applied Physiology, Nutrition, and Metabolism: Research study of 133 overweight women found that Jenny Craig participants lost an average of 12 pounds, which was slightly more than plans like Weight Watchers, Nutrisystem, and Weight Watchers: study
Annals of Internal Medicine review found that Jenny Craig participants lost the most weight over 12 months, including almost 5 percent more than women and men given weight loss counceling alone: review
American Medical Association study (*funded by Jenny Craig) of 331 overweight and obese women found that Jenny Craig participants lost an average of 10% of their body weight compared to 2.6% with the control group
Jenny Craig does offer a guarantee that you will, "Lose 12 lbs. in 12 weeks or your first three month's fees back." However, because most of the cost is in the food, that's not a "full-refund."
---
Will Jenny Craig Work for YOU? – Ask Yourself These 3 Questions:
Did you know that in the 1960's the average woman spent 112 minutes per day cooking? Things have really changed as that time has been cut in half, with 50% of people now reporting that they hate to cook.
1.) Do you like to cook? Well, if you're included in this growing percentage of people who don't prioritize home-cooked meals, then a meal-delivery diet program like Jenny Craig might work well for you.
If you do enjoy cooking and eating out at restaurants, you might dislike Jenny Craig's prepared meals, menu limitations, and structured eating schedule. and a DIY diet like Mayo Clinic Diet (cost) or Weight Watchers (reviews, cost, coupons) may work better for you.
2.) Do you benefit from personal attention? Some people can just set up equipment in their basement and follow an exercise routine. Personally, I can't, and the treadmill that we bought a few years ago was clearly a waste of money and is now just gathering dust.
If you're like me and taking classes (plus the occasional help of a personal trainer) is more appealing to you, then diets like JennyCraig and WW + meetings. should be more effective and compatible with your personality.
3.) What's your Budget? Also think about your monthly budget. While Jenny does replace most of the meals you are currently paying for, the $600+ per month price-tag is still relatively expensive, and much more than alternative meal-delivery diets like Nutrisystem (reviews, cost, coupons), South Beach (reviews, cost, coupons), and BistroMD (coupon).
*New: We compare Jenny Craig to nutrisystem and Jenny Craig versus Weight Watchers
---
Conclusion:

Choosing the right diet is a personal decision, and there is no "one-size fits all" program out there. If you value structure, convenience, and personal attention over thrift and menu-freedom, then it's worth considering Jenny Craig's "Lose 16 pounds for $16" promotion:
*Jenny Craig's best promotion now!
Have you tried Jenny Craig? Please rate this diet and comment with your own review of whether Jenny Craig worked for you: