Medifast for Diabetics is a good fit for most people who have Type 2 Diabetes. If you are considering starting on the diet, they have extensive information on their site (PDF) regarding considerations with Type 1 and 2 diabetes. For an extra incentive, we have several new coupons including the featured one below to get you started!
Medifast for Diabetics – Click to compare the 2 plans
View coupons for Medifast – Updated with their latest monthly offers
---
Medifast has Weight Loss Plans for People With Diabetics
If you have Type 2 diabetes, the good news is that this diet is very much compatible with the needs of most diabetics. This diet is focused on maintaining healthy blood sugar levels while limiting calories and is based on small meals throughout the day, which is very much in line with what is recommended for diabetics.
In fact, a diabetes diet (aka "medical nutrition therapy) is based on eating a moderate amount of healthy food, rich in nutrients and low in fat, at specific times of the day. The Medifast emphasis on "lean and green" meals are right in line with a diabetic's emphasis on vegetables, fruit, & whole grains. You can read more about a diabetes diet from The Mayo Clinic.
If you have Type 1 Diabetes, it is recommended that you consult with your doctor before beginning a diet of any kind.
---
Go or ACHIEVE®: Which Plan is best for people with Diabetes?

Essentially, there are two meal plans that diabetics can choose from, differing in daily caloric intake depending on their target weight loss. The popular GO Plan, (formerly called, 5&1) or the more flexible, Achieve Plan. (formerly called, "FLEX")
The Go Plan is designed for faster weight loss and is a bit more restrictive. The Achieve plan adds an extra "flex" meal each day that you provide yourself, meaning that you eat more real food.
While they both share similar qualities, they are designed to achieve different goals. In some cases, your doctor may recommend one over another, or even advise you to start with one plan, and then switch later.
The foundation of all three plans is that you can choose small 5 meals (from over seventy choices) to eat throughout the day. Not sure which plan is best for you? Check out this info-graphic, and click below to download a PDF directly from their site for diabetics.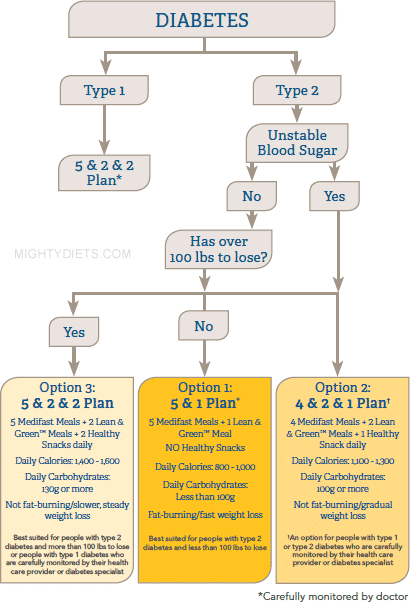 Medifast & Diabetes
As with any diet, you are strongly encouraged to consult your health care provider before beginning. If she believes that the diet is right for you, then we encourage you to use a coupon to save up to $132 on your first order! Going gluten-free? They have meals specifically for that as well.