Medifast Gluten-Free Plan – Did you know that Medifast has over 40 gluten-free foods? They now make it convenient to get them all in one place with their gluten-free 4-week variety packs. Click below to view, or take advantage of this month's coupons for up to 35 free meals!
Medifast Gluten Free Kit – All of their popular gluten-free meals in one place. Buy once, or save with monthly delivery
Promo codes for Medifast – Updated weekly with their latest offers including discounts on their GO® plan, available in a gluten-free kit
---
Medifast gluten-free foods:
For thousands of years, people ate diets that were relatively low in wheat gluten, but in recent years that has changed. Not everyone has made the adjustment to easily digesting wheat gluten, so it can cause digestive issues and discomfort in many people.
If you are on a gluten-free diet, or just avoiding foods with gluten because it's awful for you, consider the meals in their gluten-free variety pack. These foods are certified by the Gluten-Free Certification Organization (GFCO), meeting their strict standards

Which Food from Medifast is Gluten-Free?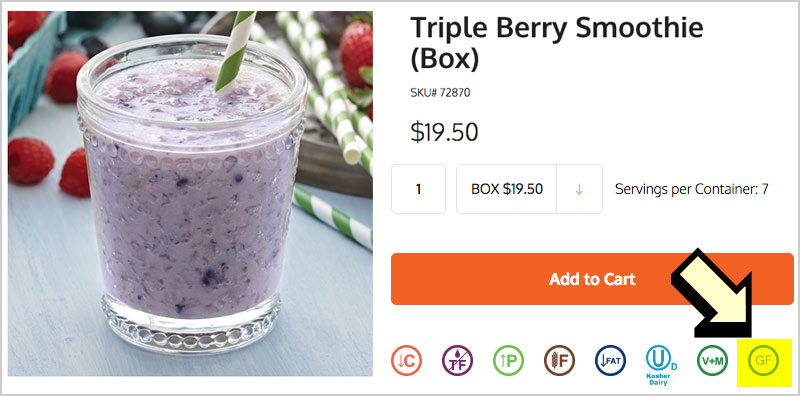 There are actually more than forty products that have been certified as gluten-free, and each one displays a special gluten-free, "GF" symbol on the box. With the meals above, they conveniently put these foods together in one place.
How to Sort Gluten-Free Foods
Don't feel like clicking on individual Medifast products to see if they are gluten-free? No problem.
When you are shopping for food on the Medifast website, just click any categories on the left nav to sort foods: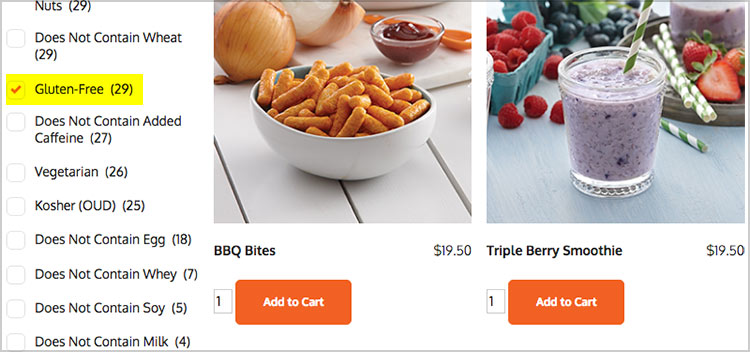 As you can see, there are a number of other categories that you can sort by including wheat-free.
Medifast Gluten Free 30-Day Kit: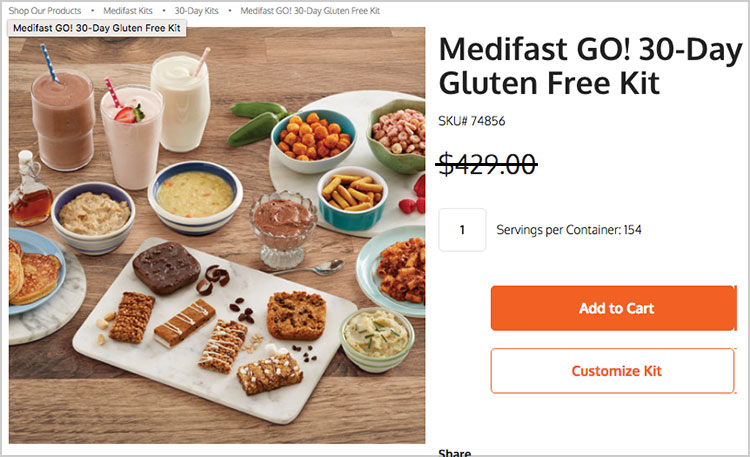 The 30-day Gluten Free Kit includes the following products (with seven servings per box):
Dutch Chocolate Shake (two boxes) – Brownie Soft Bake (two boxes) – French Vanilla Shake – Strawberry & Mocha Shakes – Cinnamon & Brown Sugar Cereal – Mixed Berry Cereal Crunch – Parmesan Cheese & Chili Nacho Cheese Puffs – Chocolate Chip Soft Bake – Chocolate & Vanilla Pudding – Gluten-free Chicken & Wild Rice Soup – Peanut Butter Soft Serve – Vegetarian Sloppy Joe – Chocolate Mint Soft Serve – Pancakes (regular and chocolate chip)

*Save $100 when you choose MedVantage auto-ship or save up to $50 on a la carte food and kits with a promo code
---
Why should you choose gluten-free foods?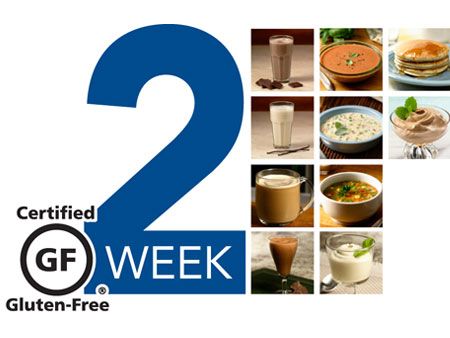 "Gluten-free" has become a bit of a negative buzzword in the dieting world, but what does it really mean?
A lot of people are unable to properly digest gluten, a common protein found in wheat and barley.
A disease called, "celiac disease" is just one contributing reason for this issue. More and more people are choosing to exclude gluten from their diet as more becomes known about this increasingly undesirable protein.
You can select food individually, or get a four-week variety pack. In either case, definitely use a promo code towards your order. They also have plans specifically for those with diabetes