Nutrisystem advertises several promotions during diet season. One of the most popular is their "2 for 1" BOGO sale, which gives you your first two months for the (retail) price of one, with no promo code needed.
*Update January, 2020: While Nutrisystem's BOGO sale didn't always lock in a 50% discount, it now does. That means it's the best sale of the year! click below to learn more: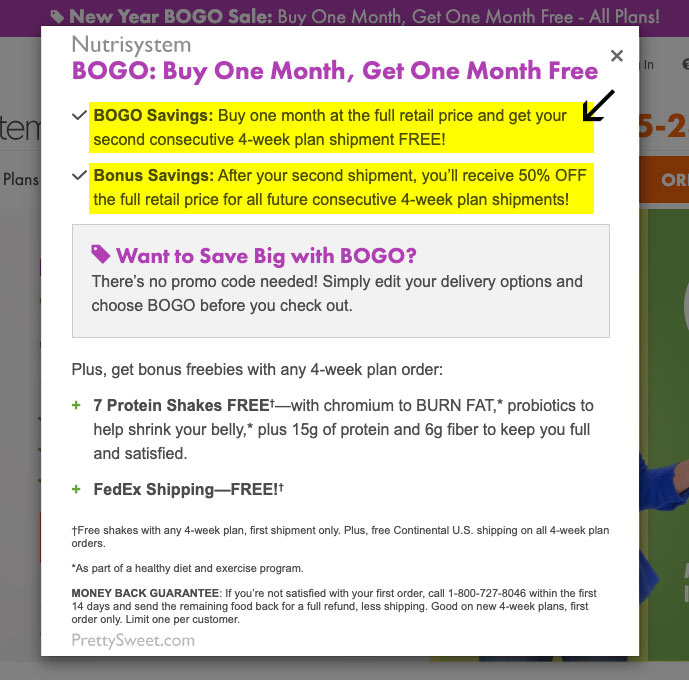 So, is this "two for one" bogo sale the best deal?
Yes, as of January 2020, the current BOGO sale is the best deal of the year in terms of savings. However, in the future you'll want to make sure that the Nutrisystem BOGO deal still locks-in the 50% discount.
To do so, just click where it says, "details "like this: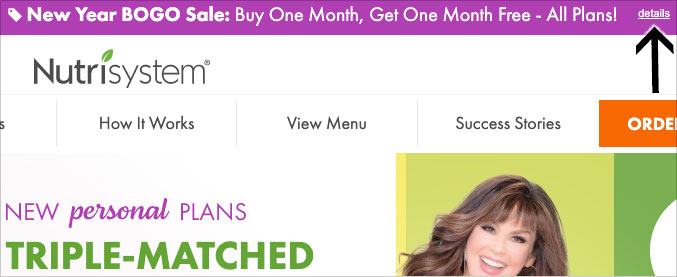 You'll then get a pop-up window that explains the BOGO deal. Make sure that it includes the following 2 items:
BOGO Savings: Buy one month at the full retail price and get your second consecutive 4-week plan shipment FREE!
Bonus Savings: After your second shipment, you'll receive 50% OFF the full retail price for all future consecutive 4-week plan shipments
See where it says, "50% off future shipments? That's the key!
OK, here's more about Nutrisystem's 2 for 1 deals throughout the year.
---
The Nutrisystem 2 for 1 Commercial (TV)
During peak diet season season (which starts January 1st) the entire commercial diet and weight loss industry is humming with activity. All of the big names are competing for your attention, and the web is flooded with coupons and promotions, including Nutrisystem's popular 2 for 1 sale.
Here's what the TV ad looks like:
OK, great. But what does "2 for 1" really mean? Here's how it works:
---
How the 2 for 1 Bogo Sale Works: Nutrisystem/2for1
So, what does "two for one" mean? In the ads Nutrisystem says that the sale is, "2 months for the price of 1," but that's based on the full-retail one-month price, which no one really pays. TO see that (inflated) price, look where it says, "One Time Delivery":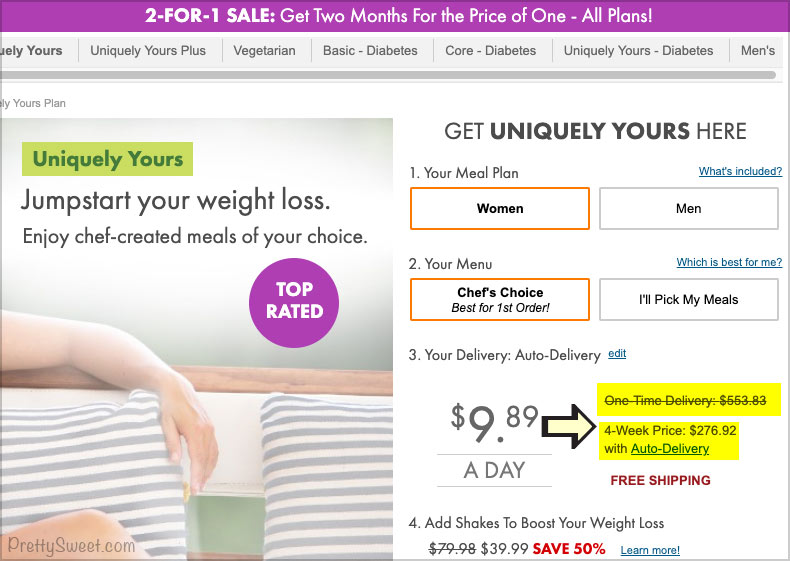 I mean, $550+ for a month of Nutrisystem? That's crazy!
To understand the logic of their "2 for 1" sale, you have to accept that the math is based on the inflated, "one month" price.
Important: Does the 2 for 1 deal last for only two months, or does it continue indefinitely at the initial monthly price?
Or, you could get a 2 for 1 offer in your email: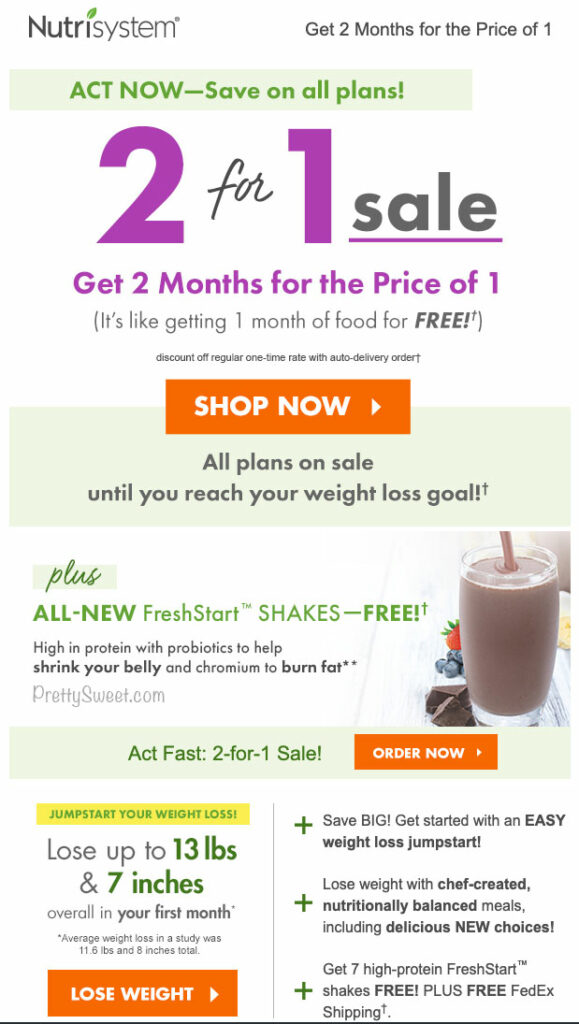 You might see Nutrisystem's 2 for 1 promo codes on Facebook, too: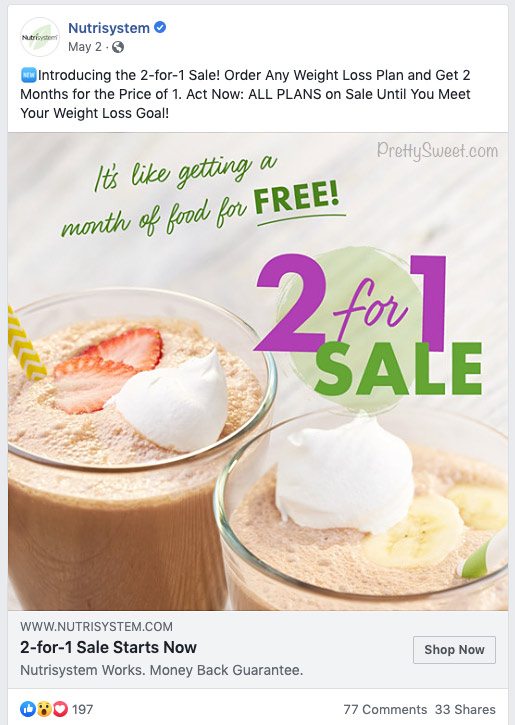 I see the Nutrisystem for Men 2 for 1 sale on my fantasy football app: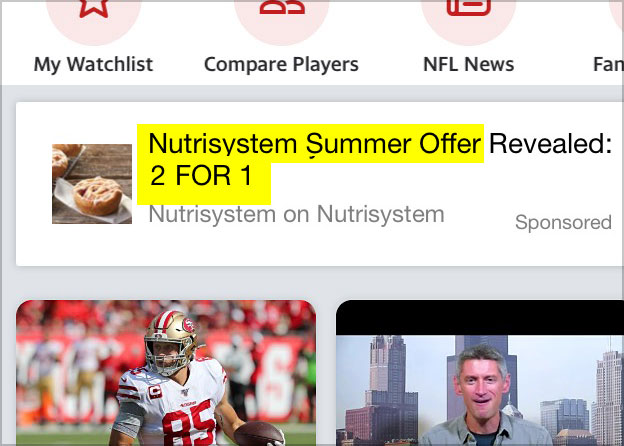 *They also offer this same sale for diabetics and their plans for men.
---
Is 2 Months for 1 the Best Deal?
Nutrisystem usually has several promotions out there at once, so it's good to compare them to get the best price. These seasonal sales include the: 50% off, $300 off, and the $249 special,
So, how long does that discount pricing last? Before continuing with the 2 for 1 sale, click, "details" at the top of the page to read the fine print: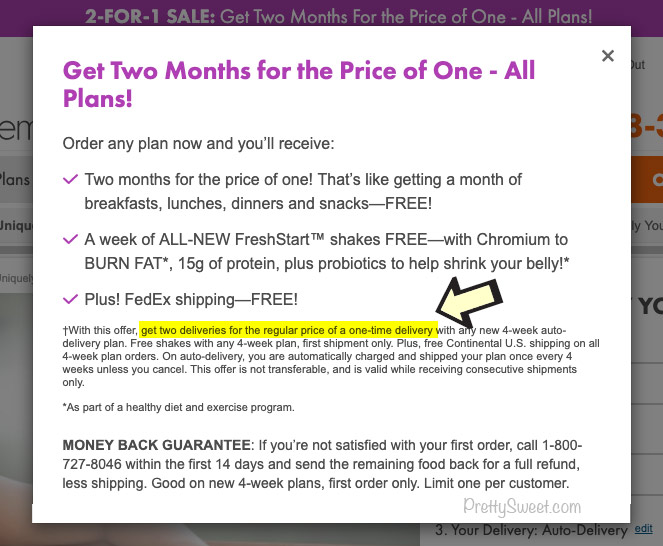 If they don't mention that the BOGO sale continues for "every order," it may end after as few as 2 months! In that case, skip the promotion, as your bill might unexpectedly change in the future.
*Related: Is Nutrisystem Food Healthy? See Calories and Nutritional Info
---
What's Better Than the 2 for 1 Sale?
The Who once said, "And like one and one don't make two, one and one make one," and it seems like the same confusing logic sometimes applies with Nutrisystem's 2 for 1 deal.
Tip: While the Nutrisystem New Year's BOGO sale locks-in a 50% discount, you can't always be certain other times of the year.
It really all depends on whether the initial low price is locked in, though. If you aren't sure, consider their 40% off promotion, which locks-in the low monthly price that you signup with, and also allows you to stack a couple of promo codes for free food.
Here's the promotion:
*You can click on the ad to learn more and apply the discount, or see all of today's Nutrisystem coupons here.
---
In Conclusion:
The 2 months for 1 BOGO deal is great if you are sure that the initial low cost is locked-in. If it's not, then I recommend the popular 40% off sale instead.
Not completely sold on Nutrisystem?
It's good to do your homework when making a big decision. If you're looking for another meal delivery diet to compare with Nutrisystem, check out the South Beach Diet (review, cost, coupons). They also have a new keto-friendly option, which is very popular.
Or, if meal-delivery isn't your thing, consider going more of the do-it-yourself route with the highly rated WW Weight Watchers (coupons, cost) program, or the Noom Coach app (review, cost, free trial).
Either way, talk to your doctor before starting any diet, and good luck! Thanks for stopping by PrettySweet.com!
Related Posts