Nutrisystem 50% Off first Two Weeks: Well, if you are looking to join Nutrisystem, there's some good news. To launch their new FreshStart® program, Nutrisystem is running a 50% off sale for the first two weeks: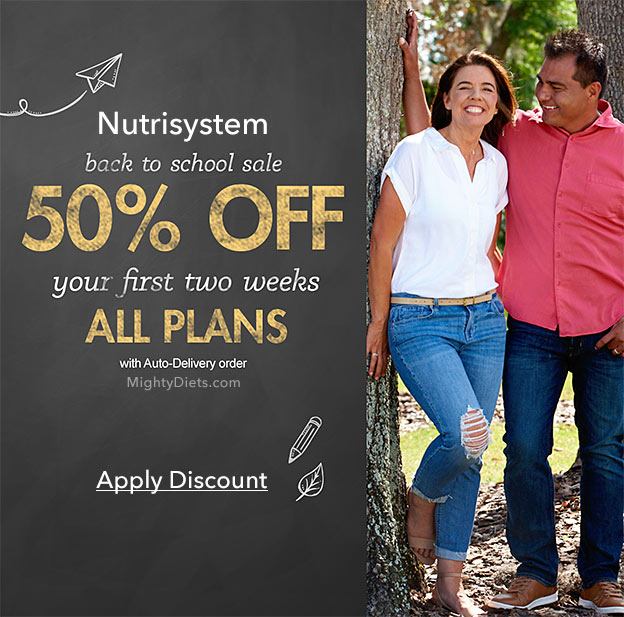 However, while this is a good sale, we did the math and it's not the best promotion out there. If you plan to stay with Nutrisystem long-term, you'll want to skip this sale and go for another one instead. Here's why:
---
Is the 50% Off Sale Best?
We just ran a comparison of the three top Nutrisystem promotions, and were surprised to see the results. While the "50% off" sale sounds great, it only results in the best price for the first month.
Assuming you stick with the diet 3+ months, the cheapest way to join Nutrisystem is their Nutrisystem/Save40 promotion which locks in the initial low rate that you pay.
You'll also be able to stack a promo code at checkout to save an extra $20+, making it the best deal out there.
---
"50 Percent Off Nutrisystem" is a Bit Misleading
Like, we said, the idea of 50% is really enticing, but it's only for the first two weeks. Because you'll be on Nutrisystem for at least 2 months (or face a cancellation fee) this sale loses its luster when you do the math long-term.
Before you join Nutrisystem (or any other diet) it's good to educate yourself by reading user reviews. One of the most important factors is the total cost. For Nutrisystem, that includes the cost of groceries to supplement your Nutrisystem meals.
To learn more about the true price tag of Nutrisystem, check out our article, "What's the real cost of Nutrisystem?"
*New: Flat Tummy Discount Codes
Thanks for stopping by Mighty Diets! If you have an opinion on this 50 percent off sale, please drop us a line below.
Related Posts