All About Nutrisystem Diabetes Plan: A shocking 100+ million Americans now have diabetes or prediabetes according to the CDC. As you probably know, the most important thing as a diabetic is to control your blood glucose and to get to a healthy weight. This is easier said than done, and many times it requires a plan.
Nutrisystem now offers a plan, called Nutrisystem D, specifically for the needs of diabetics. But, how does it work, and is it the best diet for you? To answer that question, let's take a closer look at the Nutrisystem D plan, and what customer reviews have to say.
*Update 2019: Look for coupons for up to an extra $30 off the already discount priced of Nutrisystem D on our coupon page here!
How Nutrisystem D works | D vs. Regular | User Reviews | Expert ratings | Cost & coupons
---
1. How Nutrisystem D Plan Works: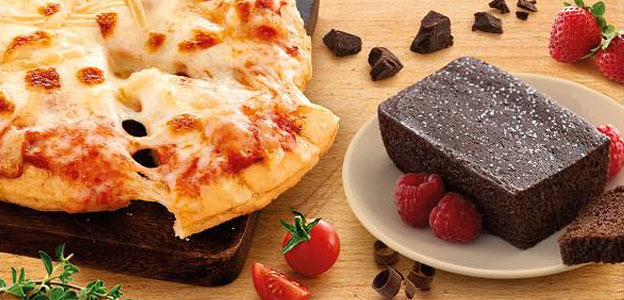 Nutrisystem is a meal-delivery diet plan based on the monthly delivery of prepared, "perfectly portioned" meals that are high in protein and fiber and low in "bad" carbs. With Nutrisystem you'll eat 6 smaller meals each day which helps to stabilize blood sugar levels and reduce food cravings.
The goal with Nutrisystem D, like their other plans, is to achieve a sustainable weight loss of about 10 pounds per month with more possible if you add in exercise.
Nutrisystem is a favorite of busy people because they provide most of your monthly meals with the exception of a few weekly "flex" meals which you use to eat out or cook on your own. They basically tell you what to eat and when which means that while your dining options are limited, there's no counting calories or points.
Like their regular diet program, Nutrisystem offers three plan levels for diabetics. All plans include:
Monthly delivery of meals including breakfast, lunch, dinner, and snacks
Online tracking tools and Nutrisystem app
Unlimited access to Certified Diabetes Educators and expert counselors
Free (FedEx) shipping
The main difference in plan levels is that you'll pay more for increased food variety. Here are the three plans for diabetics:
Diabetes BASIC: The least expensive plan, but you won't have the ability to customize your menu (About $8.50 per day with promotion)
Diabetes CORE: The most popular plan, CORE adds the ability to choose your own meals which is great if you find menu items that you want to switch
Diabetes UNIQUELY YOURS: All of the features of the other plans plus an increased variety of menu options and frozen meals included. With Uniquely Yours you'll pay about $10.50 per day with the promotion
A new option with all Nutrisystem plans is to add their DNA Body Blueprint kit, which may be especially helpful for those with a family history of diabetes.
---
• Nutrisystem D: Is the Food Good?
By default Nutrisystem will put together a menu and send you their "chef's choices," but you can customize the menu with all plans except the "Basic" plan. Want to see what their diabetes-friendly food looks like? Here's how to sort the meals: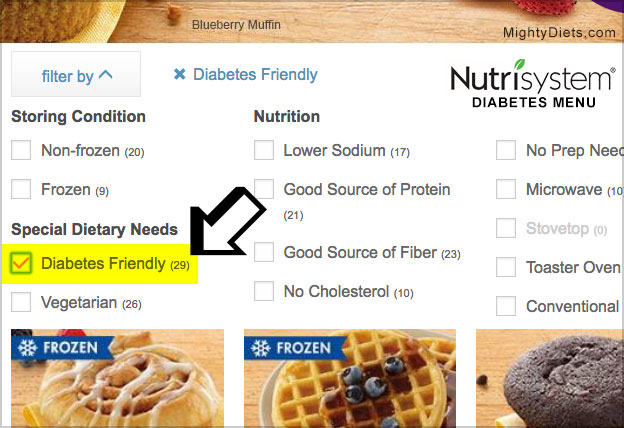 Click on View Menu
Click Breakfast, Lunch, Dinner, or Snacks on the top nav
Click "filer by" and choose "Diabetes Friendly"
There are also other filters such as lower sodium or for specific allergies
---
• Nutrisystem D: Sample Menu:
A sample menu of their diabetes diet is quite similar to our sample menu for their regular plans. The only difference is that they exclude foods that are higher in sugar and sodium. Here's what a day on Nutrisystem D might look like:
Breakfast: Nutrisystem Maple Brown Sugar Oatmeal
Mid-Morning Snack: Greek yogurt (low-fat) and fresh blueberries
Lunch: Nutrisystem Ravioli Formaggio w/ fresh veggies
Afternoon snack: Whole grain crackers with cheese
Dinner: Nutrisystem Santa Fe Style Chicken
Evening Snack: Nutrisystem White Cheddar Popcorn
*Why not take a mid-afternoon walk with a co-worker to burn some calories and help speed up your metabolism? Or, make walking the dog an evening routine!
---
• Nutrisystem D: Sodium, Sugar, Carbs?
If you have diabetes, you're probably used to reading food labels. The good news is that every meal and snack option on nutrisystem.com has detailed nutritional info and ingredients. If you have diabetes, it's not a bad idea to check out some products before signing up to see if you are comfortable with levels of sodium, carbs, and sugar: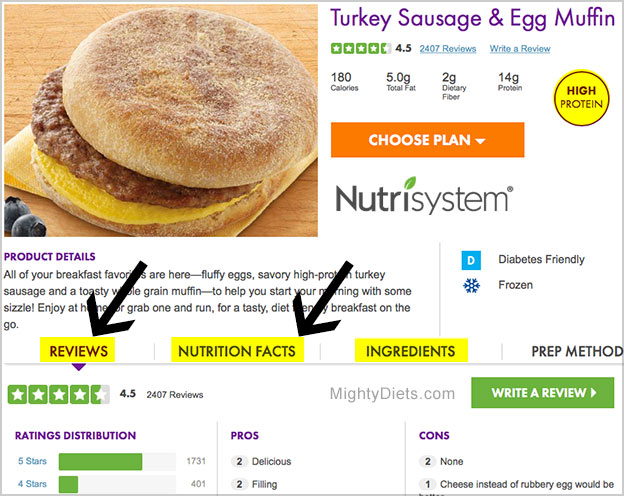 Each of the meals and snacks also includes real customer reviews and ratings. You can sort food by filters like, "diabetes friendly" or highest rated.
---
2. Nutrisystem D vs the Regular Plan
So, how is Nutrisystem D different? We recently wrote an extensive review of Nutrisystem as well as reporting on the cost and whether it works, but there are some differences with their diabetes plans.
Like the other Nutrisystem plans, the low-glycemic "D" plan offers "balanced nutrition for safe and effective weight loss." Like the other plans you'll consumer 1200-1500 calories each day and get 70+ grams of protein a day. However, the D Plan is different in a few ways including:
The Turbo13 "quick start" to the plan is not included as it isn't diabetes-friendly
Meal selections with less sodium, aiming for the lower end of the 1800-2300 range
Lower glycemic plan omits certain food choices and has less sugar
Lose weight to reduce A1c levels
In summary, Nutrisystem D is the same as the "regular" Nutrisystem plans except "D" includes a few modifications including lower sugar and sodium foods and the omission of the Turbo 13 phase
---
3. Nutrisystem D: Customer Reviews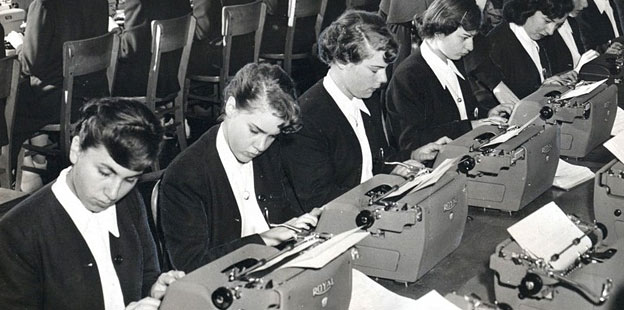 Because their diabetes plans are so similar to their regular plans for women and men, it's worth reading all the Nutrisystem reviews out there. However, a number of reviews that we read talk specifically about the diabetes plan.
Here's what customers said:
• Good Reviews:
Because this diet consists of smaller, more frequent meals with a low glycemic index, it's a good fit for many diabetics. A number of people appreciated the convenience of their meal planning:
"I am a type 2 diabetic who is insulin resistant due to a car accident, I had put on a lot of weight which puts me in danger health-wise. I turned to Nutrisystem and since July have lost almost fourty pounds… It is one day at a time but working, and with frozen food, so easy to manage meals. This is now a big part of my medical regimen."

Joe of Philadelphia, PA
Several customers also mentioned that the access to expert counselors was a big plus:
"The counselor was very helpful in explaining the best use of the system and sent us a list of recommended lower sugar items and lower carbs list which is very helpful for me as I am a type 2 diabetic."

Karen of Sebring, FL
• Negative Reviews:
You can actually learn a lot from bad reviews, as it's good to be critical of any diet, especially one that is a big commitment and lifestyle change. Here are some common customer complaints:
"The meals didn't say, "no sugar added" or mentioning anything like Splenda… the food has too much salt and sugar. That's totally unacceptable as a diabetic/weight loss program – no doctor would say "ok" to such high sugar content." – Gary of Sparks, NV
To be fair, the Nutrisystem meals fall within the USDA recommendations for sugar, salt, and carbs (which are converted to sugar) for women and men with type 2 diabetes. (is Nutrisystem healthy?) If your doctor has specific requirements for your daily sugar and sodium intake, discuss that first (chat?) with Nutrisystem before signing up.
Also consider that Nutrisystem plans contain about 40% less sodium than the average American consumes each day. So, while prepared meals of any kind seem to contain a fair share of sodium, it should be noted that for most people this will be a big improvement.
"Structure of their diet program was fine and I can live with the quality of the food… Could find nowhere on their website that states you must sign up for a minimum of two months (over $700) or pay a $125 penalty!"

Garrett of Henderson, NV
When you signup for Nutrisystem you are committing to at least 2 months of meal delivery unless you cancel within the first 14 days. If you cancel after 14 days but before your second order, you'll have to pay a $125 cancellation fee, which angered a lot of customers!
---
3. Expert Reviews & Ratings:
Besides reading what customers have to say, let's look for actual success rates and wisdom from studies and experts. Here are a few:
These studies are pretty dry to actually read, but it's good to find some positive results and success rates from doctors and experts.
---
4. Best Nutrisystem D Promotion?
If you're interested, check out their 40% off promotion for the best deal. It's better than other offers because it locks in your initial signup rate "forever." Here's the promotion: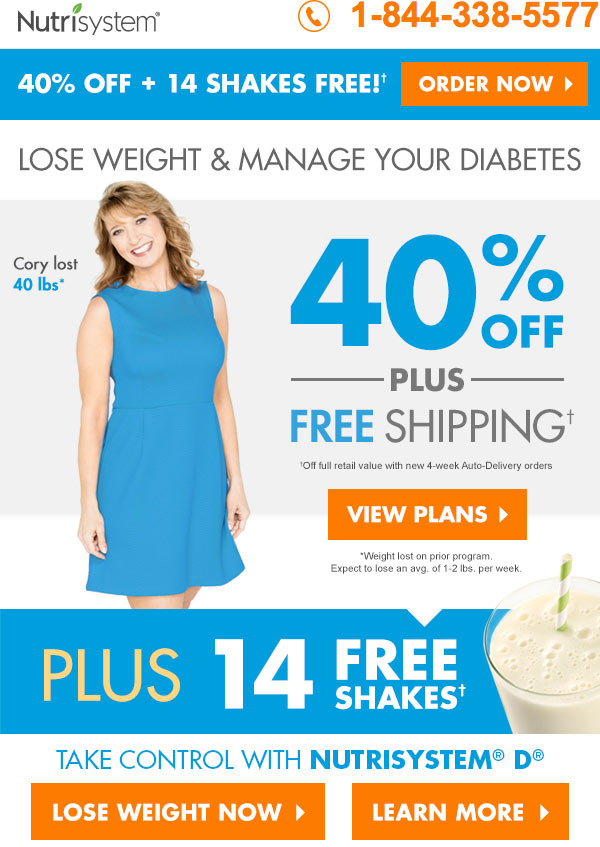 …or, view all coupons
---
Have you used Nutrisystem D? Share Your Own Review!
Are you diabetic and have tried Nutrisystem D? Let us know by leaving your own review or comments below:
Related: Healthy eating – diabetes.org
Related Posts