Nutrisystem diet with DNA Blueprint: Nutrisystem believes that one size does not fit all when it comes to weight loss. This is why they offer several different plans, and encourage you to customize your menu based on your tastes and personal needs.
Taking this one step further, Nutrisystem (reviews, coupons) now offers a DNA Body Blueprint program (view) that promises to, "unlock your body's weight loss secrets." by examining your genetic profile so that they can tailor their monthly weight loss program specifically to your DNA results. Here's more about how the DNA Body Blueprint works, plus how much it costs.
*Update: New coupons for the DNA kit now available:
Just click above to apply the coupon.
---
How the DNA Blueprint Program Works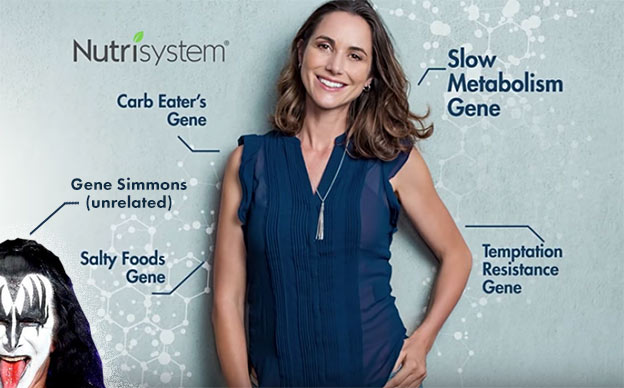 Why do I crave sweets, or overeat?
Can I eat carbs and still lose weight?
How does my metabolism affect my ability to lose weight?
These are the kinds of questions Nutrisystem intends to answer with their new DNA Body Blueprint kit. They currently sells the kit both as a stand-alone product, and as an optional add-on feature to any of their weight loss plans. Nutrisystem states that the DNA kit is:
"a resource for understanding how your unique genetic makeup can be used to recommend diet and exercise strategies that are tailored to your genotype."
In other words, people are genetically very different, and the DNA kit is an attempt to better understand your specific DNA and metabolism in order to personalize your weight loss strategy.
How Do You Use the Nutrisystem DNA Kit?
If you purchase the DNA Blueprint kit online, it's mailed to your house along with instructions for use. Here's what the instructions ask you to do:
Register your DNA kit online in your Nutrisystem account
Swab your inner cheek to gather cells which contain your DNA.
Place the DNA sample in the addressed, stamped envelope
Mail the envelope so that it can be sent back to their certified lab for testing
What Does the DNA test Look for?
The lab will process your DNA sample and analyze specific genetic markers that scientific research has shown to be highly relevant to your ability to lose weight. The DNA Blueprint Kit will asses:
Your unique metabolism
Your eating behaviors
How your body utilizes Macronutrients (including carbs, fats, and proteins)
How your body processes vitamins and minerals
Your genetic response to exercise
How Do You View the DNA Kit Results?
After the results are processed, Nutrisystem will put together a comprehensive 30-page report that outlines your results which will suggest what you should and shouldn't do on your weight loss journey, and tips for meaningful lifestyle changes based on genetics.
---
DNA Body Blueprint Cost (and Coupon)

Nutrisystem's DNA kit is priced at $99, which is less than other popular health-focused DNA-testing kits available online like DNAFit and Nutrigenomix which cost about twice as much. The price is the same as popular DNA test kit, 23 and Me, which is yields results of ancestry, but doesn't search for health and diet info.
You can either buy Nutrisystem's DNA kit a la carte with this coupon for 20% off + free shipping, or together with one of their weight loss plans, and enjoy up to a 50% discount as a new customer.
Here is the best current promotion for the DNA Blueprint kit:
Coupon for 20% Off DNA Kit:
*Tip: If you are interested in buying the DNA kit and signing up for Nutrisystem, I recommend first signing up with their 40% off + $30 off coupon, and then buy the DNA kit separately to get the best price.
*Update: Nutrisystem recently discontinued the coupon for 50% off the DNA kit with new customer signups, but the 40 off deal is better anyway!
---
Nutrisystem DNA Blueprint Kit on TV:
Here's their recent commercial promoting the DNA Body Blueprint program:

The promotion featured in the video is available here, and we also update all Nutrisystem coupons daily on this page. Here you'll find the best discounts, regardless of whether you decide to include the DNA Blueprint kit in your weight loss program.
*New: Recently, Nutrisystem CEO, Dawn Zier appeared on CNBC to discuss the new DNA program:
---
Nutrisystem DNA Blueprint: Customer Reviews
Nutrisystem believes that customers want more personalization in what they buy. You see this every day, whether you are buying a cup of coffee or a new car. Factor in the recent surge in popularity of DNA testing kits, and Nutrisystem believes they've got a groundbreaking evolution in weight loss.
However, this is a new product, and while there are plenty of reviews online for their plans, no men or women have reviewed the DNA program yet. If you have tried Nutrisystem's DNA Blueprint program, please leave up your review below to help others who are thinking of trying it.
*Related: Does Nutrisystem Actually Work?
Related Posts