Nutrisystem (reviews, coupons) is a popular weight loss program based on the delivery of nutritionally balanced, pre-portioned meals to your door. If you're thinking about joining, then you need to know about their new FreshStart® program, which is key to the success of the entire program.
The history of weight loss is littered with failed "yo-yo" diets, confirming that he process of sustainable weight loss is more of a steady jog than a sprint.
So, how does it work? Here's our review, and 7 things you need to know about FreshStart®:
How Fresh Start Works
Box Contents
Fresh Start Nutrition
Sample Fresh Start Menu
Best Signup Promotion?
---
1. How Fresh Start Works
Fresh Start is the first week of the Nutrisystem plan, and an evolution of the former, "Turbo 13" plan. It's also a bit different and more restrictive than subsequent weeks and months.
Nutrisystem says that Fresh Start will, "Jumpstart your weight loss while developing healthy habits for life."
FreshStart is designed to get you off the blocks quickly, and then ease you into a steady jog for the rest of the journey. That way, when you start the program, you should see fast, measurable progress which should inspire you to keep going.
Why is this so important? Because motivation is a key element in successful weight loss. Nutrisystem strongly believes that if you see fast, measurable progress, you're much more likely to stay on track.
---
2. Fresh Start is Kind of Like Bootcamp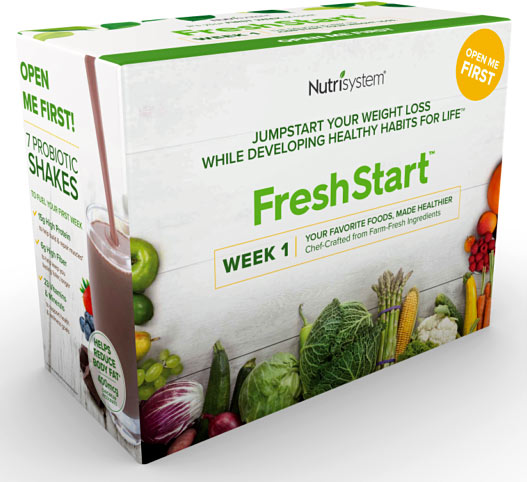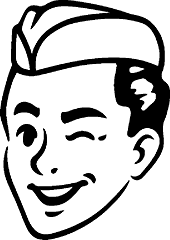 So, why is FreshStart different than the rest of the program? The goal with the first week of Nutrisystem is to wake your body up and get you ready for months of sustained weight loss.
OK, so you won't be crawling through mud, running at dawn, or screaming, "Sir, yes, Sir!," but you can think of FreshStart as a little bit like bootcamp.
It's Nutrisystem's way of saying, "welcome to the program, but things are going to change!" (put down those potato chips, soldier!)
But, change is often good. If you want to make an investment in your health, and the DIY diets have failed you; FreshStart may be the start of a new, positive change in your life!
---
3. FreshStart® Box Contents: Here's What You Get
The Fresh Start Week 1 box includes:
7 days of specially selected meals that limit calories to 1200-1500 per day
7 FreshStart shakes high in protein and probiotics
7 Nutrisystem snacks that are high in fiber to end cravings
---
4. Fresh Start Nutrition:
Here's how FreshStart's nutrition compares to the FDA's recommended amounts for women: (men's nutrition here)
| | FDA Recommended: | Nutrisystem (Women): |
| --- | --- | --- |
| Calories: | 1800 | 1200-1500 |
| Carbs (% kcal): | 45-65% (130g) | 50% (120g) |
| Protein: | 46g | 50-55g |
| Fiber: | 25g | 30g |
| Sodium: | 2300 mg* | 2100-2200 mg |
| Total Fat (% kcal): | 20-35% | 25-30% |
| Sat. Fat (% kcal): | <10% (10g) | 8-9% (6-9g) |
*Source: FDA dietary 2019 guidelines for women age 31-50
This nutritional balance achieves 2 important results:
Causes your body to switch from carbs to fat as a source of fuel. That means you'll start burning fat and losing weight (which is also the central goal of the Keto diet)
Ends your body's craving for carbs. Your body has probably been telling your brain that it needs carbs like bread and potato chips, and that has to stop!
With FreshStart you also get a specially designed Daily Tracker to log all of your meals and activity, plus the Numi weight loss app.
Nutrisystem has designed Fresh Start based on years of research, and the science says that if you stick to the program you should lose weight fast:
---
5. Nutrisystem FreshStart® Sample Menu:
As you can see, the program has you eating smaller meals more frequently. Together with the nutritional balance, the goal of FreshStart is to rev up your metabolism and prepare for months of sustainable weight loss.
Wondering what a day of food looks like on Fresh Start? It's like the rest of the program, but a little more restrictive. Here's a sample menu:

*Related: Sample 7-Day Nutrisystem Menu
---
6. Fresh Start Reviews
So, what do users think of FreshStart?
The main complaint about this first week of Nutrisystem is that it can be a big adjustment from your normal eating schedule. That's because Fresh Start requires you to eat several small meals a day, and the menu is restrictive.
Don't bother reaching for a donut or basket of fries, as FreshStart's goal is to break you of those bad eating habits that got you here in the first place!
Negative reviews may complain of the limited menu and portion sizes, but most users are willing to make these sacrifices for fast weight loss results.
While Nutrisystem reviews online don't usually distinguish Fresh Start from the rest of the program, we posted a number of testimonials, and video reviews about results after first month of the program.
7. Fresh Start: How much weight can you lose?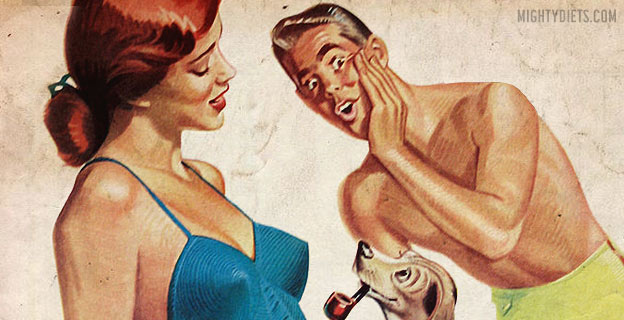 How much weight can you lose during the initial FreshStart® part of the Nutrisystem program? The goal with Fresh Start is fast weight loss, as they believe that it's highly motivating to start passing weight loss milestones quickly. So, how much weight can you lose?
With FreshStart®, women can lose 13 pounds, while men can lose up to 18 pounds in the first month.
*In a study, the average weight loss for women was 11.7 pounds after the first month.
---
7. The Best Signup Special:
If you are considering signing up for Nutrisystem, skip the 50% off sale and $249 special and use their 40% off special. Unlike other offers and coupons, the discounted monthly price locks-in, and won't unexpectedly go up after a month or two.
You can also use 2+ promo codes at checkout to save even more: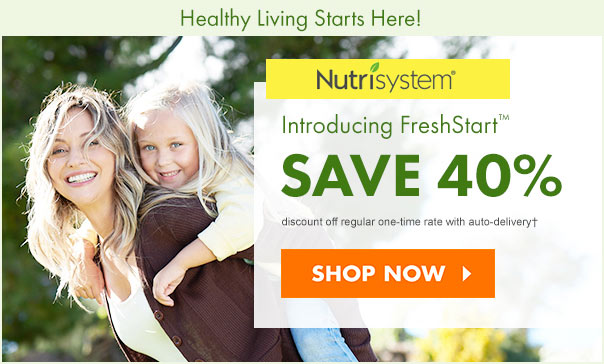 ---
Conclusion: Will Fresh Start Work for You?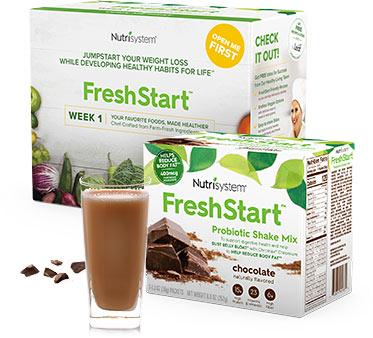 Fresh Start, and the entire Nutrisystem program, are based on years of scientific research. By restricting calories and providing a specific balance of nutrients, the math says that Fresh Start will result in weight loss.
Is this diet for you? The better question to ask is whether Nutrisystem fits your personality, lifestyle, and budget.
Based on thousands of reviews, Nutrisystem seems to be a good option for busy people who prioritize weight loss results and structure over menu freedom. It's very similar to the South Beach Diet (reviews, coupons) but generally higher rated.
Tip: If you like to cook and don't mind prepping meals and counting points, I recommend #1 rated WW (coupons) or Noom (free trial) instead.
If the DIY diets have failed you and you benefit from structure, Nutrisystem might be a great weight loss plan to consider. If you do consider trying out FreshStart®, here's their best promotion:
Thanks for reading our Fresh Start review at PrettySweet.com!
*Reference: https://health.gov/dietaryguidelines/2015