Where can a woman (or man) find an honest Nutrisystem review online? If you have the use of at least one finger, then the odds say that you do a lot of online shopping. And, if you're like me, you also probably do your homework and read reviews before making any big purchases, like a costly meal-delivery diet.
However, you also might be too trusting of those reviews. Are those "customers" really being honest, or maybe they've never even used the product they are reviewing?
So, when researching Nutrisystem, where can you go to read a real, unbiased review? We've separated the truthful from the dishonest so you don't have to click through sites with dubious Nutrisystem reviews. Here's our top three sites to find honest reviews for Nutrisystem:
Top 3 Nutrisystem Honest Review Sites:
---
#1. Nutrisystem.com (Really!?)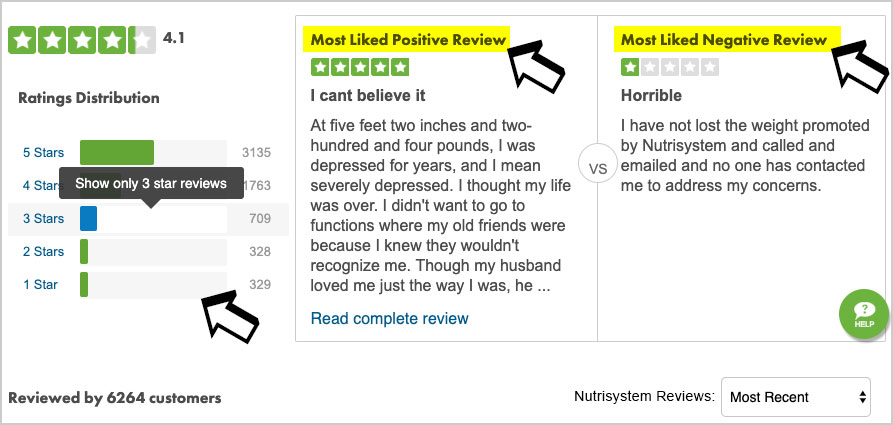 Wow, that's surprising! Normally you would assume that a company's website is not the best place to find honest reviews of their product, but in this case it is. Nutrisystem encourages verified customers to write honest reviews on their site, and they aren't all positive!
In fact, they don't hide the bad reviews either, and feature both the "most-liked" positive and negative reviews with ratings on their reviews page.
Tip: You can sort reviews by star-rating. Want to learn why customers complain? Click the "one-star" ratings to read only bad reviews.
Nutrisystem.com tops our list for two reasons:
It's one of only 2 sites that can verify that a user has actually purchased one of their weight loss plans. , as customers must login and have purchased a plan in order to write a review.
They have the most reviews. With over 6,200 sortable candid user reviews, you get a good idea of the pros and cons of Nutrisystem, and whether it might work for you.
You can check out their review page and apply a 40% discount by clicking below:
---
#2. Consumer Affairs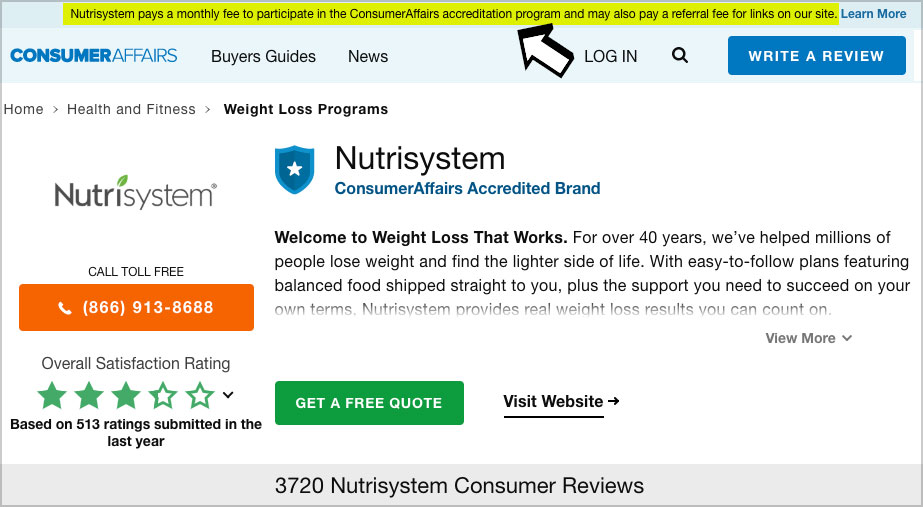 Consumer Affairs rises above the pack because the site requires at least one verification method for reviews.
Verified Reviewer: All users must have a unique, verified email address and social media account, making it harder for robots and Russians to leave reviews
Verified Buyer: (optional) Reviews that include this icon indicate that the reviewer has provided proof of purchase history to Consumer Affairs. Presumably this is sent in the form of an email containing a customer number or receipt
If a review is verified, you'll see Most featured Nutrisystem reviews posted on the site have been verified in both ways. It also helps that their current star-rating is based only on reviews from the past year.
However, I do notice the following disclaimer on their site:
"Nutrisystem pays a monthly fee to participate in the ConsumerAffairs accreditation program and may also pay a referral fee for links on our site"
After clicking around to learn more about what that means, I find this page, which explains that companies like Nutrisystem pay to have more control over the reviews including:
The option to respond to customer reviews
The ability to "feature" reviews of their choice
In other words, like other popular review sites (including Yelp and Angie's List) Consumer Affairs allows companies to manage their reviews to an extent.
Unlike Consumer Reports, they are not a "non-profit," so I have to think that companies that pay them a monthly fee have the ability to improve their image a bit.
This actually can be a good thing, as Nutrisystem responds to most bad reviews, and tries to fix customer issues if possible. (Which may result in the user revising their review or rating)
---
#3. U.S. News & World Report: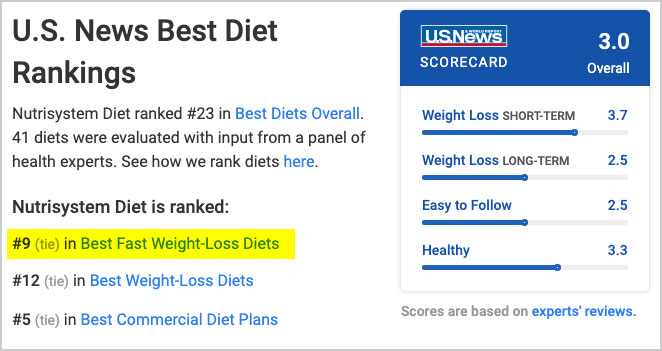 OK, you've heard from the masses, now let's see what the experts think. U.S. News is known for rating and ranking an annual list of the best diets, and Nutrisystem always falls somewhere on that list.
U.S. News evaluates 40+ diets, "with help from a panel of diet and nutrition experts" in the following 7 areas:
Managing or preventing diabetes
Ease of following
Heart-healthy
Long-term weight loss
Short-term weight loss
Nutrition
Safety
If any of these areas are of specific importance to helping you choose a weight loss program, then individual ratings in these categories can be helpful.
So, who are these "experts?" They don't specifically say, but I have to believe they are credible and honest with their ratings.
While U.S. News doesn't provide any actual customer reviews, their expert ratings are trustworthy, genuine, and helpful for anyone looking to chose a diet.
---
What About Consumer Reports Review of Nutrisystem?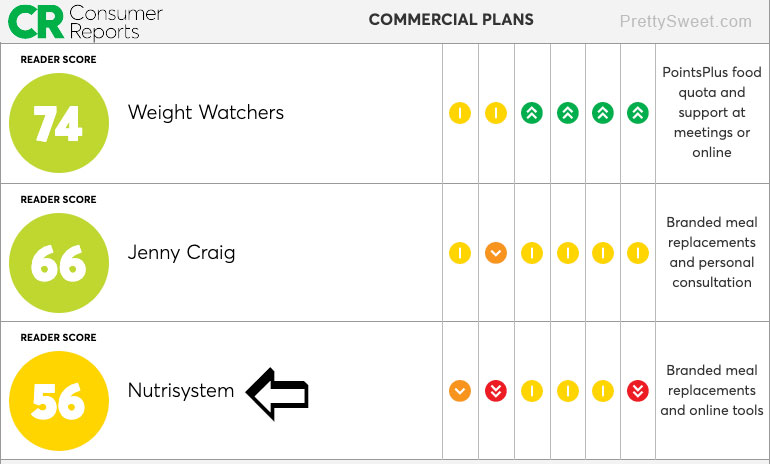 You'll notice that Consumer Reports doesn't make my list of the best places to find honest Nutrisystem reviews. Really, that's because of these factors:
You have to pay to join CR to view their Nutrisystem review
There's not a lot of helpful info when you do
Their "reader score" may be from a small sampling of customers, resulting in a skewed rating
I really like Consumer Reports, and they do great work. As I mentioned, they are a non-profit, which is commendable. I also believe that makes them more trustworthy for their reviews and ratings, as companies can't pay to be involved in the review process.
However, the site is only accessible to customers (like me!) with a subscription. In the case of Nutrisystem, they do have a Nutrisystem honest review but it's short. They also don't publish the specific customer reviews that make up the final rating. (Were their 12 or 1200 reader scores?)
That's why I don't list Consumer Reports as one of the best sites for an honest review of Nutrisystem!
---
Why Honest Diet Reviews Matter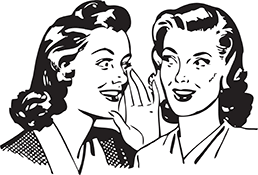 "Honesty is a very expensive gift. Don't expect it from cheap people."

Proverb
We live in a time of fake news. Even though everyone has the right to their own reality, honesty and truth still matter as much as ever.
We now realize that a lot of the internet is fake content, and that includes a lot of fake reviews (Especially on Amazon!).
What?! You mean to tell me that the world-wide-web that screens and delivers only fact-checked, accurate news is allowing fake or dishonest reviews to squeak by?
No, Virginia, I'm sorry to tell you that both Santa Claus and the internet are apparently both fraudulent.
There are also a lot of sites that have commodified user reviews for their own profit. This "pay to play" system encourages companies to pay for site exposure, advertising, and the ability to "spin" ratings and reviews submitted by customers.
So, don't waste your time on those sites!
Hopefully by browsing the seemingly honest reviews on the sites above, you can make an informed decision about whether Nutrisystem might work for your unique lifestyle and weight loss goals.
If you do consider joining, check out today's best promotions below:
Thanks for stopping by PrettySweet.com!