Compare Nutrisystem to the South Beach Diet: If you're thinking of signing up for a meal-delivery diet then you no doubt are considering the two heavyweights in that space: Nutrisystem and the South Beach Diet. They are actually very similar diets, but which one is best for you?
Let's take a closer look at both diets to learn how they work and what makes them different, but first, lets compare how the experts rate these two diets:
---
Ratings: Nutrisystem vs. South Beach Diet
U.S. news asked a panel of experts to rate these two diets. Here's how they scored:
As you can see, Nutrisystem edged out the South Beach Diet head to head. Of course, no single diet is best for everyone, so let's learn more about each of these two meal-delivery diets.
---
South Beach Diet Overview: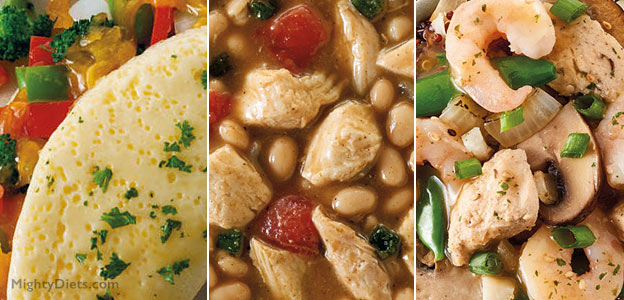 Named for the famous, hip beach in Miami, this meal-delivery diet was born from the famous book, "The South Beach Diet: The Delicious, Doctor-Designed, Foolproof Plan for Fast and Healthy Weight Loss," by a cardiologist named Dr. Agatston. Well, the title of that book is a mouthful, but how does the meal-delivery version work?
The South Beach Diet plan promises to "burn fat and transform your metabolism with a high protein, low-carb diet that will boost your energy" with smaller, more frequent meals. You'll have 3 plan levels to choose from: Silver, Gold, and Platinum, and you'll pay more for increased food variety.
The meal delivery program claims to be a safe and healthy plan for fast weight loss and consists of three phases:
Phase 1: The 7-Day Reboot – This is the foundation of the program and in Phase you'll reset your body for fast weight loss. By reducing carbs and empty calories you'll eliminate cravings and transform your metabolism. Just like boot camp, this is the "hardest" phase, but only lasts a week
Phase 2: Steady Weight Loss – Good, you've made it through the first week, and now your body is burning fat instead of carbs. That means you'll get more food variety in the form of whole grains, fruits, and vegetables. You'll also have the flexibility of one DIY breakfast, lunch, and dinner every week. Weight loss is more effective with exercise, so you'll be encouraged to be active with their simple fitness tips
Phase 3: Maintenance Phase – Congratulations, you've reached you're goal weight! You've also transformed your metabolism and improved your eating habits. Now you can enjoy all foods in moderation and keep eating foods that are high in lean protein and low in bad carbs to maintain your thinner self
With the South Beach Diet you'll enjoy 5-6 smaller meals and snacks throughout the day (every 2-3 hours) mostly consisting of their prepared meals, bars, shakes, and snacks. This helps to regulate your blood sugar and boost your energy.
Want to know more? We explain more about how the diet works in our review.

"This was a very tough decision for me, but… I will be taking my talents to South Beach" – Lebron James, 'The Decision'
Should you also take your talents to South Beach, or go with Nutrisystem instead? Let's look at how Nutrisystem works.
---
Nutrisystem Overview: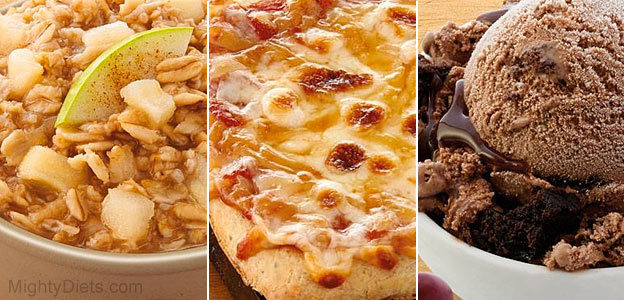 Weight Watchers may have stolen the title of "best weight loss diet," but if you aren't into a DIY approach, you should know that Nutrisystem is the most popular meal-delivery diet. Here's how it works:
Nutrisystem combines three elements for effective weight loss:
Portion Control: There's no counting calories or points, as all meals and snacks are "perfectly portioned" and you'll be told what to eat and when
Balanced Nutrition: There's years of science behind their food and it gives you the right mix of nutrients to keep you feeling full and energized
Frequent Meals: Eating 6 meals a day regulates your blood sugar levels and speeds up your metabolism. There's no 2pm crash when you eating right!
Like the South Beach Diet, Nutrisystem also has three plan levels: BASIC, CORE, and Uniquely Yours, and the main difference is that you'll pay extra for plans with more menu variety.
Every plan starts with a fast weight loss phase called, "Fresh Start" which includes bars and shakes to really help you hit the ground running and end your unhealthy eating habits fast.
Want to know more about Nutrisystem? Check out our review here.

---
Nutrisystem and South Beach Diet: Similarities
Both of these meal-delivery diets start with a week of fast weight loss meant to end bad eating habits, turn off the switch for carb-cravings, and prepare your body for weight loss. South Beach calls this initial 7 day period, "Phase 1: 7-Day Body Reboot" and Nutrisystem calls, "FreshStart."
With both diets you'll be eating 5-6 smaller meals and snacks a day that are high in protein and fiber but low in bad carbs that you will supplement with fruits and vegetables from the grocery store. This more frequent eating helps to regulate blood sugar levels and boost your metabolism and energy levels.
With both diets you're allowed several "flex meals" each week consisting of a breakfast, lunch, and dinner of your own cooking or eating out. This helps breakup the monotony of being told exactly what to eat every day and allows you a little bit of freedom. "Flex meals" are also good training for better eating habits that you should keep for life.
With Nutrisystem and South Beach Diet there is no counting calories or points. You'll get meals in the mail once a month and a menu that tells you what to eat and when which you can track with their online tools or app.
Both diets provide customized plans for both women and men, with the men's plans costing more to account for the extra food that is provided.
The structured nature of these diets makes them popular with busy people who prioritize convenience over menu freedom. They are both good for regulating blood sugar and losing weight in a predictable and sustainable way if you follow the program.
---
Nutrisystem and South Beach Diet: Differences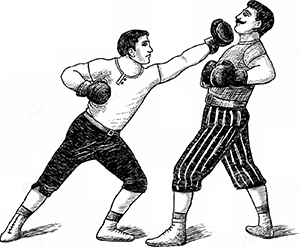 These diets are very similar, however there are some differences. Here are the main differences:
There are some differences in the nutritional foundation of two diets, and although both are high in protein, South Beach is lower in carbs.
This lower-carb content is evident in the menu choices for each diet. While the snacks are pretty similar, when it comes to actual meals you can see the difference between the two diets.
Nutrisystem Menu: Because it allows for more carbs, so you'll see menu items like waffles, pasta, and pizza – Learn more & view menu
South Beach menu: Because it's a low-carb diet breakfasts are heavy on egg dishes, and their lunches and dinners have more lean protein and vegetable dishes – Learn more & view menu
Also, the South Beach Diet is a phased approach, with specific goals and differences between each of the 3 phases. Also, after you achieve your goal weight in Phase 2 of South Beach, you might be more likely to quit the meal-delivery and make your own good food choices. This gives the South Beach Diet more of a defined "end" than Nutrisystem.
Nutrisystem offers specific plans for diabetics and vegetarians while South Beach Diet does not.
---
Cost Comparison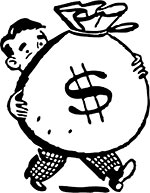 Both of these diets cost about $10-12 per day. provide most of your daily meals, so they shouldn't cost much more than you are already paying for food because they replace most of the meals you are currently paying for.
Nutrisystem is slightly less expensive than the South Beach Diet which will cost you about $1 per day more.
Both Nutrisystem and South Beach Diet offer similar new customer promotions that you can lock-in for a lower price.
*Both of these promotions also include free shipping plus free shakes and/or bars in your first month's delivery to help kick-off your initial weight loss.
---
Which Diet Is Better?

As mentioned there are a lot of similarities between the two diets, with the main difference being that the South Beach Diet is lower in carbs. But, that doesn't make it better.
Looking at a couple of other factors, Nutrisystem is slightly less expensive, and edges out the South Beach Diet in a rating of the "Best Commercial Diets" by U.S. News and World Report. On this year's list Nutrisystem is ranked #5, while South Beach is ranked #7.
It seems that with the South Beach Diet some people had trouble sticking to the "low-carb" food choices after completing the program, and were more likely to gain the weight back.
So, while it's a personal choice largely based on the menus, experts say Nutrisystem is a slightly better diet.
---
Nutrisystem and South Beach Diet = Same Company?!
After seeing the many similarities between these two diets including the menu choices, I soon realized that South Beach Diet (SBD Enterprises, LLC) is a subsidiary of Nutrisystem, Inc., with the same Fort Washington, Pa address.
Ah hah! That explains why these two diets are so similar. That means that many of the menu choices are literally the same on both programs.
It's kind of like how Honda and Acura are the same company, just slightly different with one costing a little more. In this case the South Beach Diet is their lower-carb program.
---
Summary:
These are two similar meal-delivery diets that are high in lean protein and fiber and relatively low in carbs and bad fats. They require you to eat more frequently throughout the day in an effort to curb your carb-cravings and regulate your blood sugar while boosting your metabolism.
While Nutrisystem is rated slightly higher and cheaper, the main difference here is in the menu.
Do you enjoy the occasional carbs like pasta and pizza? Then Nutrisystem might work better for you.
Are you a fan of stir-fries, protein bowls, and soups? Then the low-carb South Beach Diet might be more your style
Are you undecided? Nutrisystem is a little less expensive by about $1 per day. Not much difference, but if you're on the plan for 6 months it's significant!
If you do signup for one of them, make sure you choose a promotion that locks-in the initial low rate (some coupons don't) like the ones here: Nutrisystem Coupons | South Beach Coupons
Nutrisystem Coupons | South Beach Coupons
Related Posts