Shutterfly Puzzle Review: When most people think of photo gift ideas on Shutterfly, they think of photo books, calendars, and mugs. However, there's a whole world of photo gifts on shutterfly.com, including games like puzzles made from your favorite photo(s). These are an amazing, personalized gift idea.
Tip: Shutterfly has a featured deal each day for puzzles. Also, be sure to check out their coupons for up to 50% off & free shipping!
So, without further ado, here's my review for Shutterfly puzzles:
---
My Review:
I decided to buy a 60-piece puzzle, and a 252 piece puzzle from Shutterfly. I figured that the kids could try the 60-piece, while my wife and I could do the more complex one. I chose some photos that I had previously uploaded from the Shutterfly app and got started.
After a simple design process, I was happy with my designs, and ordered them. Because my order was over $39, I got free shipping, which can otherwise be expensive! About a week later, the puzzles arrived: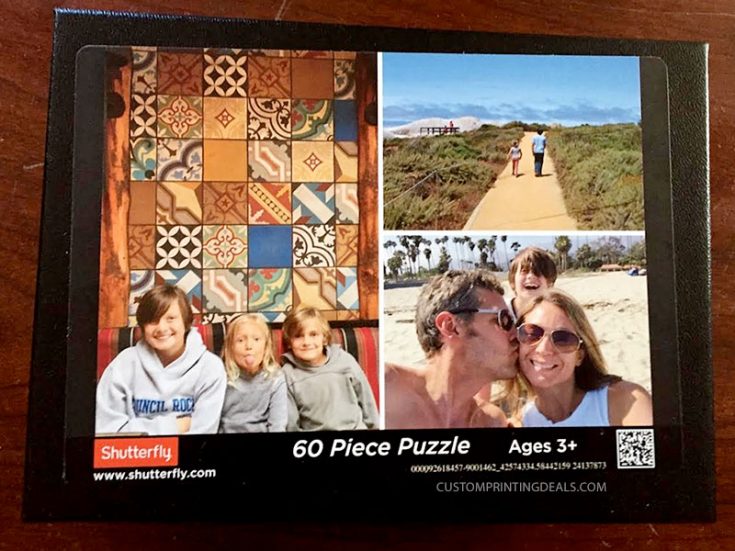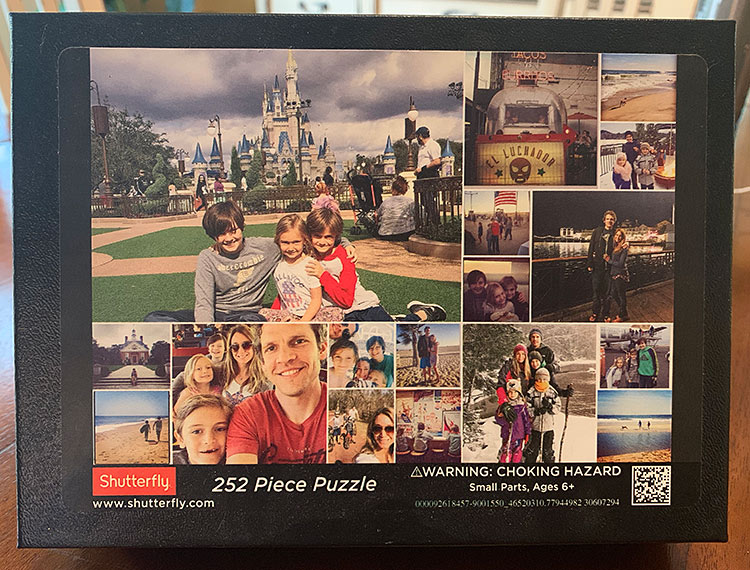 Ok, let's get started!
So, bottom line, I was really impressed with the quality of these puzzles. In fact, photo puzzles are now my favorite personalized game from Shutterfly. And, why is that? It's because it's a brilliant gift idea with your photos printed at the same quality as a puzzle bought from the store.
How good is the print quality? Hopefully you can tell from the photo, but the photo quality is awesome! The quality of these puzzles is literally so good that it looks just like a professional store-bought puzzle. The puzzles are printed "full bleed," meaning that the printing goes right up to and over the edges, so you don't have any annoying white boarder around the outside.
How many pieces? You can choose between 60 (kids), 252, 520, or 1014 pieces. They also have a selection of "toddler" puzzles with 12 pieces. (Snapfish has fewer options)
How long do they take to put together? I found that depends not only on the number of pieces, but also the photo(s) used. In this case, the 60-piece puzzle took our 9 year old about a half hour to piece together. The 252-piece puzzle took me about an hour. The puzzles with more pieces can take a number of hours!
How big are Shutterfly puzzles? The 60 and 252-piece puzzles are 10×14″, while the 520-piece is 16×20″, and the 1014 piece puzzle is 20×30″
How many photos can you use? Shutterfly has a number of options for puzzle design templates. Choose between 1-17 photos. I'm a fan of seeing detail, so for me 1-3 photos is perfect
How much do they cost? Shutterfly puzzles start at $30, and go up to $50 (for the largest size) plus shipping. There's always a coupon available for up to 50% off that price.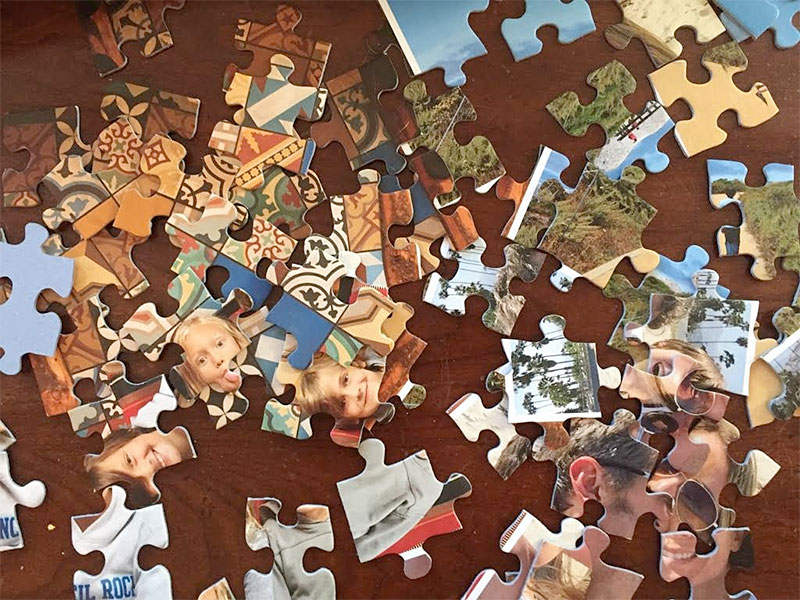 Their puzzle templates also have optional fixed or custom text, and a couple of them feature monograms. (If you want inspiration, or puzzle design ideas, check out shutterfly on pinterest.com.
Tip: Shutterfly now includes a disclaimer that the 60-piece puzzle is recommended for ages 6+, and all other puzzles are recommended for ages 9+, which seems about right.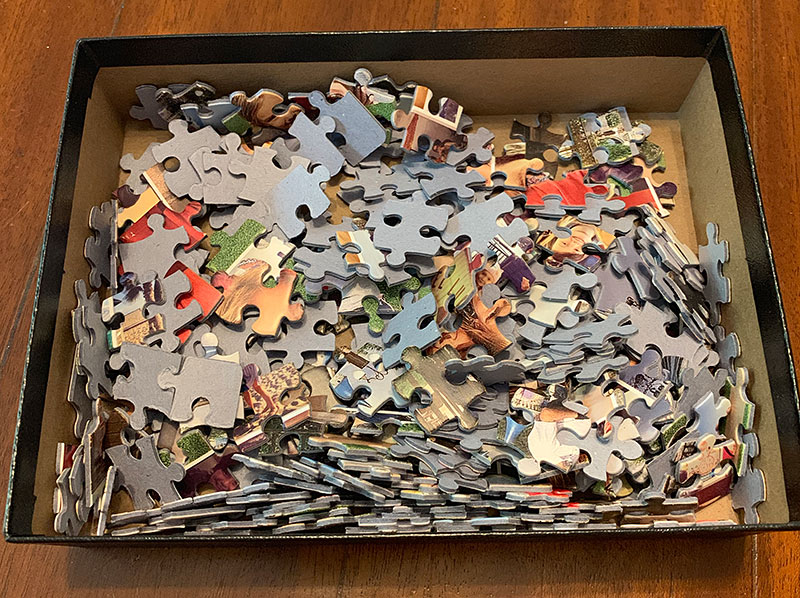 Also, the little box that holds the puzzle can be put on your game shelf, or taken on a vacation easily, and put together in about 20 minutes or so with the kids.
Here's what the difference between 60 and 252 pieces would look like on a sample puzzle design: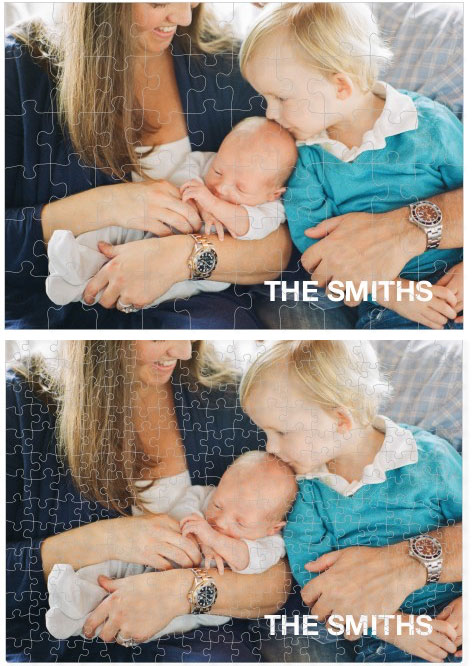 Tip: Shutterfly now also has a small selection of puzzle designs for toddlers, with 12 large puzzle pieces
*Here's Our Review of Vistaprint Business Cards
---
Personalized Disney Puzzles on Shutterfly.com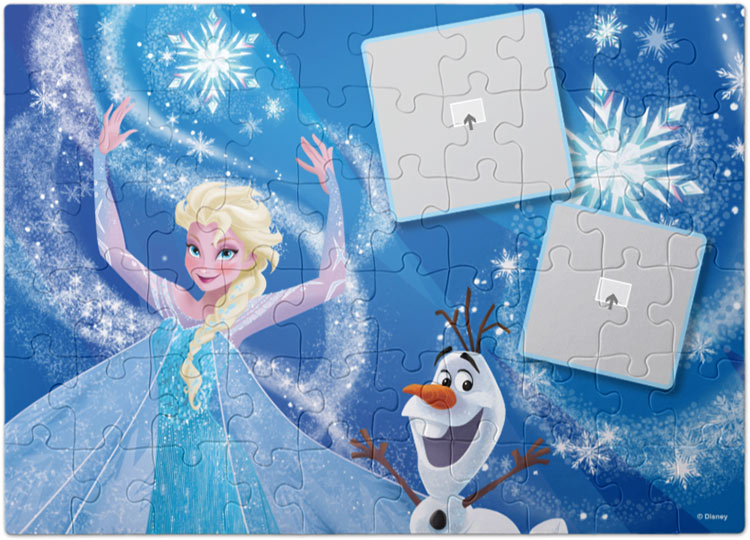 Did you know that Shutterfly has personalized Disney puzzle designs? I didn't, probably because they are really hard to find on the website.
Anyway, you can choose between about 8 Disney puzzle designs for kids including: Frozen, Cars, Mickey and Friends, Princess, and "Disney Love Story," which would be a perfect idea for someone who got married at Disney World or Disneyland.
Tip: There are customer reviews for every product, including puzzles, on shutterfly.com. These user reviews for specific designs are helpful to scan through before placing an order!
Related: Here's How Much the Disneyland VIP Tour Costs (OMG!)
---
In Conclusion: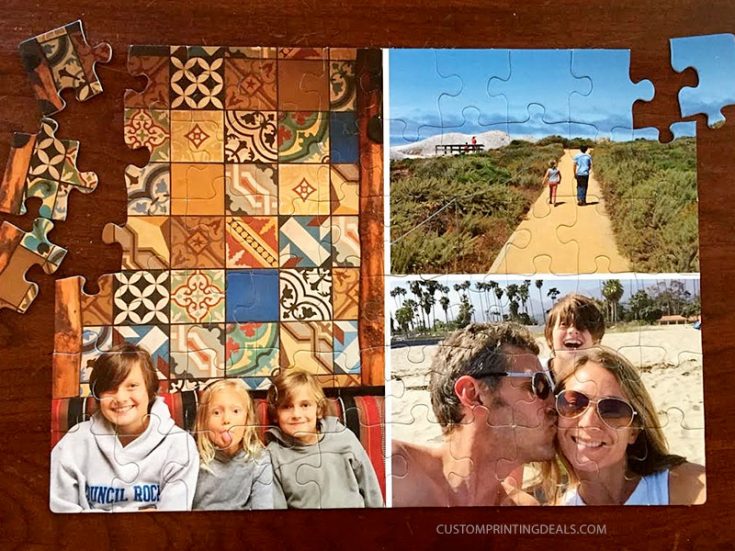 I've been on a kick lately, ordering every kind of interactive game that I can from Shutterfly. I'm having a ball writing these reviews on fun games like Shutterfly coasters, memory games, playing cards, and now puzzles. I think the appeal is that you can personalize games with photos of your family, adding a whole new dimension and level of interest for the family.
*Related: Our Shutterfly Mug Review
While my instinct is to usually buy gifts like toys and games on Amazon without much thought, these interactive Shutterfly photo gifts are a nice hybrid of photos and games. The personalization adds a degree of thoughtfulness that store-bought gifts sometimes are lacking. OK, here's my review of Shutterfly's puzzles: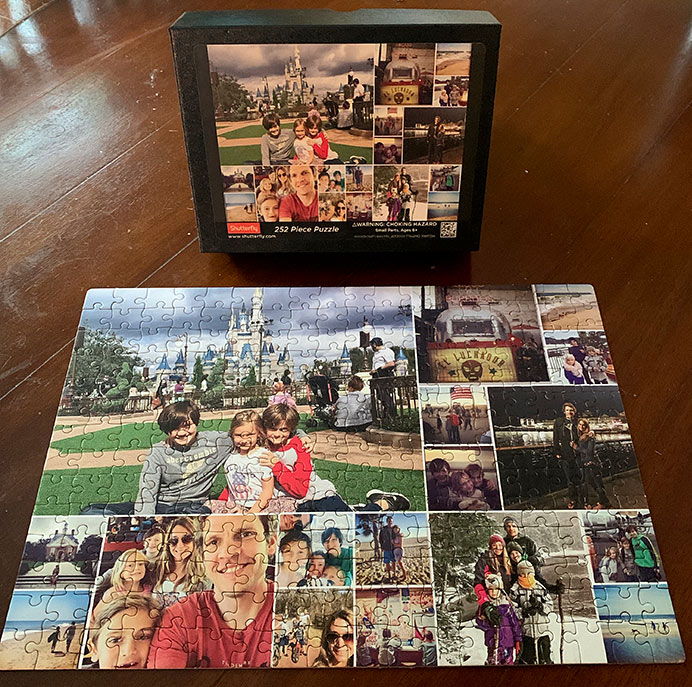 It's funny; I opened the package from Shutterfly and put the box on the kitchen table with the intent of putting it together that evening. While I was in my office, the kids found it and started putting it together as soon as they saw it. So, when I walked in, I found a quiet room with three kids (age 5 to 10) diligently piecing together the 60 piece puzzle.
*Related: Our Easy Canvas Prints Review
It didn't stay quiet for too long, though, as soon I heard them saying things like, "look, Connor, I have your head on this piece!" or, "look, there I am!" The puzzle that I made was a group of 3 photos from our California vacation, and there was also more than one memory sparked during the activity.
Bottom line: Shutterfly puzzles are really high-quality, and a great gift idea. Pretty sweet!
View puzzles at Shutterfly.com | Get a coupon
Related Posts