Every diet season companies like the South Beach Diet flood the web and TV with ads and promotions, including their popular 50 off deals. So, is 50% off really the best deal long-term, or is there a better promotion out there?
Well, that depends, so let's look at how their 50% off sale and $50 promo codes work, and see if it will save you the most.
South Beach Diet/50 | $50 off Codes | Better Deal?
First, How the 50% Off Deal Works:
When analyzing the 50 off promotion, the first thing we'll do is ask, "50% off of what?" In this case it's 50% off the full regular one-month price: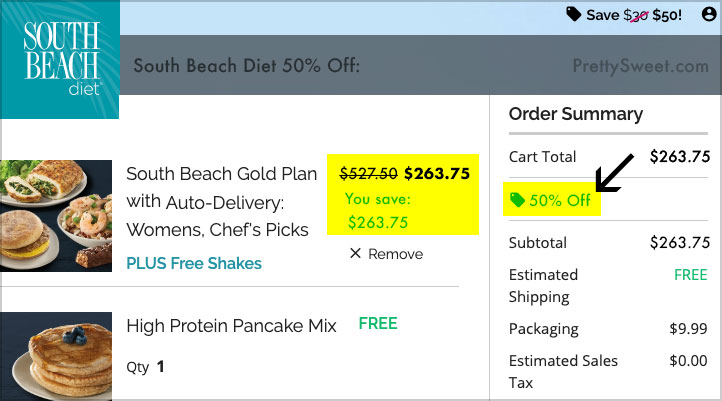 Whoa, Nelly! Are they saying that a month of the South Beach Diet costs $500!?
Yes, actually, if you buy one month of the program without committing to auto-delivery, then the retail price is an insane $500+!
Wow, talk about salty food!
That's OK, though, because it saves you a lot of money. However, at this point you need to ask whether that discount is on only your first month, or if it applies every month that you are on the program. Here's how:
---
Is It 50% Off Forever? (Or, Just for a Month?)
Before you complete your order, make sure that the 50% discount will apply every month, and not just 1-3 months. To do so, click the 50% off promotion, and then you'll get a screen like this at South Beach Diet/50 confirming that the coupon is applied: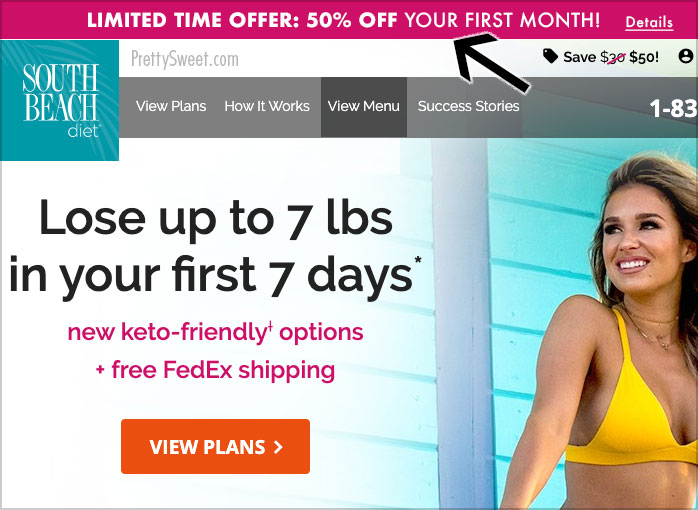 Now, click the text link that says, "details," and you'll get a popup window outling the terms of the discount.
Does it say "50% discount every month?"
If not, the deal is only good short-term, so you should probably look for a better deal, like the 40% off sale that never expires.
---
The 50% Off Deal: (South Beach Diet/50)
Here's what an email for the 50 percent off sale looks like. It's only available seasonally, but if 50% isn't offered, it does apply a 40% off discount instead:
*Related Post: Is the Nutrisystem 50% Off Coupon for Real?
---
What About $50 Off?
So, if the "50% off every month" deal isn't available, how about one of the $50 off codes?
Not so fast, because there's a big drawback: $50 coupon codes don't work on sale prices: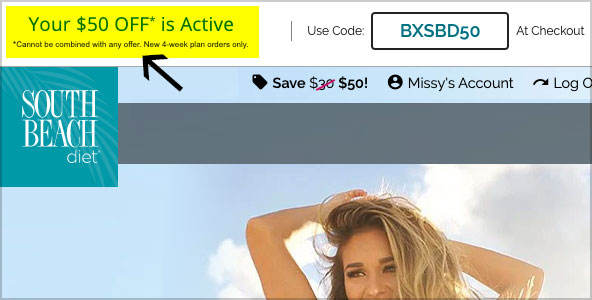 In other words, if you click over to southbeachdiet.com/50 from a promotional banner, you won't be able to use any "dollar-off" codes.
Joining with a friend? You can also send a $50 off coupon to yourself and a friend by clicking that "Save $30 $50″ link on the top nav: (see above)
That's OK, maybe don't, because the 40% off promotion is better anyway! Here's why:
---
What's Better Than 50 Off?
So if the 50% and $50 codes aren't the best, then what is?
We recommend the 40% off promotion, as it locks-in the sale price, renewing each month at the same exact price that you paid on your first month.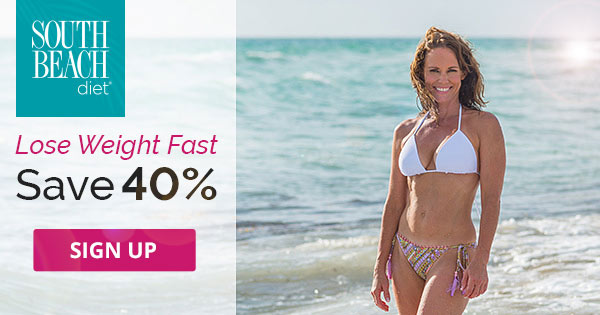 While getting $50 off is OK, getting a 40% discount every month is a better deal long-term!
Tip: You can also get free shakes and bars with this promotion when you stack promo codes at checkout!
---
Conclusion:
The 50% savings at SouthBeachDiet.com/50 can be great when it's active. However, if you are using a 50 off coupon of any kind, make sure it drops your monthly renewal rate, too.
Also, check with your doctor before starting a diet of any kind to confirm that it's a good weight loss option for your specific needs.
If you aren't sure that South Beach is best for you, compare it to Nutrisystem (review, cost, $50 coupon), another leading meal-delivery diet that actually costs a little less.
If the idea of meal delivery doesn't excite you, and you prefer more freedom and a DIY approach, then WW (review, coupons) and Noom (review, cost, is it free?) are also excellent options.
In any case, good luck, and thanks for stopping by Pretty Sweet!
Related Posts