Are you a Costco member? If so, you can buy South Beach Diet gift cards at up to a 40% discount at Costco.com. They are good towards any plan or food purchase at SouthBeachDiet.com. Here's how they work: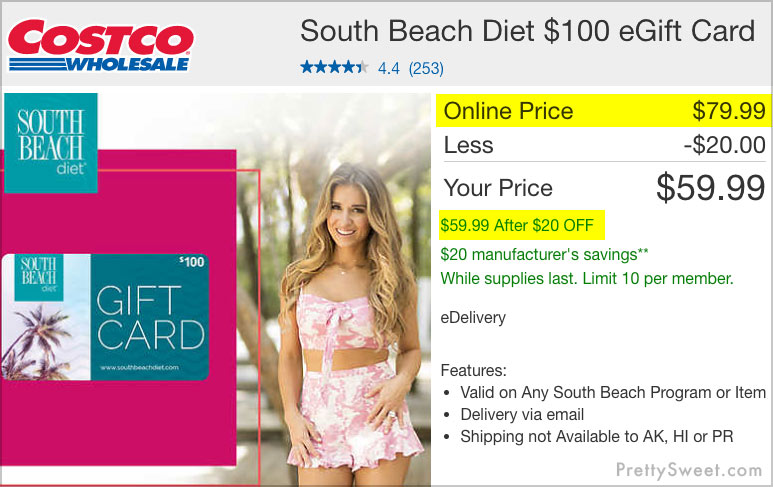 These South Beach Diet gift cards are always $79.99 or less, and it isn't unusual to get up to an extra $20 off each one if they are on sale.
---
How to Use a South Beach Diet Costco Gift Card:
The amazing thing is that these discounted gift cards are "valid on any South Beach Program or Item." That means if you are signing up for the South Beach Diet, you can use multiple gift cards towards your order total!
Here's how it works:
Login and buy one or more South Beach gift card at Costco.com
Specify "digital order" (Unless you want it snail-mailed to you)
eGift card will be emailed to you in less than 1 hour
At checkout on southbeachdiet.com, click "Apply Gift Card" next to "Have a South Beach Diet Gift Card?"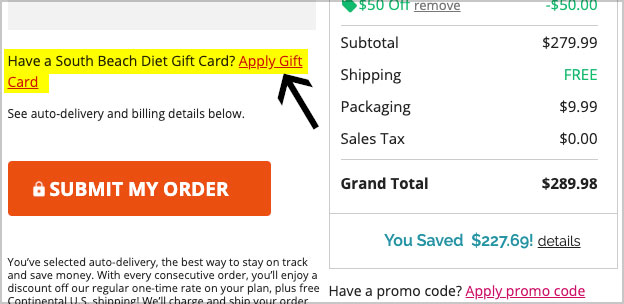 Enter each gift card one at a time
Complete your purchase!
---
Works Like a Coupon!
If you are planning to sign up for the South Beach Diet, you can get up to a 40% discount plus free food by using coupons.
These South Beach Diet eGift cards can be combined with the savings from other promotions, like their popular 50 off deal for Phase 1. It's like getting an extra 20% discount on the cost at signup!
Example: You are signing up for South Beach, and your order total is $350. Buy 3 of these $100 gift cards for $75 each and apply them to your order to save an extra $75!
You can also use the leftover balance, or additional gift cards towards a la carte food and more at southbeachdiet.com.
*Related: Discount Nutrisystem Gift Cards at Costco! plus, is TurboTax Cheaper at Costco?
---
South Beach Diet Gift Cards Also Available at (Some) Costco Stores
If you are a member you may be able to buy these gift cards at your nearest Costco store. However, the online price may be lower, so check that before buying them in-store!
---
In Summary:
So, use a South Beach Diet promotion, use 2+ promo codes for free food, and then pay with your discounted Costco gift cards. That's a pretty sweet deal!
Not sold on South Beach? We also have the latest coupons for Nutrisystem, WW, and the hot new Noom app!
Related Posts