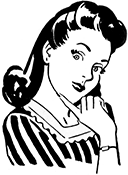 Our South Beach Diet Review: The South Beach Diet is a popular meal-delivery weight loss program that's low in bad carbs and high in lean protein and fiber.
The South Beach Diet takes the guesswork out of dieting, by delivering healthy, prepared, pre-portioned meals to your door each month. Like Nutrisystem, its convenience makes it a favorite of busy people, and they now also offer a keto-friendly plan.
So, is this a diet that you should consider joining? That depends, so let's learn more about how it works, what reviews and ratings say, plus how much it costs.
How it Works
Does it Work?
User Reviews
Food & Sample Menu
Best Signup Deal and Coupons?
---
1. What Is the South Beach Diet?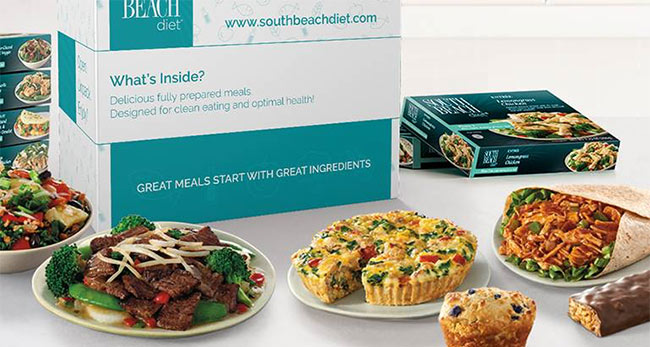 The South Beach Diet was invented in 2003 by a cardiologist named Arthur Agatston. He originally developed the 3-phase program to improve the insulin levels in his patients, but noticed that they also lost weight on the plan.
Unlike other popular "low carb" diets including Keto, Zone, and Atkins, South Beach doesn't shun all carbs. Instead, the diet is about learning to eat the right carbs and healthy fats.
The program itself is a carb-restrictive diet that focuses on foods that are low on the glycemic index and low in saturated fat like: meats, cheeses, eggs, and vegetables. The South Beach diet also encourages exercise to help speed up your metabolism and facilitate weight loss.
Originally published as a best-selling book, the South Beach Diet is now a full weight loss program with monthly meal delivery. Here's how it works:
---
2. How It Works:

Oh, I see… They send you food, and then you just spin and frolic in the ocean until the weight comes off? Not really! here's how it works:
Here's how the diet really works: (from southbeachdiet.com)
Eat the right carbs and healthy fats to keep you satisfied while losing weight
Lose weight with a nutritionally sound plan that consists of a wide variety of wholesome foods delivered to your door
Learn how to make better food choices for life for sustainable results
The diet has 3 phases, and here's how they work:
• The 3 Phases of the South Beach Diet:
The South Beach Diet has three phases, each of which serves a different purpose in the dieter's weight loss journey. Here's how the 3 phases work:
Phase 1: "7-Day Reboot" – This phase is designed to be a 7-day reboot for your body and health. You'll start with the low-carb, high protein diet plan, which begins to boost your metabolism, curb cravings, prepare you for your weight loss journey. Users can lose 7 pounds during these first 7 days of the program
Phase 2: "Steady weight loss" – During the second phase of the South Beach Diet you'll keep losing weight until you hit your goal. During Phase 2 you'll add in good carbs (like fruits, veggies, and whole grains) plus a DIY breakfast, lunch and dinner each week.
Phase 3: "You've got this" – The final phase of the South Beach Diet plan is intended to help you maintain a healthy weight without being hungry. Enjoy all foods in moderation, and follow the principles of the South Beach Diet on your own
So, the idea is to teach you healthy eating habits, and then ween you off of the prepared meals in Phase 3. Got it? No, let's see if it actually works.
---
2. Does it Work?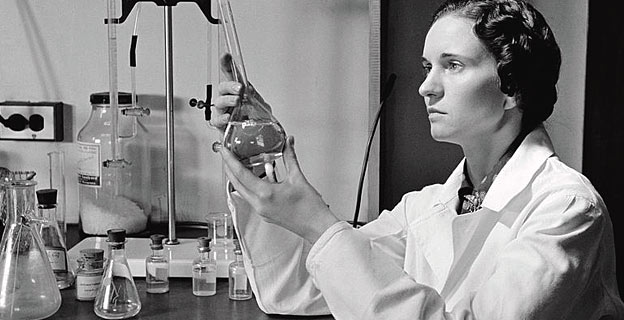 That 3-part program sounds good in theory, but does the South Beach Diet really work? Let's look at ratings from users and experts to decide:
• User Ratings:
In my search for verified customer ratings of the South Beach Diet, I was surprised to find that the best resource is actually on their own website. Let's look at customer ratings to estimate a success rate:
Let's assume that ratings of 4+ stars infer that the diet worked, and 1-2 stars means that it did not work. Here's the user ratings distribution:
Positive Rating: 60% of customers rate the diet favorably (4+ stars)
Neutral Rating: 13% of users give the South Beach Diet a neutral rating (3-stars)
Negative Rating: 26% of customers rate the diet negatively (1-2 stars)
Customer ratings conclude that the success rate of the South Beach Diet is about 60%, with the balance of the ratings being either neutral or negative. That seems OK, but a bit lower than Nutrisystem. To learn more about why the South Beach Diet may or may not work, let's now look at expert ratings.
• Expert Ratings:
U.S. News recently asked a panel of professionals in the health and nutrition field to rate the South Beach Diet on a number of important criteria. Here's how the diet scored:
---
So, does the South Beach Diet work? As you can see, the diet scores highly for "short-term weight loss," but relatively low for "long-term weight loss.
While the diet is healthy and produces fast weight loss results, many users didn't stick with it long-term. That's probably because it's not "easy to follow," as the diet requires users to eat mostly prepared food on a structured meal schedule.
Independent Study: A study published in the Archives of Internal Medicine (2004) compared the South Beach Diet with the government's National Cholesterol Education Plan (sounds exciting!) and found that over a 12 week period 60 South Beach dieters lost about 13.5 pounds compared to 7.5 pounds on the NCEP plan.
Now, let's look at pro's and cons of the diet to better understand why it did, or did not work for customers.
---
3. South Beach Diet Reviews By Users: Pros & Cons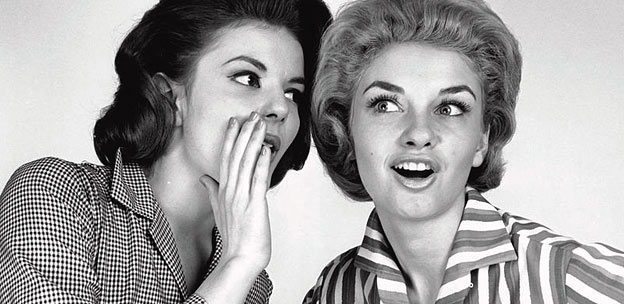 It's important to remember that no single diet will work for everyone. A sustainable diet should be compatible with the personality and lifestyle of the individual.
Well, if 11 million people have tried the South Beach Diet (online or book) then they must be doing something right?! The majority of users leave a positive review or rating, so let's look at what users like best about the South Beach Diet.
Common Praise: (Pros)
Fast Weight Loss – The most common praise for the diet is that it produces fast weight loss results. This is likely a result of Phase 1, which drastically cuts calories and carbs
Convenient: Planning, preparing, and portioning meals is time-consuming. That's why it seems the diet is rated highly by busy people and those who don't like to cook.
Structured – Meal delivery is not for everyone, but many turn to it after other DIY diets fail them. The South Beach Diet sends you food each month and tells you what to eat and when. If you follow their plan and stay active, the math infers that you will lose weight
Food Tastes Good – No one claimed in their review that the South Beach Diet food rivals gourmet restaurants. However, a lot of people were happy with the food quality and abundant (sometimes spicy) flavor, and that they were content with eating it as a means to lose weight.
Like Nutirisystem, (compare) most customers find that the convenience and fast weight loss results of the South Beach Diet outweighs the sacrifices you must make to follow the program.
Tip: To be successful on this diet, think of it as a long flight on an airplane; the food isn't great and you don't have much freedom, but ultimately it gets you to a better place!

Top Complaints: (Cons)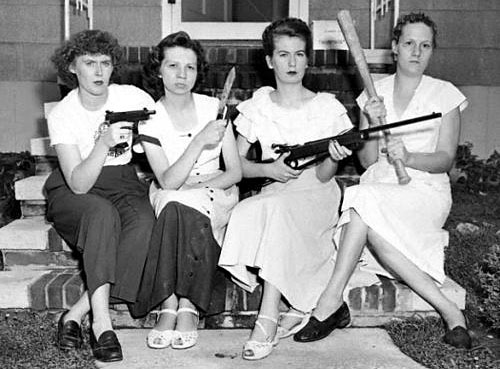 South Beach gets more than it's share of bad reviews, so let's look at what users complain about:
Food Taste: The most common complaints in bad reviews are about the taste and portion sizes of the food. Some complained that the food was spicy, or even "inedible," while others quit because they missed eating more "real" (restaurant / home-cooked) food
Cancellation Policy: A number of bad reviews expressed anger after trying to quit. Basically, if you cancel auto-delivery before the second month delivery, you are charged a cancellation fee of $125 – more
Not Working: The diet didn't work for a number of people, who lost motivation and didn't make the adjustment to scheduled, pre-made, pre-portioned meals
Nutrisystem is Better– A number of users who tried both South Beach Diet and Nutrisystem preferred the latter for both food and price. (compare)
As with any diet, weight loss should not be the only goal. In fact, diets that focus only on short term weight loss are prone to long-term failure. Sustainable weight loss should come from living a healthier lifestyle, and positive life-long behavioral change. If the South Beach Diet doesn't sound compatible with your unique personality and goals, then perhaps you should consider a different diet?
South Beach Diet Alternatives? If you like the idea of meal delivery and a structured eating plan, consider Nutrisystem (review, cost), a similar diet that customers and experts rate better than the South Beach Diet. If you like the idea of a DIY diet with no forbidden foods, check out Weight Watchers or Noom!
---
4. South Beach Diet Food:
The South Beach Diet menu is a balance of nutrient-dense foods emphasizing: good carbs, lean protein, fiber, and healthy fats. While you are on the program, the South Beach diet educates you on the difference between "good and bad" carbs and fats.
While most of the food comes from their prepared meals, you do have to supplement them with groceries. You're also allowed several DIY meals each week including one breakfast, lunch, and dinner on your own. You can cook these meals yourself, or dine out at a restaurant.
• Carbohydrates (Is it Low-Carb?)
The South Beach Diet encourages you to eat healthy, low-glycemic carbs, (like fruits and vegetables) while limiting unhealthy carbs that are high on the glycemic index. These "bad" carbs can raise your blood sugar, encourage cravings, and lead to weight gain or even Type 2 Diabetes.
How many carbs per day? The South Beach Diet is lower in carbs than most diets, but is not considered a true, "low carb" diet. A typical eating plan allows about 225-300 grams of carbs, while a true low-carb diet limits carbs to less than 100 grams per day.
The South beach Diet is relatively low in carbs, with about 120-140 grams of (mostly good) carbs per day.
• Is the South Beach Diet Keto-Friendly?
The South Beach Diet is not "strict Keto" or intended for users to maintain nutritional ketosis. That's because, unlike Keto, they believe the good carbs from whole grains, fruits, and vegetables should not be omitted from any diet.
However, they now offer a true low-carb, Keto-friendly plan that delivers 40-50 carbs per day.
• Sample Menu:
You'll be asked to eat 6 meals and snacks each day while you're on the South Beach Diet. You'll start out with a restrictive week of eating in Phase 1, but spend most of your time in Phase 2. Here's what a sample day of eating looks in Phase 2 of the South Beach Diet: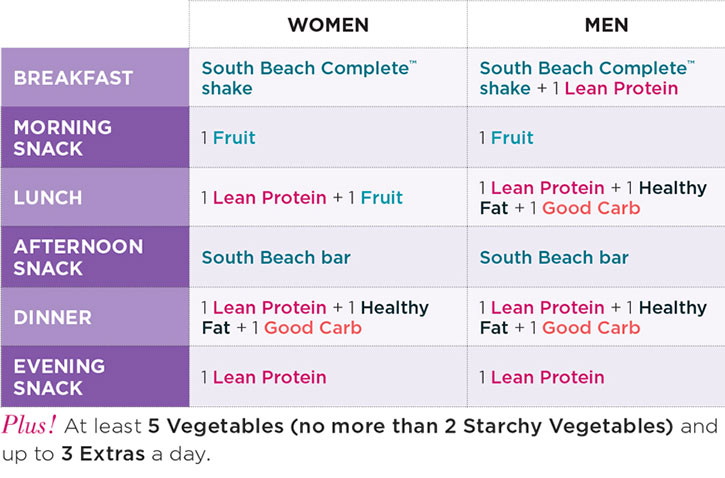 Lean proteins include: lean beef, pork, skinless chicken and turkey breast, fish, shellfish, eggs, soy-based meat substitutes, and low-fat hard cheeses learn more
Good Carbs are low-glycemic foods that are high in fiber and nutrients like: fruits, vegetables, legumes, hummus, quinoa, brown rice, and whole grains
Healthy fats include (mostly monounsaturated) fats like: olive oil, peanut butter, avocados, nuts and seeds.
Non-Starchy vegetables include all veggies except root vegetables (like white potatoes and carrots), peas, corn, and winter squash more
How much weight can you lose following the South Beach Diet? Here's more about weight loss results:
---
5. Weight Loss Results:
"I know I just posted a lot of videos and a picture but I'm just so excited about this program (South Beach Diet) and really feel like it could help anyone who is struggling with weight loss!

This is the fastest I have ever lost weight from all of my pregnancies and I truly think it's just from educating myself and knowing what to do and having this program right in front of me.

My goal now as far as my body goes is to be healthy and happy and fit, and the best version of myself."

Jess James Decker
Those are before and after photos of Jesse James Decker, who used the South Beach Diet to lose 25 pounds of stubborn weight after baby number three. So, how much weight can you expect to lose?
The South Beach Diet claims that you will lose 8-13 pounds during Phase 1, followed by more sustainable weight loss of 1-2 pounds per week thereafter. In actuality, a study shows that users lost an average of 5.8 pounds the first week, and 1-2 pounds in subsequent weeks.
---
6. Best Signup Deal?
If you are thinking of signing up for the South Beach Diet, make sure you use the 40% off promotion for the best price. (also available for keto-friendly plan) Unlike the other offers and coupons, the 40% off promotion locks-in the initial price.
While other coupons might give you a lower price the first month, the monthly rate can go up by as much as $50 by the third month! (yikes!) Here's a link to the 40% off promotion:
---
Conclusion: Is the South Beach Diet Right for You?
If you've tried fad or DIY diets and failed to lose weight, then the South Beach Diet might be a good option for you. It's a favorite of busy people who prioritize weight loss results over menu freedom and counting calories.
If you do consdier joining, be sure to speak with your doctor, and check out today's specials here for the best price. Thanks for reading our South Beach Diet review, and good luck!
Related Posts