If you're looking for a plant-based alternative to sweeteners and sugars, you may just have found it. Stevia is all the rage right now, but how much do you really know about it? If you're looking to find out more, you've come to the right place. Here's everything you need to know about Stevia:
What is Stevia?
You've likely heard a whole load about the sweetener before now, but what actually is it? Well, it may surprise you to learn that it actually comes from a plant.
Yes, Stevia is a subdivision of the Asteraceae family of plants and herbs in Latin America. Native people in both Brazil and Paraguay have actually used this type of plant to sweeten their food for centuries, and so it's nothing particularly new.
Since Stevia sweetener has risen in popularity, though, there have been many different versions available on the market. Sadly, not everything that you buy online will actually be pure Stevia. Often enough, manufacturers will fill this stuff with added extras in a bid to bulk it out.
For example, you may find that a Stevia product has agave inulin or even a GMO product as an extra ingredient. For that reason, it's absolutely vital that you investigate what you're buying online before you press that 'pay now' button.
What Stevia reviews say… (It's Really Sweet!)
Like every trend, people are hopping aboard like crazy. So, what do the reviews of the product have to say? Well, rather unsurprisingly, many are very positive about the substitute online. Take a look for yourself. Here are some of the top reviews on Stevia sweeteners:
"I have been using stevia products for many years before it was popularized. It is the best natural, non-sugar, sweetener on the market without fillers like Truvia and other stevia products. Suitable for baking and anything where you would use sugar. Excellent product for the diabetic as well." — Dr. Z.
"Bought this due to the health benefits over Aspartame and Sucralose… Be warned…It is VERY sweet!! I have a sweet tooth, and two heaped spoons of sugar is about as sweet as a level teaspoon of this stuff… The pack says use half as much as you do sugar, but I'd say it's really best to use about a third. Use it in tea, coffee, desserts, custard, cakes… All sorts. No nasty after-taste, and will continue to use this… It is rather expensive though." – Martin
"I use stevia as a sugar alternative in beverages and certain recipes. Stevia in the raw is an excellent brand that provides a "true" stevia taste that is neither bitter nor too sweet. The packets are convenient and include about as much stevia as you would get in a normal sugar substitute sachet. I typically use one stevia packet per 8oz of coffee or tea. This leaves my beverage slightly sweet but not too sweet. If you are changing from a sugar substitute such as Equal or Sweet N Low, you might find you need less stevia than you were using of sugar substitute." – BlondiePhD
---
What are the health benefits of Stevia?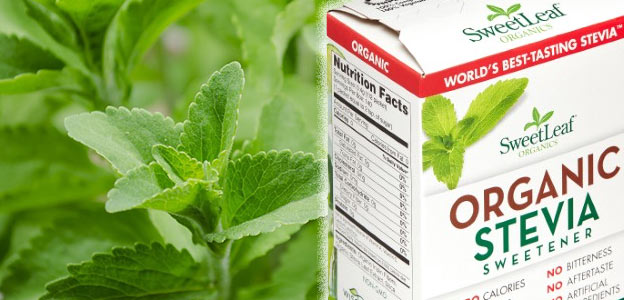 Needless to say, one of the biggest selling points of Stevia is the health benefits that it has to offer. Of course, there has been a whole load of research in this area.
Over the last few years, scientists and experts have been looking into the potential advantages that the supplement has to offer. With that in mind, there are a couple of reasons that you may well want to try this sweetener for yourself:
Stevia can promote weight loss:
If you're hoping to shed a few pounds, it may be worth switching from sugar to Stevia. There's been a body of research which suggests that eating sugars adds around 16% worth of calories to the average diet. Yikes!
The great news about Stevia is that it's a plant-based, zero-calorie alternative to sugar products you may find on the market. That should mean that you can lose weight in a sensible way by making this small change to your diet.
Stevia can lower cholesterol levels:
As though that weren't enough, there's also been evidence that using Stevia could help you lower your cholesterol levels somewhat. In fact, one 2009 study found that the extract had "positive and encouraging effects" on people's cholesterol profiles. The takeaway could be that switching to this alternative will help you improve your health.
---
Are there any possible side effects?
But wait a minute, what about the side effects? You've likely heard that there could be a whole load of nasty little side effects associated with the extract. Some people have found that they have had an oral allergic reaction to Stevia. Here are some of the signs of just that:
Mouth swelling

Hives

Stomach pain

Vomiting (worst case scenario!)
If you discover that you have any of these symptoms, you should go to the doctors immediately and speak to them about the issue. They will help to advise you on what to do next.
*Related: #1 Most Common Side Effect of Nutrisystem?
Conclusion
So, is Stevia all that it's cracked up to be? Well, you really need to make up your own mind on that one. In truth, the sweetener is a nice, natural alternative that may help you improve your health. However, the potential side effects are not ideal. So, should you wish to try this for yourself, it's well worth doing your research ahead of time!
Have you tried Stevia? Let us know with your own review below: