Weight Watchers Simple Start Program: K.I.S.S. – (Keep it simple… not the 70's rock band!) one of my favorite acronyms and words to live by. Weight Watchers must've been reading my mind. In life's already complicated world, who needs yet another complex diet plan? When you just need to lose weight and don't want to think about it, Weight Watchers introduces their "Simple Start" program; a great way to start losing weight right away. You can get motivation from meetings, or the the plan entirely online. (Weight Watchers Canada here)
---
So, what exactly is Simple Start?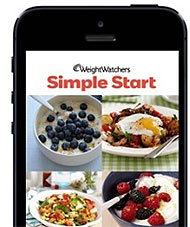 Already ranked at the top of the top 10 diets last year, Weight Watchers has raised the bar yet again. Not only is this is a great way to sample their weight loss program (and it's free this month!), but it's also a great way to get the weight loss started.
Lose unwanted pounds right away and then start shopping for a new summer bikini. Named as one of the top 3 diets in America last year for its sound plan and health benefits, you'll want to check out their "Simple Start" plan.
With Simple Start you get:
A step-by-step guide, shopping lists, and an easy-to-follow app
Daily motivation – You can follow Simple Start entirely online, or add meetings for more motivation and support
Delicious, healthy meal ideas made from real food from your local grocery store
No need for math, measuring, or advanced calculus. When they say simple, they mean it.
And here are some helpful hints when dieting:
If you need variety when eating, scroll through Weight Watchers meal planning menus. Click on the picture and the easy recipe appears.
Sign up for their free weekly recipes and tips newsletter. Get recipe ideas for quinoa, recipes for pears, and dozens of other foods. Just enter an email address. It's a gentle reminder to keep going.
Be accountable for your actions. It helps if you let everyone know your goals. Not only will you get encouragement from your circle of friends, you'll feel great once you've met your goal.
Start moving. In the words of Sir Isaac Newtown "a body in motion stays in motion". You'll see how easy it is once you start. Choose stairs instead of the elevator. Park further away and walk. Turn up the music and dance!
Weight loss simplified with Simple Start!
Just like the proverbial "Snowball Effect", Weight Watchers Simple Start plan is a great way to make that first move. See results right away and let the momentum move you closer to your goal. In life's complicated world, simple sounds splendid. Why wait any longer? 2 weeks is all it takes to jump-start a path to a new, happier you.