The Wall Street Journal is probably the most prestigious name in financial news. If you are thinking of subscribing to The Journal, you'll certainly want to get the best deal.
So, what is the best deal on a Wall Street Journal subscription? Hands down it's the WSJ $4 per month offer. (if available on wsj.com)
---
Wall Street Journal: $4 Per Month Subscription!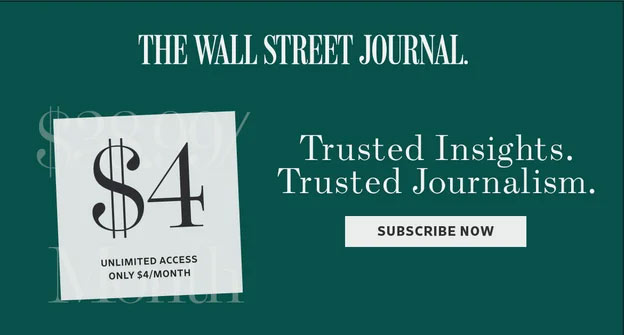 The WSJ usually costs about $39 per month for Digital, and more when you add print delivery. However, occasionally they run a promotion offering WSJ Digital for only $4 per month for up to one year! That's a savings of about 90% and an unbeatable deal.
Best of all, you don't have to commit to any long-term obligations as you can cancel your subscription at any time.
If the $4 per month offer is available, it will be posted here on wsj.com. (Even if it's not available today, you'll get to see their best sale.)
---
When Is the WSJ $4 Offer Available?
The WSJ $4 per month offer is not always available. In fact, it's only available sporadically a few times every year including the entire week of popular Holidays like Labor Day, Memorial Day, and Cyber Monday.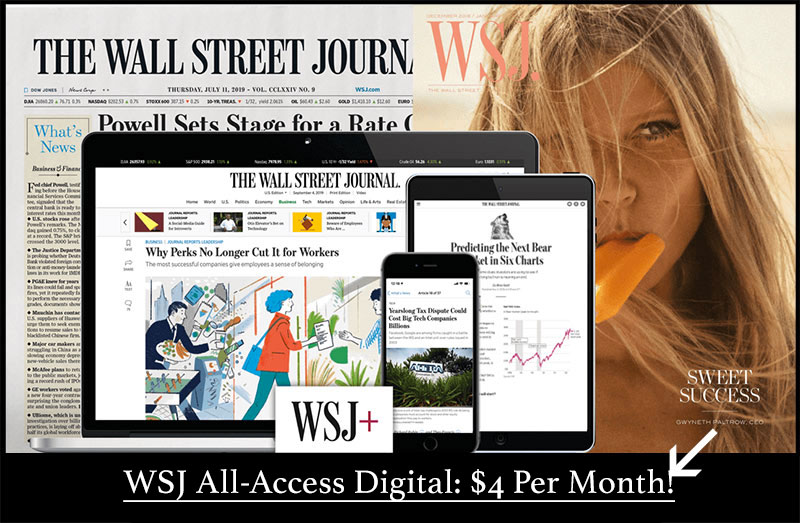 When the $4 promotion is running the WSJ will run ads like this one on Google: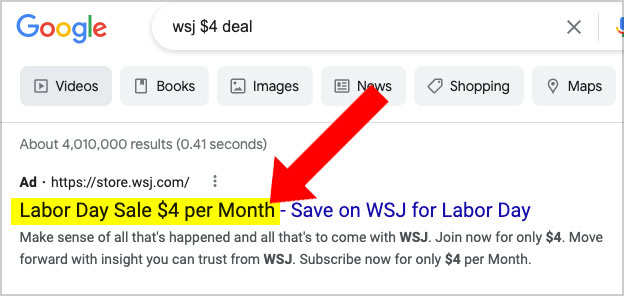 However, clicking on an ad isn't the only way to access the $4/month deal. When the offer is running they also post the sale here on their website. Just click and you'll be taken to a special offer page on wsj.com that looks like this: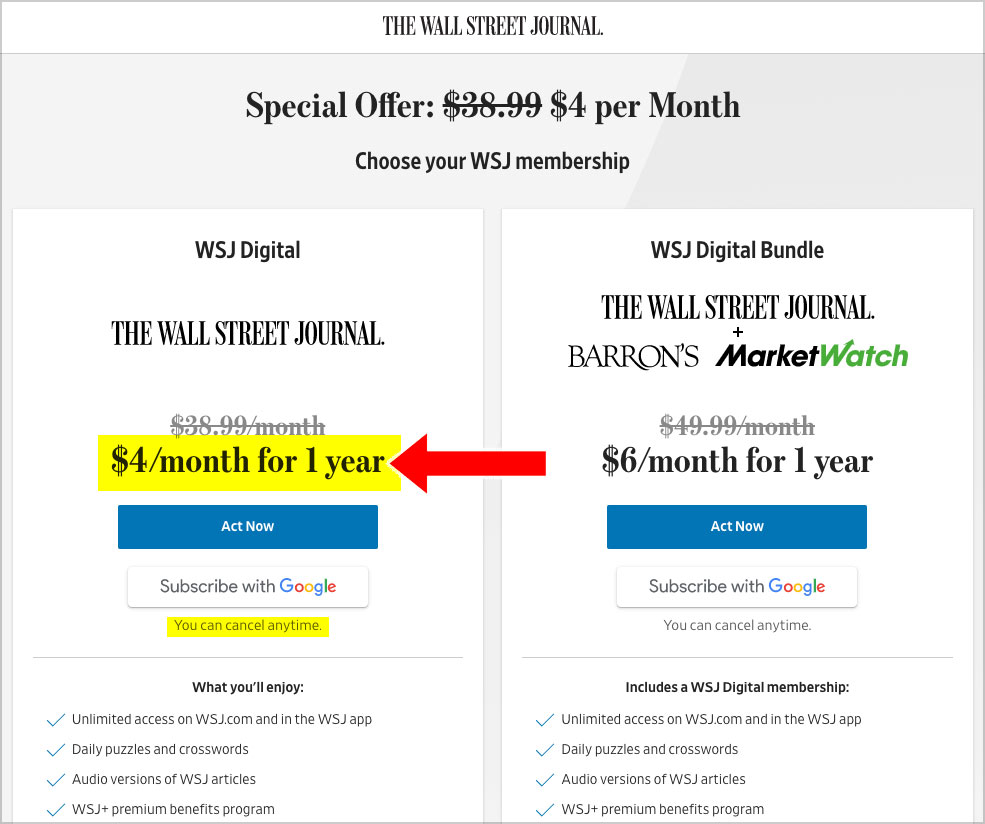 ---
What Does the WSJ $4 Offer Include?
The $4 offer gives you a full Digital subscription to Wall Street Journal Digital and includes:
Unlimited use of WSJ.com and the WSJ app
Daily puzzles and crosswords
Audio versions of articles
WSJ+ benefits program
Can you add WSJ Print delivery for $4? Sorry, but the $4 per month offer is for Digital only and does not include print delivery
---
Cyber Monday / Black Friday: Wall Street Journal $4/Month Subscription
If you are thinking of subscribing to the Wall Street Journal, you just can't beat the $4 offer, even on Cyber Monday when they usually run the same offer.
If it is currently the week of Black Friday and Cyber Monday, you'll find the WSJ $4 Cyber Monday offer here.
The WSJ also offers other exclusive Cyber Monday finance deals including TurboTax found here.
---
WSJ $4 Offer: Add Barron's + MarketWatch!
Most of the time the WSJ $4 offer gives you the option to bundle WSJ with Barron's and MarketWatch Digital for a total of only $6 per month. That means you can get full access to wsj.com, Barrons.com, and MarketWatch.com as well as their apps for only $6 per month.
This offer also includes access to live events with award-winning journalists from all three publications.
---
What Other Subscription Can You Get for $4 Per Month?
There aren't many subscription options for $4 per month with the option to cancel anytime, let alone one with as much value as the Wall Street Journal. Personally, I spend $4 per day on coffee, and the only thing I get in return is anxiety and more trips to the bathroom!
Anyway, if you are thinking of subscribing, I hope it's available now so that you can get the best price of the year.
Even if the $4 offer isn't running, they also offer the same promotion at only $8 per month which is still an 80% savings.
Thanks for stopping by Pretty Sweet!
*This page is mentioned on blogger.com!