Can you buy Nutrisystem food without a plan? Yes, most people are familiar with Nutrisystem's monthly auto-delivery plans, but did you know that you can also buy food a la carte? It's a great way to add individual meals and snacks to your existing plan, or just have a la carte food delivered without committing to a monthly auto-delivery plan at all.

Buying Nutrisystem food a la carte can be a bit more expensive than the monthly plans, but the good news is that there are promo codes and coupons specifically for a la carte food. Here's how to order Nutrisystem a la carte plus 3 ways to save now:
Nutrisystem a la carte: Menu | $10 Promo code | Sale | Wellina Plan
---
1. Use Nutrisystem a La Carte Promo Code:
You can often get free food by using a promo code when you sign up for Nutrisystem.
Top 3 Nutrisystem a la carte promo codes:
5 Free Cookie packs with code: COOKIES
5 Free cake mixes with code 5SNACKS
Free Summer BBQ Pack with promo code: FREEBBQ (exp.)
Tip: No expiration date is specified for this promo code for a la carte food. If the code does unexpectedly expire, you can check out this list of Nutrisystem codes updated daily.
---
2. Nutrisystem 5-Day Kits at Walmart:
Walmart offers 5-day kits of their meals with 5 breakfasts, lunches, dinners, and snacks, and a great way to buy Nutrisystem food without a plan.
These 5-day kits don't include frozen food which is popular and rated highly, but it's a good way to sample the food a la carte with no monthly commitment.
---
3. Save With a La Carte Auto-Delivery Sale (No Code Needed!)
There's another option to save money on Nutrisystem a la carte food, with auto-delivery. If you aren't just doing a one-time food order and would consider getting a la carte meals delivered monthly, you can save a lot. Here's how to order and save on Nutrisystem a la carte:
View a la carte food from this section of Nutrisystem.com
Add items to your cart
Select auto-delivery at checkout
Enjoy a 20% discount and free shipping on a la carte food ($75 minimum for frozen food)
You'll be billed every 4 weeks unless you change your delivery settings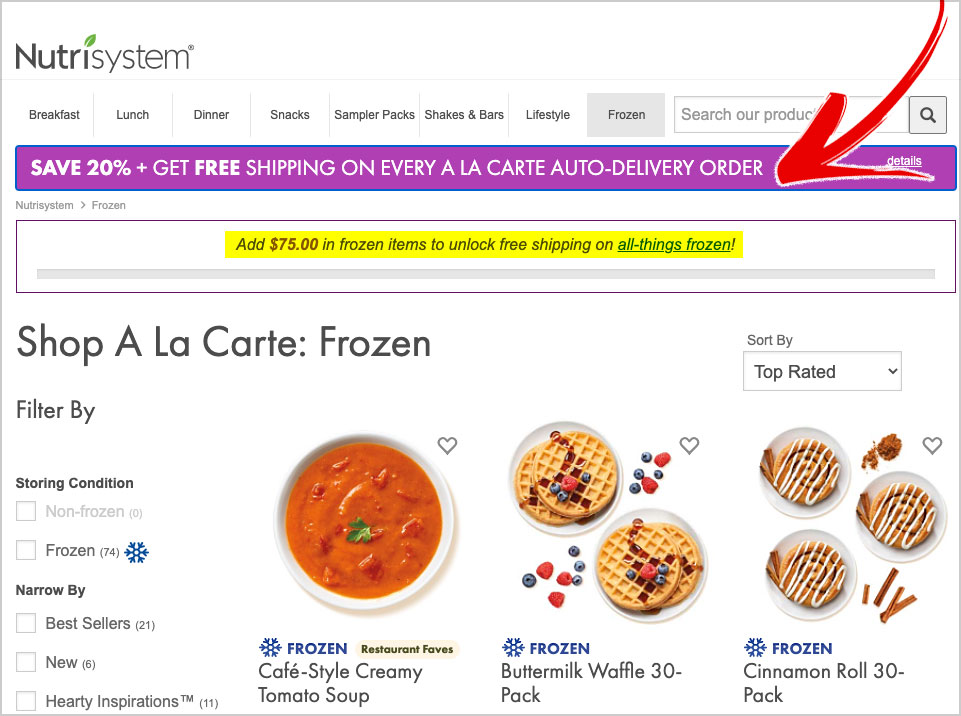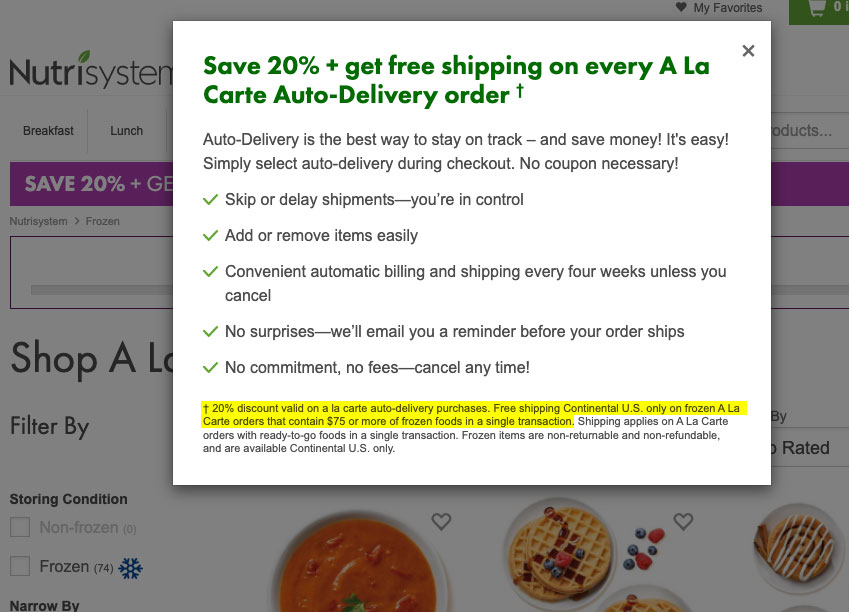 ---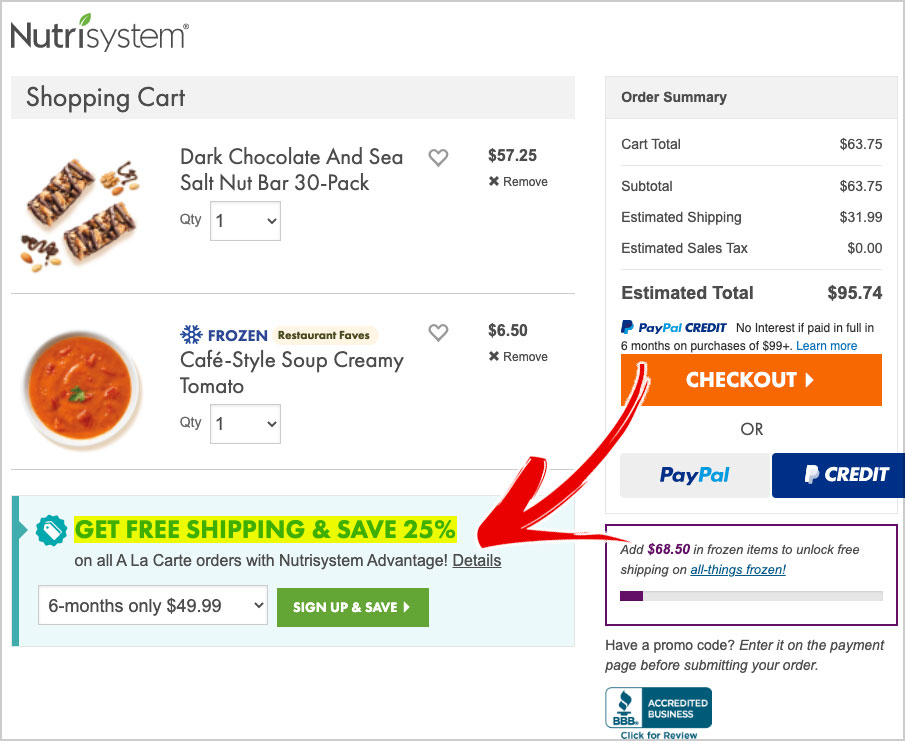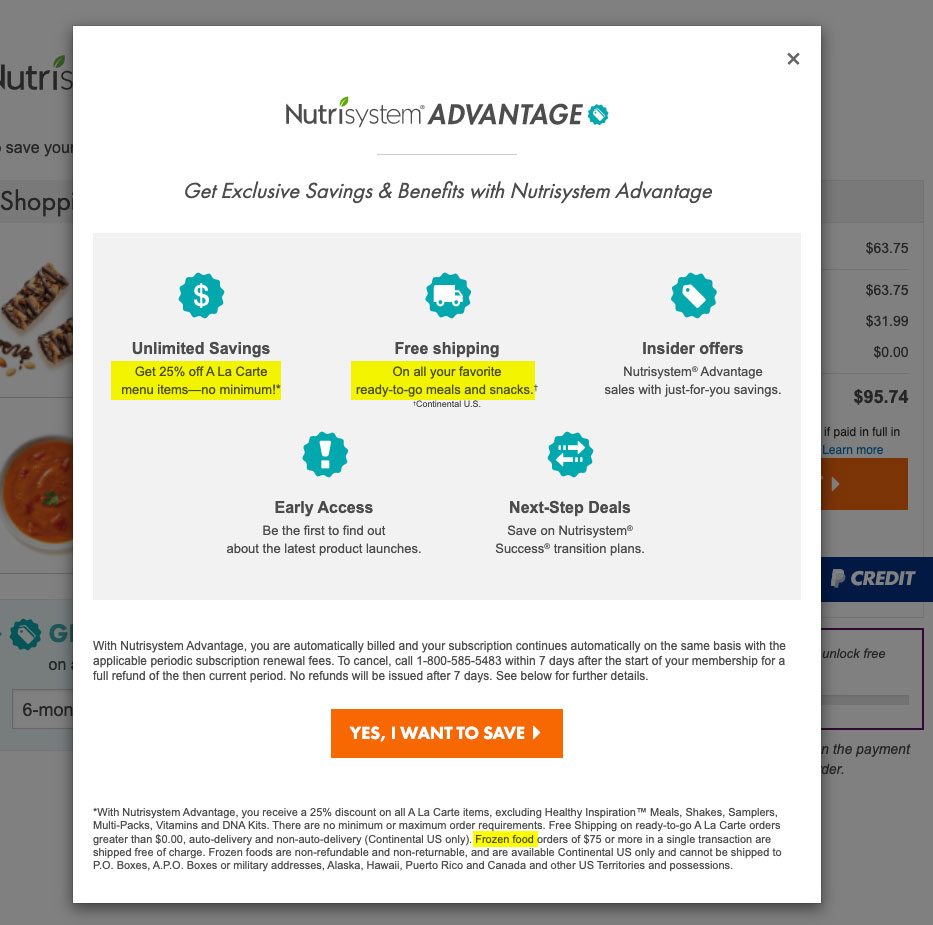 *Related: How Do You Cancel Nutrisystem?
---
Nutrisystem a La Carte Menu + How to Order:
As we were saying, Nutrisystem kind of hides the ala carte menu, probably because they would rather that you sign up for a monthly plan. In any event, a link to a la carte menu is on the bottom of their homepage here: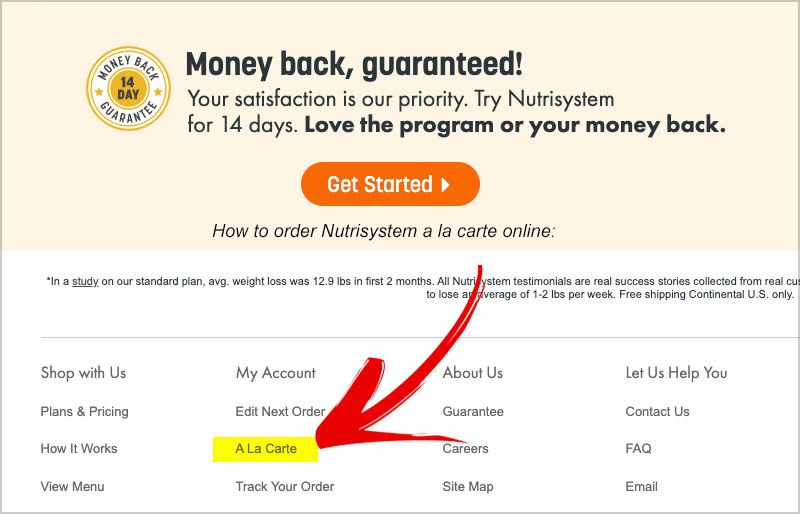 After clicking on the a la carte menu, you can sort a la carte foods by filters like best-sellers, frozen, lunch, dinner, snacks, etc. Then, just add one or more items to your cart, log in, and begin the checkout process.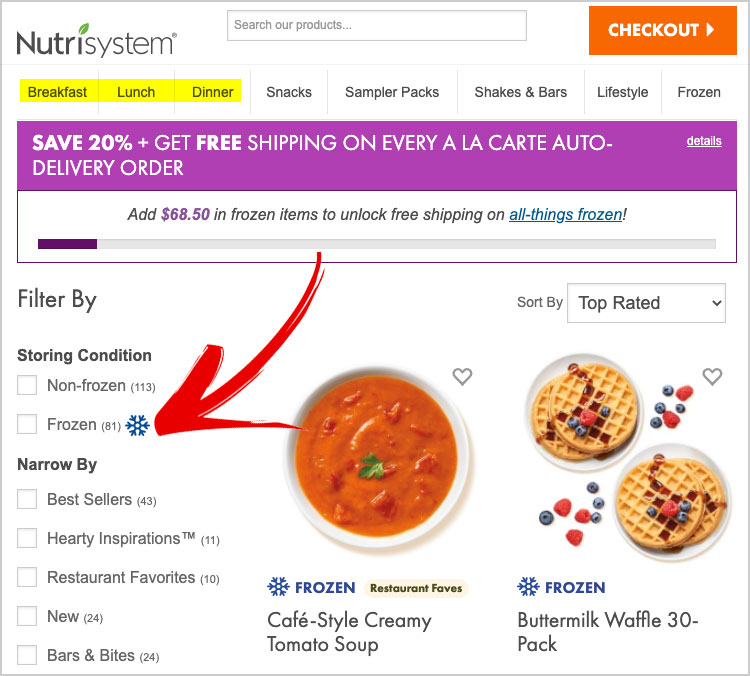 ---
Final Thoughts on Nutrisystem a La Carte:
Buying Nutrisystem foods from their la carte menu gives you more flexibility than signing up for a monthly plan. It's a great way to try out the Nutrisystem diet without commitment, but buying food a la carte does cost more.
For this reason, use one of the methods above to get the best possible price on your order of a la carte foods at nutrisystem.com.
If and when you are ready for commitment, you can save up to $300 by signing up for one of their monthly plans through this promotion:

Thanks for stopping by Pretty Sweet!