Byte is one of the leading invisible teeth aligner brands disrupting orthodontics. How? Now you can straighten and whiten your teeth from home a lot cheaper and faster than going to an orthodontist or dentist.
Speaking of saving money, if you're thinking of signing up for Byte, we can help you get the best possible price! Use our exclusive Byte discount code below for a huge discount on impression kits and aligners at ByteMe.com.
Byte Discounts : Best Coupons | Using a Code | Military Discount | Student Discount
---
Byte Discount Codes, Coupons:
Click to apply discount code: PAMPERED

Apply code BYTENOW and view promotion:

$65 off impression kit + $100 off aligners. Apply coupon:
---
Using a Coupon or Discount Code:

For our exclusive discount you won't even need to enter a promo code at ByteMe.com! That's because as soon as you click our promotion, it applies the discount code instantly to your shopping cart like this: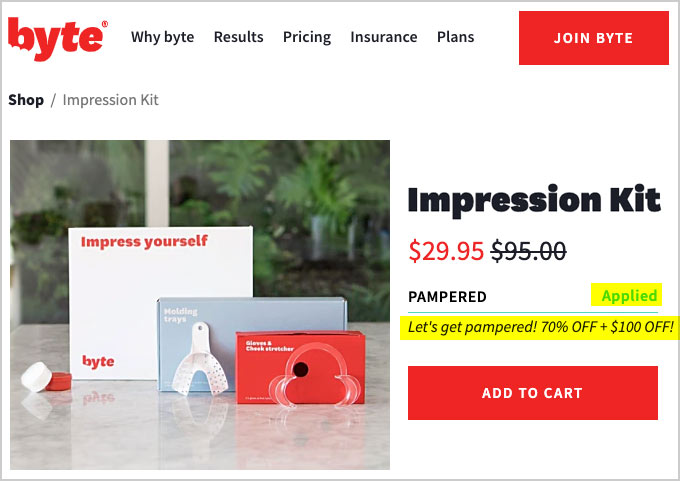 If you do have a code, you'll have the chance to enter it at checkout. Here's how to use a discount code:
When you begin the checkout process, you'll be asked to review your order and choose a payment method. Under the impression kit, you'll see a box that says, "discount code" like this: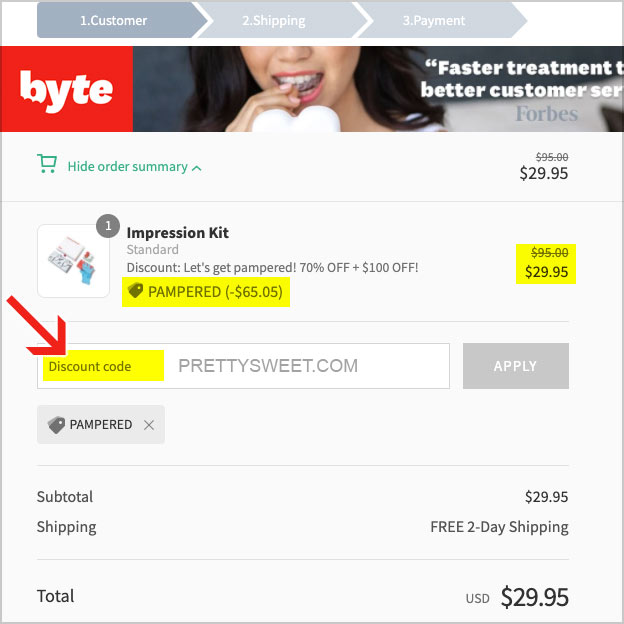 Just enter your code and click apply. If it's valid, the discount will be itemized and the new, lower price will be shown. Only one code can be used per order.
Discount code not working? Codes work with most forms of payment including credit cards, FSA/HSA, CareCredit, Affirm, and SplitIt. However, discount codes cannot be used with BytePay payment plans!
Clicking a promotional link or entering a code aren't the only ways to save on your Byte order. Here are other ways to get a discount:
---
More Byte Discounts: (Student, Military, More)
These groups currently qualify for special pricing on Byte products:
Student Discount: If you are a college student actively enrolled at an accredited college or university you should qualify for the Byte Student Discount. To learn more, contact them at student@byteme.com with the subject line, "Byte student discount"
Military Discount: Byte offers active military, USAA, and veterans a special discount on teeth straightening products. To learn more contact them at military@byteme.com with the subject, "military discount." We also have a military discount for TurboTax at Mighty Taxes!
First Responders: Byte offers a special discount to police, firefighters, and first responders. For more information, contact them at fitstresponders@byteme.com
When does Byte release new discount codes and promotions? There is always at least one discount code available from Byte, and they release or renew it on the first of every month.
---
More Coupons
If you do choose to try Byte, good luck! I hope your investment brings you a beautiful smile and more confidence. We also have some other great deals and exclusive coupons, and the hottest one right now is probably for the Noom weight loss app at Wonky Pie!
*Note: Byte (dental services) has a 4.6/5 rating from user reviews on Facebook and maintains an A+ rating with the BBB