Noom free trial: As people give up on "dieting" and focus more on "wellness", a handful of app-based weight loss apps have sprung up to challenge heavyweights like WW. One of the most popular apps is Noom, which has been called "Weight Watchers for Millennials."
Noom (review) has surged in popularity because it offers structure, motivation, and accountability by focusing both on the physical and psychological components of weight loss plus a personal coach who guides you on your weight loss journey.
However, unlike some of the weight loss apps out there, Noom is not free. Even so, the good news is that you can try Noom for a trial period before being billed. To do so, just complete their free 30-second evaluation which concludes with a 14-day free trial offer.
*Update: The free trial is an exclusive offer through PrettySweet.com! The 14-day trial is not free through most other websites!
Is Noom Free? | 14 Day Free Trial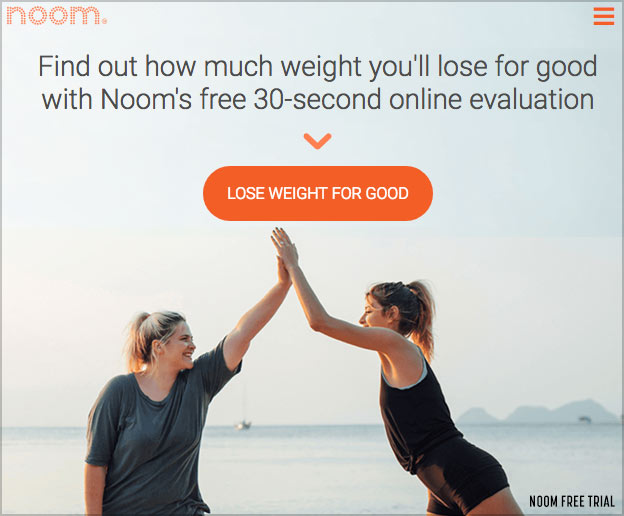 ---
Is Noom Free?
No, Noom is not free. While the app initially offered a free version, that is no longer an option. However, you can try Noom free for a 14 day trial period. If you choose to continue after the trial, you will be billed.
Why isn't Noom free anymore? Since its introduction in 2008 the program has evolved greatly and now includes dynamic features and resources including a coaching component that provides significant personal attention and support.
Noom believes that the coaching component is crucial for success and distinguishes their program from free apps like "Lose It!" and MyFitnessPal which are more of a DIY approach to weight loss.
Noom has chosen to no longer offer a free version of their app in order to offer a superior product, and to pay their many human employees.
Tip: While Noom is not free, you can try it for free for 14 days with their free trial offer. Here's how the free trial works:
---
How the Noom 14-Day Trial Works:
When you visit noom.com, you can get started with a "60-second online evaluation" that to help Noom learn more about you and your goals:
Besides predictable questions about weight, height, gender, age, and goal weight, you'll also be asked a number of questions about your lifestyle, personality, eating habits, health history, and daily activity level.
Noom then asks if you have any health issues, and surprisingly asks you what type of area you live in, (city, suburbs, or country) as they believe that even factors like your environment are important in wellness and weight loss.
At the conclusion of the evaluation, Noom displays an overview of their plan to meet your goals: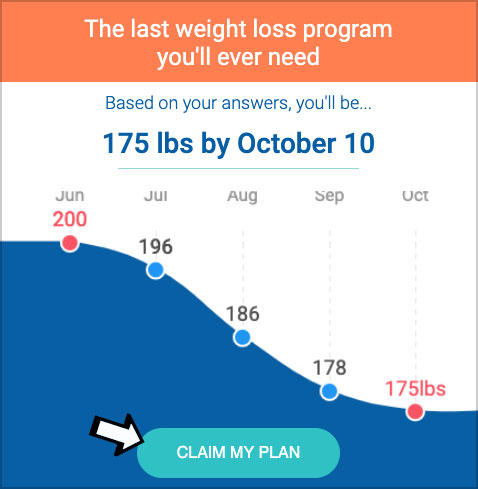 If you choose to continue, you will then be offered a 14 day trial for the price that you choose: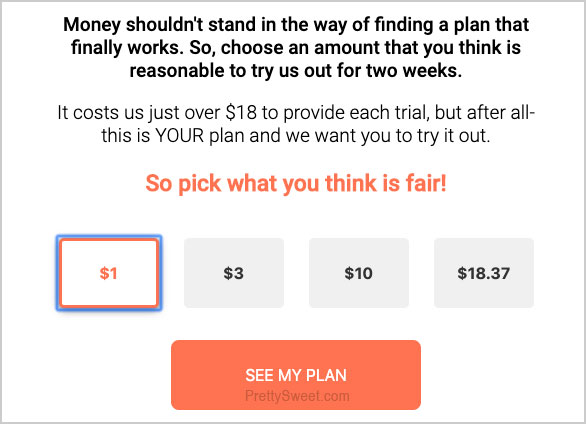 *Update: We have an exclusive this month! You can get the Noom trial for free here!
Um, I think I'll choose to pay $1, instead of $10, thank you!
So, to continue and join Noom right away, you'll need to enter your billing information. I'm not sure what kind of person chooses to pay more, so let's assume you pick the , "$1" option.
The $1 free trial allows you to experience all of the features of Noom with the option to cancel within 14 days before being billed.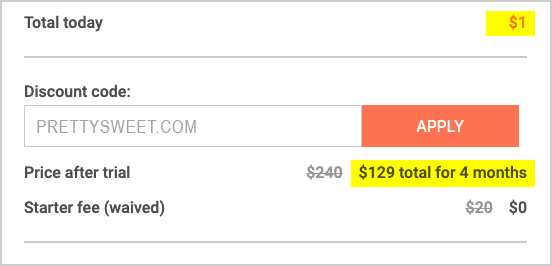 Know that if you don't cancel within the first 14 days, your credit card will be charged for the first 4 months of membership ($129) starting on that day, and billed again for the same amount every two months.
Noom is app-based, so when you continue to start the trial, they will send you an email with a link to download the app and get started. Be sure to open this email on your phone, as the link directs you to the app store.
By the way, Noom doesn't call It a "free trial" offer. Presumably this is because they hope that you take joining seriously and begin the program with the intent of continuing for long-term, sustainable wight loss. (I assume the $1 fee also discourages robots from joining?)
---
Well, whatever! The good news is that you try Noom for a fraction of the cost of a cup of coffee. If you're interested, you can get started below: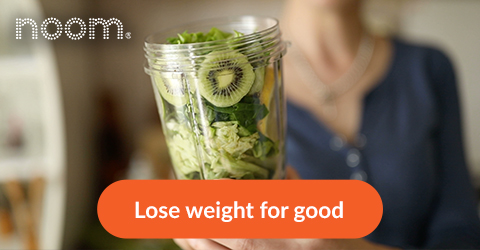 ---
Is There a Free Version of Noom?
There is no longer an option for a Noom free version. While the app initially offered a free option, Noom seems to have realized that their program would be incomplete without all of the important features including personal coaching and goal specialists.
Unlike robots and algorithms, skilled workers need to be paid, and that's costly. In their commitment to humans, Noom recently hired their 1000th employee!
*Related: Noom Discount Codes?
---
Noom Free Version Vs Paid
Because Noom no longer offers a free version or a truly free trial, we had to update this section. Now there is no longer any distinction between a "pro" or paid version and a free version. There is only one version of the Noom Coach App, and it requires paying monthly fees.
The good news is that the current version of Noom is superior to the formerly free app download!
---
Free Trial on Facebook?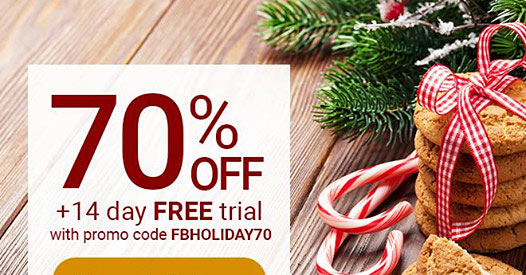 It might be worth checking Facebook for a Noom free trial offer. It seems like it's been a long time since they have offered one, but if they do again, we'll let you know.
*Why TurboTax is Not Really Free
---
How to Cancel the 14-Day Free Trial
Not loving Noom? It's ok. Just notify your personal coach within the 14-day trial period to cancel your membership.
Know that while most Noom reviews are positive, there are a number of complaints stating that cancelling your membership is not as easy as it should be. If you do wish to cancel, I recommend doing so with at least a full day left in the free trial to avoid being unexpectedly billed.
Bonus: Here's how to cancel the Noom trial from your iPhone.
Related Posts