Have you tried to find pricing information on Noom.com? You probably weren't successful, as Noom (review, 14-day trial) require that you signup with your email address before they reveal the cost and monthly fees. Here are 3 things you must know about the cost of Noom.
1. How Much Does Noom Cost?
Noom is $1 for the first 14 days, and if you choose to continue, you will be billed $129 for the first four months ($32.25 per month, or $1.08 per day) when the trial ends. Here's more about how Noom's fees and pricing work:
Joining Noom: When you first go to Noom.com, you'll see an offer to start a "free 30-second evaluation" so that they can learn more about your needs and goals:
When you complete the free evaluation, you are presented with an offer to start a 14-day trial. While it's not free, they ask you to just, "pay what you think is fair."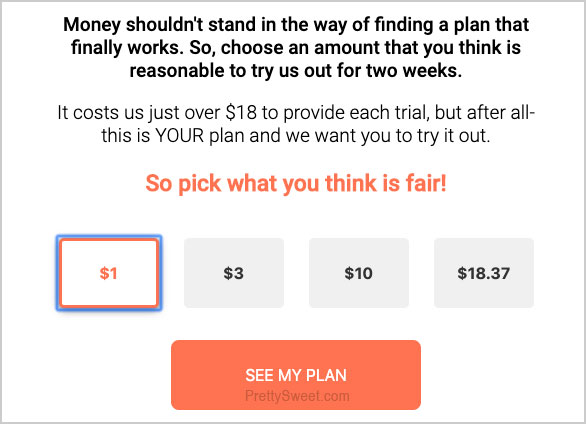 Obviously everyone chooses to pay $1 to get started! Then, Noom will send you an email with a link to get started.
---
2. How to Avoid the $1 Signup Fee
Oh, look! If you join from the email, they waive the $1 fee! Just check your inbox, and you should have an email that looks like this: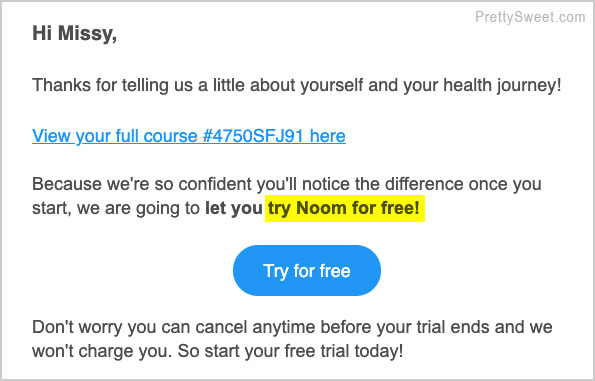 Just click, "try for free," and then you'll enter your credit card info. if you choose to continue with Noom after 14 days, you'll automatically be billed $129 for the first 4 months: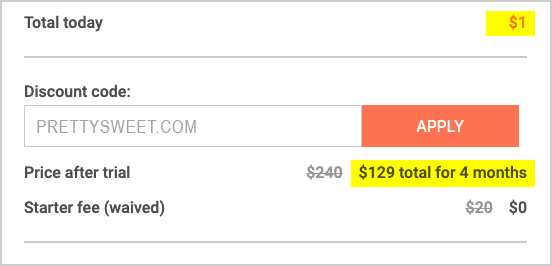 *Related: WW Cost | Nutrisystem Cost | South Beach Diet Cost
---
3. Is Noom Worth the Cost?
So, is Noom really worth it? Data shows us that most people don't achieve their weight loss goals without a plan that includes structure, motivation, and accountability.
In deciding whether Noom is worth the investment of $32+ per month, first think about the value of personal coaching and support. These are real professionals, and they are there to guide you through your weight loss journey one small step at a time.
However, If you are part of the minority who enjoys "going it alone," you can consider highly-rated WW which costs less.
If you do believe that Noom's coaching and support adds significant value, then I recommend that you run it by your doctor and give Noom a shot. You can start with their free evaluation and 14-day trial.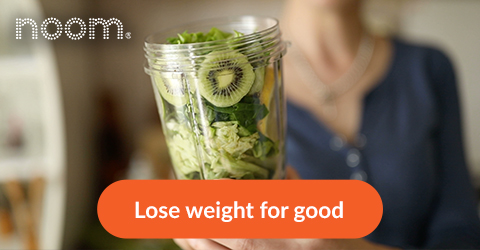 If you do try Noom out, good luck, and thanks for stopping by PrettySweet.com!
---
Related Posts