Byte (ByteMe.com) has established itself as one of the top names in DIY at-home clear teeth aligners. In fact, Byte can save you 50% (today's best promo?) compared to in-office visits with an orthodontist. So, exactly how much does Byte cost?
The total cost of Byte is between $1999 and $3301 depending on 3 three things:
All-Day or All-Night plan? The All-Day plan is cheaper because the process takes fewer months than the nighttime plan
One-time payment or finance with monthly payments? A one-time payment costs much less than financing with their bytepay™ payment plan at up to a 9.99% interest rate
Does your insurance cover Byte? If you have a dental plan with orthodontic benefits your insurance company may reimburse some or all of the cost of Byte. Plus HSA and FSA plans are accepted for payment.
Here's more about Byte pricing and how to save.
---
Byte Cost in 2022:
The cost of the Byte impression kit is only $14.95 with this promotion. Then, here are your payment options for Byte Aligners: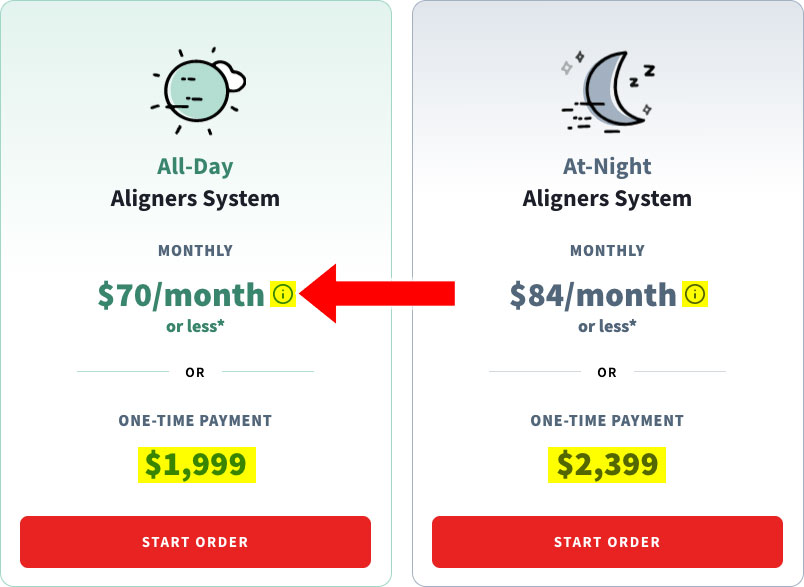 Byte All-Day System cost is one payment of $1,999. Or, choose the payment plan and finance with a $249 down payment + 36 payments of $70 per month for a total cost of $2,750
Byte At-Night System cost is one payment of $2,399. Or, finance with a $299 down payment + 36 payments of $84 per month for a total cost of $3,301
Tip: The Byte monthly payment plans include the Byte Protection Plan (Value: $649 for All-Day or $779 for At-Night) which includes 5 years of retainers and also covers lost aligners.
While Byte costs less than in-person clear aligners like Invisalign, it's still a big expense. Here are 3 ways to save on the total cost of Byte:
Check out today's featured Byte promotion here!
---
4 Ways to Save on Byte:
Follow these steps to get the best possible price on Byte:
Choose the "All Day" Plan: wearing your clear aligners for up to 22 hours per day shortens the process by weeks or months and costs $400 less!
Choose a one-time payment: While financing with the monthly payment plan is convenient, at 9% interest it's going to cost you a total of about $1000 more after all monthly payments. Pay upfront if you can!
Use a promo code: When you choose to pay upfront you can use a promo code to save up to an extra $100+
Dental Insurance & FSA: Insurance may reimburse up to half the cost of your Byte aligners. Check to see if your insurance company covers Byte
---
Conclusion
DIY clear aligners like Byte ByteMe can save you a lot of money compared to conventional in-person visits with a dentist or orthodontist. However, you'll still be making a big investment.
*Related: How much does a WSJ subscription cost?
For this reason, follow as many of the steps above as possible to save big on the total cost of Byte.
Tip: If you can pay with one payment, it will save you a bundle. You may even want to borrow the money from a parent or sibling if you can and use that $1000 in better ways than interest!
By the way, Byte has a very good rating with BBB. Thanks for stopping by, and if you sign up for Byte, I hope you get the best price possible!