Exclusive Nutrisystem sign up deals & coupons: For over 40 years, Nutrisystem has helped millions of women and men lose weight and live a healthier lifestyle through monthly delivery of their nutritious prepared meals.
However, meal-delivery isn't cheap! If you do signup, you can save big on the cost with our exclusive Nutrisystem coupons and promotional codes. Thinking of joining? Here are today's best deals: (We highly recommend the 40% off deal, as it locks-in the sale price!)
Top 10 Coupons | Why 40% Off is Best | You Can Stack Promo Codes!
---
Nutrisystem Coupons & Specials:

(Best deal!) Ends 9/01/19

Lock-in 40% discount for good + stack codes below:

Lowest price for first 3-months only. View promotion:

*With signup. Discount + free food! Get code:

You can stack w/ other codes. Sweet! Get promo code:

Stack promo code with any other discount! Get code:

Best Nutrisystem deal for men. Apply discount & get code.

Free shipping. Nutrisystem DNA kit & report. Apply coupon:

Nutrisystem TV special. Not the best. Apply discount: 

Nutrisystem diabetes plans. Get coupon code: 

Nutrisystem's highest-rated plan. Get promo code: 

Nutrisystem's most popular plan. View special offer: 
Here's how to get the best possible deal if you do join:
---
1. Best Nutrisystem Deal Is the "40% Off" Sale!
You probably know that people pay different prices for the same flights and hotel rooms depending on when and where they booked their reservation. That's also true with diets like Nutrisystem, as the price you pay depends on which promotion you sign up with.
So, which is the best signup deal?
Skip the $50, 50% off, Uniquely Yours $249, and $100 off coupons! As you can see, these discounts only apply to the first month or two of Nutrisystem: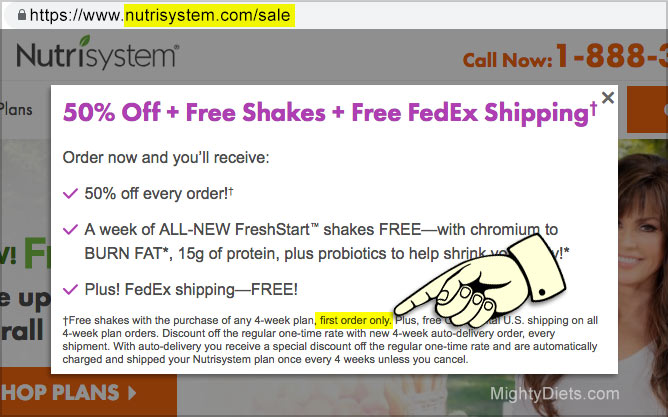 So, what's a better deal? Unlike the other deals, the 40% off sale, locks-in the promotional price. This means that your monthly bill won't expectedly go up as much as $50 per month in the future.
Want proof? Check out this coupon comparison, and why Nutrisystem 40% off is better:
Getting the best deal is more than just the cost of the first month, as that $100 off coupon is over 3 shipments, after which your bill goes up $50 more than the first month! (In this case, $359.98)
That means after the third month, the 40% off deal is $26 cheaper than the "$100 off coupon" per month! If you stay with Nutrisystem for 6 months or more, that's a big difference!
When it comes to long-term savings, you can't beat the 40% off sale:
*Tip: Their $50 off promo code (SAVE50) doesn't work with the 40% off special. That's OK, because over 3+ months the 40 off sale will save you a lot more than $50!
Want to know how to save even more when you sign up? Wait until you learn about how to stack promo codes!
---
2. Stack 40% Off Sale + 3 Promo Codes (for Free Food!)
Did you know that you can enter more than one code at checkout?
The discount you get from the Nutrisystem 40% off promotion is great, but don't stop there! You should always use 2+ promotional codes on your first order, starting with our featured code for $20-40 off (if available), or codes for free food and shakes.
Here's what stacking multiple promotion codes on top of 40% off looks like: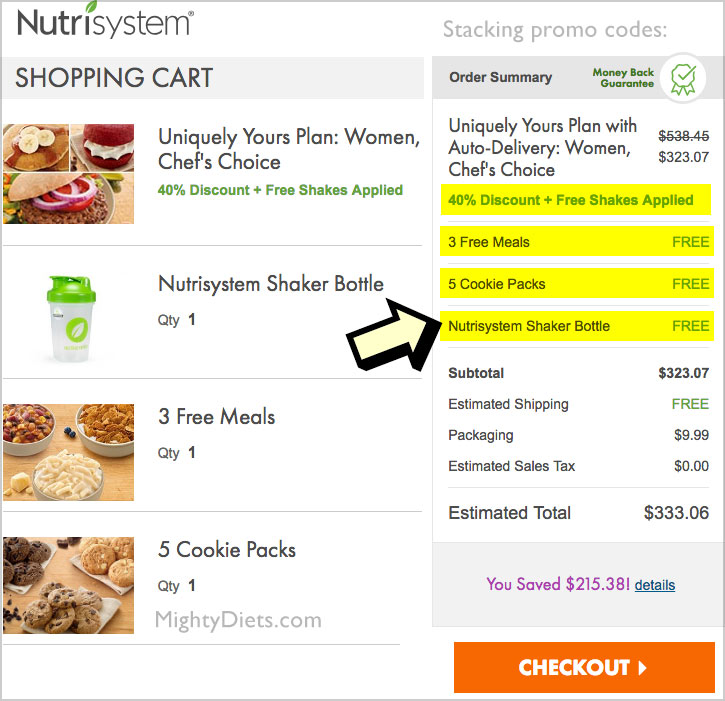 Get the savings from the Nutrisystem 40% off special, (nutrisystem/save40) you can also stack promo codes for free food! (*see today's codes above)
*Tip: Most "dollar-off" promo codes don't stack with the 40% off promotion. However, 40 off is still the best deal, as it locks-in the low initial price forever!
---
3. Save Even More: Get Discount Nutrisystem Gift Cards at Costco!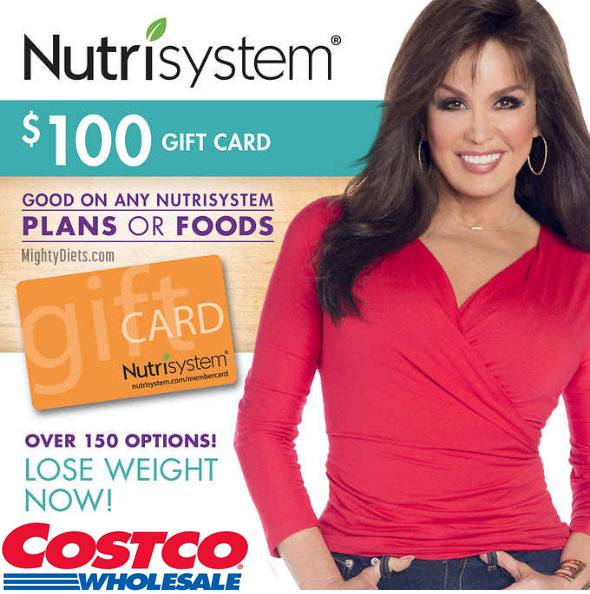 Are you a Costco member? If so you can get a deal on discounted Nutrisystem egift cards at Costco.com to use towards your initial plan signup.
Costco.com sells these $100 gift cards for $60-79 each from their website, but you have to login to see today's special offers. Because your first order total will be around $300 when you sign up at Nutrisystem.com, you can buy up to 3 of these gift cards to use on your first order, saving you up to an extra $120+. (Learn more)
---
Conclusion: That's the Cheapest Way to Join Nutrisystem!
So, here's a quick recap on how to get the best deal when you join:
Skip the Nutrisystem.com/sale offer
Use the Nutrisystem 40 off special
Use 2+ promo codes for free stuff
Pay with a couple of discount Nutrisystem gift cards from Costco.com
Well, that's it! Regardless of whether you decide to join, at least now you know the cheapest way to signup!
Tip: If you aren't sold on Nutrisystem, we also have coupons for WW and South Beach Diet, plus a free trial for Noom Coach!
Thanks for visiting prettysweet.com, your source for reviews, tips, and coupons for the some of the most popular diets online. We make every effort to stay on top of the specials, and update these Nutrisystem promo codes every day.
*This coupon page was created in 2017, then updated through 2018 and 2019
Related Posts