Since 1998 ProFlowers, an FTD company has been a leading online florist. That's probably because they ship beautiful flowers fast, and at a discount price. Unlike other online florists, Proflowers provides a 7-day freshness guarantee, and can even deliver same-day.
Save a "bunch" (get it?) when you use a coupon or radio code from below for up to 20% off or free shipping at Proflowers.com. Just click on a coupon to apply the discount or get a code. You can also check out today's on-site deals at proflowers.com/coupon-codes.
ProFlowers: Coupons Now | Best Deal |Free Shipping | Coupon Codes | ProPerks
---
▸ Best Proflowers Promo Codes, Free Shipping:
Free shipping codes are rarely available at ProFlowers, so let's talk about how to get the best deal which might include free delivery.
---
1. How to Get the Best Deal at Proflowers:
It's not cheap to send flowers, so make sure you get the best deal possible when you place an order at Proflowers.com. Follow these steps to get the best savings now:
Join ProPerks to earn rewards and get free shipping
Use a coupon code for a 20% discount
Plan ahead to avoid same-day delivery which adds $4.99 to the cost
You can pay in 4 payments with AfterPay at no additional cost
Tip: Proflowers charges a "Delivery & Handling Fee," of approximately $20 for the average order. If your order is $100+, then the 20% off code will save you more than free delivery!
Coupon codes can get you a 20% discount, but that doesn't mean your order can't ship for free. Here's how to get free shipping at proflowers.com:
---
2. How to Get Free Shipping at Proflowers:
Proflowers charges $16.99 for standard shipping plus a $2.99 "care and handling" fee. That's crazy expensive, and means that shipping costs a total of $19.98!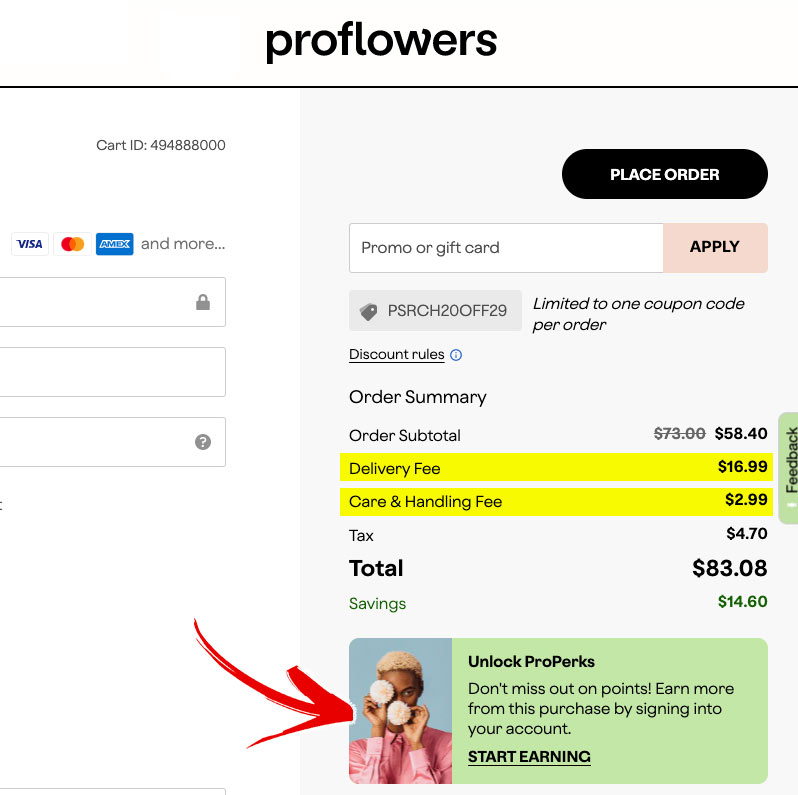 Just because a free shipping code isn't available doesn't mean you can't get free delivery on today's order.
How do you get ProFlowers free shipping?
Here are 4 ways your order can ship free today:
Join Proflowers' rewards program, ProPerks, for $39.99 per year and you'll get free standard shipping on every order
Check our featured coupons to see if there is a rare code for free shipping
Holiday promotions including Valentine's Day, Mother's Day, and Black Friday/Cyber Monday may include a selection of bouquets that ship free
The onsite coupons at proflowers.com might include a free delivery promotion
Out of these options, ProPerks is the only surefire way to get free shipping on today's order. Here's how it works.
---
2. Free Delivery at ProFlowers w/ ProPerks:
Proflowers' rewards program is called, ProPerks. There are two levels including "Member" and "Icon." Both will earn you points, but a ProPerks Icon membership gets you double points plus free shipping on every order with no minimum at Proflowers.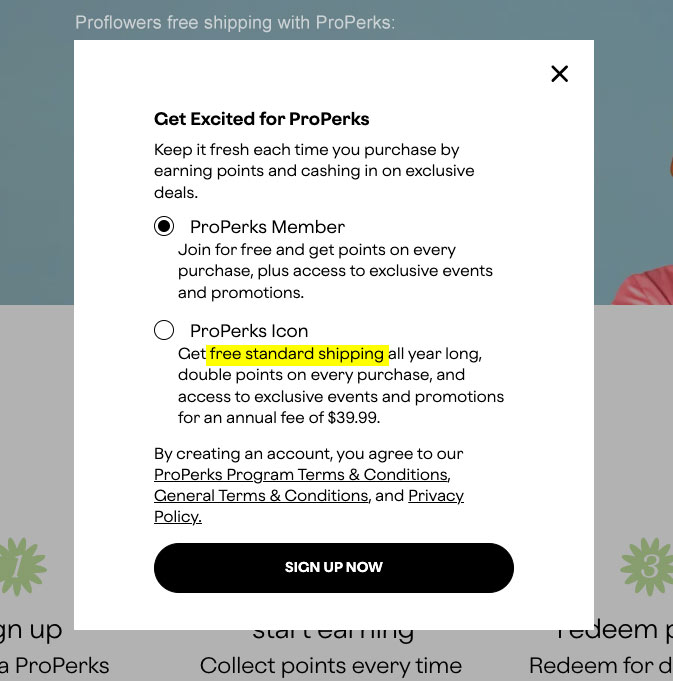 As you can see, Properks Icon costs $39.99 per year, but the membership pays for itself in only 2 orders.
If you believe you might be more likely to send flowers if shipping was free, consider joining ProPerks. If you add a ProPerks membership to your order today, you'll save $19.98 on shipping fees! Learn more at proflowers.com/properks
*More free shipping coupons: FTD | Vistaprint | Finish Line | Adam & Eve | Easy Canvas Prints
---
3. Using a Coupon Code or Radio Code:
Hopefully, you've found a good Proflowers coupon code from our list or promoted on a favorite radio show or podcast.
Here's how to use a coupon code: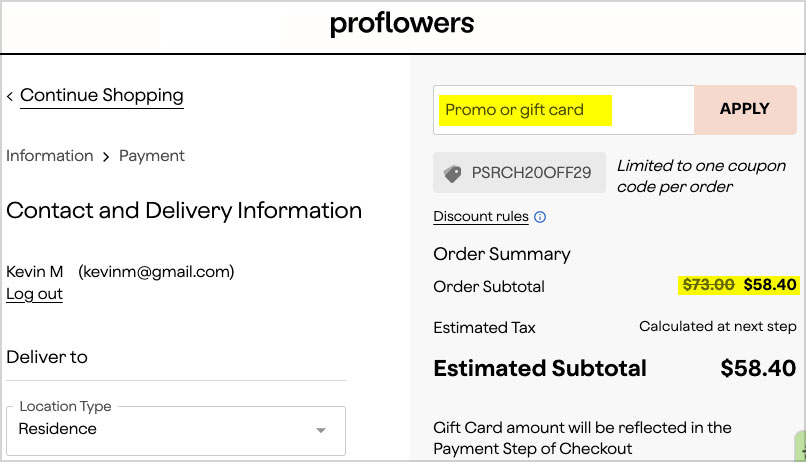 Enter your code in the field that says "Promo or gift card" and click apply
Enter your code there, then click "apply"
If the code is valid, you'll see a new, discounted subtotal
I recommend trying a second promo code to compare savings
*You are limited to one coupon code per order, and can't combine discounts with free shipping codes.
Top 3 ProFlowers Free Delivery Codes Now:
Up to a 30% discount sitewide with code: PFPP30NM
20% Off $29+ orders with promo code: PROFLOWERS20
Free Shipping on $99+ with code FREESHIP99 (exp.)
---
Proflowers.com for Mother's Day & Valentine's Day
I have the bad habit of only thinking about ordering flowers twice a year, on Valentine's Day, and Mother's Day. Flowers are a special gift that will brighten a loved one's day any time of year, so think of them next time you need a gift for a birthday, anniversary, or "just because."
*Related: Try Noom FREE for 7-14 Days here!
We know that saving money will brighten your day, so just remember to always use a coupon for up to a 20% discount or free shipping!