With 3500 stores and over 78 years of experience, Advance Auto Parts is the top name for everything automotive. Need auto parts, brakes, or a car battery? We have you covered with both online and in-store coupons. Plus, online orders over $35 qualify for free shipping every day! Here are today's best deals and promo codes for 20% off or up to a $50 discount at AdvanceAutoParts.com!
Advance Auto coupons: Best now | Speed Perks | $50 off | 30% off | 25% off
Best Advance Auto Promo Codes Now: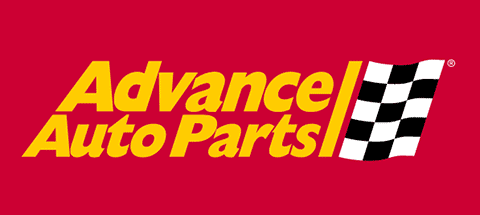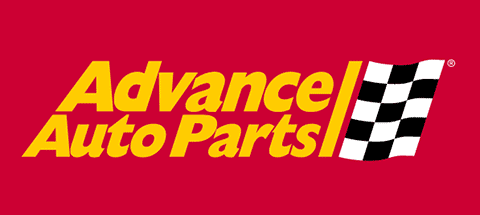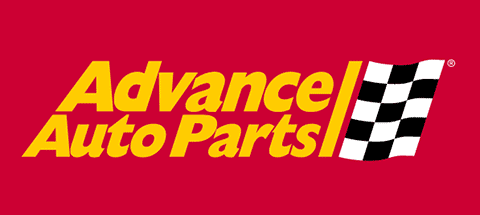 On-Site Coupons
3. Check today's deals and promo codes at AdvanceAutoParts.com
3. Check today's deals and promo codes at AdvanceAutoParts.com
Show Less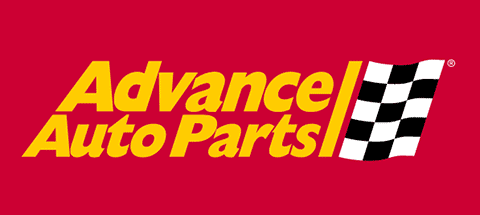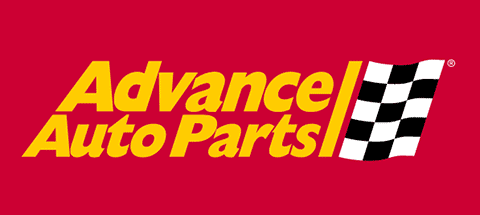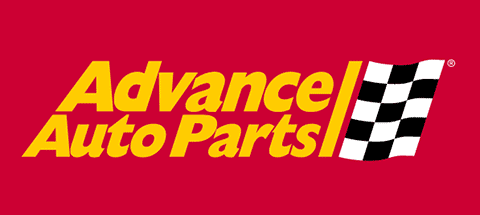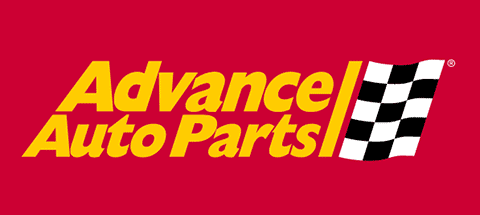 ---
How to Get the Best Deal:
Follow these steps to get the best possible deal at Advance Auto Parts:
Shop online as promo codes don't work in stores
Join their free SpeedPerks Rewards Program to get a $5 credit for every $50 spent
Spend $35+ to get free shipping or choose store pickup
Compare 2+ codes at checkout and compare the savings ($50 max discount)
Don't choose expedited shipping if possible as it costs $10+ more than free standard shipping
Tip: Note that most coupons don't work towards batteries, but you can use SpeedPerks $5 promo codes and rewards towards them. The best savings at advanceautoparts.com come from promo codes, so here's how they work:
---
Speed Perks Promo Code:
If you ever plan to shop at Advance Auto Parts again, I recommend you sign up for their free Speed Perks Rewards Program. You'll get a $5 coupon instantly plus a $5 credit for every $50 that you spend plus exclusive offers.
Plus, the Speed Perks promo code seems to be one of the only coupons that work towards batteries. Sign up for SpeedPerks and get your $5 off coupon here!
---
How to Use a Promo Code:
It's simple to use Advance Auto coupons online, but know that promo codes don't work in-store. When you start the checkout process, just look under order summary where it says, "enter your promo code or Speed Perks," like this: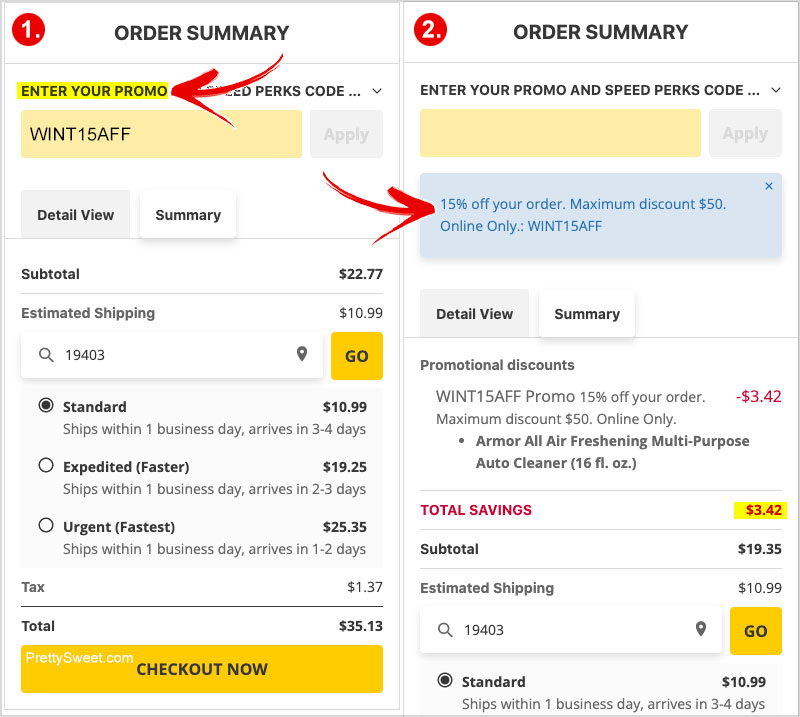 As you can see, valid codes will display the exact discount under "total savings."
Tip: Which is a better coupon for your specific order, $25 off $100 or 20% off? Try using more than one code and compare the savings at checkout!
---
Which Promo Code Is Best?
Advance Auto Parts offers a 15% discount when you signup for their email list. Even better is that they almost always have at least one good promo code for 20% off or more available. In fact, they post their advertised coupons on the coupon page at advanceautoparts.com.
Instead, they are issued to Advance Auto affiliates to promote on automotive blogs and travel websites like Pretty Sweet. These special discount codes can be rare and don't last long. So, if you see one for 25% off or more, you'll probably want to jump on it before it expires!
Here are the top 3 Advance Auto Parts coupons to look for:
---
1. Advance Auto $50 Off $125+ Code: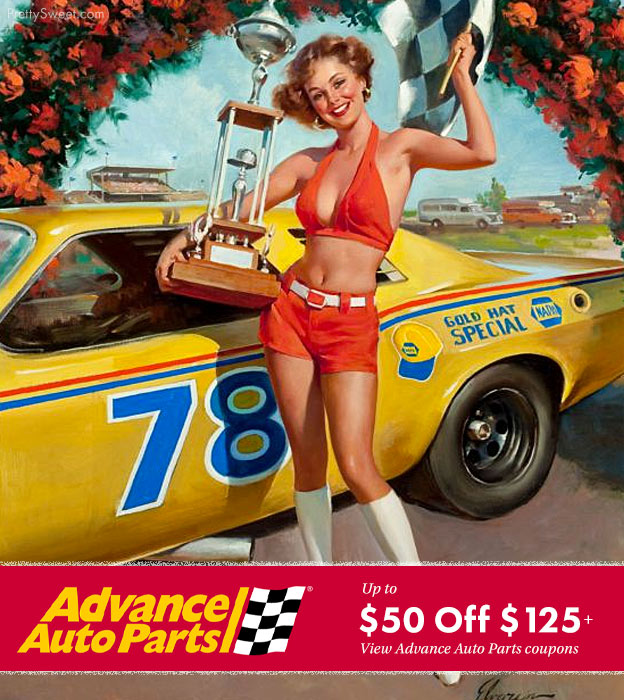 Looking for an Advance Auto $50 coupon? Good luck! While the $50 coupon is the best savings possible, it's also very rare. Plus, the $50 coupon usually has more conditions than other codes. These may include only working towards specific auto parts like brakes or batteries, or for new customers only. The Advance Auto $50 off $125 coupons are not available onsite at the Advance Auto Parts coupon page and can only be found on automotive or coupon sites like this one!
---
2. Advance Auto 30% Off Coupon: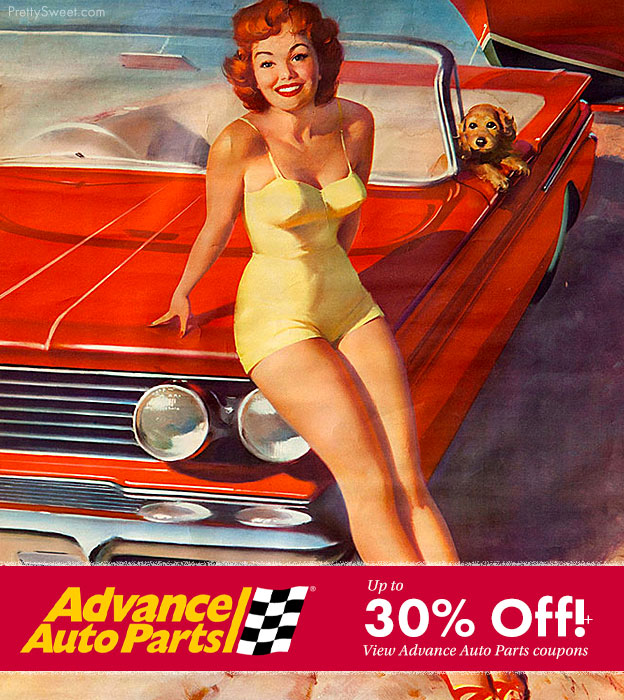 Advance Auto Parts has some great promo codes for online orders, but the best codes aren't usually as good as they used to be. One example of this is the Advance Auto 30% off code which has become pretty rare to find. In fact, I haven't seen it in some time, and when I did it was 30% off brakes or select automotive brands.
Look for a 30% off coupon during the best seasonal sales and annual promotions like Cyber Monday. The 30% off promo code has brand exclusions and like all codes, the maximum discount is $50.
---
3. Advance Auto 25% Off Coupon: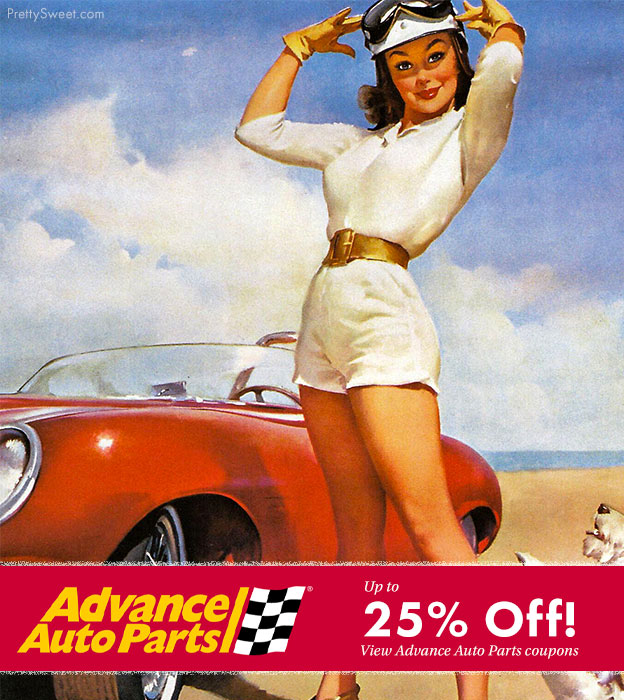 Advance Auto Parts promotion codes change every day, but one of the best codes to look for is a 25% discount online at advanceautoparts.com with a few exclusions! The Advance Auto 25% discount. The 25% off promo code has a maximum discount of $50 and the code does not work in-store.
---
4. Advance Auto $50 Off $100+ Coupon
While the $50 off $125 promotional code can't be beaten, the $30 off coupon comes close. Note that the $30 coupon can only be used towards certain products like batteries or brakes, and has a $100-150 minimum and the usual exclusions.
Tip: AAA no longer offers a 20% discount at Advance Auto Parts. However, you might find a similar discount from one of our featured promotional codes here.
---
Conclusion
So, in summary, don't ever proceed to checkout at Advance Auto Parts without looking for a good promo code or two to try. It seems like you can usually get a 15% discount with the rare special code delivering up to 25% off or even a 30% discount.
If you prefer to shop in-store, consider placing your order online and choosing "store pickup" to take advantage of better coupons. You can also view the monthly flyer, rebates, and oil change specials before driving to your local store.
Remember, Advance Auto promo codes can't be used in-store and the maximum discount for all promo codes is $50. Speaking of deals, we also have some great coupons for Fanatics, Vistaprint, and Turbo Tax. Thanks for visiting PrettySweet.com!