Advance Auto Parts Deals: Offering top quality parts, discount prices, and professional customer service, Advance Auto Parts is now the largest supplier of automotive parts in America.
Use our Advance Auto coupons & promotional codes below for up to $50 off online orders. Choose to have your order shipped, or pickup free in store same-day!
Tip: $50 max discount on all coupons. Free shipping on $25+ orders this month!
Best Advance Auto Deals Now:
[lltk-coupons]
---
If you're going to place an order at advanceautoparts.com, be sure to get the biggest discount possible. Here are 5 tips for using coupons to get the best price:
---
Tip #1. Always Use a Promotional Code (Here's How)
Most of the promotions that we feature are for online use only, require a promotion code, and can't be used in-store. Here's where to enter a promo code:
Click to review your shopping cart, and you'll get a screen like this: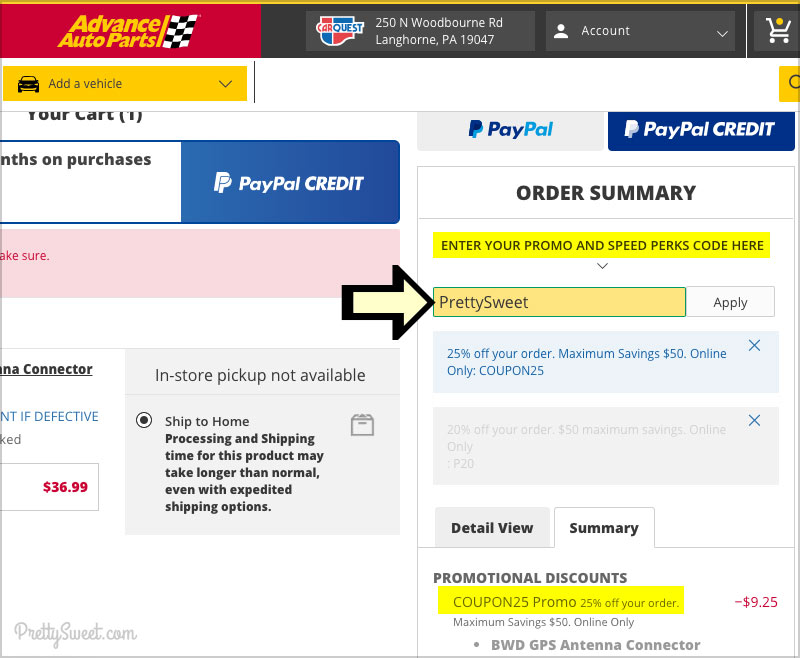 Enter the code where it says, "enter promo code or speed perks code here," and then click "apply." If valid, you'll get a detailed description of the terms of the coupon as well as an itemized discount.
Coupon Not Working?
Note that codes can change on a weekly basis, but some things are true for all of them. First, there are exclusions including sale items, specific parts, (like air chucks) and brands. Also, the maximum discount for any code is $50, and certain products, like motor oil, might be eligible for in-store pickup only.
---
Tip #2: Compare Coupon Codes: (Hmmm… 25% Discount w/ No Minimum, or $40 Off $100+?)
Because everyone's order is different, try copying down more than one promotional code to try. You may find that the "25% off" code gets you a better discount than the "$40 off" code, or that a certain coupon has exclusions.
Advance Auto will keep a running list of all the codes that you try with their respective discounts, (see above) so it's easy to compare them.
Related Coupon: AutoZone: $20 Off $100+
---
Tip #3: Total over $200? Consider Placing 2 Orders
As mentioned, the best discount you can get from any single code is $50. For this reason, if you have a large order (over about $200) consider breaking it into two orders. That way you'll get up to a $50 discount on each of the orders.
Example: If your order total is $300, break it up into two orders, using their $50 off $125+ code both times. Taking that extra 2 minutes can double your discount. You'll get free delivery on both orders, or pick it up in store if you prefer to get your parts today.
---
Tip #4: Free In-Store Pickup is Like Having a Printable or "In-Store" Coupon!
You might have noticed that the discounts you get from online codes are much better than anything specifically promoted as "in store" coupons. So, instead of using one of these inferior printable or store coupons for Advance Auto, use an online code, and then pick it up in store.
If you look at it that way, it's like magically turning their discount codes into in store coupons! Do you still prefer the experience of shopping at the store? You can even browse the store in-person first, place the order on your iPad, and come back in an hour to pick it up!
Another potential advantage to doing this is that you don't have to worry about items like oil and car batteries that are excluded from shipping for safety reasons.
In fact, you do need a battery, order it online (using a promo code!) and they will install it free, and dispose of your old battery, too.
---
Tip #5: Check the In-Store Ad
Also check their monthly flyer for specific in-store deals and sales for an even bigger discount. Many times these store deals are not excluded from online codes, so it's like stacking discounts. You can also view this week's rebates, too!
---
In Conclusion…
Ok, that's all. As you can see, taking a minute to use a promo code or two at checkout can save you big at Advance Auto. This is especially significant for popular products like batteries and brakes which many stores won't accept coupons for. If you have a great promo code or just a tip on how to save money, drop us a line below. Thanks!