Imagine this: after a few drinks you and your lady-friend are walking together when you suddenly see a sign: Karaoke tonight.
You are drawn to the muffled sound of music, laughter, and off-pitch singing. But, are you prepared? Madly you Google, "best duet karaoke songs," hoping to find a good tune. You need something popular and fun with a male and female part that you can belt out with a beer in your hand.
Best Karaoke Duet Songs of All Time: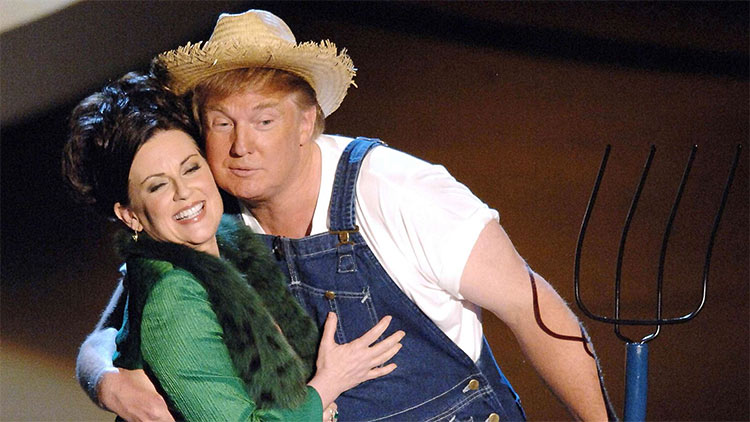 It's OK, we're here to help. Here's our list of the top karaoke duets for a male and female (or two females) couple with links to the lyrics. No need to scroll to the bottom, we'll start with the best ones first:
---
1. Shallow: Lady Gaga, Bradley Cooper (A Star Is Born, 2018)
"Tell me somethin' girl,
Are you happy in this modern world?
Or do you need more?
Is there somethin' else you're searchin' for?" View lyrics
This song came out of nowhere to top our list of good karaoke duets. It's a little slow, but then Lady Gaga lets it rip and just destroys with her solo.
Women: don't attempt this solo unless you have some pipes or you might sound like someone getting stabbed.
---
2. Love Shack: B-52's (80's Rock)
"…I got me a Chrysler, it seats about 20,
so hurry up, and bring your juke box money! – View lyrics
Maybe not technically a duet, but I can't think of a better karaoke duet for a male and female. Watch the sexy dance moves in the video for ideas. Also, get ready to lead the crowd in song towards the end of the song when it goes soft to loud:
Bang, bang, bang, on the door baby… I can't hear you!
You're what? Tin roof…. rusted!
---
3. Moves Like Jagger: Maroon 5 + Christina Aguilera (Rock, 2010)
And you want to steer, but I'm shifting gear,
I'll take it from here,
oh yeah yeah, and it goes like this! View lyrics
Good male and female duet. Although the male has a bigger part, the female can really belt out Christina's lyrics.
Tip: Watch Adam Levine and Mick Jagger in the video for dance move ideas. Oh, and see how Christina works that microphone.
If I share my secret, you're gonna have to keep it, nobody else can see this!
---
4. You're the One That I Want (Grease Soundtrack, 1978)
"I got chills, They're multiplying,
And I'm losing control,
Cause the power you're supplying
It's electrifying!" View lyrics
Looking for a popular, corny, and fun karaoke duet that the audience can sing along to? Everyone knows the Grease Soundtrack!
---
5. Summer Nights: John Travolta Olivia Newton-John (Grease, 1978)
"Summer loving had me a blast,
Summer loving happened so fast,
I met a girl crazy for me.
Met a boy, cute as can be.
Summer days drifting away,
to oh, oh the summer nights" – View lyrics
Another fun song off the Grease Soundtrack that could make for an easy karaoke duet song.
---
6. The Time of My Life: Dirty Dancing (80's Slow Jam)
"We saw the writing on the wall,
And we felt this magical fantasy.
Now with passion in our eyes,
There's no way we could disguise it secretly.
So we take each others hand,
'Cause we seem to understand the urgency" – Lyrics
If you are too young to remember Dirty Dancing, it's a classic 80's movie, and The Time of My Life is the iconic final dance scene. This song has the potential to be one of the best 80's karaoke duet songs out there.
Probably tame enough to be a father-daughter karaoke duet, but still spicy.
---
7. Don't You Want Me: The Human League (80's Rock)
"I picked you out, I shook you up and turned you around,
Turned you into someone new,
Now five years later on, you've got the world at your feet,
Success has been so easy for you.
But don't forget, it's me who put you where you are now,
And I can put you back down too!" – Full lyrics
Oh, snap! No he didn't just say that!
This is Just a good, easy duet karaoke song from a dysfunctional 1980's couple called, The Human League.
---
8. Crazy In Love: Beyonce, Jay Z Duet (Hip Hop / Rap 2009)
"It's the beat my heart skips when I'm with you,
But I still don't understand,
Just how your love can do what no one else can…" Lyrics
Looking for an upbeat karaoke duet with a good vocal part for the girl and a difficult and wordy rap solo for the boy? Everyone knows this song, which is always a plus.
Tip: Check out Beyonce's booty shaking moves for when you're on stage!
---
9. The Boy Is Mine: Brandy & Monica, FEMALE Duet (R&B Jam, 1998)
"Think it's time we got this straight,
Sit and talk face to face.
There is no way you could mistake,
Him for your man, are you insane?" Lyrics
Looking for a good karaoke duet for females to sing?
Maybe one with a smooth R&B beat that lets you wag your finger at the crowd and shake your head like a strong, sassy black woman? No you didn't, girlfriend!
Then, The Boy Is Mine might be the karaoke duet that you are looking for.
---
10. Endless Love: Lionel Richie and Diana Ross Duet (Soft Rock, 1980s)
"Two hearts, two hearts that beat as one…
Our lives have just begun!
Forever (Oh) I'll hold you in my arms,
I can't resist your charms…" Lyrics
This is one of the easiest karaoke duets to belt out and get crazy with. I strongly suggest you watch the video above for ideas on hand-gestures and over-the top facial expressions.
Endless love is arguably the best karaoke duet of all time, but know your audience before you add it to the queue.
Tip: This is a slow, sappy song, so don't sing it at an unfamiliar karaoke bar where people don't appreciate Lionel Richie, and may be carrying concealed weapons.
---
11. Opposites Attract: Paula Abdul + MC Skat Kat Duet (80's R&B / Rap)
"And you know – It ain't fiction,
just a natural fact,
we come together, cuz opposites attract!" Lyrics
Did you grow up in the 80's? Then you remember this upbeat MTV gem featuring Paula Abdul and the poorly animated, MC Skat Kat.
Tip: Watch the choreography for some dance ideas, (the running man!?) and don't forget Skat Kat's rap solo!
---
12. Doin' It – LL Cool J (Rap Duet, 1996)
"It's our first time together and I'm feeling kinda horny,
Conventional methods of makin' love kinda bore me.
I wanna knock your block off, get my rocks off,
Blow your socks off, make sure your G spot's soft…" Lyrics
Wow, you might need to take a shower after singing this sexy, dirty song. A great karaoke rap duet with good male and female parts. (literally!)
Great for after a few drinks at a karaoke bar. However, it's not appropriate for most weddings, father-daughter, or with your sister-in-law!
---
13. Say My Name: Destiny's Child Female Duet (R&B / Hip Hop)
"You actin' kinda shady,
Ain't callin' me baby,
Why the sudden change?
Say my name, say my name" Lyrics
Man, Beyonce has produced some great upbeat karaoke hits! This song isn't a duet, but has good potential to be sung by two or more sassy females who don't like to share men, but don't mind sharing a song.
---
Jackson: Johnny Cash, June Carter (Best Country Karaoke Duet? 1965)
"We got married in a fever,
hotter than a pepper sprout,
We've been talkin' 'bout Jackson,
ever since the fire went out,
I'm goin' to Jackson…" Lyrics
Tip: This oldie country song makes for a good karaoke duet! Just make sure you have a male who can sing with a low, bass voice like Johnny Cash!
---
14. Love is An Open Door: Male / Female Duet (Disney's Frozen, 2014)
"I mean It's crazy,
we finish each others..
SANDWICHES!
That's what I was gonna say!" Lyrics
Looking for a fun Disney duet? Then "Love is An Open Door" may be a good idea. Also, you can get really hammy up there. Maybe throw in a bop of the nose somewhere in the song.
Tip: If you're into Disney karaoke duets, maybe also consider "A Whole New World" from Aladdin. Jinx! Jinx again!!
---
15. Perfect: Ed Sheeran, Beyonce Duet (Slow Jam, 2018)
"Baby, I'm dancing in the dark
with you between my arms,
Barefoot on the grass,
listening to our favorite song…" Lyrics
This is another slow duet that requires some skills as a singer, or it's going to sound bad. Great karaoke option for a man and woman who can sing.
---
16. Don't Go Breakin' My Heart: Elton John and Kiki Dee (Pop Song, 1976)
"Don't go breakin' my heart, you take the weight off me,
oh honey, when you knock on my door,
Ooh I gave you my key" Lyrics
Those who attend Kiki Dee's funeral will one day be shocked to know that not only was she known as, "Kiki Dee," but she also sang this duet with Elton John in 1976. Interestingly, that's the same year that Sir Elton came out as, "bisexual." (He wouldn't come out as gay until 2018)
Anyway, "Don't Go Breakin' My Heart" is a good, upbeat karaoke duet for for two people who want to get a little stupid and goofy.
Tip: Please watch the "hand jive" and horrid chemistry between Elton and Kiki in this video. Surely you and your female friend can do better.
---
17. You're All I need to Get By: Method Man & Mary J. Blige Duet (R&B / Rap, 2003)
"Nothin' make a man feel better than a woman,
Queen with a crown that be down for whatever,
There are few things that's forever, my lady,
We can make war or make babies…" Lyrics
Oh, you forgot that Method Man sang in a duet? If you are looking for a duet with some wordy rap for the male, and a refrain for the woman, then this is a good idea for a karaoke duet.
---
18. Just Give Me a Reason: Pink, Nate Nuess (Pop / Slow Jam, 2013)
"Right from the start
You were a thief, you stole my heart.
And I your willing victim.
I let you see the parts of me, that weren't all that pretty" Lyrics
Just give me a reason, just a little bit's enough Just a second we're not broken just bent, and we can learn to love again
This is another mostly slow duet, but not a bad idea at the right time for a male and female who can sing. Also, it does get lively after a minute or so, so it won't suck the air out of the room like some of the other slow duets.
*Coupon: 50% Off Any WSJ Subscription
---
19. Paradise By the Dashboard Light: Meatloaf Duet (70's Rock)
"And we're glowin' like the metal on the edge of a knife…
Ain't no doubt about it we doubly blessed,
cuz we were barely 17 and we were barely dressed!" Lyrics
I hear you, Meatloaf. A man and woman can really let it rip on this sexy song, and it's a crowd favorite.
"Open up your eyes, I got a big surprise!" (What is it, Meatloaf? Did you get me those shoes I wanted?)
Check out Meatloaf's Chris Farley-esque facial expressions in the video, and how he makes out (yikes!) with the woman he's singing the duet with.
Tip: I'm not sure how your karaoke machine or song version handles the minute or so of Phil Rizzuto calling the baseball game, so get ready to dance, or run to the bar for a drink mid-song!
---
20. Feel This Moment: Pitbull, Christina Aguilera (Hip Hop / Rap, 2013)
"Ask for money, and get advice.
Ask for advice, get money twice.
I'm from the Dirty, but that chico nice.
Y'all call it a moment, I call it life." Lyrics
Great karaoke duet for a male and female. The male raps, and the female belts out the refrain.
Tip: The Pitbull rap lyrics are wordy, so look them over a few times before you try it!
---
21. Dilemma: Nelly and Kelly Rowland Male / Female Duet (R&B / Rap)
"No matter what I do, All I think about is you.
Even when I'm with my boo,
Boy you know im crazy over you." Lyrics
Are you looking for a good karaoke duet to sing with your boo that won't kill the fun vibe in the room? Then this may be a great male / female karaoke duet.
"Like a shortstop, pick up everything mommy hittin',
and in no time, I plan to make this one here mine."
Tip: If you have a first aid kit handy, I suggest you put a band aid on your cheek before singing this karaoke duet by Nelly and Kelly.
---
23. Baby Boy – Beyonce and Sean Paul Male/Female: 2002
After drinking a lot, a lot of men wish they could talk like a Jamaican into a microphone in front of a crowd. Well, if that's your dream, Baby Boy might be a good karaoke option for you.
Tip: Women need to watch Beyonce's dancing for some hot karaoke moves. Men, break out the sunglasses and just watch your lady-friend get down. If you don't like to dance, then the instrumental gaps in this song could be awkward.
---
24. My Boo – Usher & Alicia Keys Couple Duet (Hip Hop / R&B)
Are you a man who can sing falsetto? Do you have a lady-friend who can sing like Alicia Keys after a couple glasses of wine? You may have what it takes to sing, "My Boo," which also has a crazy number of youtube views. 115+ million, actually.
It's a pretty good karaoke duet that actually has a rare female rap solo. Save this karaoke duet idea till the end of the night, when people can't see straight.
---
24. I'm Real – Jennifer Lopez and Ja Rule: (R&B 1997)
Another great R&B karaoke song for a male and female. People may not remember this song, but it was pretty hot in the late 90's. In fact, the youtube video has 150+ million views, so somebody is watching this crap.
In any event, Ja Rule may have sold his soul to the devil to be a rap / rock star (WTF!?) but you don't have to. (Man, more like "Ja Tool!")
Select this smooth R&B karaoke duet late in the evening to get a bunch of white people's heads bobbing.
*Related: Vistaprint: How to Get Free Shipping on Any Order
---
25. You Got Me: The Roots + Erykah Badu (Slow Jam / Rap 1999)
If you were worried 'bout where I been or who I saw or
What club I went to with my homies,
Baby don't worry you know that you got me
Another karaoke duet that let's the male show off his rap skills while the female can show off her voice in the refrain.
---
26. Reunited: Peaches and Herb Couple Duet – (Slow Jam 1978)
"I was a fool to ever leave your side.
Me minus you is such a lonely ride…
Reunited and it feels so good.
We both are so excited, cause we're reunited."
Peaches and Herb? What a coincidence… that's also what I named my testicles!
Why do most duets have to be so slow and crappy? Well, if you are creative, you can do a lot with this karaoke duet song. Even if you don't have an exotic fan to manually cool yourself off with.
Tip: Watch Peaches and Herb for tips on swaying to the music, touching hands, and maybe stealing a kiss between verses. Awww yeah… Put your ass in that pudding!
---
27. Ebony & Ivory: Paul McCartney and Stevie Wonder (Pop / Slow Jam, 1981)
"Ebony and Ivory, live together in perfect harmony, side by side on my piano, keyboard oh lord, why don't we?"
Apparently 1981 was the best year ever for karaoke duets! I don't really know WTF inspired this song, but they say racially motivated crime dipped for over a day and a half after it was released.
Do you have a black (or white) friend to sing with?
Maybe you are a mixed couple? Either way, Ebony and Ivory could be karaoke gold if sung in the right context. (Probably skip Mississippi altogether?)
Tip: This song isn't good for every karaoke bar. Plus, if anyone in the crowd is still sober, they may throw a beer bottle at you for singing it.
*New diet coupons: Noom, Weight Watchers, Nutrisystem
---
Bonus Karaoke Duet: Baby It's Cold Outside: (Christmas / Holiday Song)
If you are singing a karaoke duet in December, you have to look for this classic. It's the story of a boy not letting a girl leave his house, and instead forcing a spiked drink on her. Lot's of potential for over-the-top acting in this classic duet!
*Related: 27 Funny Camping Memes & Quotes
---
Good Karaoke Songs for 2+ Singers! (Not Always a Duet)
If you are looking for the best karaoke duets, also consider top karaoke songs that can be sung by 2 people. I few ideas include:
Build me Up Buttercup (The Foundations)
I Want It That Way (Backstreet Boys)
Just a Friend (Biz Markie)
Livin' on a Prayer (Bon Jovi)
Africa (Toto)
OK, that's our list of the best songs to karaoke duet. If you feel inspired, please share this list, or send it to someone who might be the better half of your own karaoke duet.
Did we miss one? Just let us know by leaving a comment below.