Austin Motel review: So, you've decided to plan a trip to Austin, Texas. You've heard about the awesome street art, eclectic bars, the Congress Street Bridge bats, and great live music. But deciding on the best place to call home while visiting the Lonestar State's capital can be overwhelming.
We knew we wanted to stay away from big, chain hotels. After all, it's hard to embrace the mantra of "Keep Austin Weird" if you're shacking up at a Westin. Luckily, Austin is home to a wide assortment of boutique hotels and renovated motels, many of which are situated in trendy South Congress.
One of the most popular places to stay in South Congress is the trendy Austin Motel. We read reviews online and knew we had to reserve a room before they all filled up. Here's our review of the Austin Motel:
---
History: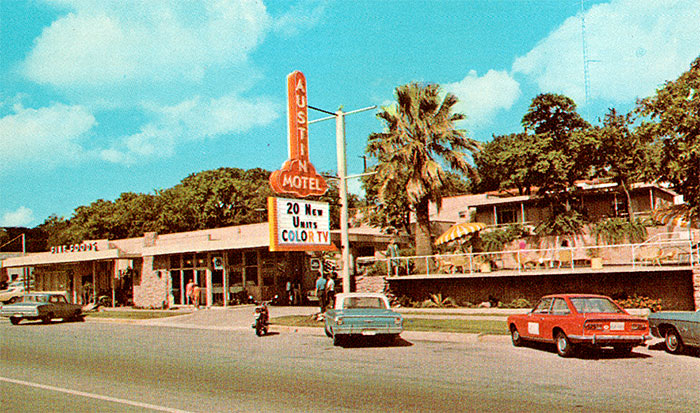 The Austin Motel first opened in 1938, when Jennie and Earnest Stewart decided to jump on the bandwagon of motels and motor lodges, which were popping up to meet the demands of the new boom in auto travel. They sold it to Katherine and John Thompson in 1961, and it stayed in the Thompson family until 1993, when it was purchased by the Dean family.
Today, the motel, which was renovated in 2017, is owned by Austin-based hospitality company, Bunkhouse; but the Motel still retains the feel of a family-owned business.
---
Lobby / Gift Shop: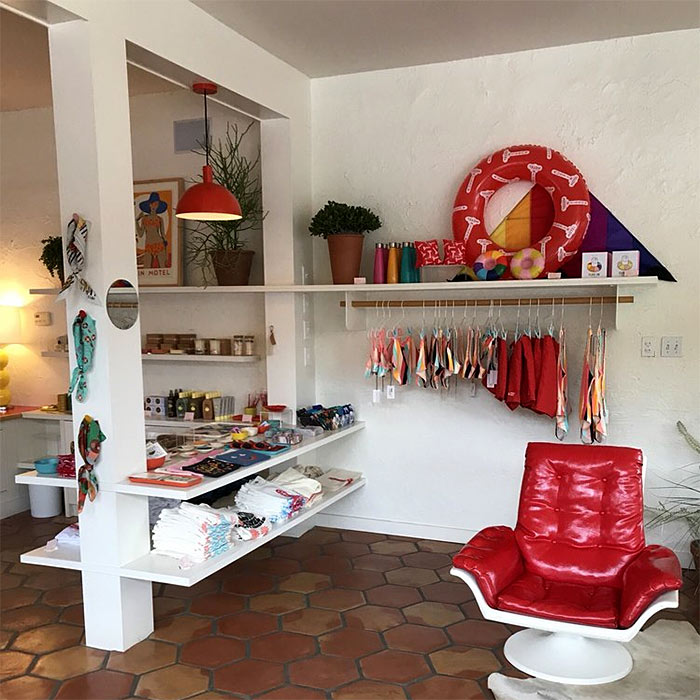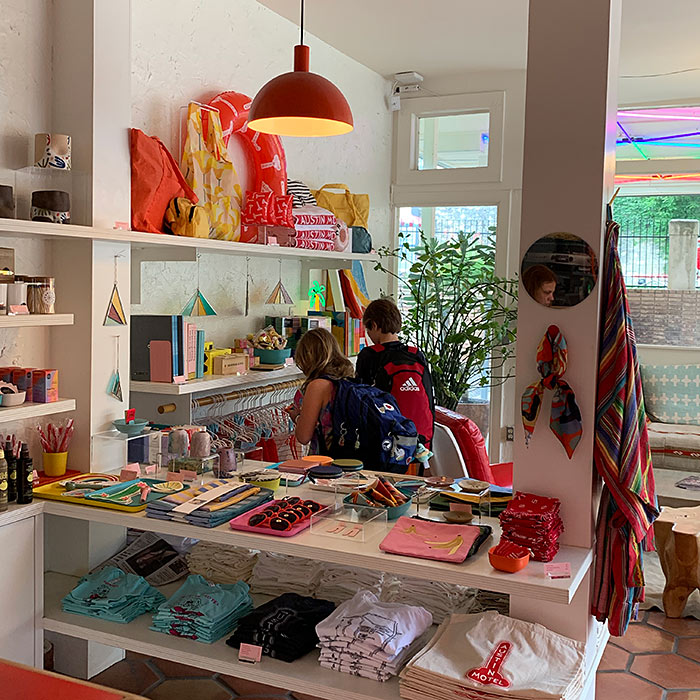 While the Austin Motel's lobby is small, the music and decor immediately sets the funky tone, which is artfully carried out throughout the property. The gift shop sells everything from sunblock and t-shirts, to books and retro beer. (Boone's Farm and Mickey's Malt Liquor!?) Despite it's recent renovation, the Austin Motel manages to feel, modern and retro, all at the same time.
---
Motel Rooms: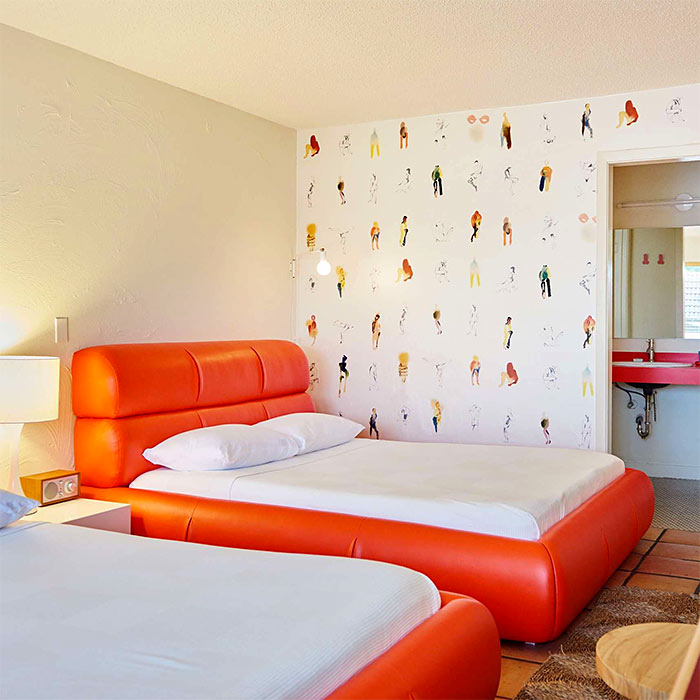 There are 41 rooms and suites ranging from standard kings and doubles to spacious suites complete with a separate sitting room. All rooms are decorated with pops of color, bold wallpaper, and bright, vinyl low-profile beds. They also provide amenities like cable tv, retro looking Tivoli alarm clocks, cozy robes and Alaffia bath products.
We stayed in a double Queen room in the building behind the motel. A walk up the mosaic tiled steps brings you to a parking lot where the two story building is located. We were on the second floor. There are no elevators, so be prepared to lug your suitcases!
The Double Queen room is a standard-size room; the sink area has an open closet and is separate from the shower, and toilet.
The one problem we had was the lack of drawers or storage space. While there is a long shelf, if you are traveling with more than two people, you might what to bring packing cubes, so it's easier to store your clothing.
---
Austin Motel: Amenities & Pool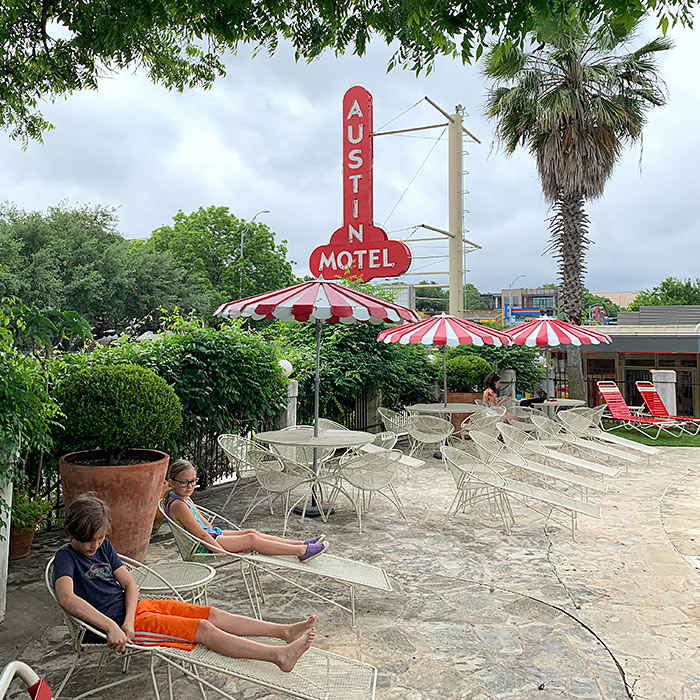 We loved how the mid-century modern theme was used throughout the space. From the outdoor sitting areas, complete with wicker egg chairs and strung twinkle lights, to the red, vinyl strap lounge chairs scattered on the turf around the pool.
The whole atmosphere is kitschy in a really authentic way. (you don't feel like they are trying to seem retro!)
Thought: When Trump said he wanted to "make America great again," he probably wasn't envisioning this retro, progressive, LGBT-friendly, utopia!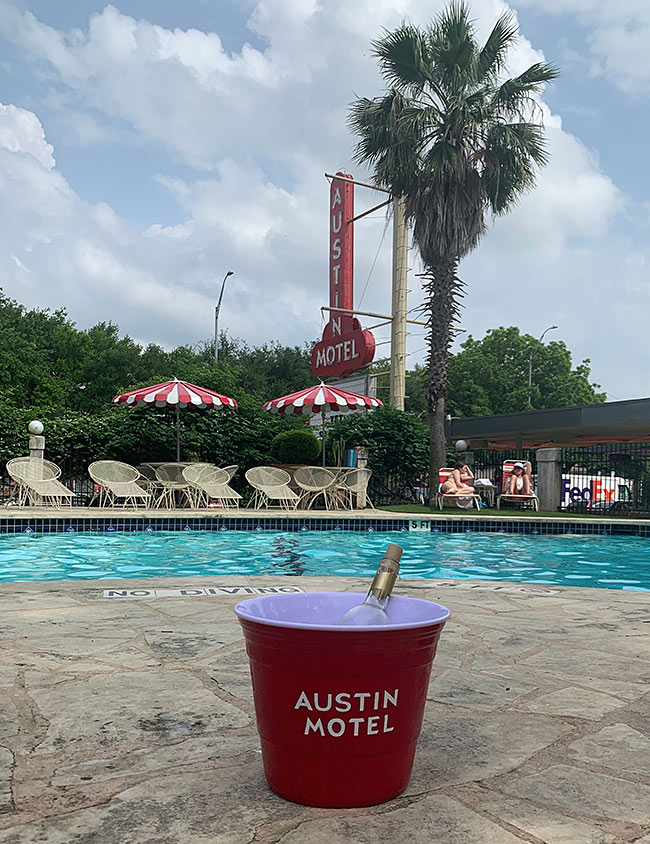 The kidney shape pool is the perfect place to chill. We arrived on a Monday, so we missed out on the notorious Endless Sunday pool party, where a DJ spins tunes from 3-6 and there are food and drink specials at the pool bar.
*Related: Conestoga Ranch Resort Glamping Review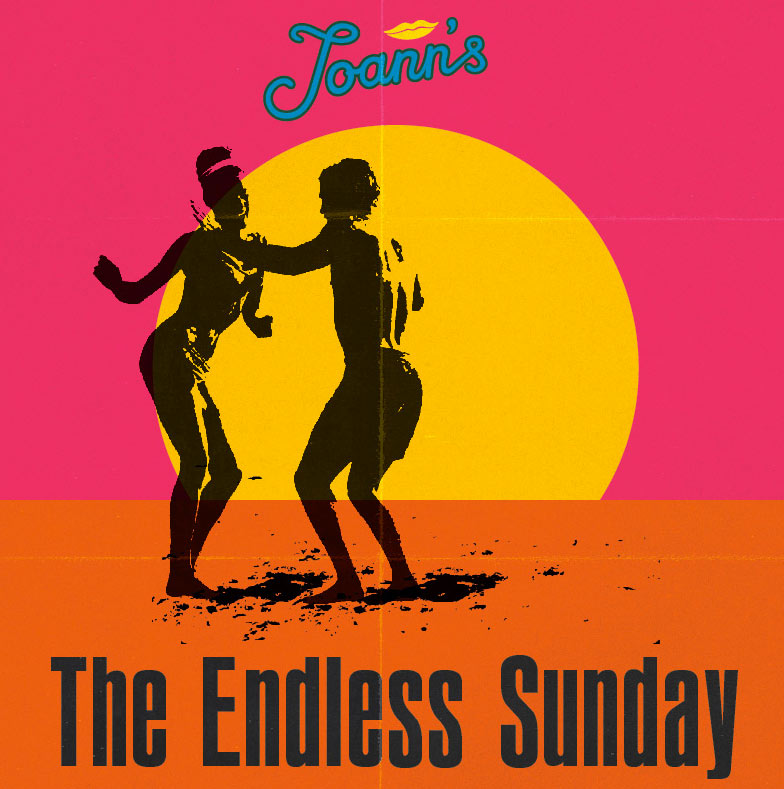 In the summer, the pool is the hub of even more fun, including the Float Friday Film Series and Splash Dance workouts on Sunday mornings.
Think of booking a room? You can find the lowest price at hotels.com
---
Austin Motel: Food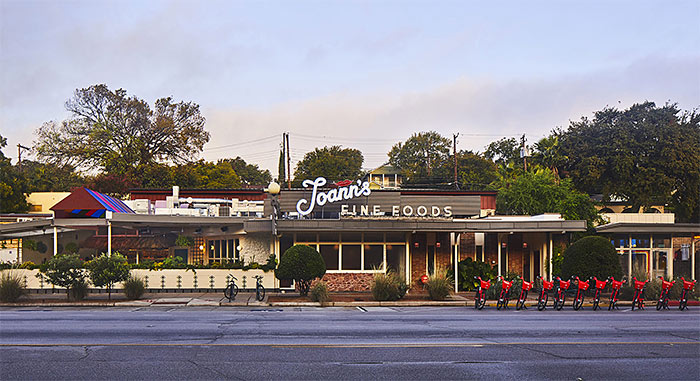 Adjacent to the lobby is Joanne's Fine Food, which is open from 8-midnight, and serves everything from tacos to salads. Joanne's also has courtyard bar with a daily Happy Hour.
However, we skipped eating here, and instead enjoyed breakfast next door at Jo's Coffee.
*Heading to San Antonio? Check out our friend Julie's review of the JW Marriott San Antonio Hill Country Resort at her blog, MoreThanMainStreet.com!
---
Austin Motel: Location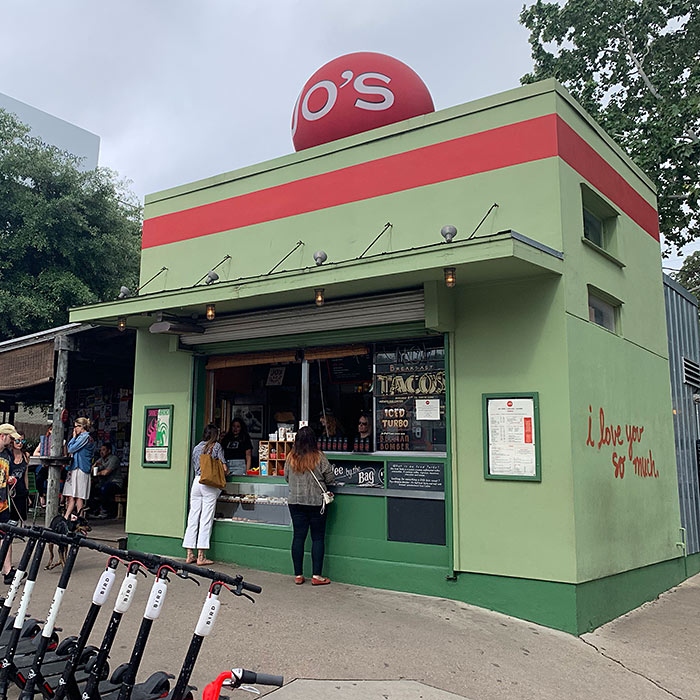 We absolutely loved the South Congress section of Austin! We did not have a car, and found that we didn't need one. There are so many amazing restaurants, (all with Happy Hour specials), murals, and fantastic shops, all within walking distance.
And it was an easy, 15 minute walk to the Congress Street Bridge, where you can watch the legendary bats take flight at dusk. Also, check out the Mister Rogers mural while you're down in the street!
There are also a ton of Lime scooters and Bird Scooters for those who prefer to zip around town.
Tip: Reviews of the Austin Motel often rave about the great location in South Congress. In fact, Trip Advisor rates it a perfect 4-stars for location!
Oh…We can't forget about that famous sign… (paging Dr. Freud!)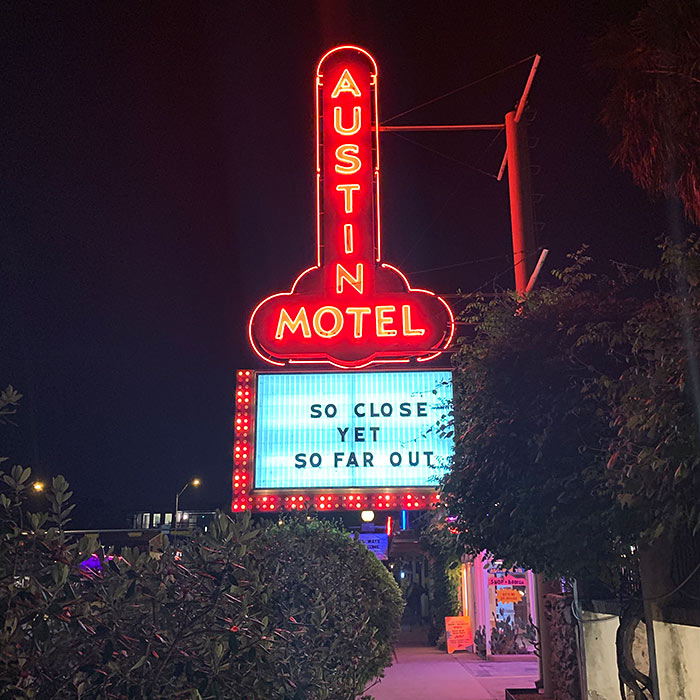 Yes, the Austin Motel is home to one of the most legendary signs in Austin. It's the original one that was put up by the first owners in the 30's, and yes, it is pretty suggestive (employees have even referred to the hotel as the "Phallus Palace"). But hey, after a late night of drinking and live music, it'll make it easy to find your motel, right?
---
Austin Motel Cost Per Night?
We paid about $180 total to stay at the Austin Motel over Labor Day Weekend. However, as I look at sites like Trip Advisor and Booking.com, I see that there's a wide price range. While it costs $180-200 on weekends, it's significantly less on weekdays.
If you can swing staying there during the week, you might save $50 per night! (Check prices)
*Tip: South Congress is an amazing part of Austin to take photos. In fact, we took a ton and printed them on mugs (our review!) and more at Shutterfly (coupons here). We waited until they had a great coupon, and saved 50%!
---
Bottom Line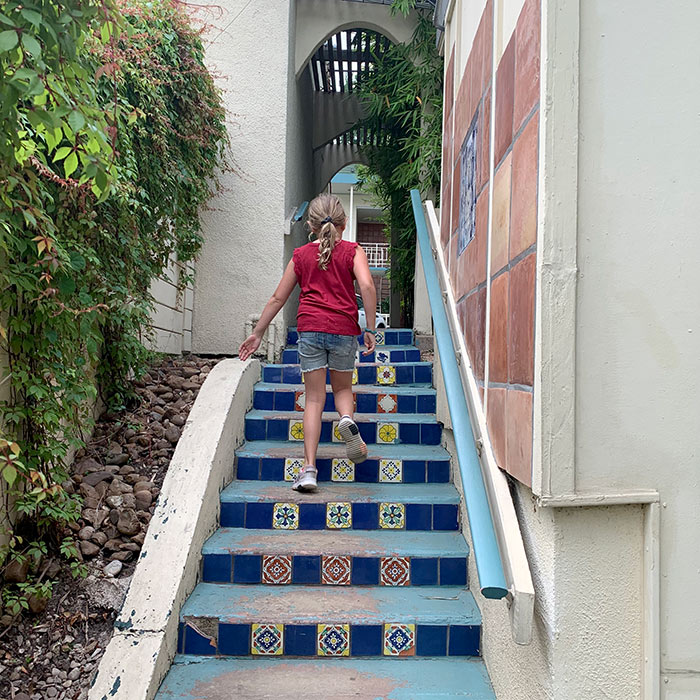 When we return to Austin, we will definitely try to stay at the Austin Motel again. Our kids loved the retro, funky feel and the pool. We loved the easy access to Torchy's Tacos and local street art. But what we really loved was being out of the more urban-feeling downtown and the atmosphere that transported us back in time. Pretty sweet!
Think of booking a room? You can find the lowest price at hotels.com