Ok. Let me start by saying we are not the type of family who travels extravagantly. I hate paying full price for anything, and I live for travel bargains!
So how did we find ourselves spending the day at Disneyland escorted by VIP tour guides and bypassing every line? Well, it's a long story. But I'm here to tell you that if someone ever volunteers to pay for your VIP tour at Disney, take them up on the offer!
However, if you're considering splurging on a VIP tour of Disneyland with your own money, read on and decide for yourself whether it's worth the cost.
---
What is the VIP Tour at Disneyland?
The Disneyland Resort VIP Tour gives your family or group of up to 10 people a personalized day at the park. Your tour guide will meet you in the morning and discuss what types of rides and experiences your group prefers.
Then, they will escort you around the park for the day, magically cutting lines, and taking care of your every need. Before you arrive, your VIP tour guide will even make Advanced Dining Reservations for you.
Um, Ok… let's try the Disneyland VIP Tour!
---
How the VIP Tour Works: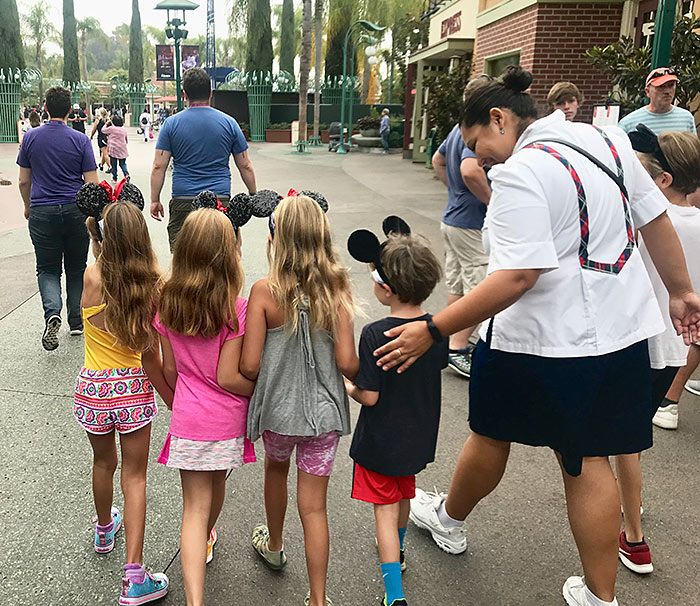 Our day started bright and early, and we met our guides (or, "Plaids," as they're called) in the lobby of the Grand Californian. Because we had 17 in our group, we actually had two guides, Lindsey and Diane. The tour guides introduced themselves to the kids, took our pictures, and we were on our way.
Maybe money can't buy you love, but it can buy a pretty magical day at Disneyland!
At first, I felt a little awkward; here were these two women at our beck and call, ready to spend their day doing whatever we wanted. But I'm embarrassed to say how quickly we all became comfortable with this celebrity treatment.
We spent 7 hours blindly following Lindsey and Diane around the park. The guides lead us through the Fastpass lines for rides, (or, skipped the line altogether) and into hidden rear entrances to meet Mickey and the Princesses. My cousin wanted iced coffee, so they went and got it for her while she waited in the shade. The whole thing was so bizarre, in the most incredible, decadent way.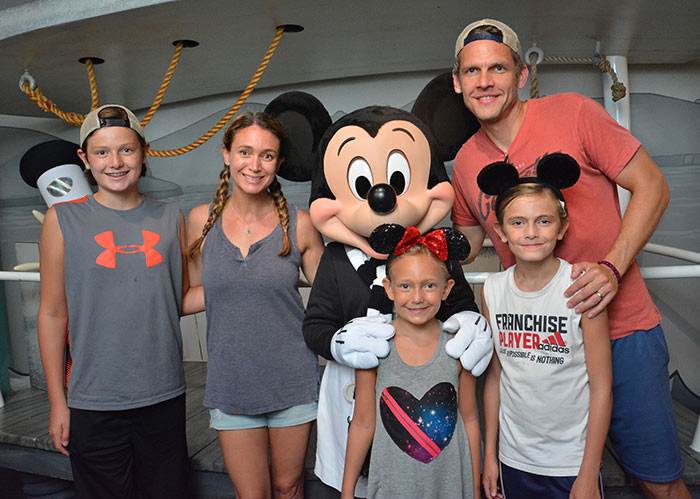 Tip: The VIP tour offers a lot of flexibility. While we had ADR (Advanced Dining Reservations) for lunch, we decided on the fly that we didn't want to waste time eating. So, they canceled our reservation and showed us to the closest quick-serve restaurant.
---
The Disneyland VIP Tour "Plaids" (Guides) Were Amazing
Our group had 9 kids ranging in age from 2-12, and the guides did a great job of keeping everyone happy. Sometimes we all went on rides together; sometimes one group went on a ride with Lindsey while the other group had a snack with Diane.
A number of times we split up. Diane took older kids on a thrill ride, while Lindsey took the younger ones on a more mellow one. Our Plaids joined us on some of the rides and also revealed some cool historical Disney facts and secrets to us.
Did you know that Main Street is modeled after Walt's hometown of Marceline, Missouri?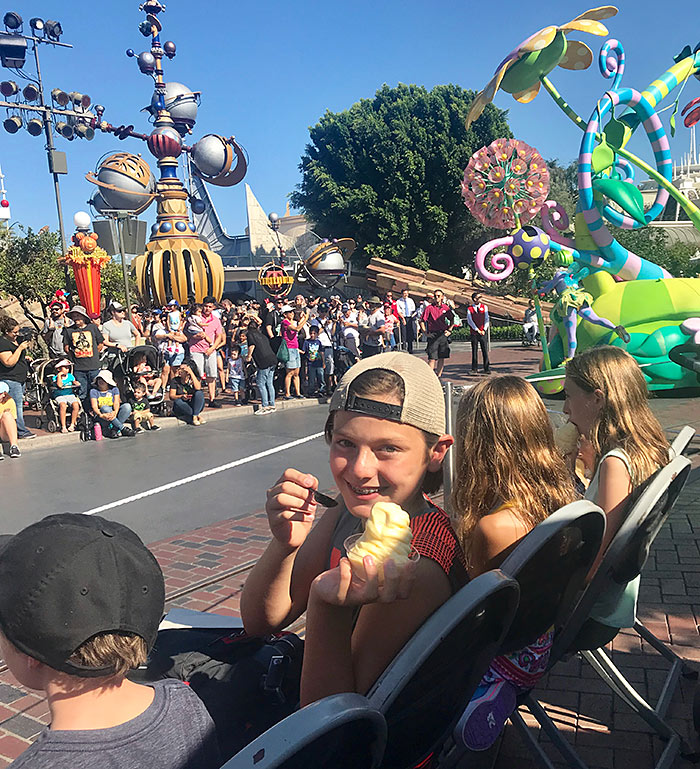 ---
VIP Seating for the Fireworks:
One of the highlights was having reserved VIP seating for parades and fireworks. Any normal person would have to stake out a curbside parade spot at least an hour ahead of time.
But 5 minutes before the parade started, we leisurely walked off Splash Mountain and strolled over to our reserved VIP seats. Which were actual chairs. Behind a rope. Directly in front of the Castle!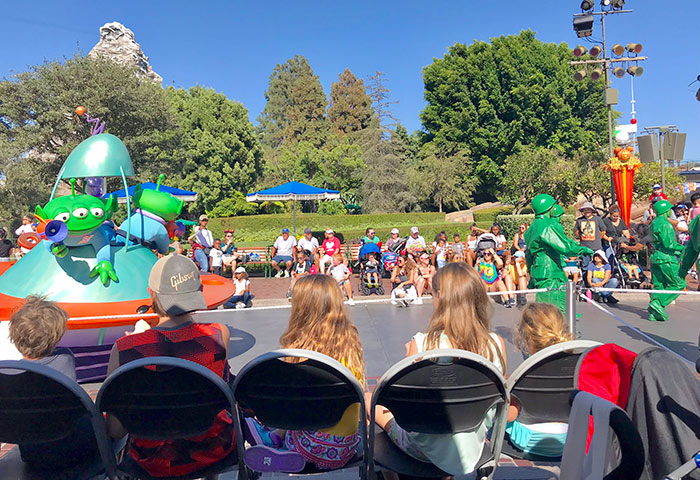 And as if it couldn't get any better, Lindsey and Diane collected our money and went to buy Dole Whips for all of us so we wouldn't miss any of the parade.
As the day went on, we all became oddly attached to Lindsey and Diane. Our kids held their hands, skipping down Main street, and bickered about who got to sit with them on the rides. Our guides seemed to truly enjoy their jobs and can be seen smiling and having fun in a number of our photos. Speaking of photos, we have plenty of great ones that capture our magical day thanks to Disney PhotoPass, which is included with your tour.
Afterward, we made a photo book of our day, and gave a copy to each of the families in our group!
Tip: As long as you have proper park admission, you can choose to visit Disneyland or Disney's California Adventure, or both with your guides.
---
Disneyland VIP Tour Cost:
There's nothing "Minnie" about the price of all this. In fact, a Disneyland VIP guide will cost you about $3000 for the day! (Cough, cough!)
That breaks down to about $425 per hour or $7 per minute! If you have more than 10 in your group, (like us) you'll need two guides, which doubles that cost!
Plus, Disneyland park admission is not included, and costs an extra $100+ per person, per day. Food is also not included and can cost an extra $15+ per person, per meal. That's a lot of money!
Tip: You'll also want to tip the plaids at the end of the day. From what we learned, a tip of about $20 per member of your group is adequate. So, if you have a group of 10, plan on forking over another $200 cash at the end of the day!
*Walt Disney World also offers a number of VIP Tour experiences at their 4 parks in Orlando, priced by the hour.
---
Is the Disneyland VIP Tour Worth It? Let's Review:
Ok. This is a hard question to answer.
I will say that having the two VIP guides cost us about the same as our entire 2 1/2 week Southwest road trip, including airfare. Seriously.
But, we had a huge group and it made our day at Disneyland super easy. The best part was that we didn't have to think about anything! I'm normally a big planner, and you need to be in order to have a smooth Disney Day.
However, on this day, I planned nothing. I just showed up and followed our guides; it was the most freeing experience. I have to admit, it was kind of nice to feel like a true VIP all day.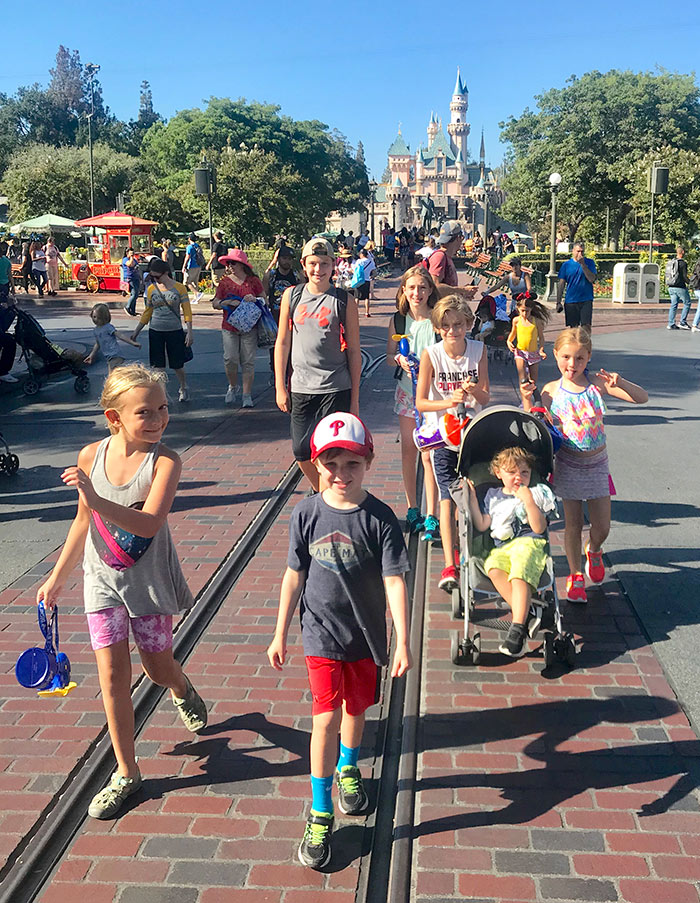 Everyone has a different opinion on what is "worth it" and what isn't. For some, the idea of not having to think or plan might make the tour worth every penny. For others, just affording a "normal" Disney vacation is hard enough, so the VIP tour would never even be an option.
But that's what makes Disney, "Disney." They can make a vacation seem "worth it" to everyone; from the families staying at the Value Resorts, to the families who want to pull out all the stops, and don't mind paying for convenience and luxury.
So, if you have to take out a loan to afford the Disneyland VIP tour, please don't buy it! However, if you just got your annual bonus and want to do something decadent and fun, then it's worth considering!
---
As for our experience with the Disney VIP Tour?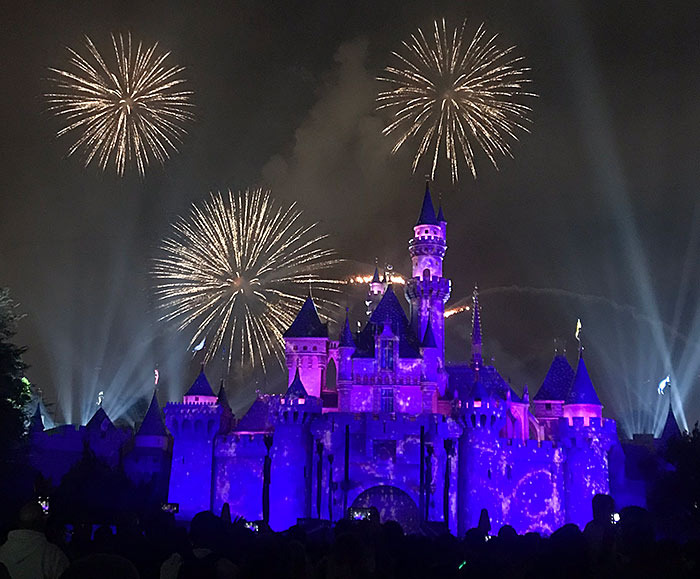 Well, after relaxing back at the pool, we headed back to the park for the fireworks. We had already said goodbye to Lindsey and Diane, but we still moseyed up to the roped-off VIP seating area, gave the bouncers our names, and were promptly let in.
Sitting in our chairs, with a front-row seat to the magic that is Disney, I looked around and realized that we had all just experienced a day we would never forget. Maybe it was because we did the VIP Tour.
But, I think it was really because we were with the people who we love the most. Seeing the cousins together, wearing their matching Mickey Ears, making memories they'll always share- that's what made the day so special. No VIP tour guide is necessary. (but having one is pretty sweet!)