The Southwest. Is there any better place for a road trip? Open highways, desert landscapes, and natural wonders have been a draw to the region for decades. Planning a family road trip here is super overwhelming! Which National Parks? How many nights in each place? Are there good places to stop to break up long drives so your kids (and you) don't go crazy?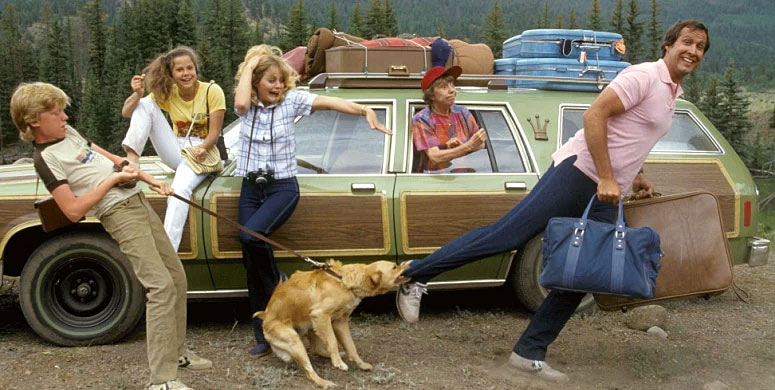 Well, if you're looking to plan an epic Southwest road trip with kids, you've come to the right place. We've broken down a 16-day Southwest trip into 4 parts by region. You can choose to link them all together as one trip or do them as separate, smaller trips. Either way, we have everything you need to make those desert dreams a reality.
---
Part One: Las Vegas, Zion, Bryce
1. Las Vegas
Did you know that Las Vegas means, "the meadows?" Hmmm… While it isn't very meadow-like, it is the perfect place to start your Southwest vacation. It's easy to find airfare deals from most major cities, and McCarran International Airport is right on the Strip, making it close to all of the major hotels. For our trip, we booked two one-way flights – into one city and out of another- instead of one round trip ticket.
For a long road trip, this makes the most sense- and most times it doesn't cost you any extra money. Since we were going to be in Las Vegas for two nights, we decided to hold off on getting our rental car right away, and instead, we took an Uber to our hotel.

It's pretty easy to find good hotel deals in Vegas. Since we were traveling with 3 kids there were two priorities: A big room and a sweet pool. Enter The Signature at the MGM Grand.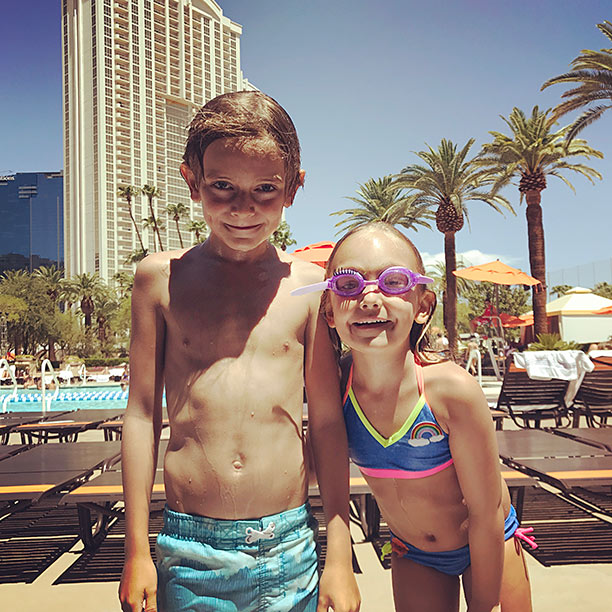 This luxury property is comprised of two and three room suites with full kitchens. Each tower (there are 3) has its own pool, but you'll definitely want to check out the Grand Pool complex at the MGM property, which is adjacent to the Signature. Covering 6.5 acres the multiple pools and lazy river will have your kids busy for hours. Plus, if the overpriced food at the pool bar isn't what you're looking for, it's an easy walk to the indoor food court where you'll find everything from Nathan's, to Chinese to burritos.

Tip: One thing I didn't expect from Las Vegas was how much walking we would do! Everything is on a such a grand scale, so make sure everyone wears comfortable shoes!

There's nothing like the Vegas Strip at night, and our kids had the best time checking out everything from the amazing restaurants to the glitzy hotel lobbies. We found the New York New York Hotel to have some very family friendly dinner places. We especially liked sitting outside at Tom Urban's for happy hour, and it's hard to pass up a milkshake from Shake Shack.
Another perfect spot is Beer Park at the Paris Hotel. This open-air, low key restaurant has foosball and corn hole for the kids, and awesome views of the Bellagio.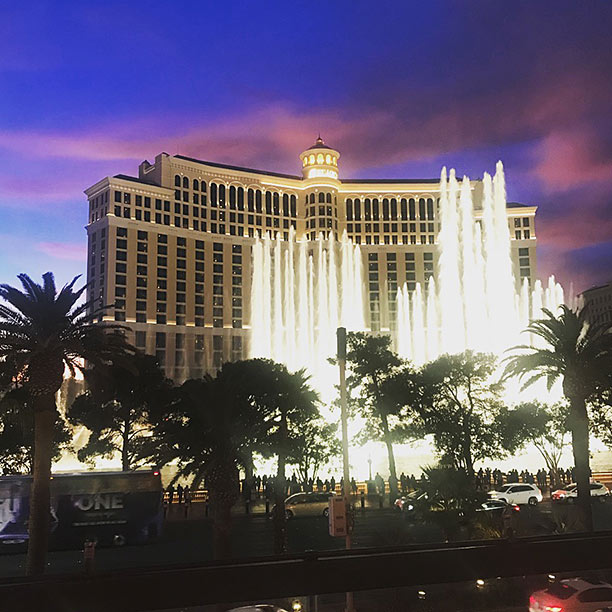 Tip: If you get there early enough, you should be able to snag a table with the perfect view of the Bellagio Fountains show, which you can catch every 15 minutes.
If you find yourself with more time in Vegas, you can choose from a variety of great family entertainment including Cirque du Soleil, Blue Man Group, and Penn and Teller. But for our trip, Vegas was merely a launching-off point. A place for us to regroup and relax by the pool before our real adventure began.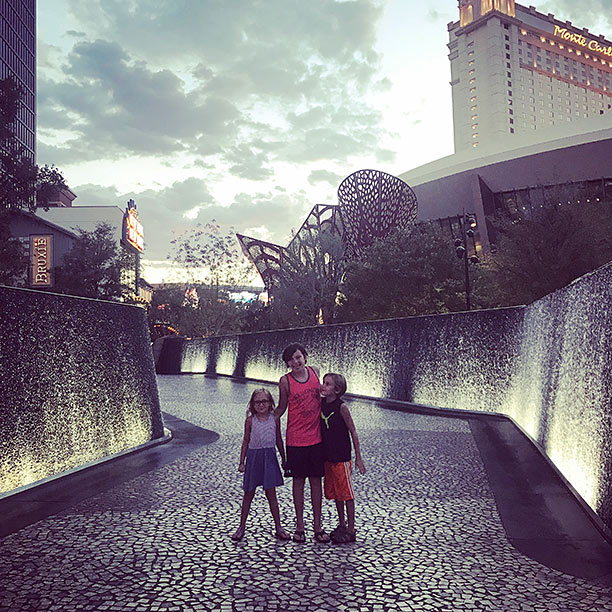 Tip: Don't automatically rent your car at the airport. There are so many rental agencies located throughout the city that it's worth shopping around for the best price. We ended up booking through Enterprise; we were doing a one-way rental with a return in Albuquerque, and they had the best price.
It's only about a 3 hour drive from Vegas to Springdale, Utah, the gateway town to Zion:

---
2. Zion National Park

Tip: Our hotel had a kitchenette, so we stopped in the town of St. George, Utah for lunch and stocked up on groceries at Target and a local supermarket. This was much cheaper than buying groceries in Springdale.

The entire town of Springdale is adorable! There are a number of hotels, restaurants (we loved Casa de Amigos), and small shops, all surrounded by the stunning red rocks of Zion National Park. Everything is within walking distance, so you don't need to use your car.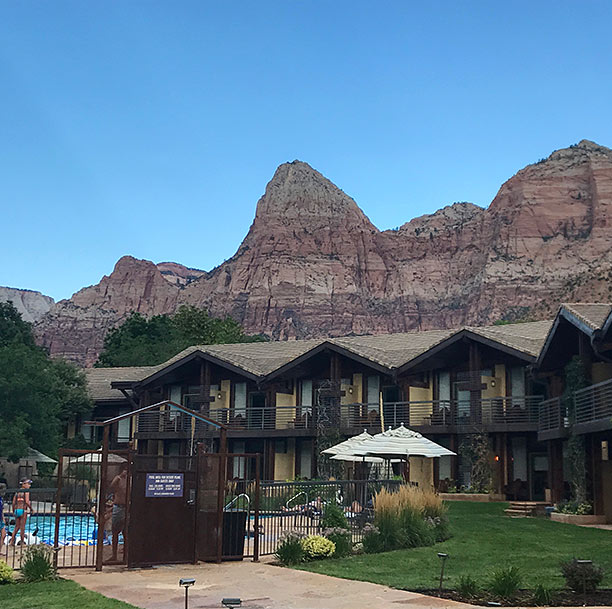 We stayed at The Desert Pearl Inn, and it was one of our favorite hotels of the trip. The Desert Pearl's room was big enough to sleep 6, had a kitchenette, and a great outdoor pool; it also has its own stop on the Zion shuttle.

Tip: In the summer the parking lot at the visitor center fills up super early. Leave your car at the hotel, and hop on the Springdale shuttle. It's only 2 stops from The Desert Pearl to the Visitor Center, where you can catch the Zion shuttle.

Hiking in Zion

Zion is simply incredible! There are trails for all abilities- from easy family trails to crazy, death-defying hikes. Our first night there we hiked part of the Watchman Trail. We had a late start, so we wanted to make sure we would easily make it back before it got dark. We picked up the trail right behind the visitor center and it took us past the Virgin River where we spotted deer and a rattlesnake!

Tip: It costs $35 to enter Zion by car; this pass is good for 7 days and covers all passengers. It is $20 per person if you enter on foot (kids 15 and under are free). If you're going to more than one park on your trip, you should definitely look into getting an Interagency Annual Pass, which gets the pass holder and up to 3 adults into every national park for a flat $80 fee.

Got a 4th Grader? Take advantage of the Every Kid in a Park program, and your entire family will get into the parks for free!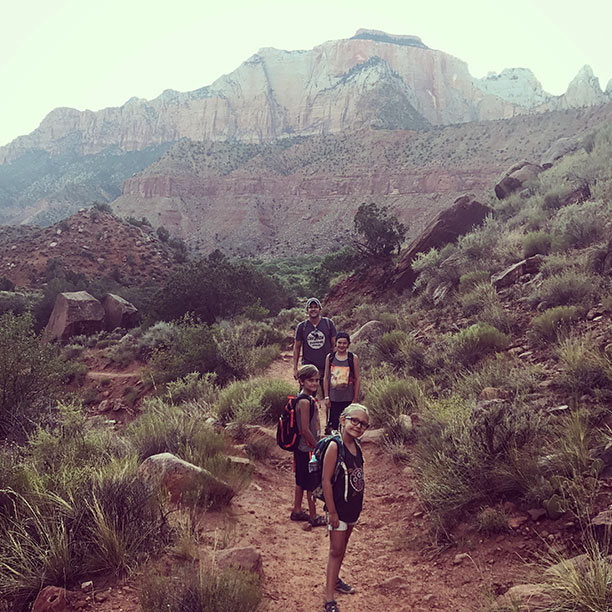 Because our kids were young, we decided to skip the hike to Angel's Landing. However we were lucky enough to hike a portion of The Narrows. Because of the risk of flash flooding, there is no way to predict whether or not the Narrows will be open for your trip. But if it's open when you're there, it's an experience that is not to be missed.
The "trail" is the Virgin River, and you literally hike in the water. To get to The Narrows, you get on the Zion shuttle at the visitor center and take it all the way to the final stop, Temple of Sinawava.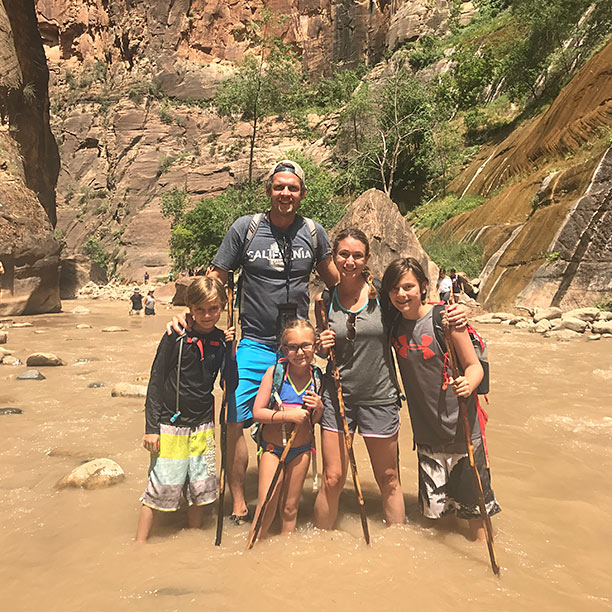 Tip: Plan on being on that shuttle for about 40 minutes. Once you get off the shuttle, you will hike about a mile down the paved Riverside Walk trail, which will take you the beginning of The Narrows.

For more information on the best time of day to hike The Narrows, what gear to bring and what to expect, check out our post: Hiking the Narrows With Kids? 7 Things You Need to Know

Some other pretty sweet trails at Zion are Emerald Pools, Hidden Canyon and Canyon Overlook.
---
3. Bryce Canyon National Park

While you could spend the night at Bryce Canyon, we chose to make it a day trip from Zion.

Tip: When planning a long trip with kids, it's best to minimize the amount of times you check in and out of hotels. We tried to stay in each place for 2-3 nights; this helped everyone feel more settled.
The drive from Zion to Bryce is not to be missed. Springdale sits at the bottom of the canyon, and to get to Bryce you drive all the way up the canyon and through the Mt. Carmel tunnel. The views are absolutely insane!

Once you're through the tunnel, it's about an hour and a half drive to Bryce.

Tip: There aren't a ton of places to eat, and you definitely don't want to waste any time getting there, so it's a good idea to pack sandwiches for the road. If you do need to grab food, there's a Subway at a gas station at the junction of highway 9 and highway 89

I'm sure you've seen pictures of the iconic hoodoos of Bryce Canyon, but the entrance to the park looks nothing like that. It's very green and full of trees; you'll also find that it's much cooler at Bryce than it is in Zion.

Tip: There is a great introductory video at the visitor's center, and the kids can also pick up their Junior Ranger packet. If they complete the required activities, they can get sworn in as a Junior Ranger and get a special, park-specific pin

From the visitor's center, you can either drive or take a shuttle to Sunrise Point. We chose to drive, and we had no problem finding a place to park. As you make your way to the rim, you will see those vistas that everyone associates with Bryce.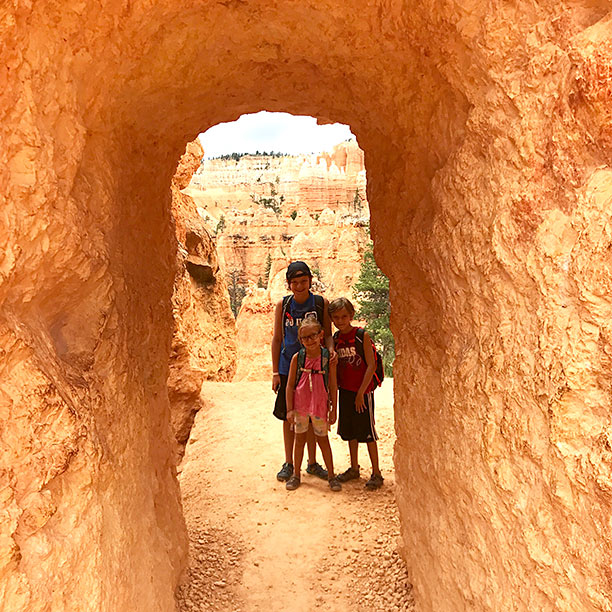 We spent our entire time there hiking down into the canyon on the Queen's Garden trail and then back up (which was very challenging!) the Navajo Loop trail. Even though the switchbacks are steep, all 3 of our kids handled the hike pretty well.

Tip: Had we chosen to stay at Bryce for the night, we would have made sure to catch the Rodeo at Ruby's Inn. The Rodeo takes place every Wednesday through Saturday from Memorial Day through the end of August. Tickets are $13 for adults and $9 for kids.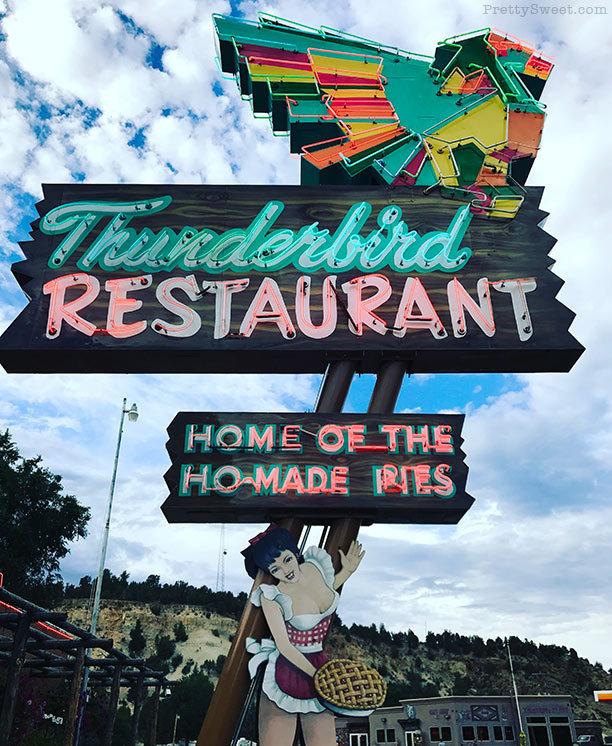 We spent the whole day at Bryce, and as we drove back to Zion we made sure to take a picture of the sign at the Thunderbird Restaurant. Its neon sign, circa 1931, is featured on roadsideamerica.com and definitely worth a stop!
---
Bottom Line
In all, we spent 2 nights in Vegas, and 3 nights in Zion. If we were to do it again, we would add one more night in Zion. We could have definitely used a 2nd full day there to explore the park.
Up next? The road trip continues in part two to Antelope Canyon, the Grand Canyon, and Monument Valley!