The Narrows is a majestic and very popular hiking destination within Zion National Park, Utah. It gets its name because it's located in the deep and narrow section of Zion Canyon, which carves its way through the Western half of the park. Hiking the Narrows with kids involves trudging through the rocky Virgin River current surrounded by 1000 foot cliffs; and it can be a humbling experience!
Therefore, it's unwise to hike the Narrows without researching and preparing first. That's exactly what our family did before starting our Southwest road trip. Here's what we learned, including how to get there, what to wear, and what gear to bring: (Oh, and flash floods!)

---
1. How to Get to The Narrows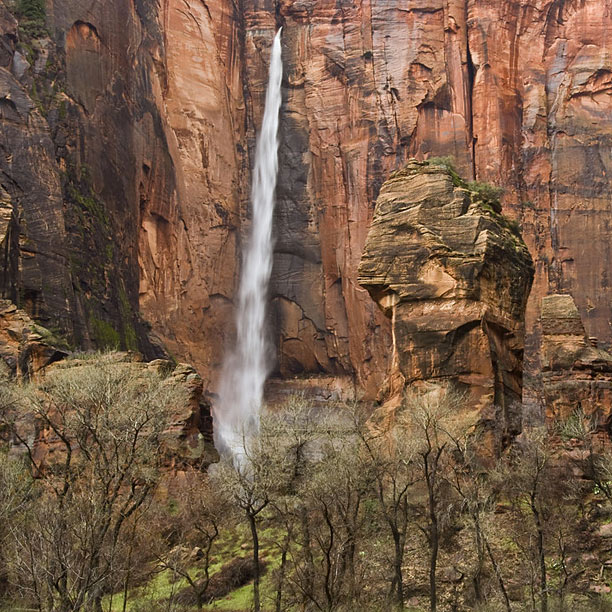 If you are staying in, or arriving via Springdale, leave your car in town and take the Springdale shuttle to the visitor's center, located at the entrance to Zion National Park.
Once you're there, transfer to the Zion shuttle at the visitor center and take it all the way to the final stop, the Temple of Sinawava; a picturesque natural amphitheater that marks the unofficial start/end of The Narrows.

Tip: The visitor's center will likely be crowded, so plan on waiting in a Disney-esque line to get on a shuttle. Therefore, it's best to arrive as early as possible! Plan on being on that shuttle for about 40 minutes.
Once you get off the shuttle, you will hike about a mile down the paved Riverside Walk trail, which will take you the beginning of The Narrows. This is what's known as the "Bottom Up Hike."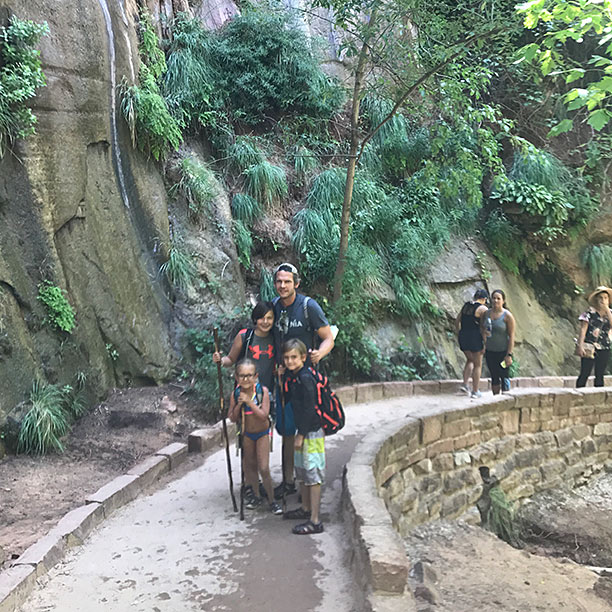 There is no permit needed, and it's the most popular way to experience the hike. Starting at Temple of Sinawava gives you the option to hike up river for as long and as far as you like, before turning around and heading back down river.

If you're an experienced hiker, you can get a permit for the "Top Down Hike." This strenuous hike is 16 miles and takes 1-2 days to complete.

---
2. Best time to hike The Narrows: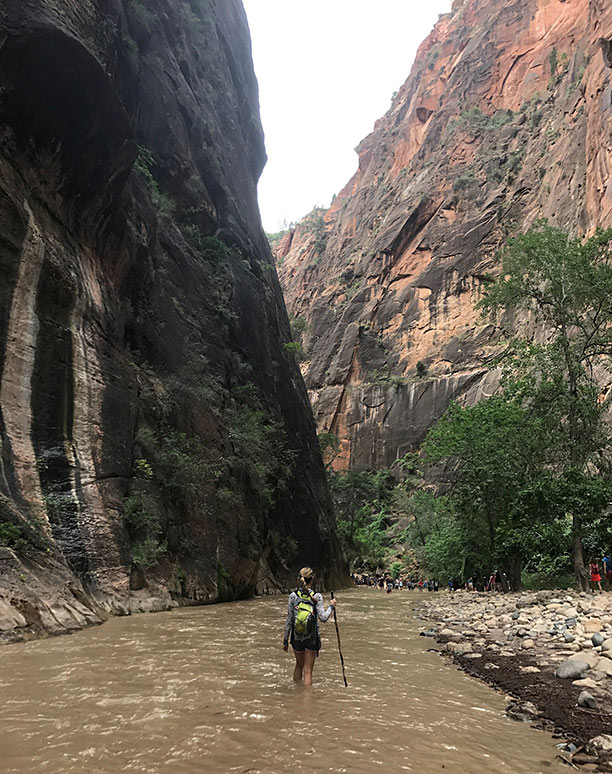 If you're planning on hiking The Narrows during the busy summer months, you're going to want to get there early. Not only because of the crowds, but because of the heat. Remember, you're in a canyon, and in the summer temps sore into the 90's.

Tip: If you're using the Springdale shuttle to get into the park, the first shuttle heads out at 7:10am. If you want to get there even earlier, you can park at the visitor center and get the Zion shuttle as early as 6:00am.
---
3. What to Wear: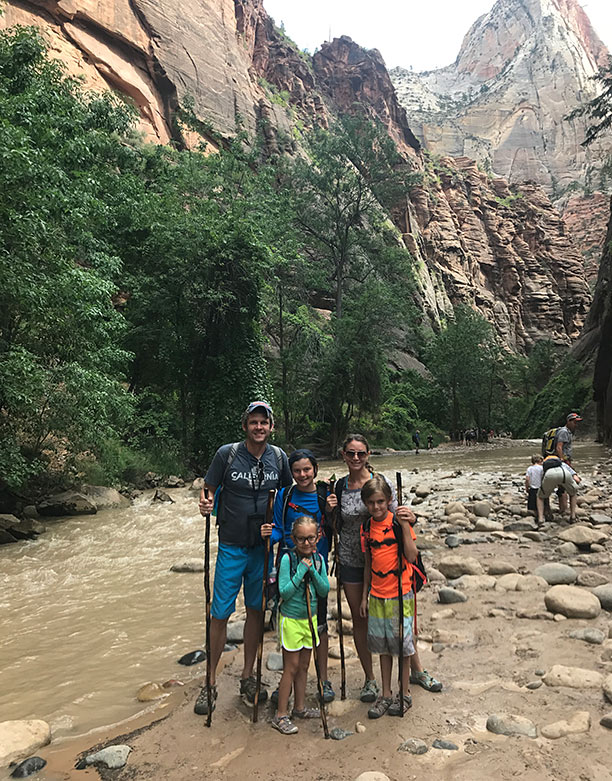 This was the hardest thing for me to figure out! It's chilly in the morning, hot in the afternoon, we will be walking through cool river water. What does that all even mean?!?
Here's what worked for us:

1. Wear Layers!
The boys in the family wore bathing suits, quick dry tanks and quick dry long-sleeve shirts.
Cameron (girl, 8) wore a bathing suit under a pair of mesh shorts and a quick dry long sleeve shirt.
I wore moisture wicking athletic shorts, a quick dry tank and a quick dry long sleeve shirt.
My husband wore a bathing shorts, and a t-shirt with a long-sleeve tee over top
By mid-morning we had all shed our layers!
2. Shoes? Wear closed-toe water sandals! We all wore Keens, and they were perfect! The sole provided enough traction (the river bed is all rocks, and it's literally like walking on bowling balls). Yes, the water is chilly when you first get in, but in the summer there is no need to rent bulky hiking boots from an outdoor outfitter (more on that later!)
---
4. What to Bring (Walking Sticks!)

Tip: You have to assume that you're going to slip at some point and that all of your belongings will get wet- trust me, it will happen to someone in your group! So it's helpful to pack things in dry bags, or wrap items in plastic bags before putting them in your backpack
1. Food & Water: Make sure each person has plenty of snacks and plenty of water. Don't let the fact that your feet are wet fool you- you're in a desert and it's super easy to get dehydrated, fast.
Our boys each had hydration packs for hands-free drinking, and they carried spare water bottles as well. Hydration packs are widely available as part of a backpack set, or the bladders can be purchased separately for use with a compatible backpack.
Kevin and I each had a water bottle and a collapsible bottle which clipped to the side of our packs. Cameron had 2 water bottles with her. We also packed sandwiches and lots of easy to eat snacks.

Tip: Make sure you have enough food to keep the kids happy for at least 5 hours. Even if you're not planning on a long hike in the river, a 45 minute return shuttle ride in the heat is not fun with a hungry kid!

2. Sunblock (Obviously!)

3. Waterproof phone holders: You are going to want to take pictures- a lot of them! But you're also in a river. We loved those waterproof pouches that hang from your neck. It was easy to use and kept our phones safe.
4. Walking Sticks: This is a big one! Remember I mentioned that this hike is like walking over slippery bowling balls? A walking stick is invaluable! It not only stabilizes you, but you can use your walking stick to test out water depth as you walk through the water.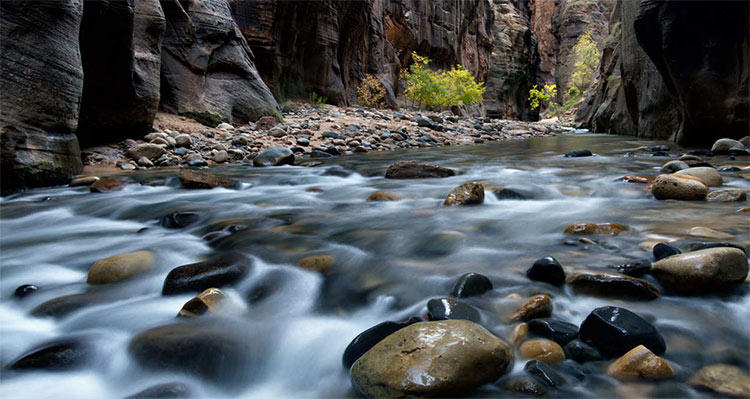 Tip: While some people mentioned to me that you can find free walking sticks left by hikers at the entrance to the Narrows, we decided we didn't want to risk it. So, we picked up 5 walking sticks at Sol Foods Market, right in Springdale. They had both kid sizes and adult sizes. Plus they doubled as a souvenir. Win!
---
5. You Don't Really Need to Rent Gear!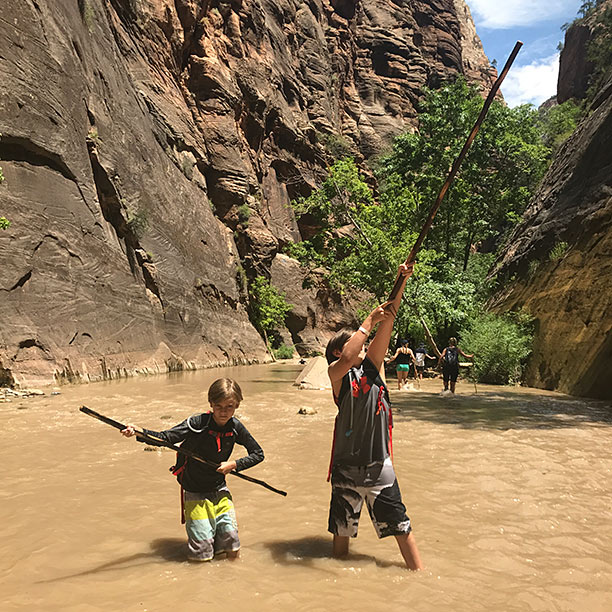 Should you rent gear for hiking The Narrows? Ok. This was a topic i did a lot of research on! I had read in so many places that the water would be freezing and we would need neoprene suits, waterproof hiking boots, and trekking poles. None of which we own. (Or would have room for in our luggage!)

I'm here to tell you that if you're hiking The Narrows in the summer, you don't need any of those things. If you layer, have good-gripping closed-toe water shoes, and a walking stick, you'll be good to go.
Tip: If you're going any other time, then you might want to check out Zion Adventure Company. They offer everything from Neoprene socks, to Gore-Tex suits to Canyon shoes.
---
6. Flash Flood Risk!?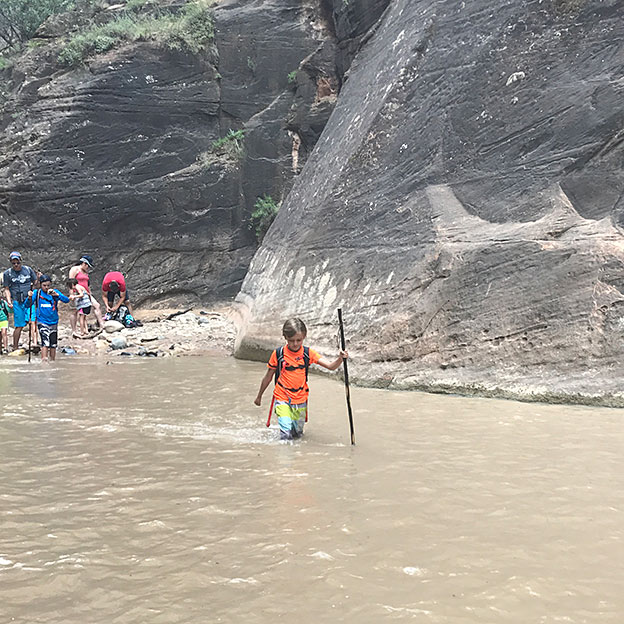 So you've done your research, you've made the trip, and the Narrows are closed due to flash flood risk. Sucks. But, we all know that when it comes down to it, you need to heed these warnings. Here are the best 2 resources for current conditions:
The visitor center posts the current flash flood risk level on the Zion Park website.
The USGS constantly monitors the current, which is measured in CFS (cubic feet per second), and posted here. A CFS under 70 is safe, but if the CFS is 150+, the park will close The Narrows
Tip: There is a sign at the entrance to The Narrows alerting visitors of the risk for potential flash floods. It also tells you what to be on the lookout for to keep your party safe. And remember, it doesn't have to be raining for a flash flood to occur.

This being said, when we went there was a "moderate" flash flood risk, and we were part of a large, undaunted crowd who opted to hike anyway. However, having young kids, we decided to heed this moderate flash flood risk, and cut our hike a bit short. Even so, we still had a lengthy hike and a great experience.
---
Bottom Line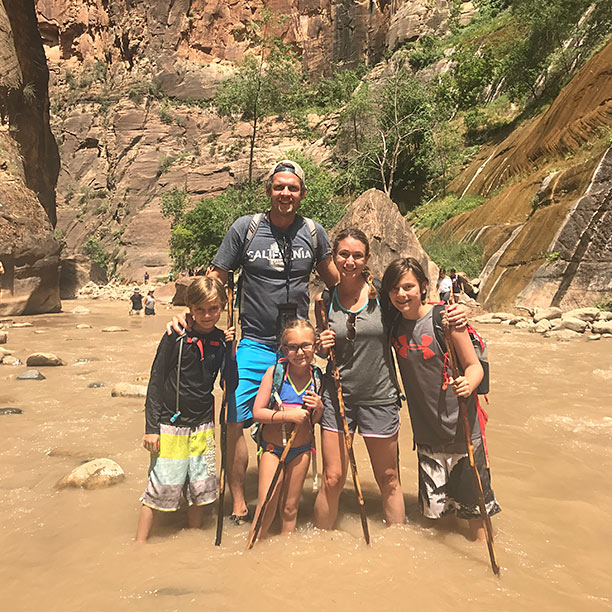 Any trip to Zion National Park in Utah should include a hike in The Narrows. If you watch the conditions and dress appropriately, you and your family should have one of the most exciting days of your trip!
More about hiking The Narrows: