What do the home of the Blues, Elvis, Southern BBQ, and the Mississippi Delta all have in common? They all converge in Memphis, Tennessee. Memphis is like Nashville's underrated younger brother- off the radar for most people and lacking the recognition it deserves.
As in any city, it's best to create an itinerary based not only on what you want to see, but where each activity is located. Luckily, Memphis is a small, walkable city, and most sights can be easily reached on foot, or by taking one of the recently refurbished, historic trolleys.
Thinking of checking out Memphis for a couple of days? Here's the itinerary from our family's two days in Memphis:
---
Day 1: Mississippi River Walk, Sun Studio, Beale Street (at Night)
"Put on my blue suede shoes
and I boarded the plane,
Touched down in the land of the Delta Blues,
In the middle of the pouring rain

Walking in Memphis – Marc Cohn
Most of the good hotels in Memphis are concentrated around Main Street. This location is the perfect jumping off point for your first day.
*Here's a Map of our day 1 itinerary:
1. Mississippi River Walk at Mud Island
The first stop is Mud Island River Park. The island can be accessed by either taking the pedestrian bridges or the monorail.
We all loved the Riverwalk! It's an exact scale replica of the Mississippi River composed of over 1700 concrete pieces and stretching for over 5 city blocks! The Riverwalk details the Mighty Mississippi's journey past 20 major cities from its smallest point in Minnesota, all the way down to the Gulf of Mexico.
Learn all about the history of the Mighty Mississippi and its importance during the Civil War by reading the dozens of informative placards along the way.
The Riverwalk ends at the Memphis "Gulf of Mexico," where you can rent a paddle boat for only $5 per person.
Another part of Mud Island River Park worth considering is the Mississippi River Museum, which has 18 galleries and covers the long history of the Mississippi in more detail. ($10 for adults, $8 for kids over 4)
Tip: If you're in Memphis in the summer, the daily average temperature hovers around a stifling 90 degrees. However, in the cooler evening you can catch an outdoor concert at the 5,000 seat Mud Island Amphitheater.
2. Sun Studio
After refueling with some sandwiches and iced coffee at a great little place called, Cafe Keough back on Main Street, we hailed an Uber to Sun Studio.
Tip: There is a free shuttle that runs between Sun Studio, The Rock 'n' Soul Museum (near Beale Street) and Graceland. However, we found that we had to wait a long time for the shuttle, and we didn't want to go all the way out to Graceland, so for us, Uber was the way to go.
For those rock n' roll history buffs, Sun Studio is high on the list when visiting Memphis. But even if you're not a huge Elvis fan or if you don't know any Johnny Cash songs besides "Ring of Fire," it's hard to not feel humbled by the music legends who got their start in this very studio.
The only way to see the studio is on a tour, and there will most likely be a wait. However, the waiting area has been transformed into a retro soda shop, complete with vintage 45's on the wall and delicious Black and White milkshakes.
The tour lasts about 45 minutes and takes you past priceless rock memorabilia.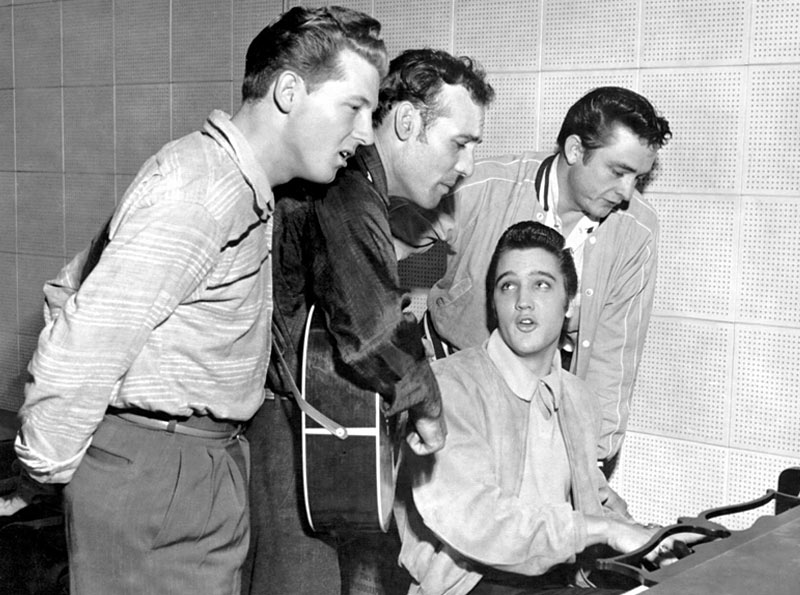 However, the highlight of the trip is visiting the actual studio where the Million Dollar Quartet (Elvis, Jerry Lee Lewis, Johnny Cash and Carl Perkins) recorded their infamous impromptu jam session in 1956. And we even got to try out Elvis' actual microphone.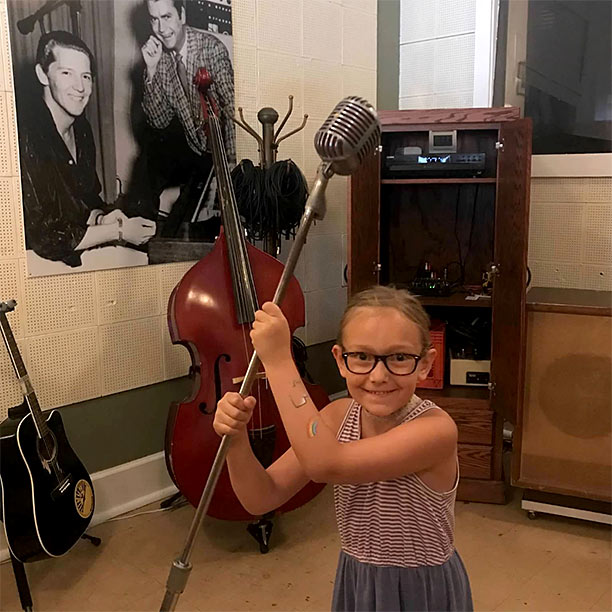 Cost? Kids under 12 are free, and adults are only $14. Definitely worth it!
3. Beale Street (At Night)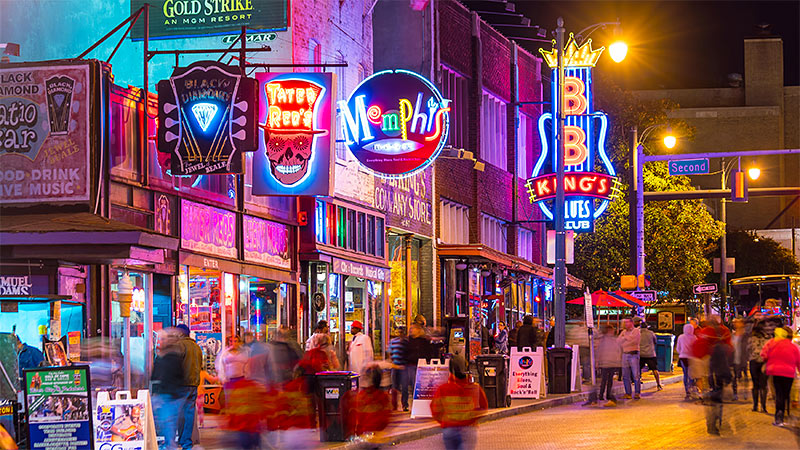 At this point, the kids were ready for a break! So we Ubered back to the hotel and let them swim in the pool, before heading back down Main Street for a delicious dinner at the Majestic Grille. Dinner at this renovated 1913 movie house is not only delicious, it put you just a few blocks away from the entrance to historic Beale Street!
I was wondering what would happen when we showed up with our kids. There was a pretty substantial security checkpoint, but since it was before 11pm, the kids were allowed in with us.
Tip: During the day, anyone can go into the restaurants on Beale Street. If you're under 21 you must be accompanied by a parent after 9pm. Then, after 11pm, it's strictly 21 and over.
The neon lights, the Blues music wafting from the open windows of the numerous bars and restaurants, and the pedestrian-only street, all added to the excitement. Although the kids weren't allowed into most of the bars that time of night, there were a number of outdoor venues where we were able to grab a picnic table and listen to some incredible live blues music. It was the perfect way to end our first full day in Memphis.
---
Day 2: National Civil Rights Museum, Central BBQ, Beal Street (Daytime), Big River Crossing, Peabody Ducks, Bass Pro Shop
*Here's a map of our Day 2 itinerary:
1. National Civil Rights Museum
After breakfast, we took the Main Street trolley over to the National Civil Rights Museum. It is adjacent to the Lorraine Motel, the location of Martin Luther King's 1968 assassination. The instant you arrive, the chilling historical significance hits you. In fact, the exterior of the museum is preserved to look exactly as it did in 1968, complete with vintage cars in the parking lot.
The museum touches on sensitive subjects in a family friendly format, and our kids were completely engaged the entire time. The museum presents sometimes disturbing details of racism and life in the segregated South, but like Dr. King, it ultimately affirms that, "the arc of the moral universe is long, but it bends toward justice."
2. Central BBQ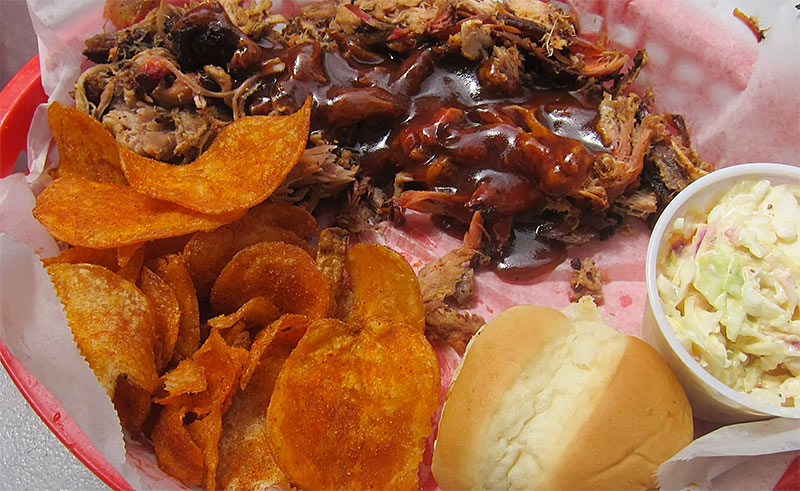 You have to eat BBQ while you're in Memphis! The perfect antidote to our somber experience at the Civil Rights museum was found just around the corner at Central BBQ. This bustling, well known BBQ joint serves up the most delicious food.
Central BBQ recently won the prestigious "Best BBQ" award from Memphis Magazine. Also, USA Today and most Yelp reviews conclude that it's the best BBQ around!
Tip: Kids' meals (like tasty Mac & cheese or Jr. BBQ) are only $5 and come with a drink. If the inside is packed (which it will be!) and it's not too hot, there are plenty of seats out on the patio.
If you are looking for another famous, family-friendly restaurant to hit in Memphis, consider the legendary Arcade Restaurant. It's the oldest cafe in Memphis, and Elvis once ate there!
3. Beale Street (Daytime)
"When I was walking in Memphis,
I was walking with my feet ten feet off of Beale…"

After lunch, we strolled back down Main Street to check out Beale Street. While the crazy (mostly adult) energy from the night before was no longer there, it was nice to wander in and out of the shops. The restaurants are all very family-friendly during the day, and many of them have live music, including some great local Blues bands.
One of the most popular spots on Beale Street is the Gibson Guitar Factory. While we didn't pay to take the tour, (just missed on the timing) we did visit the store, where Connor was happy to try out some pretty sweet Gibson guitars!
A. Schwab is the oldest shop on Beale Street, and was a huge hit with our kids! Boasting an authentic retro soda shop, and two sprawling floors of everything from Ukuleles and vinyl records to kitschy souvenirs, you can spend (waste?) an entire afternoon roaming around this eclectic shop.
Tip: Consider ordering a malted milkshake or cheap draft beer at the counter to help recharge after walking in the Southern heat.
4. Big River Crossing
Did you know that the longest pedestrian bridge across the Mississippi is right here in Memphis? At Big River Crossing you can bike or walk across the Mississippi River. The kids loved walking across the state line into Arkansas, and the views of downtown memphis are fantastic!
Tip: It's a bit tricky to find the entrance and where to park, so it might be easier to take an Uber here.
5. The Peabody Ducks
Ok. So I was only familiar with the Peabody Ducks because I watched the 'Memphis' episode of "This Is Us." And when I tell you that you're going to arrive in the lobby of a historic hotel to watch a bunch of ducks parade down a red carpet, you're going to think I'm crazy. But I'm telling you, it is totally worth it!
Here's a taste of the Peabody Duck March-madness:
You can either go for the 11:00 march, when the ducks come down the elevator, walk the red carpet and hop into the fountain, where they spend the rest of the day swimming. Or you can come at 5:00, when they hop out of the fountain, walk back down the red carpet, and head back up the elevator to their rooftop home.
Tip: You will want to get to the lobby of The Peabody about 45 minutes before the ducks march if you want to get a good spot to see the ducks. We got a French press carafe of coffee while we waited at our table. The hotel is great about letting the kids sit up front along the red carpet, so they have a great view of the spectacle.
6. Bass Pro Shop at The Pyramid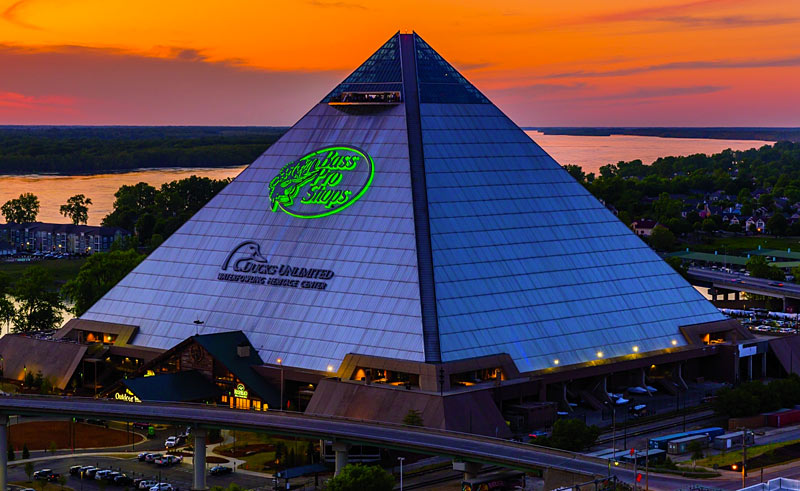 One of our kids favorite highlights of our time in Memphis was the Bass Pro Shop at the Pyramid. Yes it's complete madness: boats, alligators, ATVs, a hotel, bowling alley and lookout point – all inside of a pyramid, of course. And our kids couldn't get enough!
Tip: The Bass Pro Shop isn't easy to walk to, and the nearest bus stop is about a 5 minute walk away. So, we were happy to spend about $8 for a short Uber ride from Downtown.
---
7. Graceland (Tour is Optional!)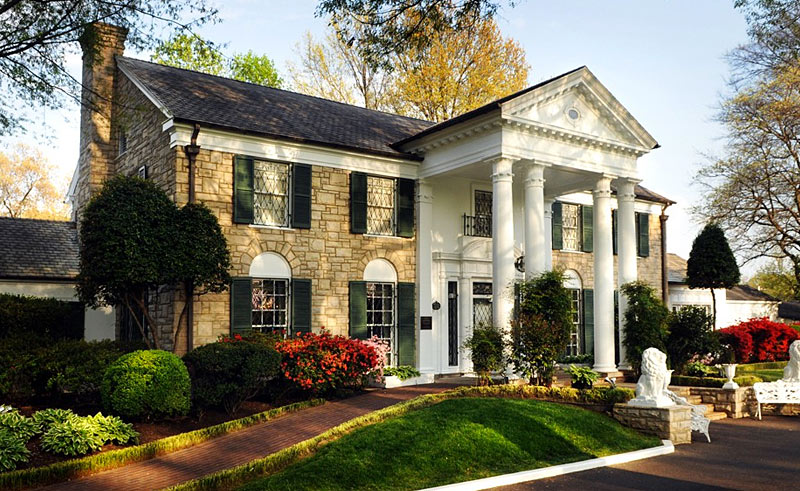 "Saw the ghost of Elvis,
On Union Avenue,
Followed him up to the gates of Graceland,
Then I watched him walk right through…"
For die-hard Elvis fans, a trip to Memphis wouldn't be complete without a visit to Graceland. There are several tour options, some of which include access to Elvis' airplanes across the street.
However, at about $40 per person the prices are pretty steep; especially if you're going with a family. So, will the kids really appreciate seeing Elvis Presley's home, restored to its 1977 glory?
Personally, I don't think that our kids would care about seeing an exhibit of The King's jumpsuits, or visiting the Jungle Room. Plus, Graceland is about 10-15 minutes outside of the city of Memphis, so it's not easy to get to without a rental car. In fact, its location surprised me, it's set back off of highway 51, just a short walk to a McDonalds and an AutoZone. Not exactly Mt. Vernon!
Tip: If you do decide to go to Graceland, you can catch the free shuttle from the Rock 'n' Soul Museum downtown.
My husband grew up hearing his dad sing Elvis songs on an almost daily basis, so we had to at least stop by Graceland on the way to the airport to pay our respects, and I'm glad that we did. I mean, Graceland does get rave reviews on Yelp, and Trip Advisor lists Graceland as the #1 attraction in Memphis!
"But, I've reason to believe
We all will be received
In Graceland."


Graceland – Paul Simon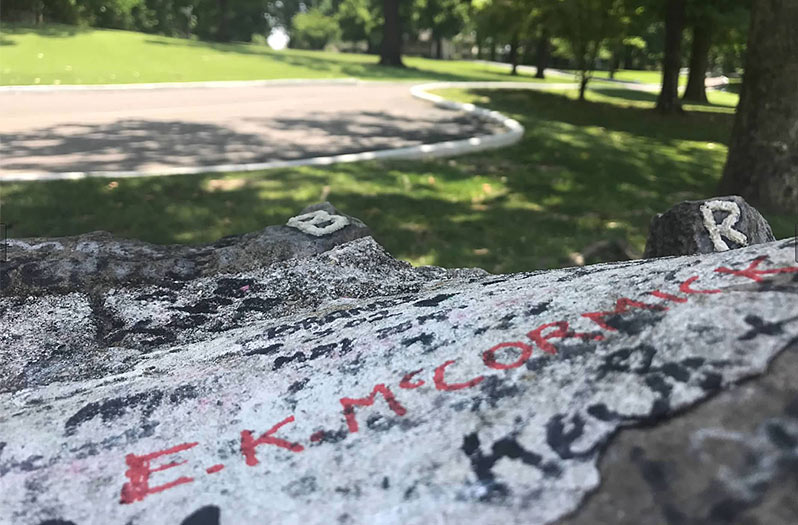 Many people consider Elvis music an important part of the soundtrack of their childhood, and to them visiting Graceland is somewhat of a religious pilgrimage. However, if you don't have that personal connection, the whole thing can feel like a bit of a tourist trap. Even so, thousands of devotees are drawn each day to visit Graceland; sacred home of the Rock and Roll Prophet (or, profit?) Elvis Presley.
Tip: While we chose not to take the tour of Graceland, you can park nearby and see it from the outside. There is a huge stone wall lining at least 5 city blocks around the grounds, and you'll find packages of Sharpies right there on the sidewalk. It's fun to find a spot on the stones to leave your mark.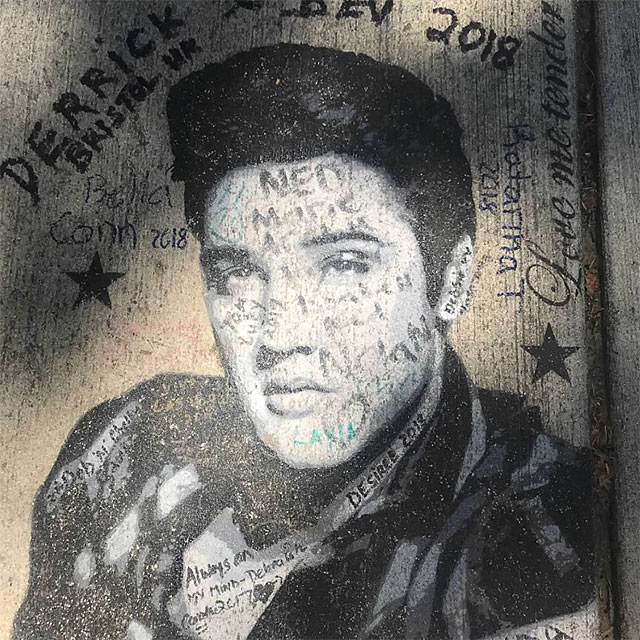 Bottom Line
While Memphis wasn't at the top of my must-visit city list, I am really happy we made the trip. It is easy to see most of what Memphis has to offer in just two days, so it was the perfect weekend getaway for our family. It's also a great stop to add to a Tennessee road trip, like the ones our friends over at FivefortheRoad.com took.
Tip: Is Memphis safe? While Memphis is consistently ranked as one of the top 10 most dangerous US cities, we never felt unsafe. However, there are a large number of homeless, who, like in San Francisco, can be persistent. So use common sense, especially when walking at night.
Memphis is especially well located for those wanting to cross some states off of their bucket list! We rented a car for a day trip down to Oxfords, MS and drove across the river for dinner in Arkansas. No matter how much time you spend in Memphis, the southern hospitality, soul-filled music and delicious food will stay with you long after you've returned home.