San Francisco. The name alone conjures up images of iconic cable cars, epic hills and the Golden Gate Bridge. This "City by the Bay" is a great place to explore with kids of all ages, and its compact size makes it easy to see in just a few days. The best way to try to conquer a new city in a short period of time, is to organize your itinerary around sites that are in close proximity to one another.
So, what should you do with the kids if you're in San Francisco for just a weekend? Here are some ideas for your itinerary:
Tip: Our family of five decided to buy the San Francisco CityPASS for our 2-day visit, and we were so glad we did. The pass gave us free admission into great museums, allowed us to cruise around the bay, and included free unlimited rides on cable cars, buses and trolleys.
---
Day #1: The Embarcadero + Chinatown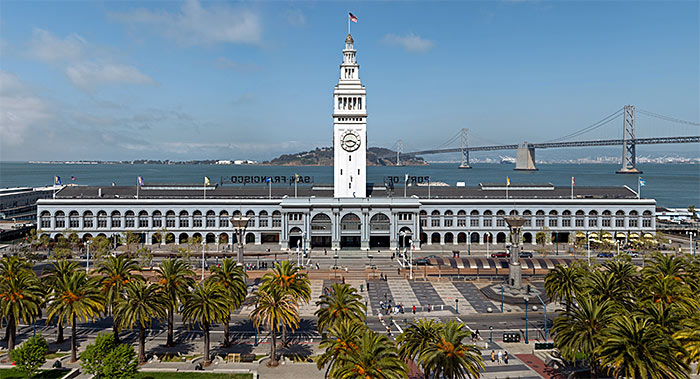 Day 1 will have you seeing all there is to see along The Embarcadero, a palm tree-lined boulevard that looks like something straight out of a postcard. Here you'll find Oracle Park, the Ferry Building, The Exploratorium, The Aquarium of the Bay, Fisherman's Wharf and Ghiradelli Square, all with sweeping views of the bay.
The Embarcadero is easily accessed by both cable car and street car, so no matter where your hotel is, you'll find it easy to get here.
*Here's a map of our Day 1 itinerary:
*California road trip? Check out: Ultimate 10-Day California Road Trip Itinerary
1. The Ferry Building:
We started our day at the Ferry Building, where we found one of a kind food stalls and shops. The kids love checking out the crazy mushrooms at Far West Fungi, (see below) and sampling cheese and honey at Cowgirl Creamery and Beekind.
If you luck out and happen to be there on a Tuesday, Thursday or Saturday, you'll be able to check out the farmers market too.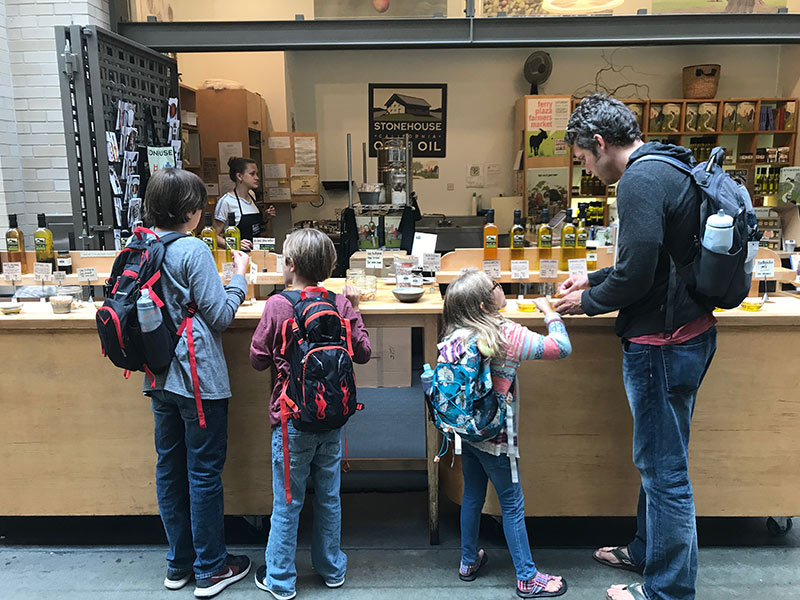 There were also a number of great food places for our family to fuel up. We loved our burgers from Gotts Roadside! If you want to catch a Giant's game, it's about a mile walk to Oracle Park, or you can hop on the MUNI.
Tip: If your kids need a break from walking, or if you just want an excuse to sit on a bench in the sun, Sue Bierman Park is right across the street and has a great playground for the 10 and under set!

2. The Exploratorium:
Practically next door to the Ferry Building you'll find The Exploratorium. We've been to a number of great science museums, but none of them compare to what we found here!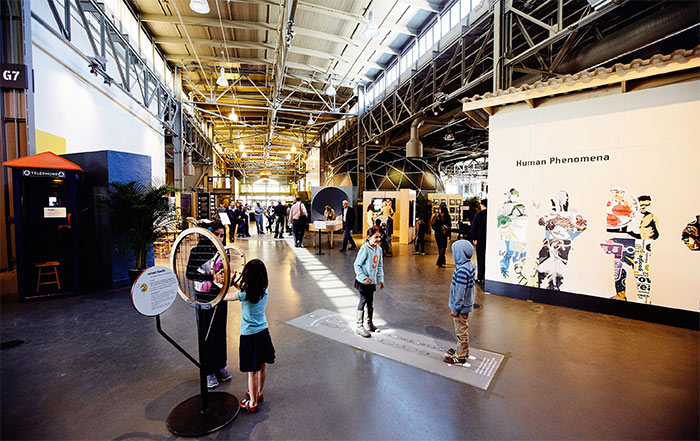 From hands on tinkering workshops to color shadows to drinking out of a toilet (!) we probably spent 3 hours here and had to drag our kids- and ourselves-away from this unique museum.

Tip: Admission to the Exploratorium is included with the CityPASS.

Kids tired of walking? Use the CityPASS to hop on one of the vintage trolley cars and make your way over to Pier 39. Yes it's touristy, but who doesn't love sampling tasty Clam Chowder?

3. Bay Cruise: (Blue & Gold)
The highlight of our afternoon was the Blue and Gold Fleet Bay Cruise. The ticket office is located at Pier 41, right next to Pier 39, and the kids will love catching a glimpse of the famous sea lions while they wait to board the boat. Had we not had our San Francisco CityPass, we might have skipped this, but I'm so happy we did it!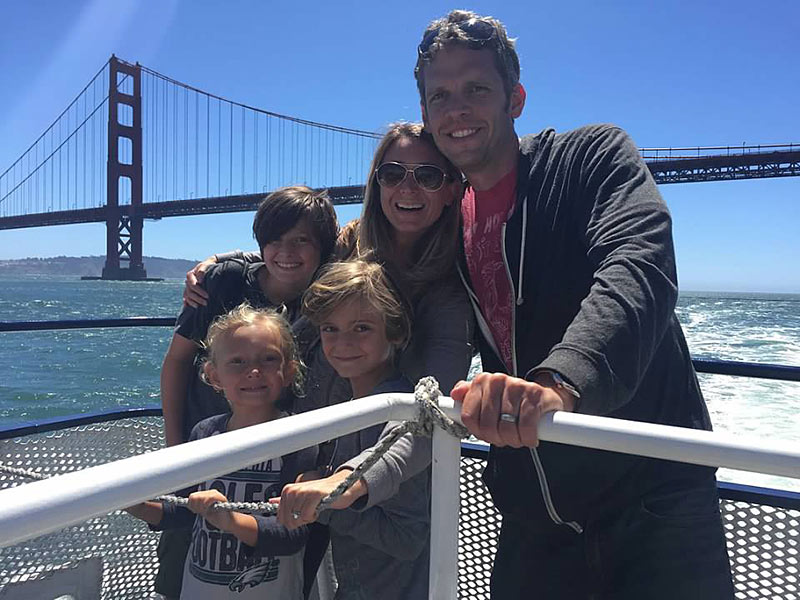 We spent an hour on the bay circling Alcatraz, sailing under the Golden Gate Bridge and taking in the views of the skyline. We even lucked out and saw whales!

Tip: Young kids might not be ready to do a tour of Alcatraz, so the Blue and Gold Fleet Bay Cruise is a great way to see it without going inside for the tour!

At this point it was pretty late in the afternoon. We slowly wandered through Fisherman's Wharf, and made our way back to the hotel. After some down time we went to check out Chinatown.
4. Chinatown: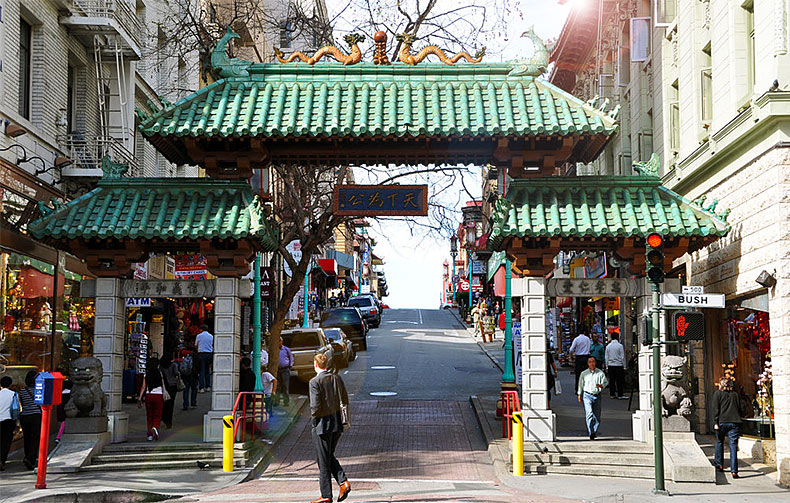 Our hotel was only a block away from the Dragon Gate, which made it super easy for us to get to, but if you're staying anywhere near the Union Square area, it will be an easy walk to this famous landmark.
After a long wait, we were finally seated at an upstairs table at Sam Wo Restaurant, a San Francisco landmark that has been serving authentic cantonese dishes since 1907. (Open until 3am on the weekends!)
It's also nice to find a relatively cheap place to eat dinner in this notoriously expensive city!
---
Day #2: The Presidio, Ghirardelli Square, Lombard Street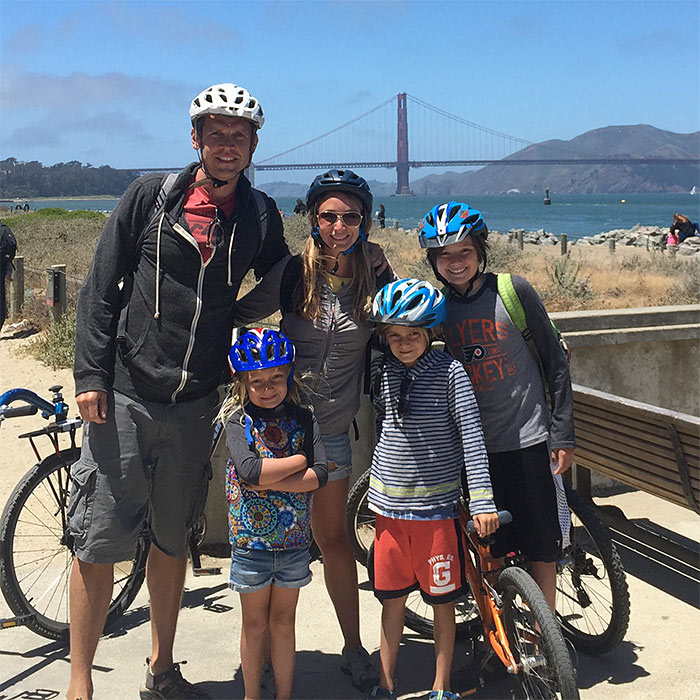 We decided to spend our morning exploring the city by bike. Renting bikes is one of our favorite ways to check out new places. We started our day waiting in a long, tourist-filled line at the cable car turn-around.
My husband insisted that it was a waste of time and we would be able to ride one later in the day and I insisted that it was a memory the kids would have forever. Yes, the cable car was a great way to make our way down towards Fisherman's Wharf, but in the end my husband was probably right, as we waited forever! (more on that later)
Tip: Do not make the same mistake we did! Avoid the Cable Car turn around Market and Powell, where you will waste precious time waiting with all of the other tourists for a Cable Car. Walk a little further up, or wait until later in the day when the crowd has dispersed.

*Here's a map of our day 2 itinerary:
1. Bike Rental: (Blazing Saddles)
We rented bikes at Blazing Saddles, and they were amazing. They have a number of locations around the city, but we chose the Hyde Street shop because we wanted to ride along the Presidio. They offer guided bike tours as well as daily rentals; we passed on the tours, since our kids were a little young for it, and instead opted for the 1/2 day rental.

Tip: The better bike rental places, like Blazing Saddles, offer a wide variety of bikes, including kids bikes, baby seats, trailers for toddlers, and tag-a-long bikes for kids who aren't quite ready to ride solo; so it's super easy to include the whole family.
2. Crissy Field
Armed with provided maps and helmets, we rode through the Presidio to Crissy Field and spent a few hours lounging on the beach.
The kids played at the water's edge at the foot of the Golden Gate Bridge, while we snuck in some alone time on our beach blanket.

Tip: We always bring a travel picnic blanket with us. It easily stows away in an attached bag, fits easily into our daypacks and has come in handy for everything from impromptu picnics in the park to lounging on the beach.
3. Ghirardelli Square: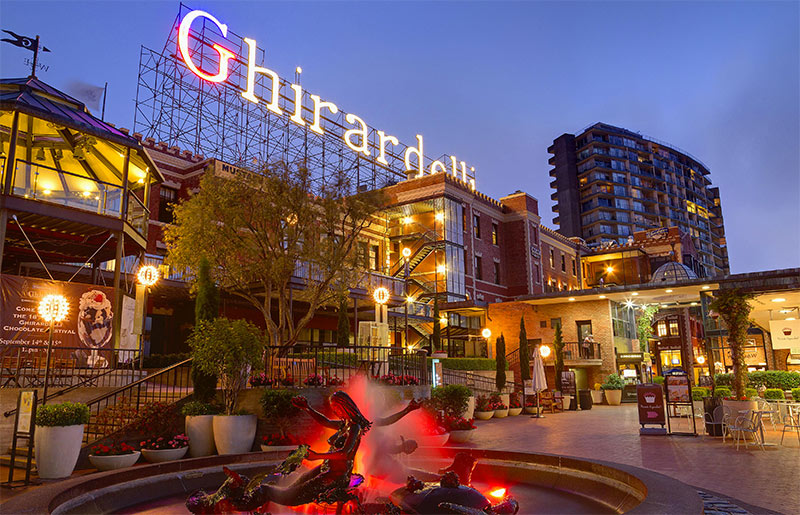 After returning our bikes we went to Happy Hour at McCormick & Kuleto's. We are huge fans of Happy Hour- it's the perfect way to feed kids on the cheap, and the grown ups can enjoy a much-needed drink (or two!).
You can't go to San Fransisco without stopping by Ghirardelli for some free samples of chocolate. Luckily It's right across from McCormick and Kuleto's so there is no excuse to not split a giant Sundae and enjoy the live music out on Ghirardelli Square.
4. Lombard Street:
As you make your way back up Hyde street you'll pass Lombard Street ("The Crookedest Street in the World"). While some people think it's a requirement to drive- or Uber- down, it's much more fun to walk the twisty sidewalks and watch the cars slink their way down the hill.
5. Union Square:
From here you can easily catch a Cable Car back down to Union Square for dinner. We even lucked out with a line-free cable car ride. Note to self… I should probably take my husband's advice more often!
Union Square has a ton of shops and restaurants, so check the reviews at TripAdvisor to find a great place for a family meal.
Tip: There are a lot of homeless people in San Francisco! Be prepared, as I was even panhandled while sitting at a table in Starbucks!


---
Bottom Line

San Francisco is totally doable in 48 hours. Public transportation is great, and there is no need to rent a car. We were able to take BART (Bay Area Rapid Transit) to and from the airport and utilized the busses and trolleys throughout the city.
Even though we didn't get to everything, like Golden Gate Park, Haight Ashbury, Coit Tower and Sausalito, there is something to be said for not seeing every part of a city you hoped to see– it gives you the perfect excuse to go back!