"Houston, we've had a problem." In 1975 the infamous Apollo 13 mission was in trouble. After an oxygen tank exploded, the crew was forced to abort their planned moon landing, and return to Earth. The problem was that they only had enough oxygen for two days, and the trip would take four days.
So, how did the crew fix the problem, and make it back to Earth alive? You could say they owe their lives to duct tape, which was used to fix the air filtration system.
Duct tape is incredibly strong, waterproof, and easy to tear. These qualities give it limitless potential uses, and it can really save you in a pinch. If duct tape is important enough to be carried on every space mission since the early 1960's, I definitely think you should keep a roll in your car!
Here are some Apollo 13-like hacks for using duct tape to repair your car:
1. Use Duct Tape to Fix Bodywork After an Accident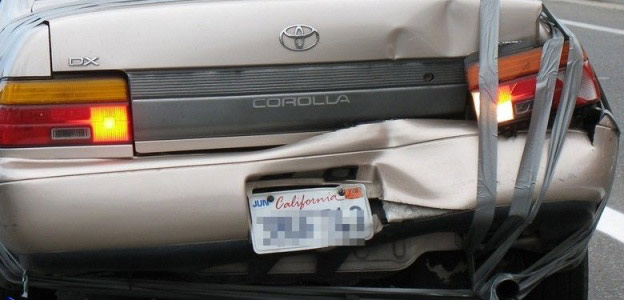 It's your worst nightmare scenario, you're at a stop sign and someone rolls right into the back of you. Your rear bumper is cracked and partially hanging off its mounts.
You can't drive your car with the bumper dragging on the road. Do you rip it off and create even more damage just to get home, or do you whack out the duct tape and put a couple of strips over the flailing bumper?
A few feet of duct tape will hold your bumper on long enough to get your car home, or to the nearest service station.
---
2. Use Duct Tape to Patch Up Your Exhaust: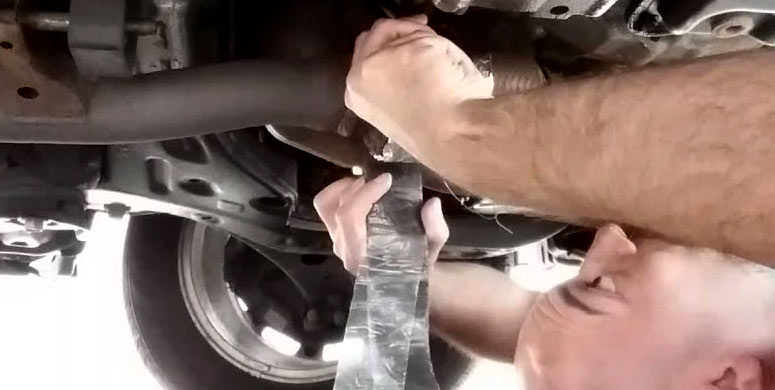 If you have an older car, this is bound to have happened to you at some point in your life.
You're driving along when suddenly there's a loud clang and sparks start flying from the back of your car.
Pulling over to see what the hell has happened, you realise that an exhaust mount has snapped. Thankfully, you carry a roll of duct tape with you! So, you can easily secure it, allowing you to make it to the garage so they can fix it properly.
---
3. Duct Tape Can Stop a Coolant Leak: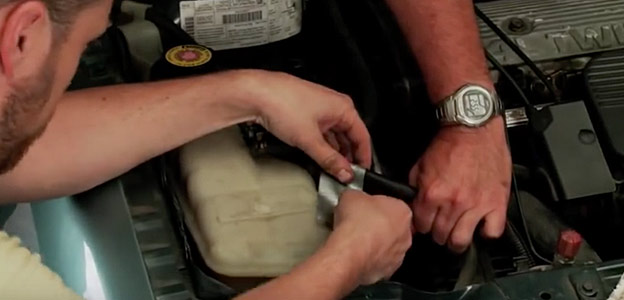 Your top hose splits in your engine bay, coolant is shooting out all over the place and you grind to a halt in a glorious puff of steam.
Have no fear, you have your trust duct tape with you. Patching it up with a few wraps, you're good to limp home. You could also do the same if your washer jets have a snagged and damaged hose.
---
9 More Reasons to Carry Duct Tape In Your Car
That's just three big reasons we can think of, but there's countless more potential duct tape hacks for your car. Imagine that…
Someone hits breaks off your rearview mirror in a parking lot? Duct tape it back on
Your window mechanism fails and you can't keep the glass fully up? Use duct tape
There's a big rip in the vinyl or cloth upholstery of your seat? Duct tape it
Your hood or trunk latch stops working while you're out and about? Um, try duct tape!
There's a crack in your bumper that makes a whistling noise when you drive? Use duct tape
Some interior trim comes loose in your car? Duct tape it.
Someone backs into your bumper or headlight, and it's hanging awkwardly? Duct tape it
You're hauling kayaks to the lake and notice one of them has a small crack or is missing a drain plug? Duct tape it
Your kids won't stop screaming in the backseat of the car, and you just want their mouths to stay shut? DON'T use duct tape!
You name it, duct tape can usually fix it.
---
Duct Tape Can Save Your Own Earthly "Apollo" Mission: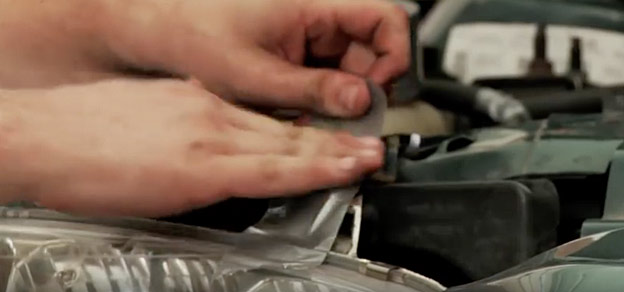 Car issues can quickly become serious, especially if you can't get cell reception, or if your phone dies.
Even if you aren't mechanically minded you can still patch up and limp home, or it will hold until you can find someone else to help if you're in the wilds.
---
Demonstration of the Uses for Duct Tape on an Old Car: (video)
There's also specialist types of duct tape too. Even though the normal stuff will see you through most eventualities, you may want to think about buying some aluminum duct tape for high heat scenarios.
Also, Foil duct tape will patch up cracks in your exhaust and last far longer than the ordinary webbed tape.
So there you have it, a bunch of damn good reasons why you should put a small roll of ultra-sticky, (possibly lifesaving) duct tape in your glovebox.
You know it makes sense.
Related: