Online deals and promo codes for AutoZone.com: Since July 4th 1979, (Lamar Odom's birthday?!) AutoZone has provided high-quality discount auto parts. Use a coupon below for a 20-25% discount on online "ship to home," or in-store orders. Free 2-day shipping on all $35+ orders this month!
Best AutoZone Coupons Now:
[lltk-coupons]
---
Where to enter a coupon Code for AutoZone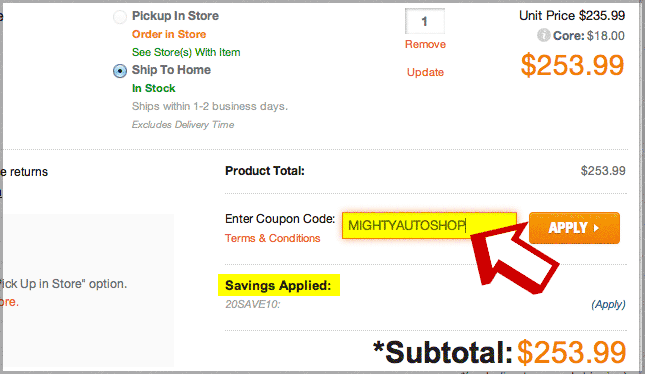 You'll find one to two featured promotions every week at AutoZone.com, and most of the time they require a code. To enter one, just review your cart, and look for the field that says, "enter coupon code" like this:
After successfully entering a promotional code, you'll get a message under the "product total"that says, "savings applied," and a discount will be reflected in your order total.
*Related: Advance Auto Coupons: 25% Off Today!
---
Coupon Code Not Working? Here's Why:
So, there are a few reasons why codes don't work, here are the most common:
Coupon May be "Online, Ship to Home" only – Much of the time codes specify that products must be sent to your home or business to qualify. These codes are also for online use only. Printable or in-store coupons will be clearly designated as such.
Excluded Products; Batteries Not Included: Every code has excluded brands and product categories like batteries. There are also heavy or flammable products such as transmissions and motor oil which can't be shipped.
Promo Codes Don't Work Towards Sale Products – If an item is already on sale, you usually can't get a second discount applied. Most regular priced items in your cart are eligible though.
Minimum Order Requirement: Most codes require that you spent a certain amount; usually $100 or more.
Expired Codes: Every few days a new featured code or two is released. If you see a code featured directly on their on-site coupon page, it's a good bet that it will work. Codes expire at midnight, so they might not be updated on external sites until the next morning.
Too good to be true? Note that sometimes AutoZone releases especially good deals, like their $15 off $50+ coupon. These coupons usually expire after week or less, but are featured by coupon sites for much longer!
---
$10 Off $50 Coupon w/ Email Signup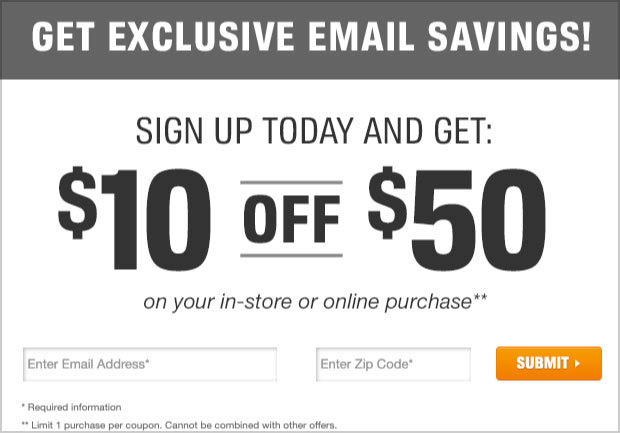 If you are a new customer, you can get a $10 off $50 coupon with email signup. Just type in your email and zip code, and the $10 off $50 promo code will be mailed to you. Get started:
---
*Here's Why You Should Join the 'AutoZone Rewards' program:
---
Free Shipping w/ No Minimum May Be Available
You can find free delivery on orders over $50 every day at autozone.com, but you might have to wait for a free shipping code that works for smaller orders. Don't worry, though; about half the time you can find it, and a message will be prominently displayed at the top of their homepage (in the black bar) when it is available.
Either way, you won't have to type in an actual promotional code, as you'll see the promotion applied at checkout.
---
Coupons May Be Printable or for In-Store Use
Most of the best discounts for AutoZone are promo codes and only work online for "ship to home" orders. However, it is not uncommon to find printable coupons good at your local store, such as $15 off $50, or $15 off $75+. When these are available, you'll just need to click and print. (see above)
---
Large Order? Consider breaking it into 2 orders for the best discount
If you have a larger order with multiple items, it might make sense to break it into two orders. For example, last week there was a coupon for "$25 off $125." If you were planning on buying two sets of brake parts that were $150 each, it would make sense to place that as two orders to maximize your discount, and you'd still qualify for free delivery.
---
So, What's the Best Coupon to Look for? (If You're Patient)
Each featured code from AutoZone has a discount and/or gift card component to it. The best code is going to have both. Example, you might see a code for "20% off $100 + a bonus $10 gift card." You get a good discount on today's order plus a $10 code to use towards your next order, which can be stacked with their latest deal.