Are you a Mister Rogers fan? Maybe like us, you grew up watching his mesmerizing show, Mister Rogers Neighborhood, which ran for 31 seasons from 1968-2001.
Anyway, fresh off of watching the Mister Rogers Documentary, "Won't You Be My Neighbor?", (and staying down the street at the Austin Motel) we were all happy to visit the Mister Rogers mural in the South Congress section of Austin, Texas.
Actually, there are great murals all over that neighborhood, so if you do visit Austin, don't miss them. (They're great for Instagram pics!)
---
Mister Rogers Mural Austin Address?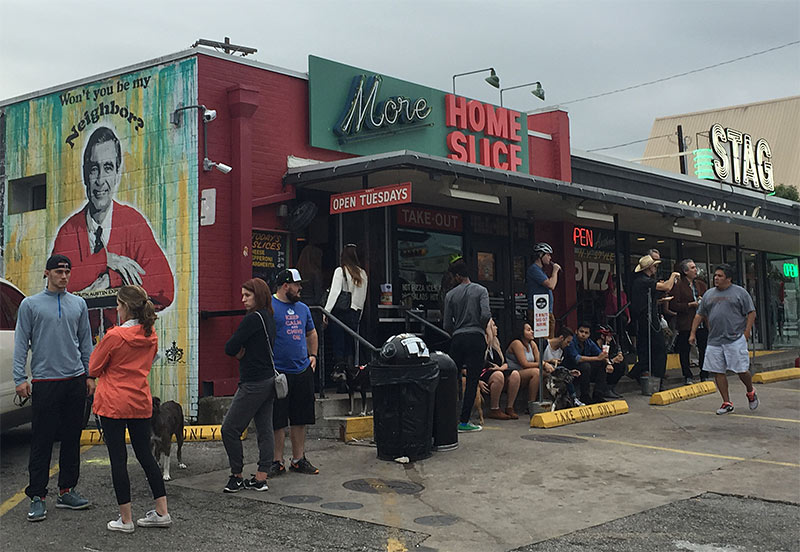 Wondering where the Mister Rogers mural actually is?
The Mister Rogers mural is on the side of More Home Slice Pizza at 1421 S. Congress Ave, Austin Texas.
---
History of the Mr. Rogers Mural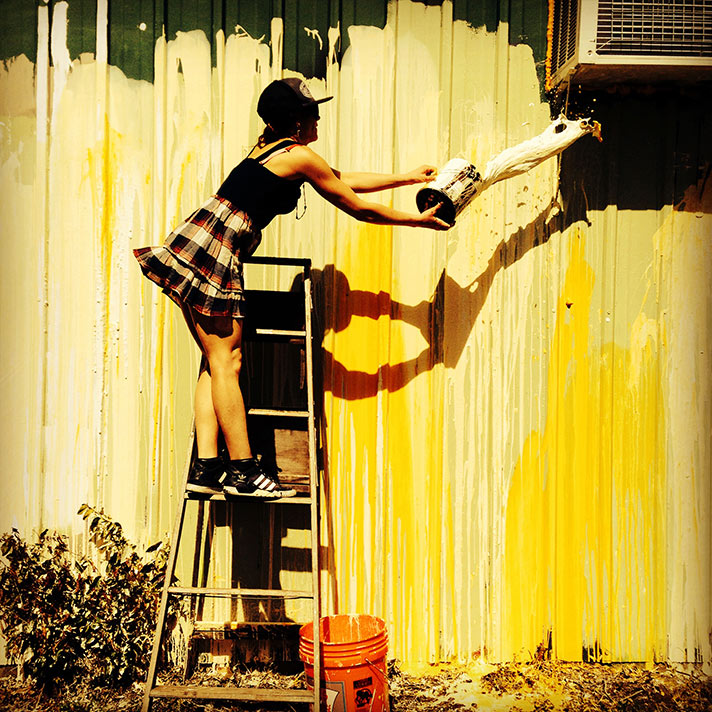 Who Painted the Mister Rogers Mural in Austin? Home Slice Pizza commissioned a female stencil artist, named Niz, to paint the Mister Rogers mural in 2014.
Niz is from Lima Peru but currently lives in Austin, Texas.
Surprisingly, the Mister Rogers mural seems to have been painted over top of another mural painted earlier by the world-famous street artist, Shepard Fairey: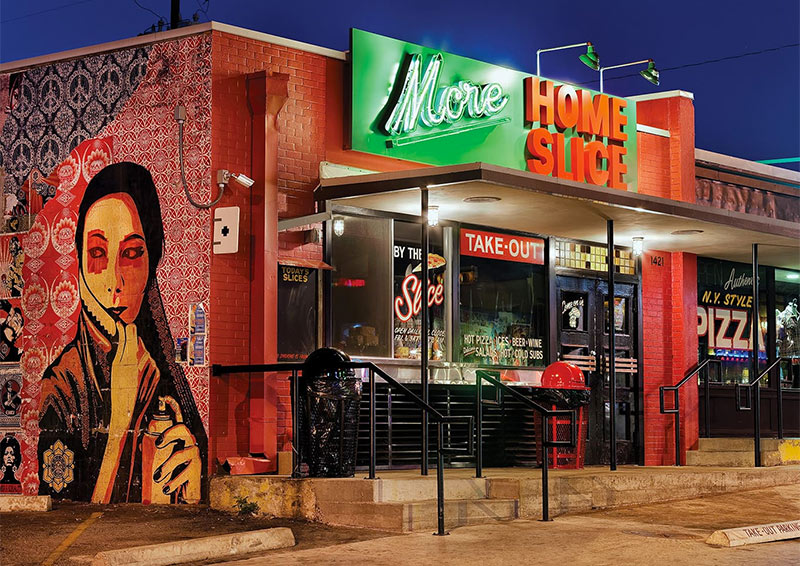 Fairey is probably known best for his "Obey" clothing line, and HOPE Obama poster from the 2008 election.
It's interesting that they would commission Niz to paint over Fairey's mural, as his artwork is very valuable and highly collectible!
Oh, well… Perhaps the owner of More Home Slice Pizza wasn't a fan, and wanted to go with something less political and more family-friendly?
---
Mister Rogers Mural Being Painted
Here are some photos of Niz painting the Mr. Rogers mural: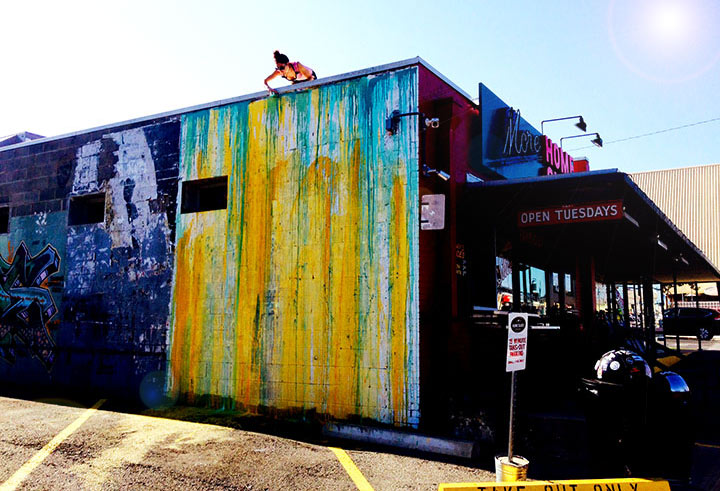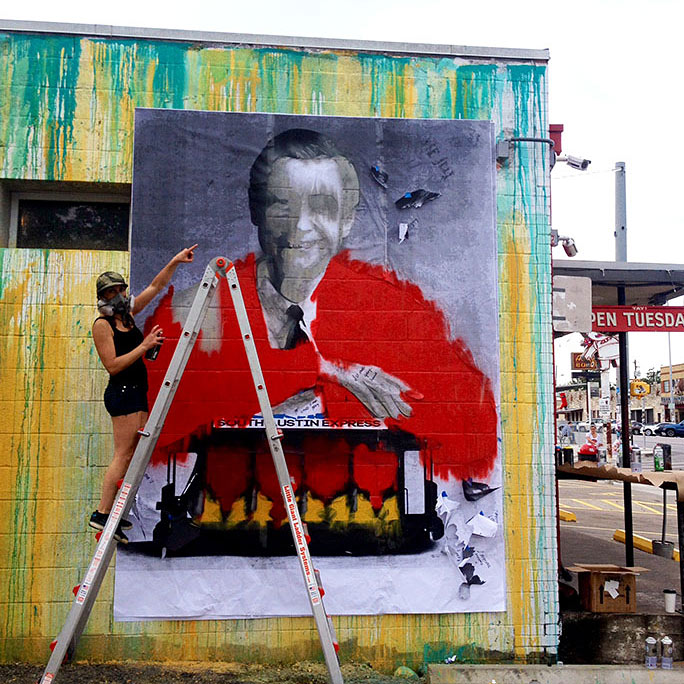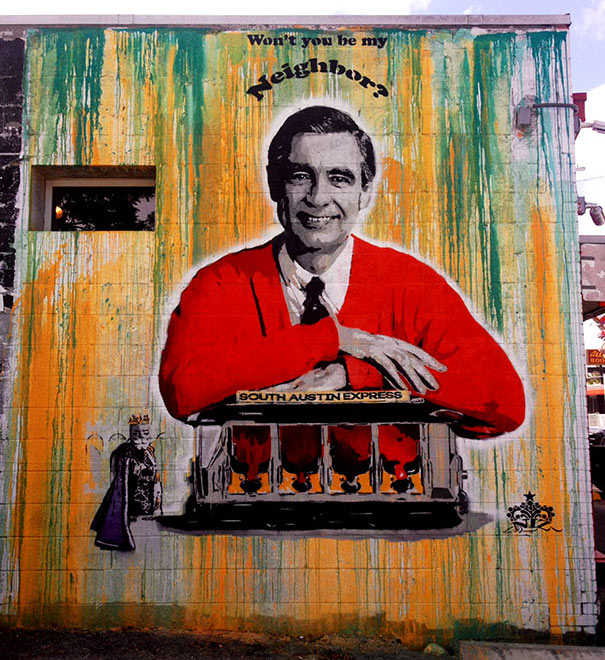 ---
Won't You Be My Neighbor?
Did I mention that the Mr. Rogers documentary, "Won't You Be My Neighbor?" is great?
---
Mr. Rogers Is a Very Instagrammable Mural!
Coupons: $99 WSJ Deal, 50% Off WW on this page!