The Southwest region of the US is the perfect setting for the great American road trip! With a wealth of National Parks, beautiful small towns, and loads of outdoor adventures, it's easy to understand why this type of trip is a popular choice for a family vacation. It's also a trip that can be daunting to plan.
Below you will find the itinerary for Part 2 of our Epic Road Trip, including: Antelope Canyon, The Grand Canyon (South Rim) and Monument Valley.
If you just stumbled upon this post, then be sure to also check out Part One Here.
---
Antelope Canyon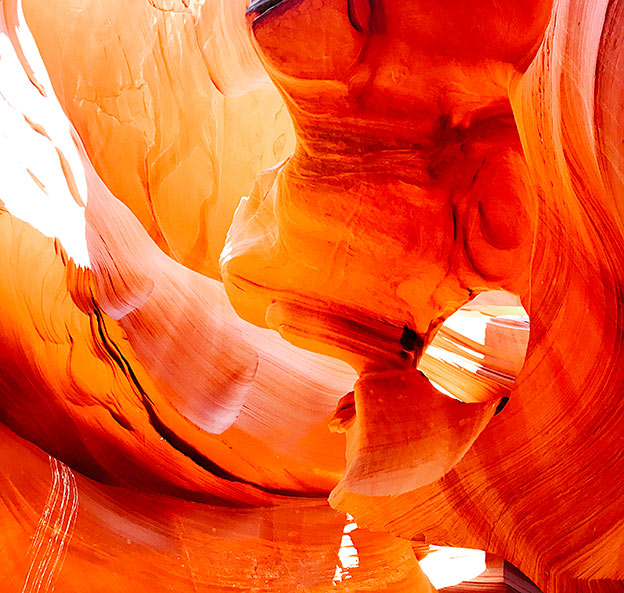 Before we started planning our trip, I had never heard of Antelope Canyon. But when I looked it up, I immediately recognized it. Any desert-type screen saver image you've ever seen is most likely from Antelope Canyon; if you're anywhere near here on your trip, then it should be high up on your must-do list.

Getting Here

We decided to visit Lower Antelope Canyon on our way from Zion to the Grand Canyon. The drive between the two National Parks is about 5 hours, and Antelope is exactly halfway between the two.

Tip: Remember, Arizona has no Daylight Saving Time, so if you are traveling here from Utah in the Summer, take that into account when trying to get to your tour time.
Visiting
Antelope Canyon is a slot canyon near the Utah- Arizona border. A slot canyon is basically a narrow canyon that is formed by water rushing through rock. There are actually two slot canyons here: Upper Antelope and Lower Antelope.

Tip: Upper Antelope is more popular, slightly more expensive and more easily accessible. It is also more likely to have the iconic light beams you've probably seen in pictures (if you go at the right time of day)
Lower Antelope is slightly less expensive and to access the canyon you must go up and down many different sets of steep steps. This may be a turn-off for some, but it only added to our experience.
The most important thing to do before you visit Antelope Canyon is to make a reservation with one of the tour operators. The canyon is on Navajo land and you can only see it with a guide. There are two tour operators for Lower Antelope: Dixie Ellis and Ken's Tours. We used Ken's Tours and had a fantastic experience.

Tip: Even though we had a reservation, we still had to wait about 30 minutes inside before we headed out with our group. We then waited another 30 minutes or so under an awning near the entrance to the canyon. Make sure you bring a water bottle with you.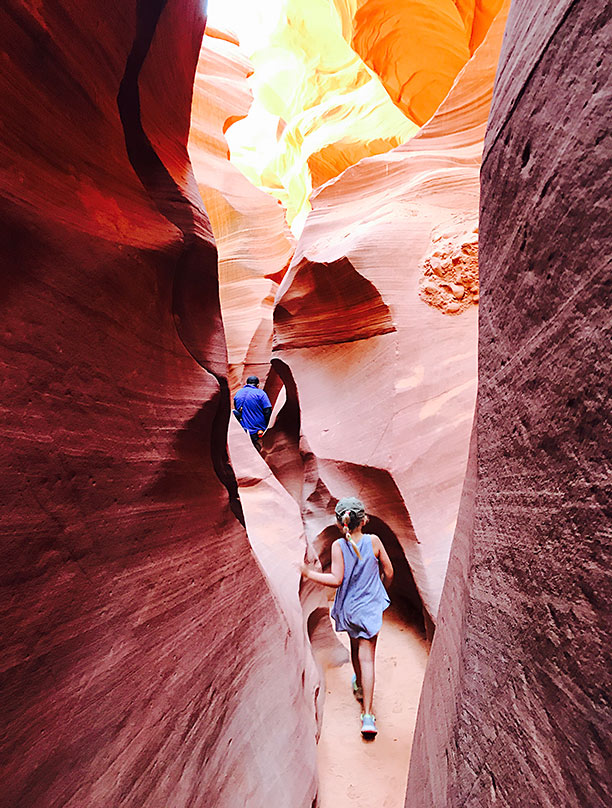 The guides do a great job of spacing out the tours, so you never feel like it's overcrowded. We had about 15 people in our tour, and our guide, Cody, went out of his way to take our pictures, and adjust our camera settings.

The tour lasts about an hour, and when I tell you that you're going to walk (or rather, climb) out of the canyon with 200 more pictures on your phone, I'm not exaggerating!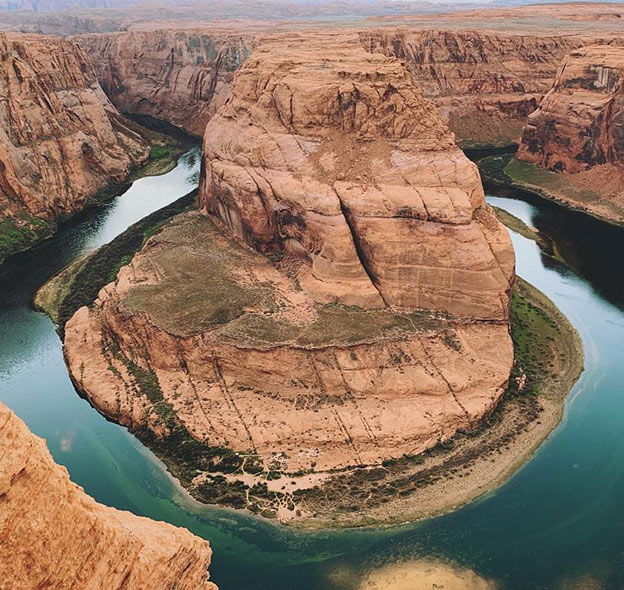 Tip: Horseshoe Bend is also nearby. It's only about 10 minutes from Antelope Canyon, and a really popular spot to stop and take photos!
---
The Grand Canyon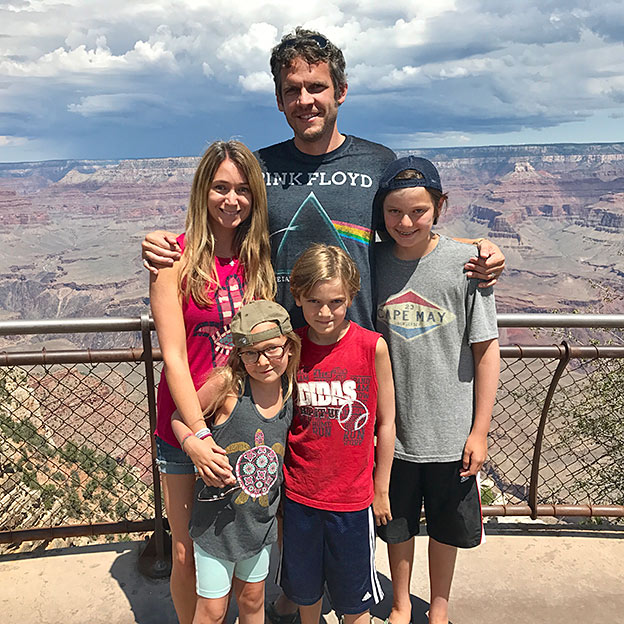 We spent two nights at the Grand Canyon, which gave us one full day to explore, and it was the perfect amount of time.

Getting Here

The East entrance is about a two and a half hour drive from Antelope Canyon.
Tip: Halfway between the two you'll find Cameron Trading Post. This place has it all, from Navajo art, to Navajo Tacos; we were even able to watch a Navajo woman weaving a rug. It's a great stop to stretch your legs before you arrive at your final destination.
Entering the East Entrance of Grand Canyon, the first place you'll want to stop is the Desert View. Here you'll catch your first glimpse of the canyon; you can also climb the Desert Watchtower. It is pretty awe inspiring.

Where to Stay

There are a ton of hotel options both inside the park and in the surrounding towns. Staying in the park will save you a lot of time, especially if you're coming in the busy Summer months.
Besides the popular Bright Angel Lodge and the iconic El Tovar, both of which are directly on the South Rim, you will find Kachina Lodge, Thunderbird Lodge and Maswik lodge.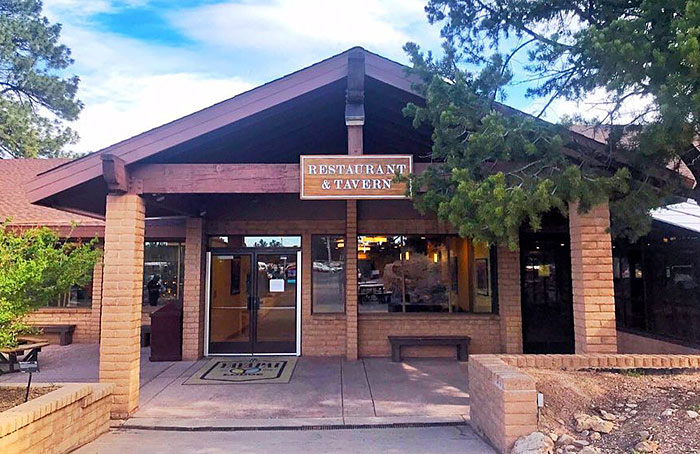 Tip: Like all National Parks, if you want to stay inside the park, be prepared to book your hotel way in advance! By the time we went to book, the hotels near the rim were already filled, so we settled on the Yavapai Lodge, which was actually a great spot.
Visiting
I know you know the Grand Canyon itself is huge, but so is the area around it. The Yavapai Lodge is just past the visitors center. You will have many chances to pull off at various lookout points along the road there, but at this point we were all hungry and ready to crash. Conveniently located across from the Lodge lobby was a decent sized grocery store, where we stocked up on snacks, breakfast food and, most importantly, wine!
Tip: There are two sections of the Yavapai Lodge. We stayed in the newer wing, which has air conditioning. All rooms, no matter which wing, have a mini-fridge. And beware- the storage in the room is lacking, so you might want to plan ahead and pack out a smaller bag with just the things you will need for your stay.
Hiking in the Grand Canyon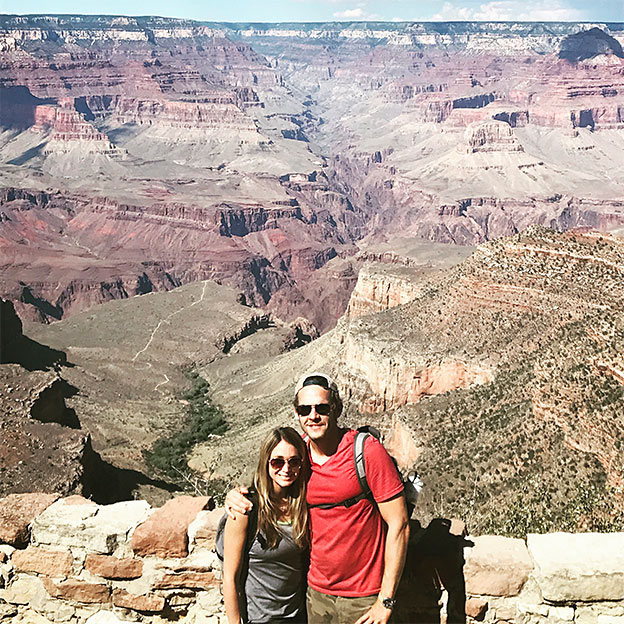 While there are many trails you can access from the South Rim, they are all pretty steep, and we just didn't feel comfortable hiking them with our kids. The most popular trail is the Bright Angel Trail, and we did see some families making their way down the trailhead. We opted to stay on the rim, and the kids had a good time completing their Junior Ranger packets.

Tip: There was a Park Ranger table set up right outside of the El Tovar, so we didn't have to go to the visitor center to pick them up.
Getting Around

If you are driving in from outside of the park, you can leave your car in a lot at the visitor center and take the complimentary shuttle. There was a shuttle stop right outside of our hotel that we took to the rim.

Tip: There are actually 4 different shuttle busses that take you to different parts of the park. You can find more information about the bus schedule, here:

We spent most of our time here just taking in the views from various points along the rim. The shuttle made it easy to get to most of the popular look-out points; we even stopped for a rim-side game of Uno.  And although our visit wasn't as active as the rest of our trip had been, I'm still happy we made it here!
---
Monument Valley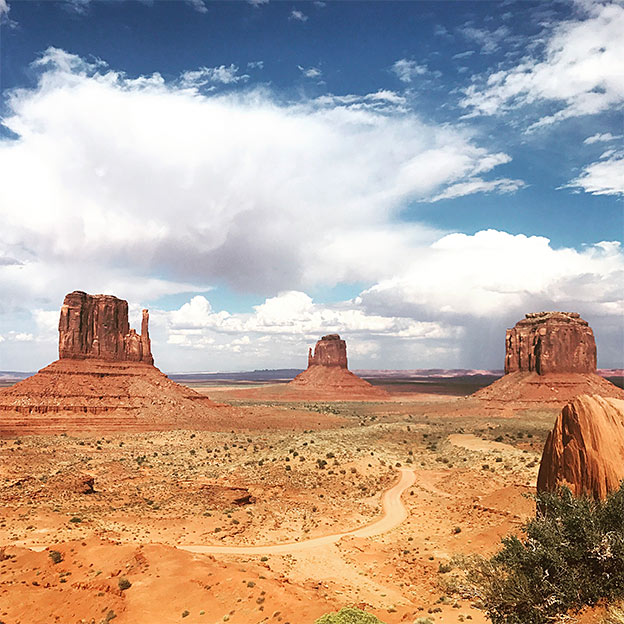 Let me start out by saying that Monument Valley isn't close to anything. For real. It's the literally in the middle of nowhere. But it's totally worth the drive.

Getting There

It's a 3 hour drive from the East entrance of the Grand Canyon to the entrance to Monument Valley. The park itself is in Utah, but it is just over the Arizona state line.
Tip: alternatively, you can re-route your itinerary and come here from Zion or Bryce. By doing that, you could incorporate Grand Staircase Escalante National Monument. This route would then allow you to loop back around to see Grand Canyon and Antelope Canyon.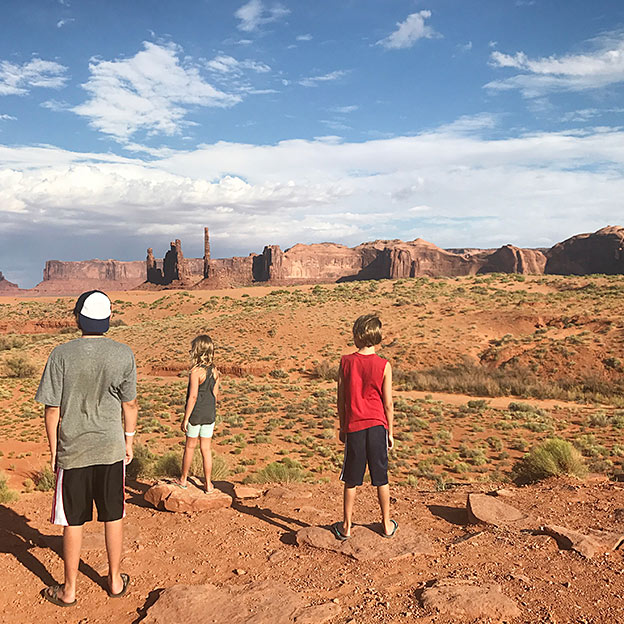 Like Antelope Canyon, Monument Valley is a Navajo Nation Park; you pay an entrance fee to access the scenic route around the monuments. Plan on at least 2-3 hours to complete the drive. Not only will you need to drive slowly (it's a dirt road), but you will definitely be pulling off at the various lookout points along the way.

Tip: If you have the time, you can have a guide lead you on a tour on horseback or take you on a backcountry tour in a jeep. There are almost 30 tour companies that can help you design the right activity for your group. (insert link)
While we would have loved to have spent a few nights in Monument Valley to catch a sunrise or sunset, we had to move on to make it to the next stop on our journey.
Tip: If you're planning on driving to Colorado from here, there aren't a lot of options. But we stumbled upon the town of Bluff and had a magical stay at The Desert Rose Inn. They had a sweet indoor pool and you can't miss the blue corn pancakes at Duke's for breakfast.
---
Bottom Line
We managed to see Antelope Canyon, the Grand Canyon and Monument Valley in 3 days! 2 nights at the Grand Canyon and 1 night in Bluff, UT, which is a short, one hour drive east of Monument Valley. After all of that time on the road, we were looking forward to part 3 of our road trip in Colorado!