If you're on Instagram, Pinterest, or just a normal human, by now you've definitely heard of glamping. Glamping is all the fun of camping – being outside, campfires, stargazing – without the dirt and inconvenience like: pitching tents, crappy nights of sleep, and packing your entire house for one night in the great outdoors.
Sounds appealing, right?
Even better than not-roughing it in the woods? How about spending the night glamping in a plush Conestoga wagon or deluxe tent.
Resort Overview | Amenities | Activities | Food | Cost | Location
---
Overview of Conestoga Ranch:
Hidden away in Garden City, Utah (which, unless you're from Utah or Southern Idaho, you've probably never heard of) is Conestoga Ranch Glamping Resort.
We were lucky enough to stay there for 2 nights on our way back to Salt Lake City after spending 5 days in Grand Teton and Yellowstone. Let me just say, sleeping in a Conestoga wagon was the highlight of our trip!
Yes, you read that right. The ranch has Conestoga wagons; replicas of the wagons pioneers used to cross our country in the 1800s. But, that's where the similarities between you and the pioneers end. Which is a good thing!
---
Conestoga Ranch "Glamping" Resort: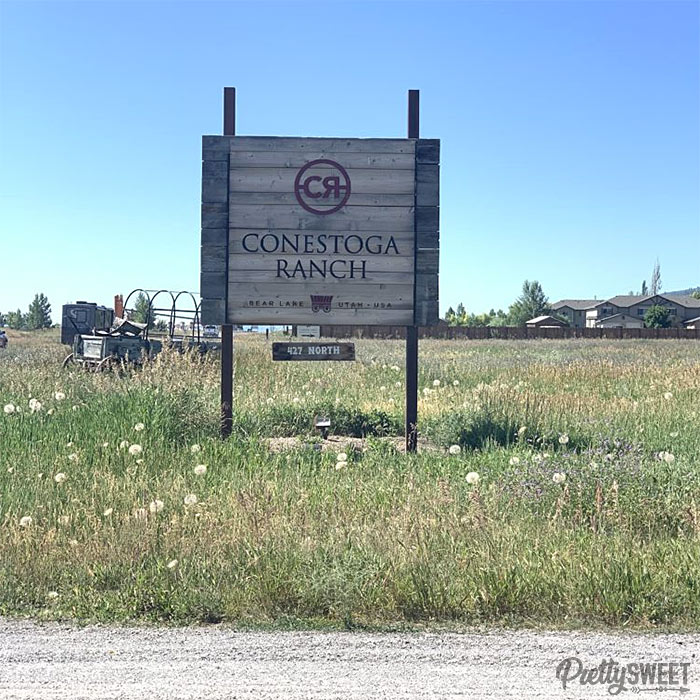 The Conestoga Ranch is set up on a hill overlooking Bear Lake. It's a short drive from the main drag, which consists of some cool drive-ins all claiming to have the best raspberry milkshake.
Making our way up the dusty road, we spotted a number of wagon circles, each surrounding a campfire. These circles can be reconfigured, which makes it an awesome spot for gatherings like family reunions, and even weddings.
After checking in at the main lodge, where they have complimentary coffee (you can also purchase tea and hot chocolate), we were given our S'mores kit and taken to our wagon. The staff drives around in golf carts and will transport your luggage (and your family) from your car to your wagon or tent.
Tip: There is not a lot of storage space in the wagon, so we unpacked our packing cubes, and left our suitcase in the car.
---
Accommodations and Amenities: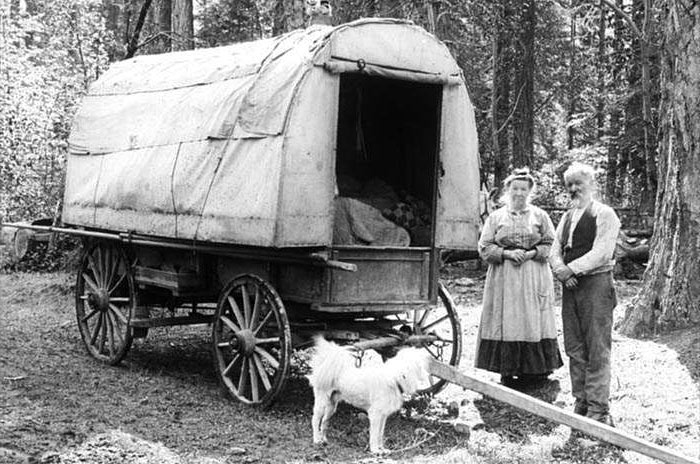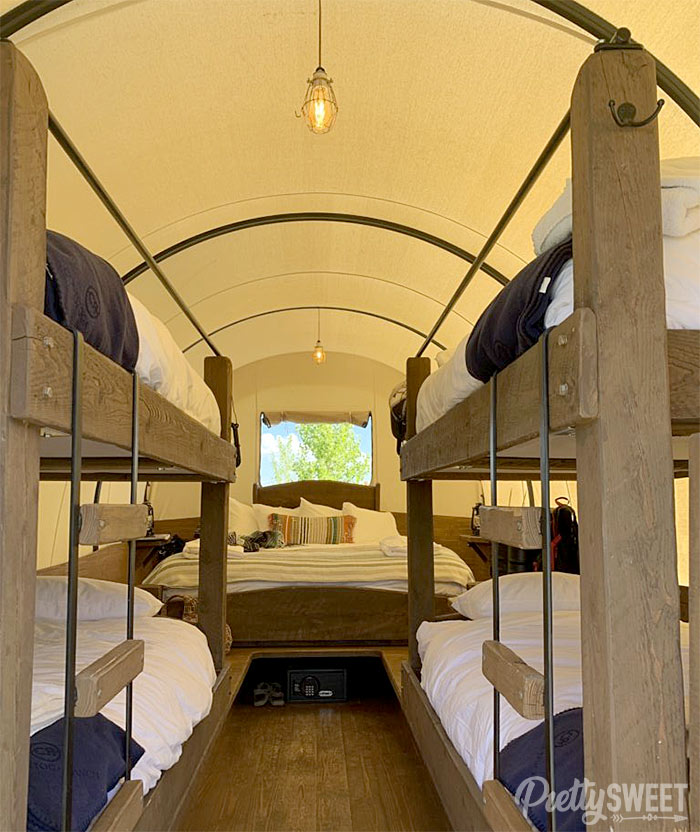 Each Conestoga wagon can sleep either 4 or 6, which was awesome for our family of 5! There is a king-size bed, one or two sets of bunk beds (depending on the wagon), cozy duvets and lanterns.
Tip: It was crazy hot in our wagon when we first unzipped the door to our wagon. So we made sure the screens were zipped, and undid the canvas for both the front and back flaps. I was shocked to see the heater in the wagon. But trust me- despite the hot days, it gets cold at night! You'll be happy that heater is there!
Each circle consists of 4-5 wagons, all surrounding a campfire. But no need to worry about firewood – the ranch's campfire concierge will light your campfire at your request, and leave a bucket of water to extinguish the fire at 11:00 (there's a pretty strict rule about no fires after 11 pm)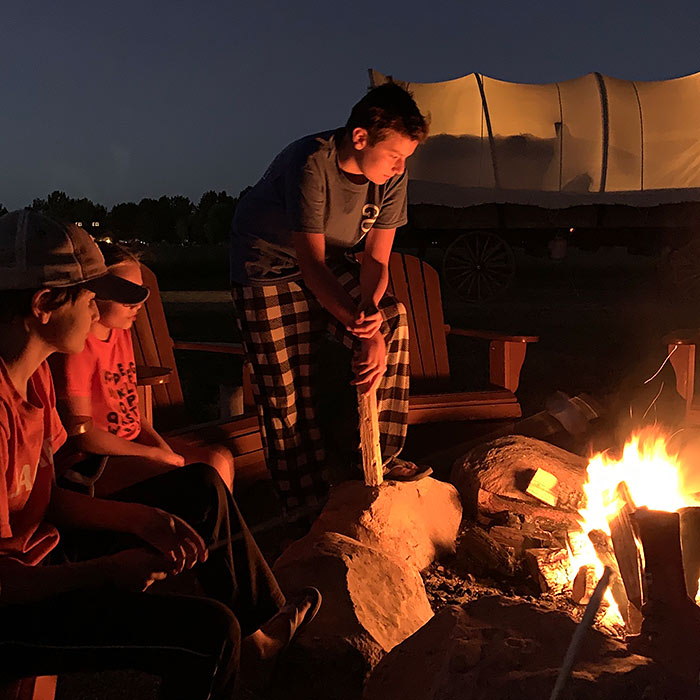 Tip: Be prepared to spend hours sitting around that fire checking out the stars- it was one of the darkest skies we had ever seen- we could even see the Milky Way!
Not so into the idea of sleeping in a Conestoga wagon? (Although trust me, it's amazing) Then check out the variety of tents. From traditional canvas tents, outfitted with beds and a private campfire, to the Grand Tents, which includes ensuite bathrooms.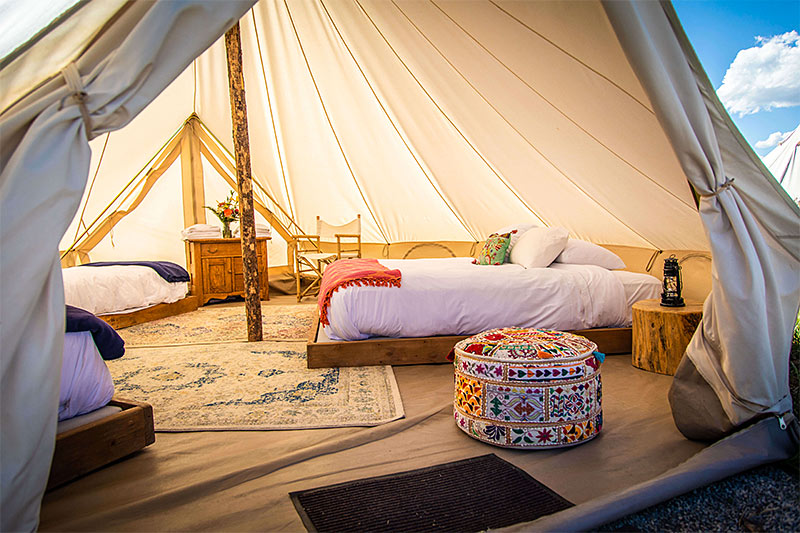 Ah yes, the bathrooms. Here's another place where you'll be glad you're not an actual pioneer. The Conestoga Ranch has a deluxe bathhouse– private bathrooms with rain showers, along with top of the line bath products. They also supply plush bath towels.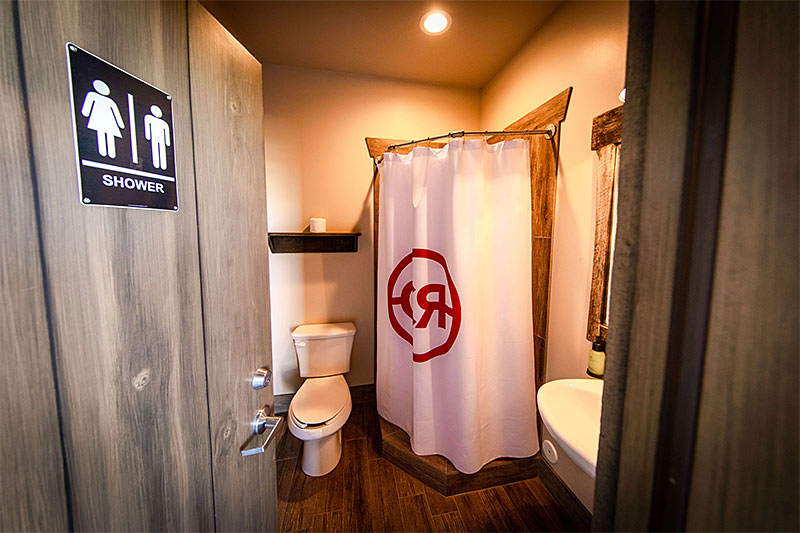 *Thinking of going? You can check prices or make a reservation here!
---
Conestoga Ranch Activities:
There's plenty to do at Conestoga Ranch. Kids will love practicing their lasso skills with the ropes and bull statues scattered around the property.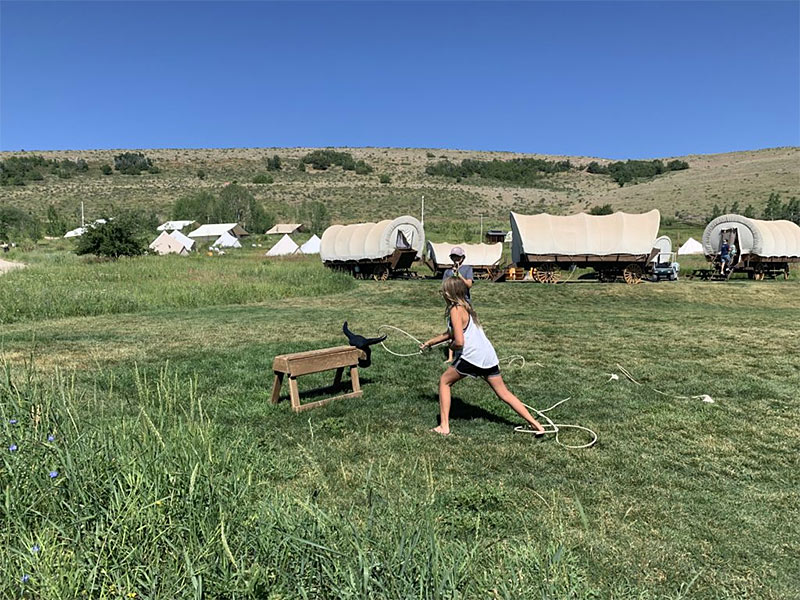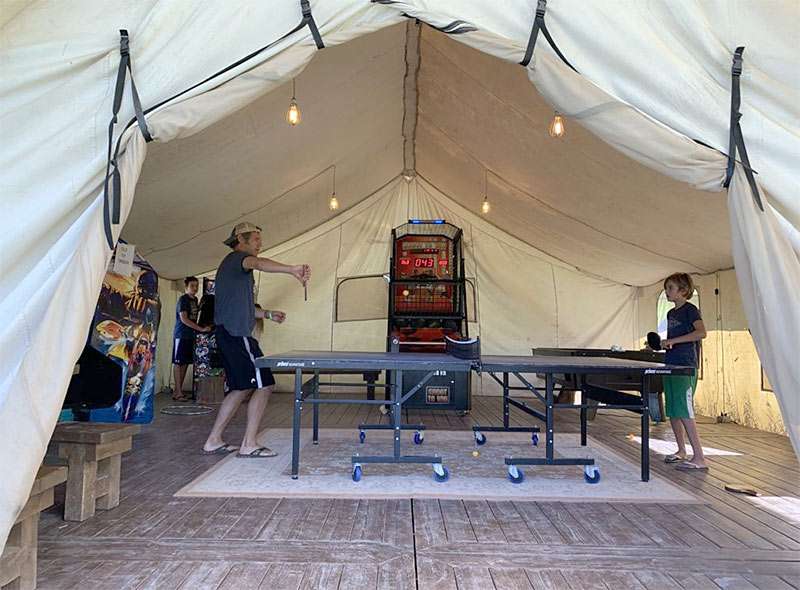 There's also a super cool game tent, with ping pong, air hockey, and arcade games. The ranch offers complimentary bikes as well, no need to sign them out- just pick one up and cruise around the grounds. Our kids loved riding bikes down to visit the horses.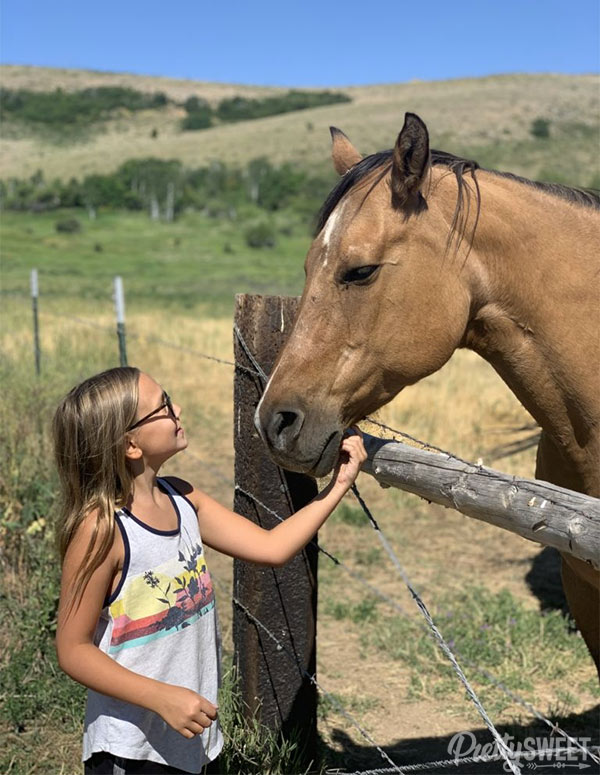 My favorite activity was morning yoga. For $15 we were able to practice under an open-air tent, complete with twinkle lights, and a view of the lake. It was one of the most peaceful, beautiful ways to start our day.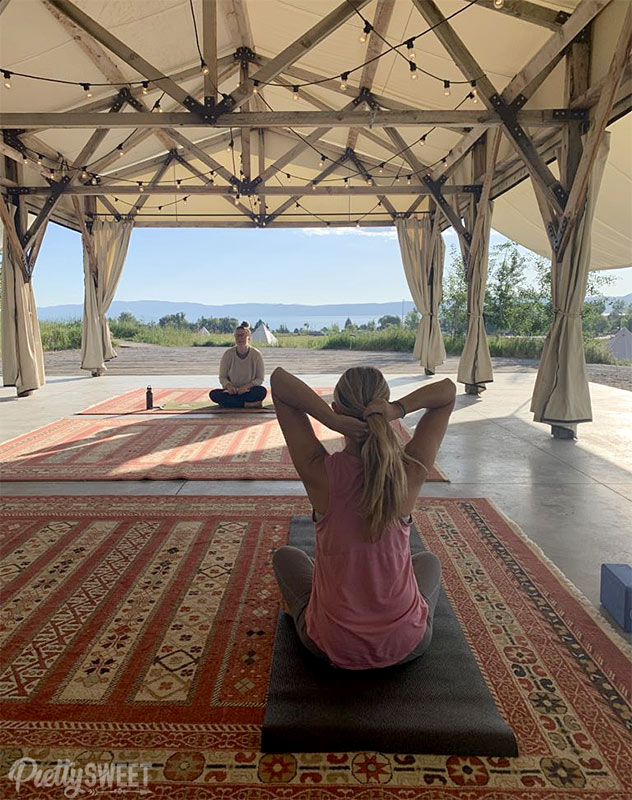 Tip: Off property, the area is full of activities. Like horseback riding, ATV rentals, hiking, plus the water activities on Bear Lake. We rented SUP at Rendezvous Beach.
Paddleboarding down the road at Bear Lake
---
Food / Restaurant: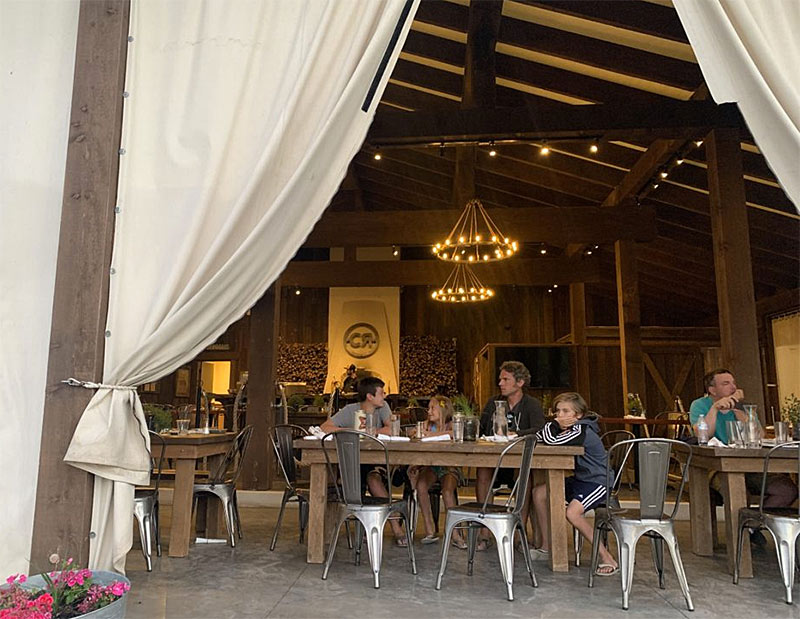 While there are a number of fun drive-in style restaurants in town, you can't miss the deliciousness served up at the Campfire Grill. Like the rest of the structures around Conestoga Ranch, the restaurant is inside of a massive open-air canvas tent. They serve breakfast, lunch, and dinner, as well as brunch on the weekends. Bonus: On the weekends they have live music.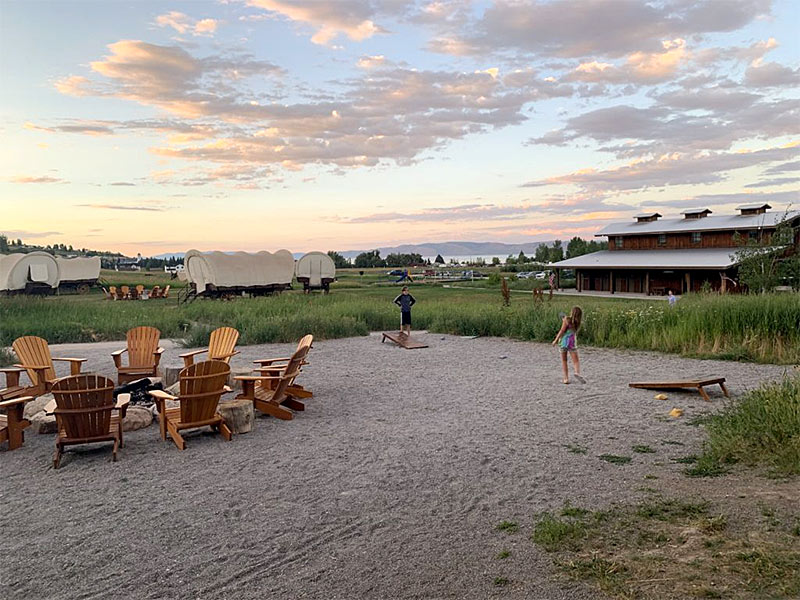 ---
Cost / Rates:
The resort is only open from mid-May through mid-September. Here's what the Conestoga Ranch costs per night:
Conestoga wagons will cost you anywhere from $180-315 (check)
Traditional Tents range from $160-270 (check)
Deluxe Grand Tents will set you back between $290-$580 (check)
Rates vary by how early in the season you stay as well as if you're staying midweek or over the weekend.
All reservations include free WI-FI, free parking, and free cancellation, as well as a choice of beds. Sorry, no pets!
Tip: Prices are highest during the famous Bear Lake Raspberry Days festival, which takes place in early August. Check prices
---
Location / Getting There: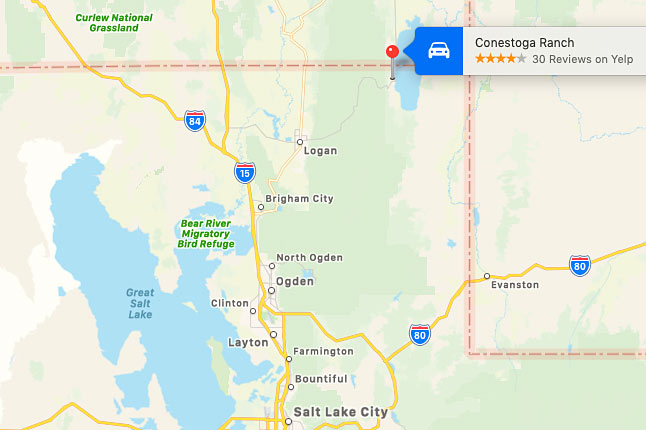 The Conestoga Ranch is located in Garden City, Utah, just south of the Idaho border. It's a little over 2 hours from Salt Lake City, and halfway between Salt Lake City and Jackson, Wyoming, which makes it a great place to stay if you are planning to also visit Yellowstone or Grand Teton National Park.
Address: 427 W. Paradise Parkway, Garden City, UT, 84028 – Get directions
---
Bottom Line: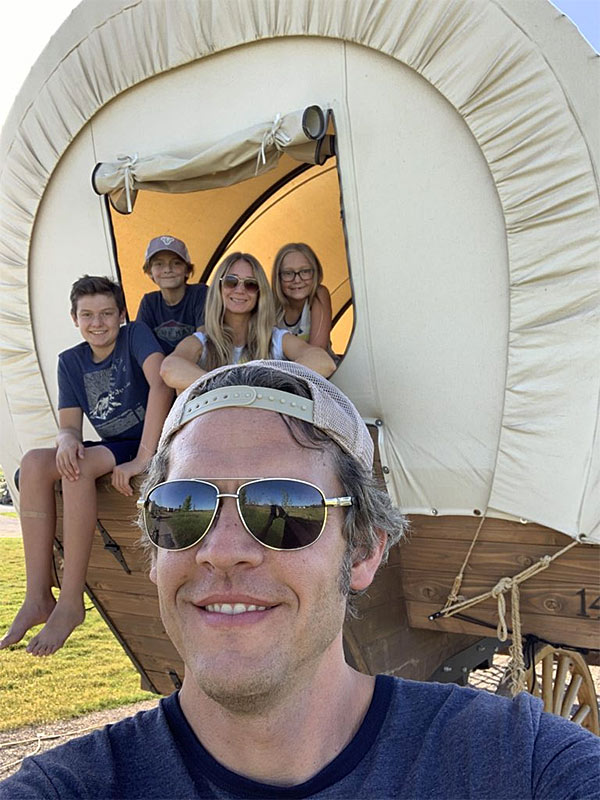 The Conestoga Ranch was our final stop on a 14-day road trip through Idaho, Montana, and Wyoming. We saw a lot over those two weeks, and if you ask our kids to rank their favorites about that trip, Conestoga Ranch is always in their top 3.
The Stargazing was epic, the amenities were top-notch, and the entire vibe was chill. We didn't feel the need to rush to any sort of activity; we were happy just reading in hammocks. And if we really needed it, the resort even had wifi.
It truly was the best part of camping, without the hassle of camping.
So maybe 150 years ago, being a pioneer, crossing over the plains in a Conestoga wagon, wouldn't have been our thing.
But spending a weekend being 21st-century pioneers was perfect!
Thinking of going? Check availability and prices below:
*You can check Conestoga Ranch Glamping Resort prices or make a reservation here!
*Related: Austin Motel Review: Funky Retro "Phallus Palace!" | Craters of the Moon Monument in Idaho (Wow!)