The first-ever commercial for Mcdonald's: If you're looking for a way to scare your kids straight into eating healthy, this original Mcdonald's commercial might help. Apparently, that's the first Ronald McDonald, although he looks more like a clown that has crawled out of a dumpster in my nightmares!
Behold the first-ever Mcdonald's commercial to air on TV:
First McDonalds Commercial on TV (1963)
Narrator: Introducing the world's newest, silliest, and hamburger-eatingest clown, Ronald McDonald! Now, where is that clown? Oh, Ronald… Ronald…"
Ronald McDonald: Here I am kids! (Ahhhhhh!!!) Hey, isn't watching TV fun? Especially when you got delicious McDonald's hamburgers!
Narrator: Ronald, you can't be on TV and watch it at the same time! Now come on and meet the boys and girls!"
Ronald McDonald: Oh, we've already met. I know we're going to be friends, too, 'cause I like to do everything boys and girls like to do, especially when it comes to eating those delicious Mcdonald's hamburgers. A magic tray here keeps me well-supplied, Mcdonald's hamburgers, fries, and milkshakes. Watch for me on TV, we'll have lots of fun! (Squeek, Squeek!)
Jingle: He's Ronald McDonald, the hamburger-happy clown… a Mcdonald's drive-in restaurant, is his favorite place in town!
*Where is he eating those hamburgers? Is that a child's bedroom?
---
So Creepy… Hey, That's Willard Scott!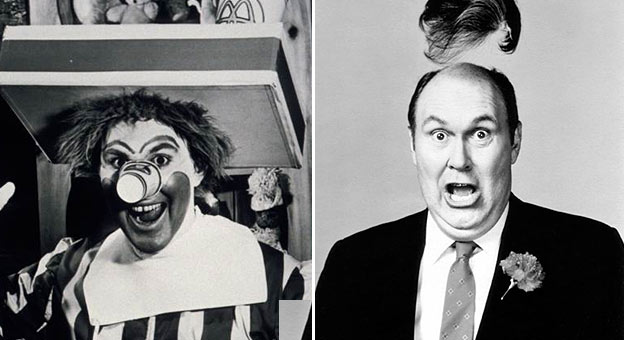 Yes, the creepy clown is none other than Willard Scott who was asked to come up with a character similar to Bozo the Clown, whose show had just gone off the air. Willard would later become famous as the weatherman for NBC's Today Show, although Mcdonald's never credited him with originating the character of Ronald McDonald.
If you're over 40, you might remember that Willard would always wish really old people (100+ years old) a "Happy Birthday" after his weather report, sponsored by Smuckers.
Anyway, you wouldn't have guessed from the first commercial, but Mcdonald's would go on to become a $130 billion-dollar company, selling over 300 billion burgers! (And WeightWatchers would become a billion-dollar company just trying to take them off your body!) 
Hmmm… That means that if the original clown, Willard Scott, could have gotten a royalty of just a penny per burger sold for creating Ronald McDonald, the company would now owe him over 3 billion dollars. Now, that's scary! 
*Related: Here's How McDonalds Portion Sizes Have Grown | How is McDonald's Burger Meat Made? | Is Donald Trump at Risk of Heart Attack?