If you are on Nutrisystem, you know that it's not all prepared food. That's why it's good to have some go-to appetizer recipes handy like this one for Boneless Honey BBQ Chicken Wings (aka bites or nuggets). which are an especially great alternative to chicken wings for men.
If you are thinking about joining Nutrisystem, check out our review, plus save big on the cost with our exclusive coupons here!
Sorry, back to the recipe! These chicken bites are sweet and tangy, but best of all they're guilt-free if you are on Nutrisystem. They count as one PowerFuel and one extra on the Numi app. Don't forget to log them, as those who log their food are twice as likely to meet their weight loss goals. Ok, here's the recipe:
Servings: 6 (3 wings) | Calories: 134 per serving | 1 Power Fuel, 1 Extra
---
Nutrisystem Boneless Honey BBQ Chicken Wings:
---
Ingredients:
The ingredients for the boneless honey bbq chicken wings are pretty simple. Hopefully you have most of these ingredients in your kitchen already:
Sauce:
One 8 oz. can tomato sauce (no sugar added)
1/4 cup apple cider vinegar
2 Tbsp. honey
2 Tbsp. tomato paste
1 Tbsp. molasses
1 Tbsp. Worcestershire sauce
1/2 tsp. chili powder
1/2 tsp. paprika
1/4 tsp. onion powder
1/2 tsp. garlic powder
1/4 tsp. sea salt
1/4 tsp. freshly-ground black pepper
Chicken:
3 Tbsp. whole-wheat flour
1/8 tsp. salt
1/8 tsp. black pepper
12 oz. raw boneless skinless chicken breast, cut into 18 pieces
2 Tbsp. egg whites
---
Cooking Directions:
Preheat oven to 375 degrees. Line a baking sheet with aluminum foil, then place a wire oven safe cooling rack on top (to make the boneless wings crispy!) Mist rack with nonstick cooking spray. Set aside.
BBQ SAUCE: Combine all ingredients together in a medium saucepan, and whisk vigorously.
Bring to a boil over medium-high heat, then reduce heat and simmer for 20 minutes, stirring occasionally. The sauce will have thickened slightly.
CHICKEN: While the sauce is simmering, whisk together flour, salt, and black pepper in a large bowl.
In another medium bowl, combine chicken with egg whites and toss to coat.
Remove one chicken wing (aka bite, or nugget) from the egg whites and dip it into the flour mixture, turning to lightly coat.
Place coated chicken wing on the cooling rack. Repeat with the remaining pieces of chicken.
Bake chicken nuggets for 8 minutes, then flip. Continue baking until the coating is golden brown and crispy, about 8 more minutes.
After the chicken has cooled for 2-3 minutes, place the chicken wings in a medium bowl.
Pour BBQ sauce over the top, then gently toss with tongs to coat.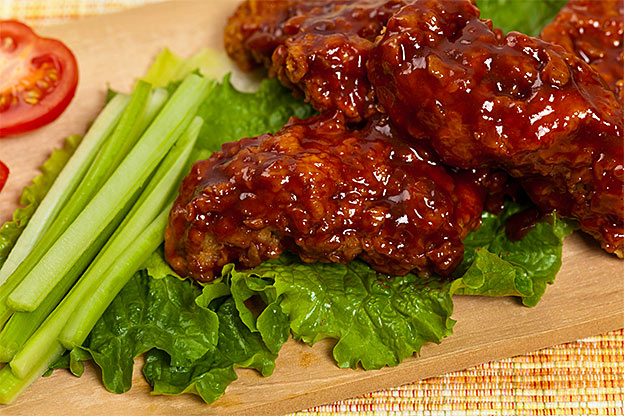 Ok, that should be it! If you're on Nutrisystem (does it work?) I hope you enjoy these guilt-free boneless bbq chicken wings. If you aren't, check out our featured special here.