You probably know that Walgreens has a wide selection of popular contact lenses from top brands at some of the lowest prices online, but did you know that they also have coupons available for up to a 25-30% discount? All orders of contacts, including reorders, also ship free, with no minimum purchase.
They have an extensive selection of contact lenses from all of the top brands including Acuvue, Dailies, Air Optix, and more. Whether you need to order contacts for the first time, reorder contact lenses or purchase solutions, you'll find everything you need at Walgreens.com. Here are their best promotions and rebates for contacts.
---
Best Walgreens Contacts Coupons for 2023: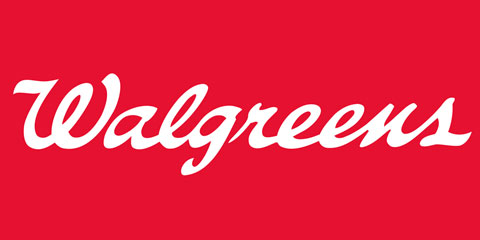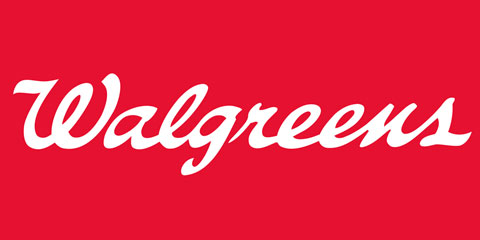 New Customers: 30% Off
2. First order of contact lenses. New accounts only. Get promo code:
2.
First order
of contact lenses. New accounts only. Get promo code:
Show Less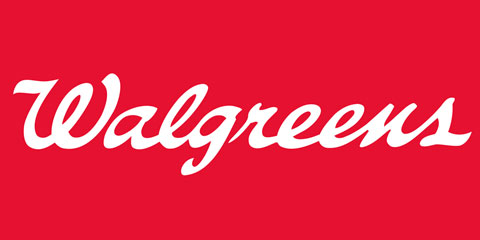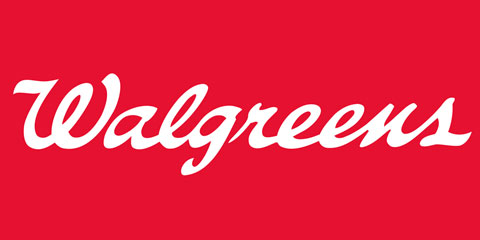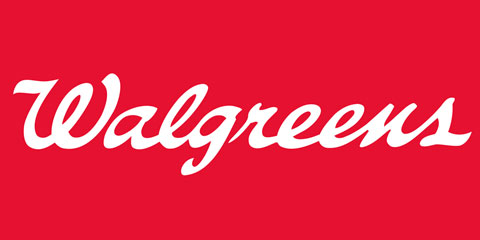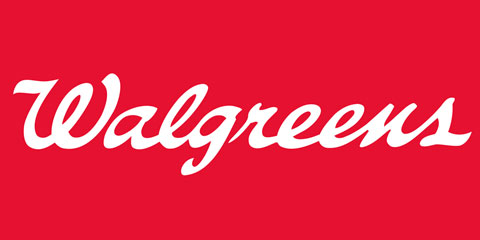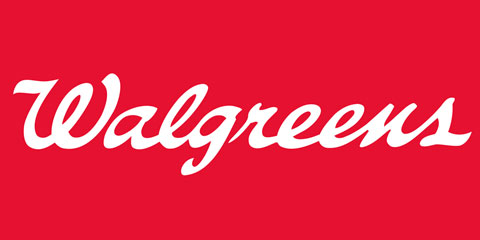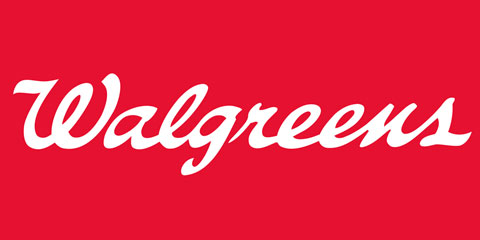 ---
Walgreens Contacts: How to Use a Promo Code:
Everything about purchasing contact lenses online from Walgreens is a snap. Maybe that's because they assume the screen is a little blurry for you, or maybe they are just good at simplifying the process.
In any event, don't ever buy contact lenses from Walgreens without using a promo code at checkout. Actually, it's easy and just takes a moment to save up to 30% off your contacts.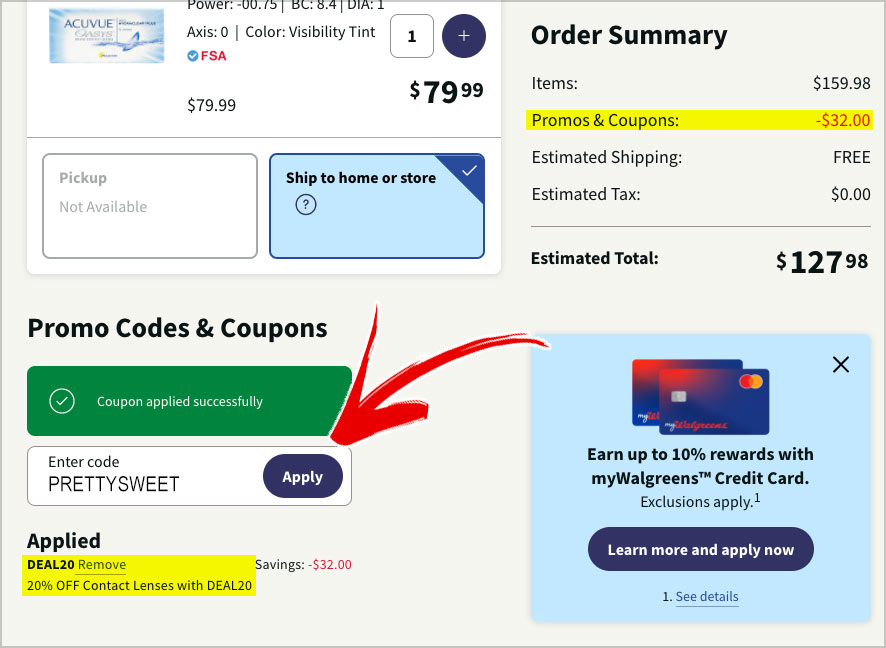 Here's how to use a promo code for Walgreens contact lenses:
Enter prescription details and add contact lenses to your cart
View cart and scroll down to see "Promo codes & coupons" text field
Enter a promo code for up to 30% off and click, "apply"
If the code is valid, view your savings under "code applied"
Promo code not working? The most common reason is that a promotion may be exclusively for new customers or exclude a certain brand.
---
Walgreens Acuvue Contact Lens Coupon: (Includes Oasys, Reorders!)
The most popular brand of contacts on Walgreens.com is Acuvue and BioTrue. The good news is that the featured Walgreens contacts coupon covers Acuvue including their Oasys contact lenses. Just click below today to see the entire selection of Acuvue contact lenses at Walgreens.com and save up to 25-30%:

When you click, you'll see their entire selection of Acuvue contacts and see today's featured Walgreens contact lens coupon code under the price: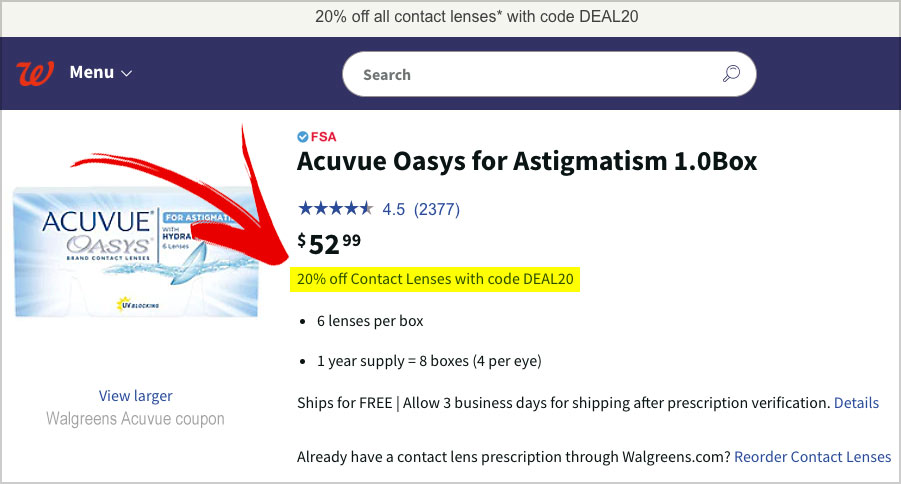 Just enter your vision prescription info and use the promo code at checkout.
*Related: Walgreens is Expanding in Florida
---
Best Walgreens Contacts Coupon? (25% or Even 30% Off?)
The best coupon for contact lenses at Walgreens is usually going to be for a 25% discount on top brands including Acuvue, Dailies, and Air Optix. However, if you are a new customer you can save 30% on your first order. Also, look for codes for 25% or even 30% off all orders, including reorders, with their seasonal promotions including Cyber Monday and National Eyewear Day.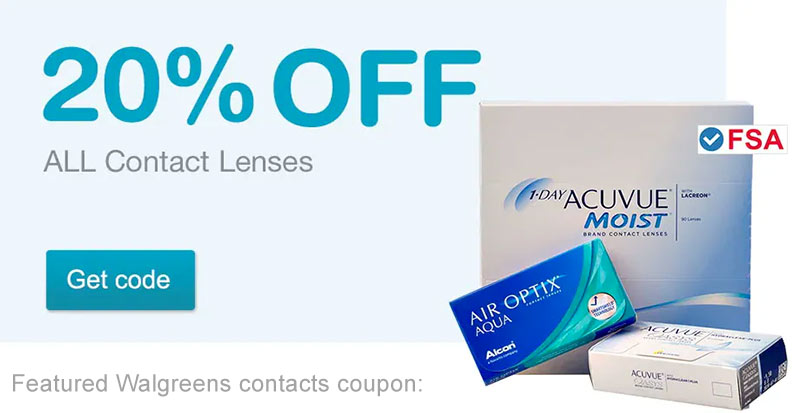 The last time I saw a promo code for 30% off for existing customers was their Black Friday / Cyber Monday promotion. However, if you need contact lenses, you likely can't wait weeks to save an extra 30%, so the 25% off code is likely your best option.
*Related: 10 Tips for Contact Lens Wearers – WebMD.com
---
Walgreens Contacts: Rebate Center

Save up to an additional $50 on your contact lenses through the Walgreens Contacts Rebate Center. Rebates are listed by brand, such as Acuvue, along with instructions. To see which brands have rebates now, visit the Rebate Center here.
---
Conclusion
Walgreens is one of the best places to get discount disposable contact lenses from top brands like Acuvue Oasys. Be sure to use a promo code at checkout to save up to an extra 25% off to get the best price.
You can even use our featured code for reorders in the future.
Tip: We have some other great wellness coupons including WW Digital here!
Thanks for stopping by PrettySweet.com!