Cauliflower mashed potatoes recipe from Oprah & Weight Watchers: Unlike the humble potato, cauliflower is packed with cancer-fighting vitamins and minerals, and consistently ranks as one the healthiest vegetables. For this reason, cauliflower can make a smart substitution or complement to the potato in popular dishes like mashed potatoes.
Speaking of cauliflower mashed potatoes, here's a simple delicious recipe for them from Weight Watchers out of Oprah's cookbook:
Cauliflower Mashed Potatoes Recipe (30-second Video)
---
Ingredients:
1 Medium-head cauliflower (white or golden)
2 medium Yukon gold potatoes
1 Tbsp butter
1 tsp black pepper
1 Tbsp chives
Sea salt
Directions:
Boil potatoes
Boil cauliflower (in water from potatoes)
Put both in bowl
Add pepper and salt
Mash by hand
add chives
Voila! It's such an easy recipe, and so much healthier than your traditional mashed potatoes. Cauliflower is high in Vitamin C, folate, (which is essential for pregnant women!) vitamin K, protein, and a number of other vitamins.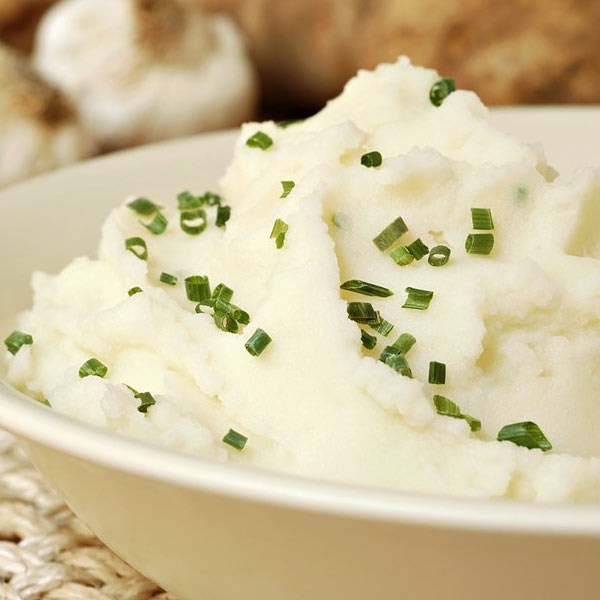 Cauliflower mashed potatoes make a great, healthy, and versatile side dish any time of year, including Thanksgiving dinner.
Personally, I like this potato/cauliflower hybrid recipe, as you stay closer to the taste of real mashed potatoes. Mashed cauliflower alone is still good, but your kids might not eat it, and you don't get as good of a consistency!
Cauliflower mashed potatoes are great served with balsamic roasted vegetables or try them with grilled balsamic mustard glazed steak or shrimp with spicy tomato sauce.
Plus, Oprah recommends them, so you can't get a better endorsement!
---
If you're considering joining Weight Watchers, check out today's membership specials here to save up to $50 or more on the cost of joining!