This tasty, cheesy cloud bread recipe from Weight Watchers is only 4 Smart Points, (WW point system) and full of flavor. That makes it a perfect addition to your WW program cookbook.
The best part about WW FreeStyle is that you can still indulge in tasty recipes like Cloud Bread without feeling guilty. (Eat your heart out, Nutrisystem!)
Here's the "5-minute Cloud Bread" recipe:
Ingredients:
4-5 sprays cooking spray
3 large eggs
3 Tbsp low fat cream cheese, at room temp.
½ tsp baking powder
½ Tbsp garlic powder
½ Tbsp dried oregano
2 Tbsp regular butter
12 oz part-skim mozzarella cheese, cut into 12 even slices
6 Tbsp grated Parmesan cheese
6 Tbsp fresh parsley, chopped
---
Cooking Instructions:
Place oven rack in middle of oven. Preheat oven to 300°F. Cover a large sheet pan with parchment paper; lightly coat with cooking spray.
Separate egg yolks from whites; place each in separate mixing bowls. Whisk cream cheese into the bowl with yolks until smooth (add optional fresh or dried herbs).
Add baking powder to bowl w/ egg whites; beat on high speed with an electric mixer until fluffy and soft peaks form. Slowly and gently fold the egg yolk mixture into egg white mix.
Spoon mixture into 12 even rounds onto prepared baking sheet.
Bake until lightly browned, 18-20 minutes; remove from oven.
Meanwhile, prepare garlic mixture. Melt butter in the microwave or in a small saucepan; stir in garlic powder and oregano.
Evenly divide the butter mixture over each cooked cloud bread; top each with 1 oz mozzarella cheese.
Broil until cheese melts, 1-2 minutes; garnish each with 1/2 Tbsp Parmesan and parsley.
Serving size: 1 piece | Serves 12 | Easy | 4 WW SmartPoints

Cloud Bread Is Hot!
You might have heard of cloud bread, as its been featured on a number of popular health sites; touting it as a low-carb alternative to traditional bread. (Our cloud bread with cream of tartar) If you're looking for recipes to use cloud bread, here's some food for thought: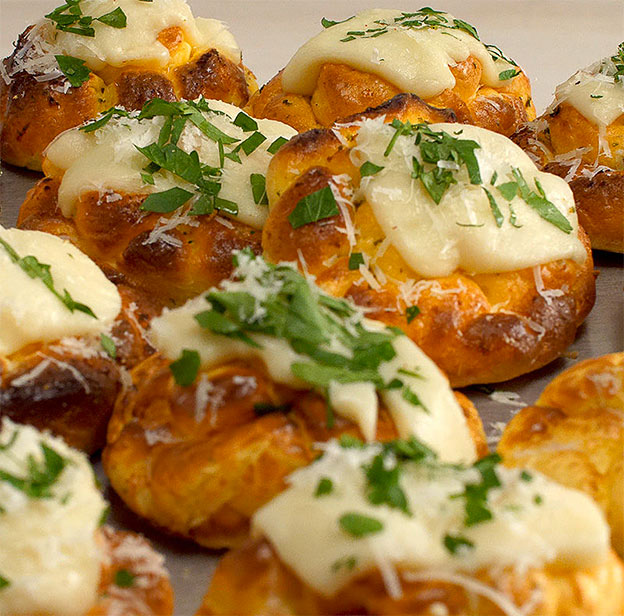 Have you tried making this WW cloud bread recipe? Let us know how it went.
*Related: WW Point List: 99 Most-Tracked Foods | Free Weight Watchers SmartPoints Calculator