Those factory speakers on most TV's sound tinny and bad for both television and gaming. So, we recently decided de needed to buy a soundbar. We weren't looking to spend more than $100 or so, so we began searching for budget soundbars on Amazon.
After going down the Amazon rabbit hole and reading a lot of product reviews, I decided to buy a 34″ 80-watt soundbar for way less than $100 from a brand called, Bestisan, also sold by the Megacra brand for some reason. It was a best-selling soundbar on Amazon, and "Amazon's Choice" for our search. Plus there was a coupon and tons of good reviews, so I felt pretty good about it.
So, is Bestisan really the best soundbar for the money? (under $100) Here's our review of the Bestisan 80 Watt, Bluetooth 5.0, 34-inch mountable soundbar:
---
Bestisan Soundbar Review 2021:
*Interested? Check it out on Amazon!
---
Bestisan 80-Watt Soundbar Unboxing: For TV, Projector, Bluetooth Devices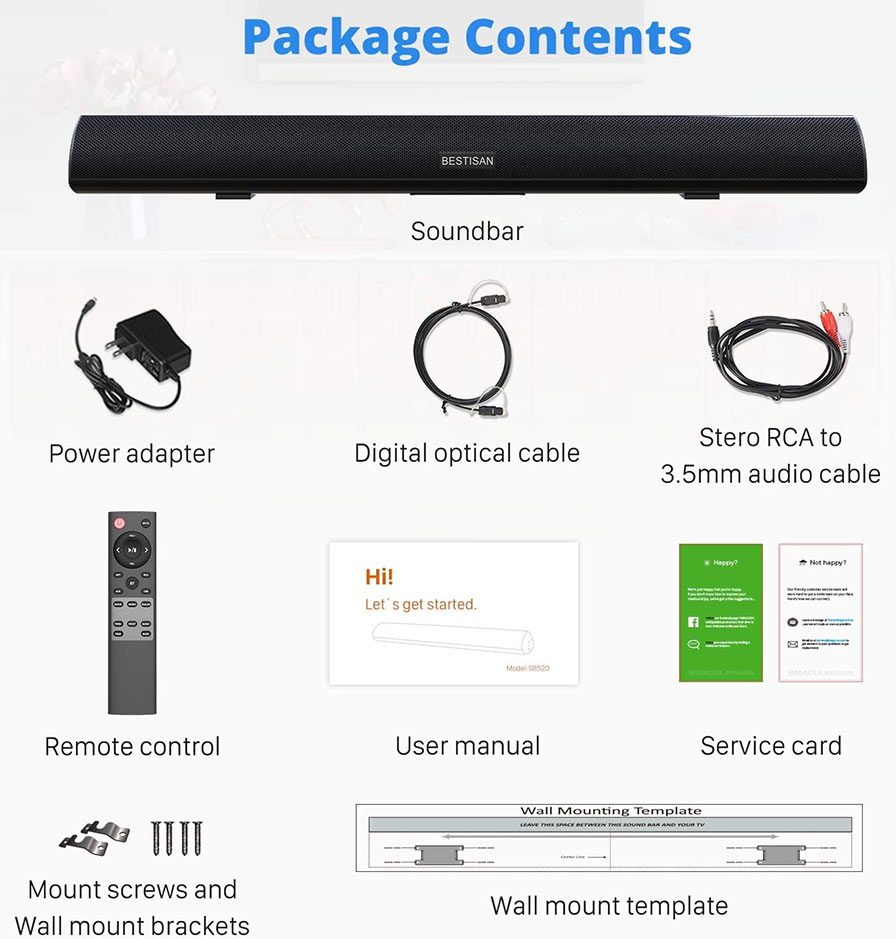 As you can see, they include a variety of cables for connecting different devices whether it's a TV or a projector or Bluetooth to your phone right out of the box it's ready to go and ready to play.
then we have a mounting kit that they include which is really nice because sometimes you have to get third-party mounting kits and it's a whole big thing especially because the soundbar is a triangle shape so most standard mounts will not work. It also comes with a remote which has standard features but we'll talk about that later.
---
The Bestisan Soundbar is Well-Under $100!

So, priced at significantly under $100 dollars (plus a coupon?) it's a crazy price so just keep that in mind while we're going through the review. So, let's start with the design. so there are pros and cons to this triangle kind of shape that they've chosen.
Tip: If your TV is lower than your eye level or at your eye level, the shape is perfect. It's angled up just enough so if you're looking at your tv like this, the sound will hit you right in the face.
However, if you look up at your tv, like on a mantle or above a fireplace, then you're going to want to mount it and so the mounting kit that they include will make it so that the soundbar is flat like a normal soundbar which is great so let's take a look at the specs so the soundbar itself.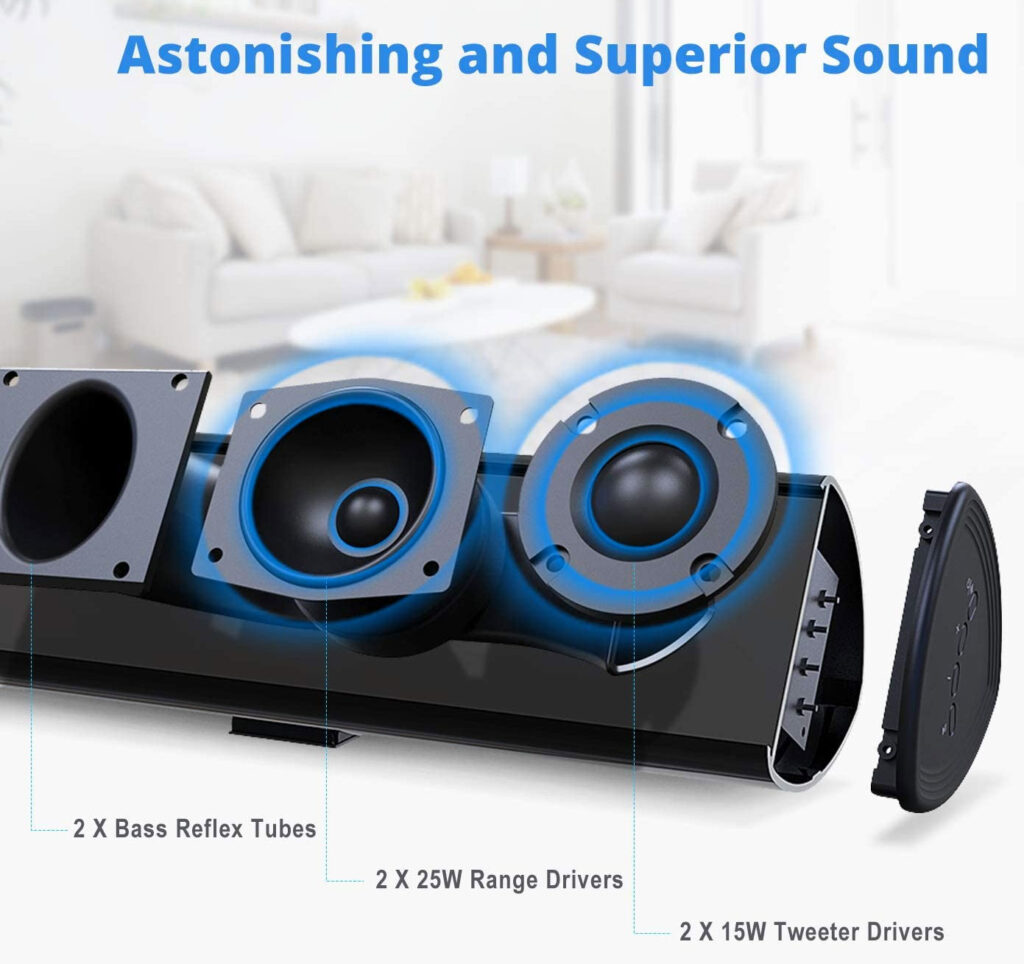 What does 2.0 sound system mean? So just a little backstory on the whole 2.0, 2.1, 5.0. So, the number before the decimal point is the number of speakers that is in the system and the number after the decimal point is the number of subwoofers that's in the system.
So with this soundbar, we're looking at a 2.0 sound system, so there are two speakers one left and one right and there's no subwoofer.
But, let me tell you not having a subwoofer on this soundbar does not create any problems with the bass it is room-shaking bass if you get that EQ right. So, it has two main speakers and then it has two tweeters, and then it has a big bass tube in the center that just radiates sound. Even though it's not technically a subwoofer, it still produces plenty of bass.
So as far as sound quality, it can compete with pricier brands like JBL and Bose and Sonos. I'd say those top brands probably they edge out Bestisan a little bit, but it this has probably an 8.5 out of 10 for sound quality for me.
Definitely 9 out of 10 for bass; it's great. And best of all, it's way under $100!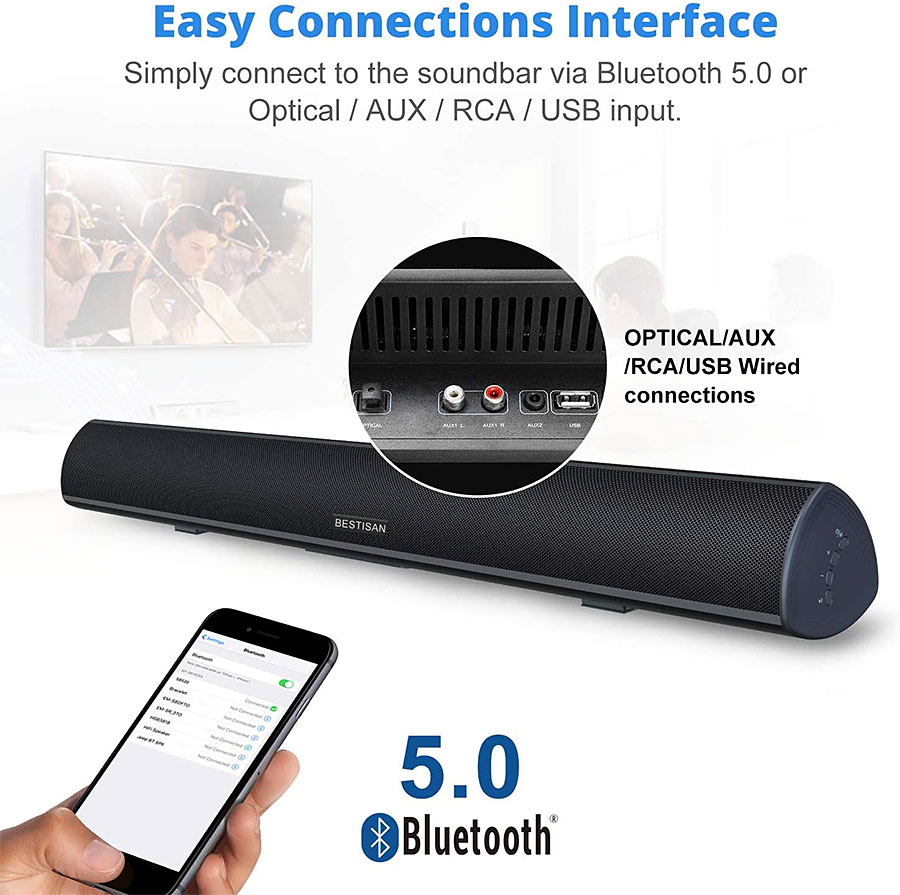 Let's talk a little bit about the remote. The soundbar comes with a remote that's really easy to use. I do want to note that uh while you can use the soundbar with a universal remote you cannot control its volume from your standard tv remote.
So if your tv comes with a remote, if you have a smart tv that you use, or i have an apple tv. While the apple tv remote can control the tv factory speakers, it cannot control the soundbar. So you're going to have to use the soundbar remote for that or a universal remote control with the remote you can easily control volume eq and source input.
The Bestisan soundbar remote also has presets built-in for news, movies, and sports which is really helpful, too. With the tap of a button, you can instantly get the EQ changed up a little bit, so that way if you're watching a movie you'll be heavier on the bass so you'll really feel it; whereas if you're watching the news or sports, they'll change it so it's more of a neutral sound.
*Related: WSJ Subscription Deals on Black Alliance
---
Bestisan: Best Budget Soundbar for the Money?
A lot of user reviews mention that the wall mount Bestisan soundbars are the best sound bars for the money. Check out the user ratings: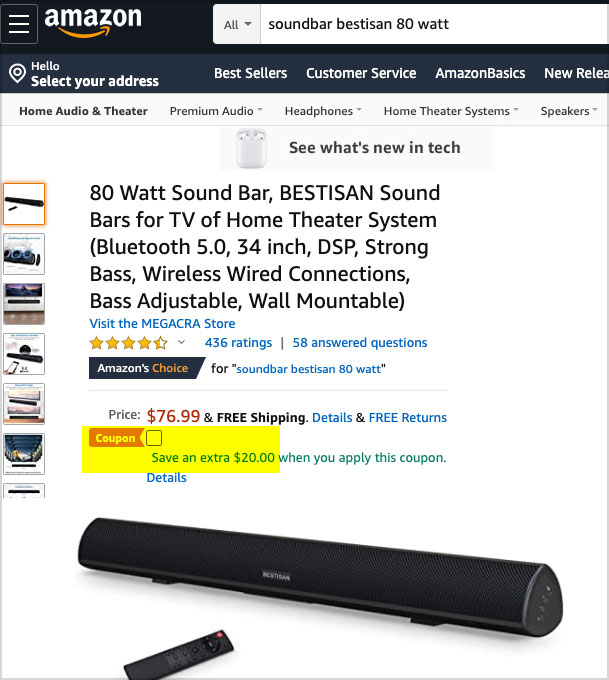 Tip: Look for the same Bestian soundbars from different stores. You might find a lower price or a great coupon!
So overall, if you are on a budget, the Bestisan soundbar is an incredible choice for filling smaller medium rooms with excellent sound. I do want to point out it also has a Bluetooth option which is great. I connect my iPhone to it and instantly you have crystal clear sound coming out of the Bluetooth which is awesome.
And again, at well under $100 you're not going to find a better sound bar for the money!
So, I definitely recommend this soundbar. We have a home theater system for our main TV, so we're using it for our second TV which we use for both gaming and movies. If you're looking for a budget soundbar this does the job more than fine. It has the extra bonus features and the sound quality of a soundbar that's double or even triple its price which is incredible. So, at this price, it really is hard to beat!
*Note: I am NOT an Amazon affiliate. This review reflects my own opinions, and I don't get compensated if you buy a soundbar. Thanks!