Are you looking for the best GoodNotes iPad digital planner to help organize your busy schedule? You need to see this best-selling undated digital planner from HappyDownloads with over 16k 5-star reviews on Etsy. It was recently featured in the GoodNotes blog article Top 9 Best Digital Planners.
To use this digital planner you'll need a PDF annotation app like GoodNotes on iPad and can sync with your iPhone. You can also use it with Penly on Android.
You can buy and download it as a PDF for about $12 on Etsy.com here. Here's our review with everything you need to know about this superior digital planner.
Best GoodNotes Digital Planner for iPad on Etsy: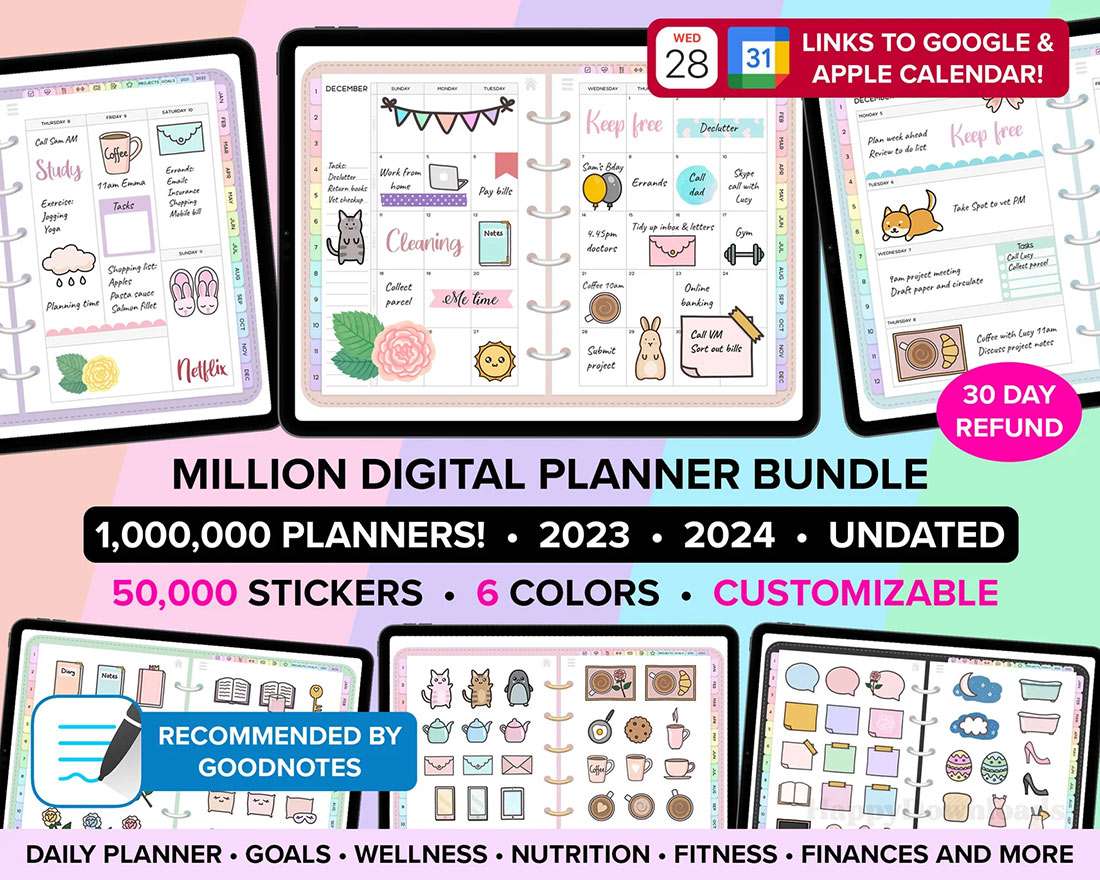 This digital planner has the potential for a million different variations that you can customize in the builder tool. This digital planner is designed to increase productivity and help you to reach your goals.
Best of all, it's a best-seller on Etsy with thousands of 5-star reviews and comes with a money-back guarantee.
Customizable Electronic Planner:
This digital planner has:
6 different colors
Undated and reusable
8 daily layouts + 11 weekly layouts
---
Sync With Google & Apple Calendar: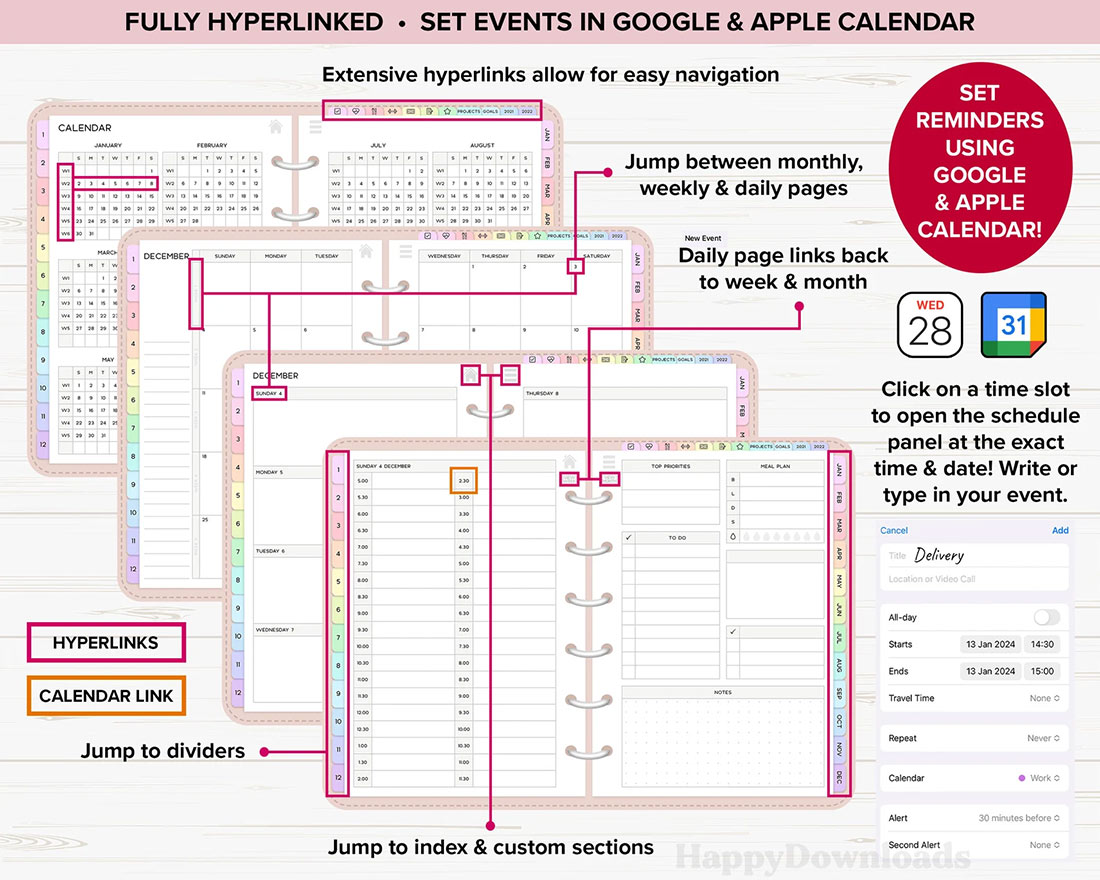 This digital daily planner for your iPad is fully hyperlinked for easy navigation. Easily jump between monthly, weekly, and daily pages. Click on a time slot to open the schedule panel at the exact tie and date! Then write or type in your event.
Also, quickly set reminders using Google or Apple Calendar!
---
Includes 25k Free Stickers! (With Purchase on Etsy)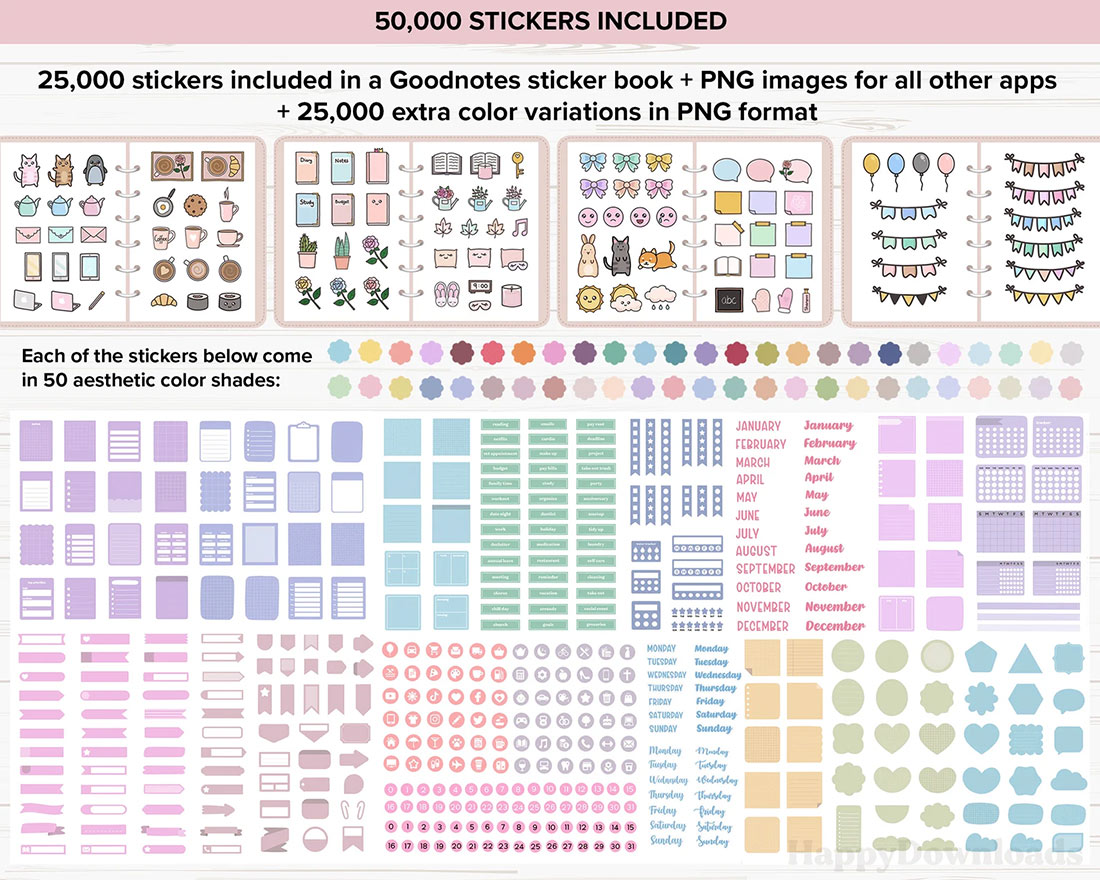 This digital planner comes with 25k GoodNotes stickers in various colors plus PNG images for all other apps.
---
Daily and Weekly Layouts: (iPad)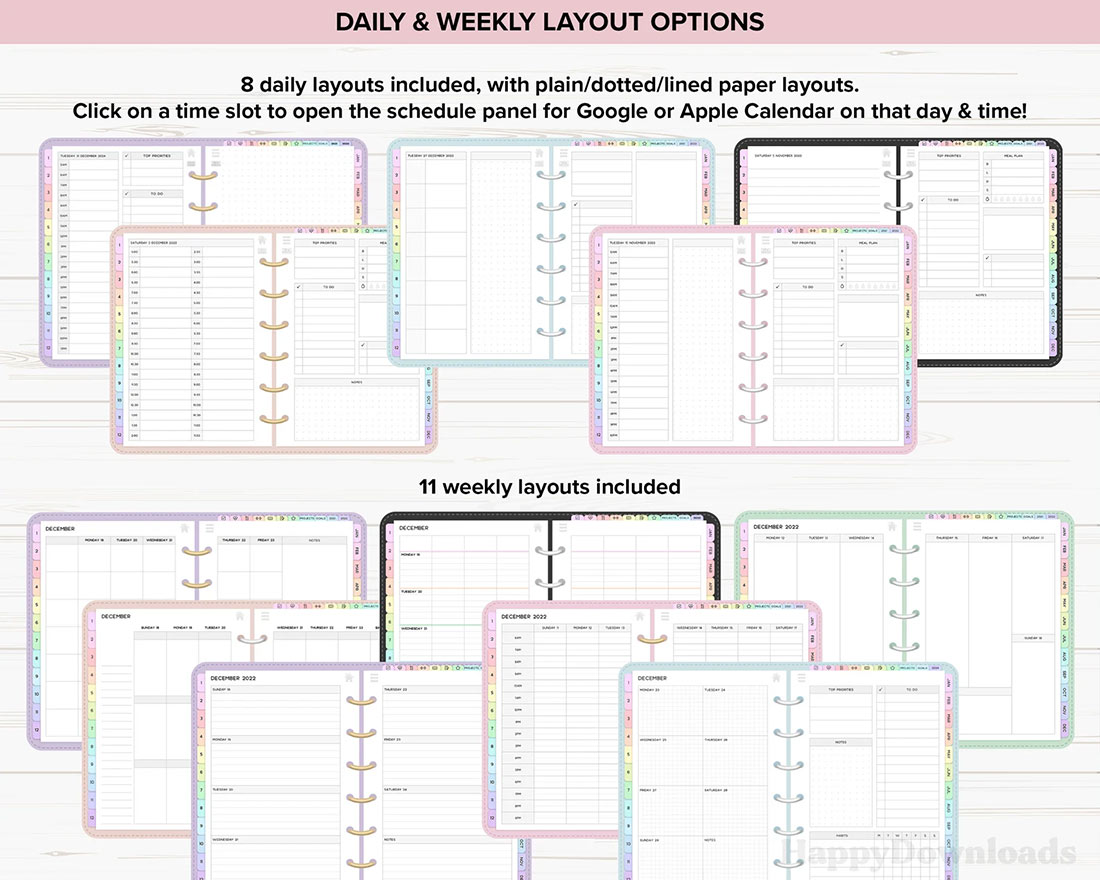 8 daily layouts included with plain/dotted/lined paper. Click on a time slot from your iPad to open the schedule panel for Google Calendar or Apple Calendar on that date and time.
---
Projects, Goals, and Note Papers: (On Etsy)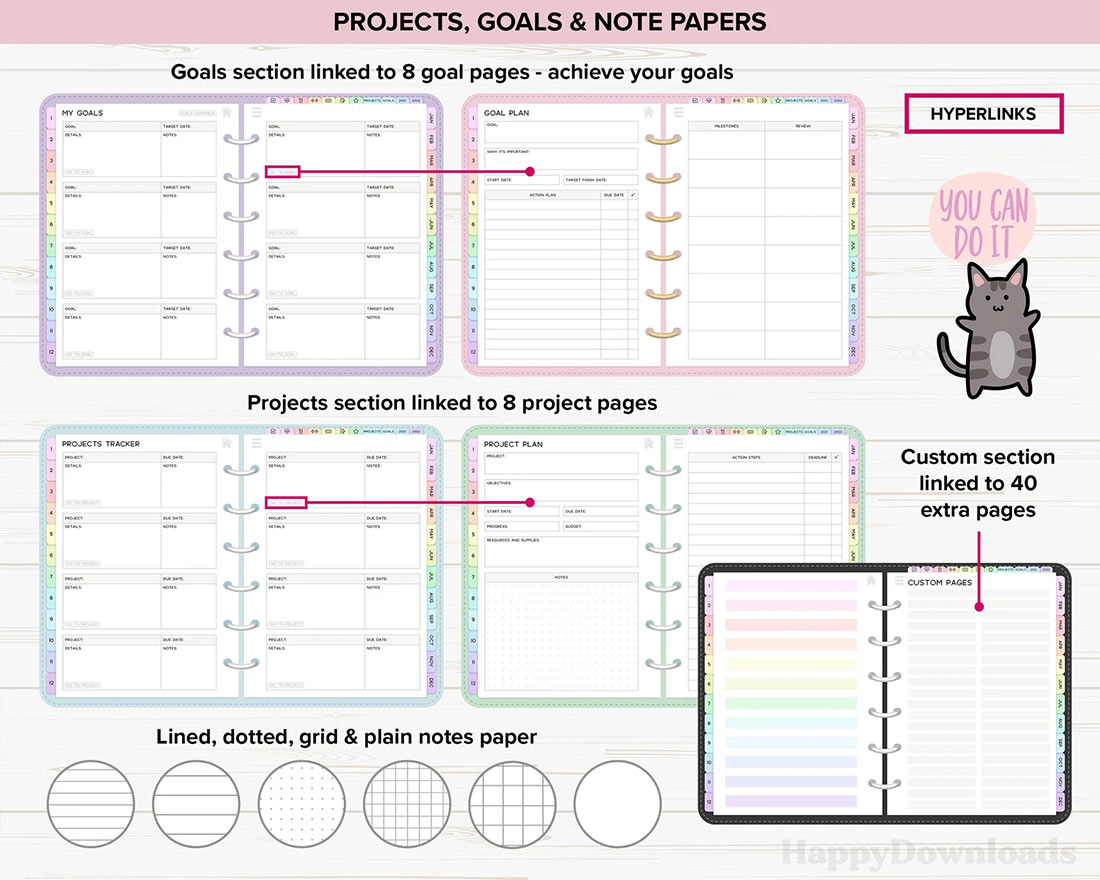 This digital planner includes projects, goals, and note papers to help you reach your personal goals.
---
Templates for Productivity & Wellness: (GoodNotes)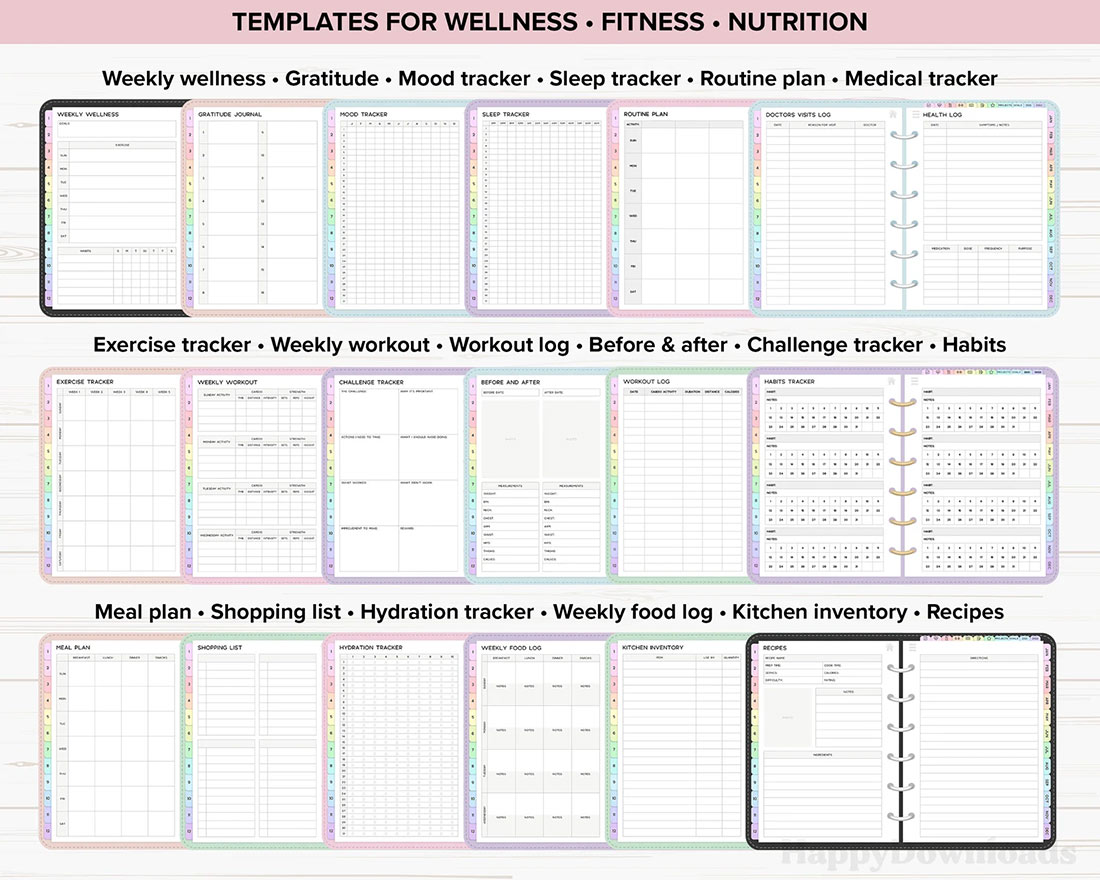 This GoodNotes digital planner includes templates for productivity including to do list, weekly checklist, chores plan, and action plan. The wellness template includes weight loss, fitness, and nutrition.
---
500 Cover Options: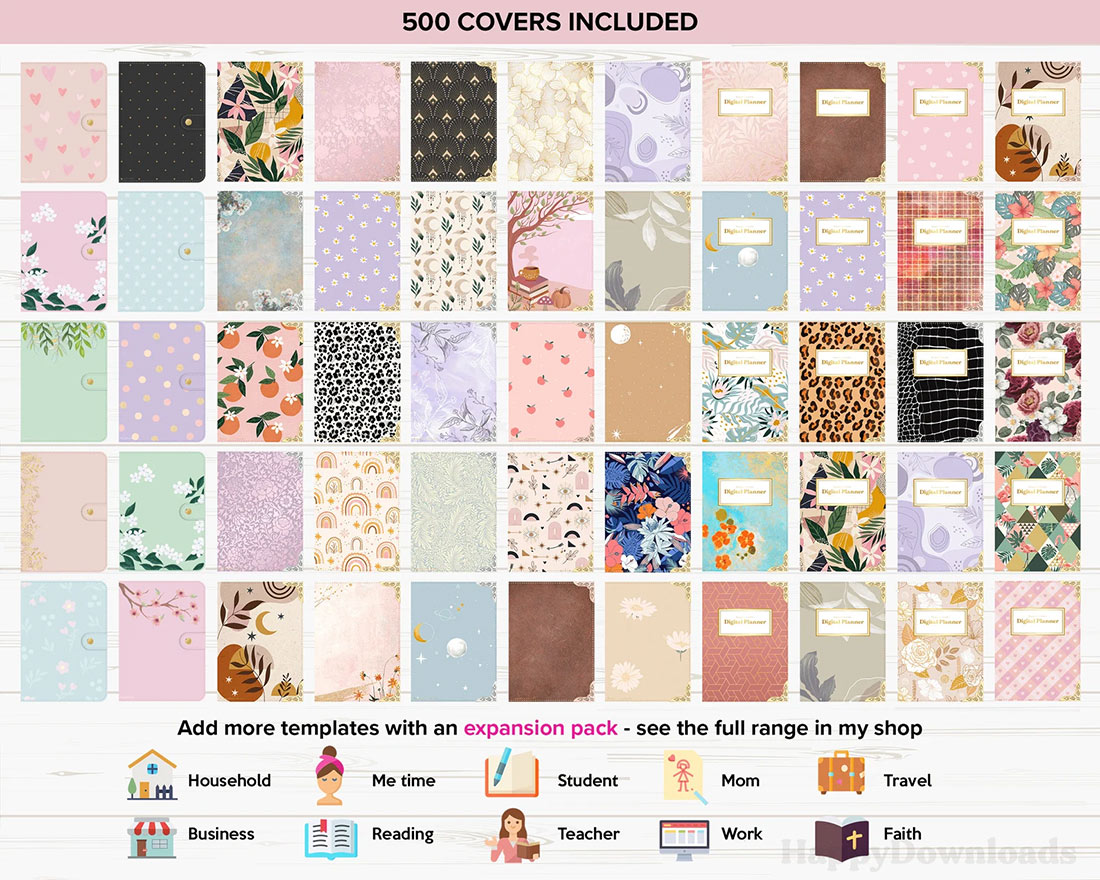 Choose from hundreds of covers for your digital daily planner! More templates are also available.
This digital planner is so easy to navigate, making it perfect for work, home, and school.
Learn more about this incredible electronic planner on Etsy.