CustomInk is the most popular site online for custom-printed t-shirts, apparel, and merch for groups. However, it's not easy to find their pricing to know how much their products actually cost. We've done our homework and found shipping and t-shirt prices plus where to get a quote now without having to design a shirt first.
Here's how much their most popular t-shirts (white or colored) cost, shipping info, plus the Custom Ink quote calculator.
Placing an order? Get the best savings when you use a Custom Ink coupon here!
---
Custom Ink T-Shirt Prices:
There are dozens of brand and style options, so let's look at Custom Ink's most popular t-shirt for sample pricing which is the Hanes Tagless T-Shirt. Here's the cost per shirt at Custom Ink:
| | White T-Shirts: | Color T-Shirts: |
| --- | --- | --- |
| 1-5: | $20-21 | $24-25 |
| 6-10: | $14-21 | $15-22 |
| 11-20: | $9-13 | $10-14 |
| 21-50: | $7-9 | $8-10 |
| 51-100: | $6-7 | $7-8 |
| 101+: | $4-6 | $5-7 |
Tip: Save money on Custom Ink t-shirts by using fewer colors and ordering a larger quantity, as the price per shirt drops significantly if you order more. Example: Black t-shirts with a 1-color design cost $24 each when you buy 5, but the price drops to about $8 each when you buy 50!
---
Custom Ink Shipping Cost & Times:
All orders qualify for free shipping but if you need your order soon you might have to pay for expedited delivery.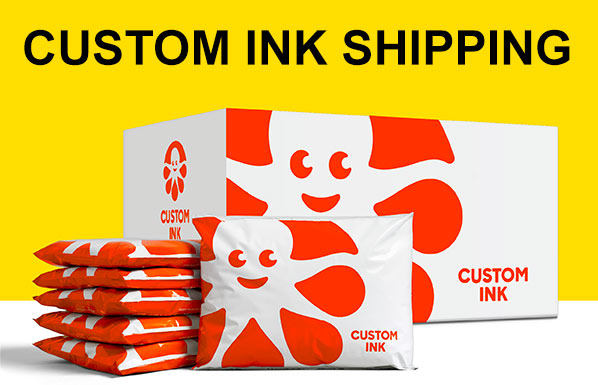 Here's how much Custom Ink shipping costs plus delivery times:
Free shipping: All orders ship free and take up to 2-weeks for delivery
Rush shipping costs an additional 10% of your order total and takes up to 7-days
Multiple Addresses: It costs $6.95 per address to ship directly to each member of your group and takes up to 2-weeks for delivery
Super-rush 3-day shipping is sometimes also available but costs an extra 20% of your order total.
Tip: If you want to know when your order will arrive through UPS or USPS, check Custom Ink's delivery calendar.
Want an instant price quote for your t-shirt order? You can get one now at CustomInk.com.
---
CustomInk T-Shirt Quote Calculator:
There are dozens of kinds of t-shirts and brands that you can customize at CustomInk.com and the price varies, although white shirts are cheaper than colored shirts. Why wait until after you've designed a shirt to know how much it will cost? Here's a direct link to get a quote.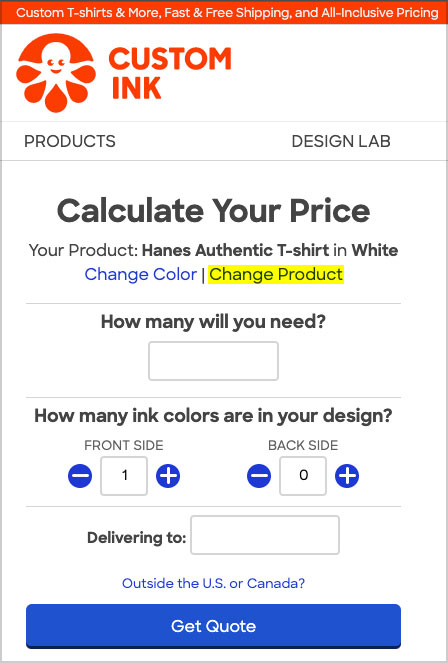 To get a Custom Ink quote just enter:
T-shirt and color
Quantity
Number of ink colors on front
Number of ink colors on back
Delivery Zip code (U.S. domestic shipping is free!)
*More shipping and cost info: WW, Noom, Vistaprint
---
How Much Do Custom Screen-Printed Shirts cost?
If you are planning to order custom t-shirts in bulk you'll need to estimate how much your order will cost. CustomInk is the most popular site for customized bulk and group t-shirt orders but the cost varies significantly from $6 to $25 each depending on the following factors:
Style and brand of t-shirt
White or colored t-shirts?
Additional printing on the back?
Number of colors in design
Tip: The number of colors is very important and reducing colors might be the best way to save money on screen-printed shirts. That's because every color requires a separate screen in the printing process, and adding screens requires time and materials.
---
How to Save on the Cost at Custom Ink:
Is Custom Ink expensive? Screen-printing custom shirts can be costly, so don't pay more than you need to.To lower the cost per shirt use as few colors as possible, print more shirts, skip printing on the back, use a coupon, and avoid paying for Rush shipping by ordering shirts 15+ business days before you need them.
Remember, all Custom Ink orders ship free with Standard 2-week speed shipping!
I hope you better understand Custom Ink pricing now. Just follow the tips above to get the best possible price on your t-shirt order at CustomInk.com.
Thanks for stopping by Wonky Pie!